1 Feb 2014
Aches and pain
I normally take one Triflex capsule (from GNC) daily as an anti-inflamatory against the remnants of hip surgery in 2011, but suspended them a few days ago as a trial. Have had a shoulder bursitis for about five years which only troubles me when in bed if I lie on that shoulder in my sleep, and goes away after a few minutes if I lie on my back. Last few nights it didn't go away, keeping me awake. Last night I applied a small amount of Dr. Janet's Glucoseamine Cream to the shoulder, and was asleep within five minutes. I guess I need to continue with Triflex; it must have been working on the bursitis as well as the hip. See more on athritis pain relief.
6 Dec 2013
Dream
A year ago I started writing down interesting dreams after reading Your Sleeping Genius, by Gayle Delaney. You have to do so immediately on waking after a dream or it will be forgotten. Last night my several dreamlets were all based on the idea that my life expectancy was due at a particular hour during the day. I seemed in good health to me but I approached zero hour with a mixture of apprehension and curiosity. In the final dreamlets I had gone past the deadline and was living on borrowed time. Still am ... I think.
3 Dec 2013
Drive across Canada
I flew to Cranbrook 22 November where L-A picked me up and drove to Nelson. By 30 November we had loaded the 14' U-Haul truck and her car and left on a cross Canada drive back to Ottawa. It was a trip to remember, changing my understanding of this huge country. We were blessed with mild weather throughout.
Our photos are in two sets: To Nelson BC: To Nelson B.C., and Nelson to Ottawa (drive).
Here are some stats. U-Haul rental: $1.769. U-Haul gasoline: $1,523. 4,063 KM. Fuel consumption: 2.09 Km / Litre, equivalent to 6 miles per gallon. In hindsight, we would have been financially better off to give away everything that wouldn't go in her car, and buy them in Ottawa. Howewer, that discounts the whole adventure of the trip, which I will always remember with pleasure.
29 Sep 2013
False memory syndrome
BBC News report
13 Sep 2013
Vinyl records
'Tony Copple' added a comment to "Good Article: 24 Things You Should Know Before Starting a Vinyl Collection":
I was amazed at what people today don't know about vinyl, as explained in this article. I have hundreds and continued playing them even as CDs came along. I felt the return to vinyl was a scam unless there was something new and better in the quality of newly manufactured vinyl. Apparently there isn't. Disks priced at $35 apparently sound the same as the same disk issued in the 80s. While accepting that a vinyl disk and sleeve are attractive this to me is hardly a reason to prefer it to a CD or iTunes download at $10. To hear any difference in the 'warmth' of the sound demands very expensive audio equipment (which I have, and I can't tell the difference, and prefer the dynamic range of CD). Anyway, one thing I have learned is that my vinyl disks may be worth more that the $0.50 I have asked for them at garage sales. Sorry folks, but someone has to tell everyone that the emperor has no clothes.
See article that I commented on
12 Sep 2013
"Geek-on" is a brand new CKCU program airing 7:05 am on Thursdays and presented by Kieran Mack (McLelland). I know about this because for the previous three weeks I had hosted that slot. Kieran announced that his program was designed for nerds and geeks. I thought I knew what these were, but an hour later I had received a significant education in the genre and now know differently. Apparently Simon Pegg - Scottie in Startrek - is the messiah of geekdom. Here was a whole aspect of the culture that is new to me. The only TV programs I have time to watch are the news and The Agenda with Steve Paikin. After Kieran had set the scene for nerds and geeks, showing that what had been way on the sidelines was now cool, he described his three favourite TV programs. I have since researched them and watched samples on YouTube. I had never heard of them before. They are Game of Thrones (HBO), Big Bang Theory (CBS), and Walking Dead (Fox). Game of Thrones and Walking Dead are fantasy sci-fi, and Big Bang Theory is sit-com with the main characters in their early 20s. Now, I avoided fantasy and sit-com even when I did watch more TV, but these programs have huge audiences, high ratings, whole seasons available on DVD and any amount of episodes up on YouTube, so they are significant in the today's culture. And today those outsiders who were derided as geeks 15 years ago have claimed a whole entertainment genre for their own. Why am I writing all this? Well I guess it's because it demonstrates that a large segment of human endeavour goes into making these programs, and gobs of time is given to them by their audiences. I for one was completely unaware. Am I missing anything I would like to catch up on? No. Should I take notice in order to understand the younger generation better? Maybe. Should self-employed people like me take time out from running their businesses to watch Game of Thrones? No. Am I getting old? Definitely!

19 Aug 2013
I was listening to a free-form discussion on Special Blend (CKCU) by law students, and one of them suggested that if one watches enough movies one would gradually develop a sense of right and wrong. This reminded me of something I have long believed; that unbelievers will go to extraordinary lengths to develop theories and behavours to mimic so many concepts that have been well established in the Bible. From my perspective, they are lost and desperate to find ways of living a life without ever admitting to any form of belief in God our creator. How incredibly energetic they have to be! I am finally reading Do Androids Dream of Electric Sheet? (Blade Runner), Philip K Dick's 1968 groundbreaking science fiction analysis of what makes us human, as attempts are made to 'retire' (i.e. kill) androids, manufactured humanoids. (I suspect Android Inc. took their name from this book, and others took the name Nexus 6, but calling it Nexus 7). Mercerism has relaced Christianity with a sterile pagan-like religion. The characters in the book are so hopeless. One of Christianity's greatest blessings is the hope we can have leading to joy even in the worst of circumstances, since our hope transcends this mortal life.

13 August 2013
Blackberry Q10 is my first smartphone, just a month ago, (though my wife is on her third Blackberry so I have been a watcher and fixer.) I am awed by its design and functionality; a significant improvement on the Torch, Bold and Curve. I keep on discovering new great capabilities. It surfs the web far faster than my laptops. I who never texted am a convert. The HD video surpasses my Flip HD and the camera is a total joy to use with superb results. I chose it without looking at any others it because the software was developed a mile from my home by a company I have watched for years - QNX, and I wanted it before it might no longer be available. The situation reminds me of when I worked for Data General, manufacturer of the world's finest minicomputers; their stock price slid even as their wonder products hit new markets (and are still running after all those years). The public is fickle, with no shred of patriotism in their choice of purchases. When new owners purchases Blackberry, I desperately hope they will keep the Blackberry 10 supported and in continual ongoing software refinement because this device represents the zenith of smartphone design. It's the Nova and Eclipse of this age.

22 May 2013
A wise man, Dave Brown of the Ottawa Citizen wrote in his column on 21 May 2013, "We elect leaders to make decisions based on what is right. Once elected they base decisions on what will get them re-elected." If politicians were generally wise and respected and good salespeople, I for one would be happy to accept their decisions even if I did not agree, on the basis that they knew more about the subject than I. I would also expect them to convince me of their views with oratory (read selling). The mass of the people can be completely wrong about an issue that they have learned about from amateurs (journalists, bloggers, taxi-drivers). An example is same-sex marriage. Yet today's politicians follow opinion polls rather than sticking to their own better opinions. An example is Stephen Harper and the abortion debate. He won't revisit it, even though he knows it is wrong, becaude the masses want it and he wants to be re-elected more than he wants to make wise decisions. I worry about a government that makes decisions based solely on what constituents want. The people of British Columbia voted down the HST. Do they imagine that they can prevent the need to raise tax revenue? The people of Greece believe they can prevent austerity with mass rallies, and carry on their dreadful financial habits without their economy collapsing! Such is the IQ of the masses. Give me a leader with wisdom and I will follow, subjugating my personal views. Only if his/her decisions lead to poor results will I vote for the alternative next time around.

15 May 2013
At the passionate suggestion of my friend and IG boss Carlos Rios, I got myself a monitor screen as a companion for my laptop. I chose an Insignia 19" LED TV NS-19E310A13. This is a full TV though I use it primarily as a monitor. About $100 from Best buy. I could not be more delighted. The HD screen makes my movies twice as attractive. It really is the same as having two computers, and effectively doubles my productivity. Their customer service people were very helpful as I set it up. The sound is mono - but this is their basic model.

13 May 2013, 7 pm
Are Bible translations trustworthy?
Ottawa Theological College presented a public lecture in Laframboise Hall, St Paul University, by David Lyle Jeffrey, entitled "Readability or Reliability: Are Bible translations trustworthy? Dr. Jeffrey was introduced by the college principal Canon George Sinclair, who gave us its vision and progress to-date. David Jeffrey opened our eyes to the defficiencies in many recent Bible translations in their tendency to reflect cultural trends. He explained why so much of the Bible was poetry - but has not remained so in some translations. His favourites would seem to be: KJV, RSV, ESV, Old NIV for NT. See poster.

Thursday 28 Mar 2013
Yesterday two Conservative MPs, Mark Warawa and Leon Benoit, backed down from a mini revolt within the party. They wanted discussion on Warawa's motion that condemns sex-selection abortion. A similar motion in the US was rejected by the House of Representatives in May 2012, but at least it was discussed. Warawa and Benoit were persuaded by party leaders on the grounds that abortion issues were outside the scope of this government. It is clear that Mr Harper's determination that nothing gets in the way of his goal to make the Conservatives the de-facto leaders of Canada for the forseeable future has matured to the point that any issue that could dent that goal will be muzzled. Suppose for example that any aspect of abortion were allowed debate in the House of Commons. This has become such a matter of public polarization that it would grab all the headlines, promote critical comment in the media, swallow up debate time and even endanger the party's re-election chances if one of the other parties opted for a pro-life stance (for political ends). The irony is that the Conservatives (and Harper in particular) are at heart opposed to abortion. They just don't want to talk about it or do anything about it. If they were in opposition, they would be clamouring for debate on the issue. Widening this scenario, we have arrived at a point in democracy where matters of public concern are swept under the carpet in support of any government's primary goal: holding on to power. This has always been the theory, but now it has become the practice. But how democratic is that? It can lead to chacteristics more often seen in dictatorships. It permits unbridled progress towards the primary platforms of the government - in Canada's case, now, the bitumen industry - and the sidelining of all other issues such as the environment (and the killing of girl babies in the womb). For this reason we have the omnibus bills, so that some progress can be made on peripheral matters without debate. Everything, including debate, is sacrificed to the single-minded goal of retaining power. But governments with such strategies will be brought down eventually by defection of their own supporters, whose pet issues are not being addressed. At the ballot box, it is often not the huge amorphous issues like the economy or health care that influences a voter's check mark. Instead it is their own individual and local concerns, which can well include the matter that the party they voted for last time refuses even to discuss.
Thursday 10 Jan 2013
Tonight I didn't work. Though it was distinctly uncomfortable I took a night off. I had just received a package of all five Nick Drake CD's (remastered). Since L-A was out visiting Lorna for soaking prayer, and later seeing The Hobbitt, I settled down to listen to the first four disks complete. My visual distraction was reading the Gorm Henrik Rasmussen biography of Nick on Kindle (on my laptop). A glass of wine completed my environment. For some years I had owned Nick's "Way to Blue," but after attending the "Songs of Nick Drake" concert in Ottawa on 9 Nov 2012 organized by Luke Jackson, and reading the Patrick Humphreys biography, which I bought there, my appreciation of Nick's stature had greatly increased. My evening listening to these recordings from around 1970 was simply sumptuous; I have found true treasure to enjoy the rest of my life. The sound quality is amazing, including that of home recordings on his Tandberg which had come to light (I also had a Tandberg reel to reel). He must have owned a very high quality pair of microphones. Just now I added the list of the CDs to my music calatalogue.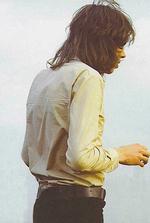 Friday 23 Nov 2012
Two weeks ago I organized the ANiC Synod drivers, as I had in 2010. My very unsmart Nokia 2610 phone was again the nerve centre. At one point the phone went to silent mode. Drat! When this happens it takes me 30 mins trying everything to return it to normal, but I finally succeeded. Today I decided to solve the problem once and for all and called Rogers. Problem #1, the model number 2610 is not displayed on the phone. Luckily the Rogers tech had the same phone and knew it. He was then also able to tell me that the # key was a short cut to and from silent mode. Problem solved. I then downloaded the manual for this ancient (2006) phone from the Nokia site. Compared with the manuals for their smart phones it was brief; only 32 pages. Did it list the information that the # key was a shortcut to silent mode. No. The silent mode is not mentioned. The word 'silent' is nowhere in the manual. Yet this is the solution to the #1 peeve about phones; going off during a meeting or conference. The manual does include a warning that if you have the phone in loudspeaker mode and put it to your ear, it will be loud. I suspect the qualifications for being a technical writer at Nokia are not oppressive. My point in documenting this story is that most people today use smart phones which are way more sophisticated and their manuals are hundreds of pages. I can't imagine how hard it must be to solve simple problems on them. Truth be told, most of the features on such devices, and on digital cameras are never discovered by users. They are there because of the relentless drive for innovation to compete, yet we don't need them. Oh for a world where co-operatives have finally killed the profit motive and companies can just manufacture the product needed to fulfil a function that can be documented in 30 pages rather than producing endless variations on undesired complexity.
Friday 5 Oct 2012
It was 50 years ago today ...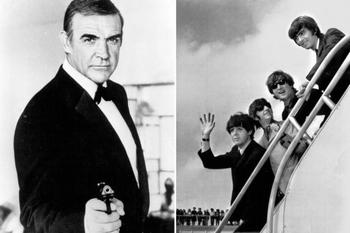 Today marks 50 years since the world was introduced to the music giants and the movie spy. Both have stood the test of time, but while the Bond films—the latest, 'Skyfall,' lands in Canada Nov. 9 — accommodated themselves to change, the Beatles changed music forever ... "Love Me Do" was a hit not once, but three times. When first released in Britain, it rose to No. 17 on the pop charts. In the U.S. it went to No. 4, and when it was rereleased in 1964, it went to No. 1. By then the Beatles were well on their way to becoming not just an insanely popular rock-and-roll band, but a band so successful that their breakup and the subsequent deaths of John Lennon and George Harrison did little or nothing to dent their popularity. It's a safe bet that there's no other band so beloved by 5-year-olds and their grandparents and an awful lot of people in between. Read more from Malcolm Jones on The Daily Beast
Sat 30 Sep 2012
Rock the River – memories
Beautiful weather. Registered as regular counsellor. Saw many friends, including pastors (Brent Russett, George Sinclair, Colin MacKenzie, Terry Orchard, Bob Davies). Once I had my 'spot,' I photographed the site from the river. I visited Samaritan's Purse tornado exhibit, and was amazed at their state of readiness to handle disasters throughout North America. People started arriving about 3:30. More ...
1 Sept 2012
Today, I needed to call the British High Commission in Ottawa, and Air Canada. At the time of writing I have been unable to speak to a human in either organization. It seems that telephone answering systems have replaced all human contact in these organizations. If these were really urgent matters I would be beside myself. I see a growing trend in large corporations to reduce their staff who are trained to answer the phones. Have you noticed how seldom the question you want answered is listed on the FAQs? Here is an example of a FAQ on the British High Commission web site: Why do British judges wear wigs? The matter I want answered is not referred to in any way on their site. Corporations are always seeking ways to economize. Replacing live customer service representatives with telephone messages may save wages, but is very poor customer relations.
17 May 2012
On this day we left for a 3-week road trip to see James and Kathy in Las Vegas, staying in timeshares in Colorado on the way and the way back. On the first day we got to our hotel in Columbus by about 9:30 pm after 1055 Km. Early next day we left to drive the 1116 Km to Kansas City. There to the Colorado timeshare was 1334 Km, and I had driven far more than ever before in one day. The yellow Mitsubishi had performed flawlessly. Along the way we dipped into several audiobooks. Phil Lesh's "Searching for the Sound - my life with The Grateful Dead" proved the perfect driving book *****. The endless plains of Kansas included the largest wind farms I have seen. The final stretch from Colorado Springs through the Rockies is a wonderful road but for us this time mainly in darkness.
When we woke up on the Sunday morning this was the view from the Wyndham Pagosa timeshare where we would stay till Friday. I searched for an ACNA church and found Trinity Anglican, Reformed Epicopalian, right here in Pagosa Springs. But I couldn't confirm its address, so went to Crossroads Christian Fellowship (Southern Baptist) on the resort and much enjoyed it, particularly the praise music. In the evening we tried to view the annular eclipse but it was obscured by clouds. As I write it is now Tuesday and we are about to set out on a visit to Santa Fe. More ...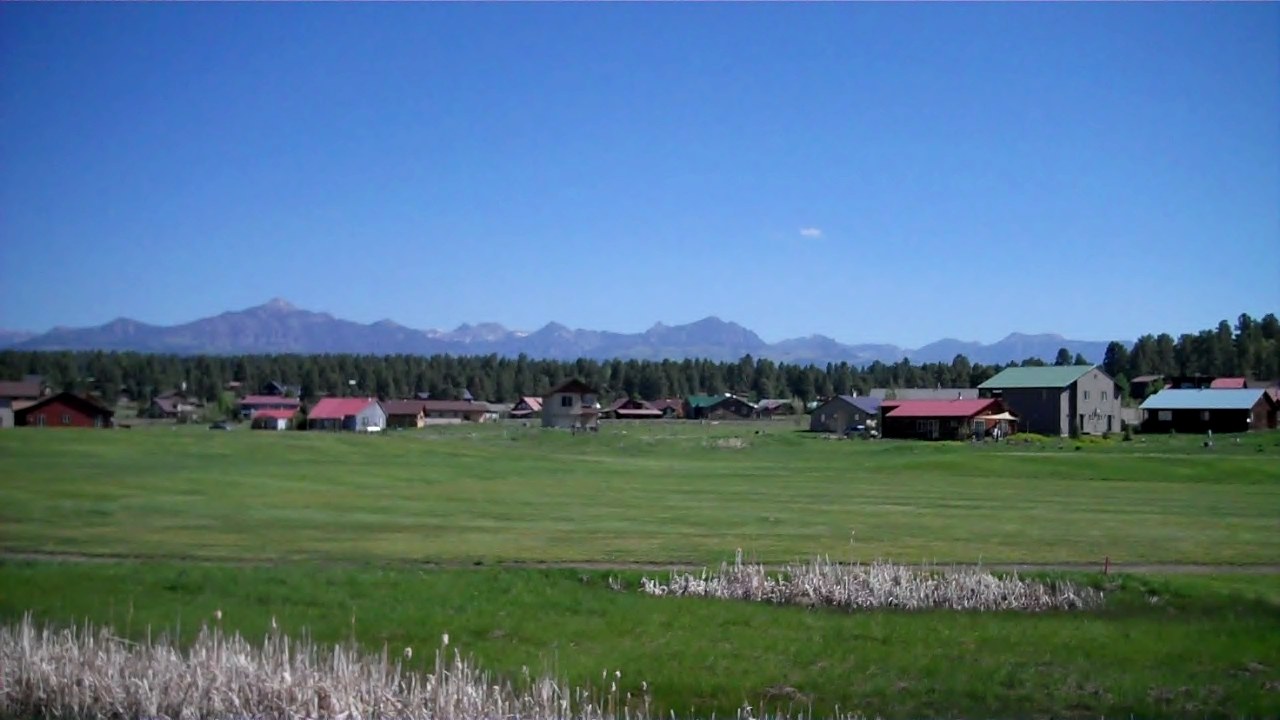 31 Mar 2012
Laurie-Ann is in the Algonquin school of broadcasting, and asks me to pass on to her any interesting 'bits' from the newspaper that she can use for continuity on air between playing songs. Tonight I pointed out a particular item, and she will use it on Monday morning. Then I received an insight with wider implications than you might have thought. Supposing all the journalists in the world just got their news from other newspapers, web sites and blogs, to save money on research. Many do already, but breaking news still comes in on the wire, which keeps the system from imploding from incestuous feeding on its own body.
Isn't this analogous to index funds and exchange traded funds in the financial markets? We have got to the point where a third of all mutual funds merely follow the indexes. This is unhealthy; see "Is popularity ruining indexing?". Supposing all investors just bought index funds to save money on management expense ratios (MERs). There would be no equivalent of the newswire to inject objectivity. Funds would go up because funds would go up because funds would go up - until the bubble bursts. Result: huge volatilty. Maybe this is a reason for the significant increases in volatility we have seen in the last 10 years. I am content that my company Investors Group does not offer index vehicles. They have an eye on the financial environment. Only active and independent fund management can keep the system healthy, and that's why you should be happy to pay the MERs.
2 Jan 2012
The year in review.
2011 has been packed with activity. It started with my client appreciation event, 11 Feb, for which I brought Laila Baili to the National Gallery of Canada - see write-up. More ...
1 Jan 2012 On this New Year's day I was doing some computer housekeeping, trying to avoid the kind of major issues two weeks ago when the hard drives in Laurie-Ann's laptop and her removable back up both failed within 24 hours. I found an interview I did for one of Laurie-Ann's radio school friends, Marco, which had allowed me to discuss aspects of my life in Canada. Thought you might like to listen. It runs for about five minutes. If I have any readers of this blog, I offer you my best wishes for a successful year ahead in whatever enterprises you are engaged and enthusiastic about.
26 Dec 2011
That was quite the Christmas Day, and it was a white one - being reinforced all day long.
We were in the Over my Head studio by 7:45 am having risen at 6:15, and listened to Good News in the Morning from 6:30 - 7. Being on air on this day is always special, and I think that was why we had a few hiccoughs with the show (and the fact that I had forgotten to take my Lifepak) but the music was pleasantly unusual (see playlist) and certainly avoided the hackneyed yuletide fare put out by most other stations. After, we drove firther east to church where I was the music provider on guitar and piano, but helped out by L-A on bodhran. Karen Bergenstein subsituted a moving story for the sermon that had a few kleenexs engaged. After, Sydney Swanson asked if we would come to her home for lunch since we had time to spare. Denys Bristo came also and it was such a pleasant intermission in Sydney and Marv's special sunroom, with the falling snow adding enchantment. At 1:15 we dove to Ottawa-Carleton Detention Centre, our normal place every Sunday where we met with 5 maximun security inmates and as part of our Alpha Course, after singing Silent Night and Joy to the World, used the "Why Christmas" video by Nicky Gumbel. It was a special time since the men were extremely grateful that we had come in on Christmas Day, and I invited them all to share their memories of a special Christmas. Only one declined on the basis that it was too painful for him to recall. At 4:30 we left for an evening with Mary Wells and her son William at her Orleans home, including turkey and all the trimmings. We partially engaged in a lively debate between William, a non believer, and his mother on the existence of God, and then with Mary, a non believer about global warming, on the evidence for its reality, and an in depth analysis of the rise in acceptance of homosexuality and whether this is good for society. We touched on the demise of corporal punshment for kids (which I had suggested should be reintroduced but with longer whips). L-A and I excused ourselves at about 9:30, and joined a very careful group of drivers in poor conditions on the westbound Queensway for 30 mins. At home I posted the morning's Good News in the Morning to the website, and we decided to put the turkey in the oven since it was a fresh one and had been in the fridge for a week. Got up at 2:30 and 3:30 to tend to it ... There's a lot more to the details of this narrative, such as leaving my computer at home, leaving my guitar cord at church so I had to play acoustic in the jail, but I have shortened it to essentials. Finally, a peek into this year's recollections which can be reached via our Christmas page.
20 Aug 2011
A week ago Laurie-Ann and I attended the Alpha 2 Go training day at Richmond Hill Christian Community Church, a large Chinese church east of Toronto. So soon after my surgery, this was a potential health challenge for me, but all worked out well and I was able to fulfill my minor admin responsibilities largely without needing my crutches. I assisted Wanda Ho in the Chinese stream, where we had 65 attenders, and I was able to video it complete, all in Cantonese. L-A and I spoke briefly to the GAT stream about our Sierra Leone experience, and showed them a 5-min version of our film.
We had an adventure on our way home. Remember it was Saturday evening. The Taurus warning light came on flashing just before Napanee. Turned out to be a transmission hose blown. L-A put a mention about our predicament on Facebook. Within a few minutes we had two friends who had friends in Napanee offering to have them help us with accomm for the night. After calling CAA we discovered there were no hotel rooms in the town due to two conventions. We called Bernice and Rev Ed McCaig, friends of Rev Brian Wilkie. Shortly after Ed rolled up and stayed with us as the CAA man, Doug, diagnosed and FIXED the problem! Turned out he is a good mechanic. He took the car to his place, installed the new hose, filled up the transmission fluid, brought it back. All with great friendliness and humour. His price $100 – exactly the honorarium Wanda gave me much to my surprise. Even though the car was then drivable, it was nearly midnight and we accepted Ed's hospitality. Great night's sleep, badly needed, + breakfast from two beautiful Christian people (United Church renewal group): he has been on the board of Fellowship Magazine for years. Sunday morning we accompanied them to the Holiness Camp of Roblin Wesleyan Church for a wonderful service led by trumpet playing pastor Bert McCutcheon, with a really excellent visiting preacher Dr. Jim Dunn, followed by pot luck lunch. The car would never have gone for a further 5 mins on the highway. We were just approaching the Napanee turn off. If L-A hadn't been able to alert friend on Facebook with her Blackberry, and if the CAA man had not been exceptional, none of this would have happened and we might have been stuck in Napanee for a couple of days. What a great God, even for a total sinner like me!!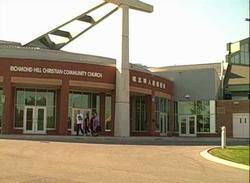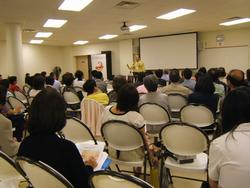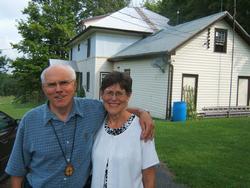 28 July 2011
Today I had surgery for the first time since having my tonsils out at age 3. This time it was a bigger deal; total right hip replacement. Arthritis had taken its toll over the past two years and now was the time to say 'enough!' I received a call that there had been a cancellation, and would I like the spot, and was in three days later. I had no concerns about the process and my surgeon Dr. Au did a grand job at my favourite hospital, Queensway-Carleton Hospital. Here a some thoughts looking back after having the staples removed today. I knew things were going well in the ante-room outside the OR when a nurse, Lee, noticed my Dr. Janet's glucosamine cream, said she had heard it advertized on CFRA on Sunday mornings, and I asked if she was also a listener to Good News in the Morning. Yes! Shortly after that I was lying under the lights and the next thing I knew was waking up and asking when they were going to give me the injection. For the next two days I was served by a succession of angels looking after my recovery.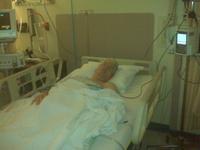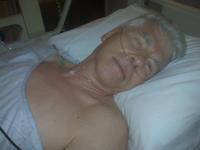 I didn't want them to take the catheter out; it was just so darned convenient. Did you know the ancient Syrians created catheters from reeds? One black nurse came in at 6 am and when I asked her what time she got up she said "4 am, and then I spend some time with the Lord before coming here." I felt totally at home, even joyful. I was doing very well and Dr Au let me leave on day 2 after the surgery. Photos: L-A
More ...
6 July 2011
This is my second night staying with Mum at the beginning of our UK trip. Laurie-Ann is on Holy Island. Neesa was here when I arrived and she showed me the ropes. Mum has a nurse coming in each day to help her get washed and dressed. She gets around with a walker, and moves slowly, but insists she has no joint pain. This morning I showed her the new DVD made from 8mm films I shot in 1970 which she is in, and she seemed genuinely interested. We went to the Bickley Arms for lunch (almost as much as the Flip video cost me). Used to be a pub; now a restaurant. I was happy to hear they had Wifi, so I was able to check Hotmail, and also managed to post some photos to Facebook - snapshots from a movie I started yesterday using the HD Flip video. Back home I rummaged through her VHSs and found a Robert Redford film starring Will Smith and Matt Damon - The legend of Bagger Vance. We both enjoyed it hugely. Indeed, I had also much enjoyed the whole day.
It's the next day and mum and I are having lunch. Chicken soup (large chunks of chicken). She has sherry, I have whisky. Norah Jones is singing - "Feels like home." Mum has a hearty appetite; eats all she's given. it's peaceful. I feel - uncommonly relaxed; happy; yes - joyful to be with her and able to do things for her. Before lunch we were watching our anniversary movie, showing Laurie-Ann on Holy Island, where she is now. One of mum's daily carers, Valerie, came and gave her a shower. Yesterday it was Lynn. Both of them were wonderful with her.
L-A and I joined forces in Newcastle on 9 July, and from then until 17th we had a wonderful holiday in the Lake District, possibly the most beautiful place on Earth when the sun's shining, which it did every day. We stayed in Dianne and Mike's farmhouse in Hall Dunnerdale (Ulpha). Some of the time Dianne and Neesa were with us - a family reunion. We took videos and photos to prove it. I then returned to stay with Mum again till 21st and our return to Canada. I am writing this on the plane. I again found it rewarding to do things to help Mum, from her first waking moments to settling her down at night. My emotions are a mixture of guilt that I am only there for her occasionally while D & N shoulder the task continuously, and gratefulness that I have been able to help out to the extent that I did, and she seemed to appreciate it. At 94 she is close to the point when she should not be living alone even for part of the time (still her strong wish). The next few months may bring changes as we four figure out what is best for her.
11 June 2011
Did a stint on the CKCU booth at Westfest. Between 11 and 1 at least 1,500 must have walked past, and only one that I recognized, a fellow CKCU host. A small number of listeners came up to say "Hi" but it seemed to me that 99% had no idea who we were and no curiosity to find out. Two or three actually refused to take the small ads for Radio Camp that I was handing out to families with kids of the appropriate ages - but about 40 did take them and the first one actually came back and asked how to enroll. I did have very friendly conversations with about 15 people, mainly appreciative listeners. I think it is very good that CKCU have a presence at public event like this in the community. Click the pic for short video.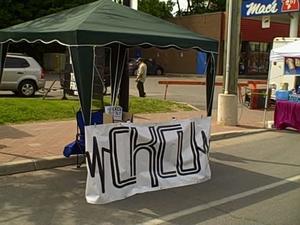 30 May 2011
Last Friday I was privileged to attend a talk by Dr. Chris Waddell, Director of the School of Journalism and Communication at Carleton University, who spoke at Blackburn Hamlet Community Church on "Can you believe what you read in the newspapers?" - which he broadened to an informative survey of recent trends in the volatile world of journalism in Canada. See my pics here. I finally understand the delicate balance newspaper editors must achieve to survive. On the one hand, they must prioritize the news each day so that they cover all important events. On the other, they have to sell papers to survive. These two aims are often contradictory. Take religious news. There are far fewer readers for religious news than in the past, so you'll see far less coverage - even though some will contend that Christianity is of vital importance to us all. The bottom line here is that the news you read is actually selected by the interests of the majority of readers. While many might see that as fine and dandy, I see it as frightening. I would far rather gather news from a source which prioritizes its news items based on their significance to the human race and the planet regardless of how interested the local readers were. This is why I wake up every weekday to the 5-minute BBC World service news summary on CKCU 93.1 at 7 am here in Ottawa (and other times during the day). This phenomenon explains why newspapers print horoscopes, which are a bunch of fantasies, because many people want to read them. Now, if horoscopes contain any truth, it's spiritual source is demonic. If they contain no truth, then people who read them are foolish. Either way, I don't want my subscription dollars providing income for any of the hundreds of thousands of professional astrologers who have hoodwinked the public and the newspaper editors.

22 Mar 2011
The allied forces bombed Ghadaffi's home last week and then Obama and other leaders were quick to state that they were not targetting him. Why not, I say? He is the problem. How come it's OK to bomb military personnel but not their leader? Where is Jason Bourne or his real like equivalent when we need him. How come we can't take this guy out and rid the world of another tyrant? Let's target Ghadaffi and his homes specifically.

14 March week 2011
In the week of the Japanese earthquake, tsunami and nuclear crisis, and the eve of the attack on Libya, I had my own mini crisis, exacerbated by the fact that I ran out of Overdrive (Nu Skin nutritional supplement) and decided to do without it for a few days, as a trial, even after it had a arrived, so every task was more difficult and every stress more worrisome. IG head office had decided that the only cure for my inability to run 'Pathway' software at home would be to restream my computer. Guided by Raphael Francoeur, a really great guy from our workstation team (creme de la creme of IG computer support), I replaced all the software on my computer. I actually did it twice because I (not Raphael) made an error the first time. It is now 22 March and all is back up and running. There was one significant directory I forgot to back-up containing the majority of my off line Internet files, so for a while, before updating a web page, I will need to download its current version before updating. I went back on to Overdrive a week ago, and have been feeling so good it was almost worth while coming off it. And now Canadian F-16s are on missions over Libya, and the Japanese power station is leaking radiation significantly.

10 Feb 2011
This night I held my client appreciation event at the National Gallery of Canada - a very classy venue. The evening consisted of a talk from me (25 mins) followed by a 1-hour concert by the Laila Biali Trio. She pronounces her name "Lila." I had been given $5,000 by Investors Group for referring four new consultants to the company. It was when I read an article about Laila in The Anglican Planet that this project grew legs. It was a risk. She was unknown in Ottawa. But I sensed from the quality of her piano playing and voice that my clients and friends would love her, and so it proved. See accolades. She sold more than 100 CDs after the show. I realised that many would not be attracted to a jazz concert, and that also became obvious after the first invitations went out. So, as per the parable in Matthew 22, I went out and invited friends, musicians, nurses from the Bruyere hospital. Peter Hum wrote an article about Laila in the Citizen, and that brought in 30 people who bought tickets. In the end our audience was 211. Apart from turning out to be a truly marvellous concert, this was also a milestone in my life. I was to turn 70 five days after. So I took the opportunity to announce this to my clients, assuring them I have no plans to retire for another five years. The audience sang "happy birthday" to me. It was my chance to promote an artist I believe has huge potential and bring her to the notice of Ottawa, via radio and the concert. And organizing the concert was a challenge that I rose to. Everything went smoothly and people were very happy. But, very specially for me, it was an opportunity for Christian witness. The evening included clear statements from both me and Laila of our faith. Many of my friends are committed Christians, so it was comforting for them, but I like to think that it made a difference to those who aren't. From the very start of this project, with the article in The Anglican Planet, I can see the blessings given by God.

22 Nov 2010
Laurie-Ann is in her first term of the 2-year radio broadcasting school at Algonquin College, and thriving, though its hard work. Sometimes she uses me in her course work, and on this occasion it was an interview on how I spend my work day. I thought the result is worth preserving:

2 Sept 2010
Last night I attended the Ottawa showing of the movie Collision, as reported on my movie page, at St Alban's Church. It had been advertised at the Heart and Crown on Preston Street, but at the last moment the franchise decided it was too hot a topic for their Irish barstanders. This was despite accolades from both Christians and atheists as to the excellence of this debate entitled, "Is Christianity Good for the World?" St. Alban's made the 50 or so attenders most welcome with free refreshments and a free movie. Their openness in hosting the event speaks volumes for their wordview (certainly in comparison with the drinking industry). I am so glad I took this one opportunity to see this remarkable film in company with others; though I fear they were predominantly Christians. Christopher Hitchens is on a fervent mission to convince us that no logical God could conceive such a plan as has been revealed so far, while his adversary Douglas Wilson equally passionately showed how he (and his family) live out their faith in an unswerving allegience to Jesus Christ and everthing he stands for. From my perspective, Hitchens began with a false statement implying that Jesus and his resurrection were folklore. The rest of his arguments were akin to, "How could a loving God allow bad things to happen." It was a classic example of arguments by a man whose eyes have not yet been opened. Douglas Wilson failed to rebuf the implication that Jesus and his resurrestion were not real, focussing instead on his perception that without the New Testament, morality has no backbone or yardstick (which is not the strongest of arguments). But he gave as good as he got and achieved some admiration in his opponent for sticking to his beliefs. He deserves huge kudos for being ready to engage in this debate with an eyes-closed intellectual giant. How many of us would have had the courage? The film is shot by a cameraman incapable of holding it still for more than half a second - camera angles twice under the shoe line - who clearly has been more influenced by CSI Miami than the Alpha Course. I prefer the Nicky Gumbel approach, but I am told today's cinemagoers need constant simulated animation. Now if only Hitchens would go to Alpha, what an advocate for the truth he could be!
28 July 2010
With 3500 others we watched the webcast 28 28 28: the 28th anniversary of the death of Keith Green and his children Josiah and Bethany in an air crash. He was 28. John 12:24 says: "I tell you the truth, unless a kernel of wheat falls to the ground and dies, it remains only a single seed. But if it dies, it produces many seeds." This passage sustained his wife Melody in her grief, and their Last Days Ministries has flourished. Keith's music and urgings to us all to spread the Word continues to enthrall new generations. I made the following Sunday's Over my Head a tribute show. While we were watching the telecast, I made a video recording of Paul McCartney at the White House where he was given America's highest award for popular music - the Library of Congress Gershwin Prize for Popular Song - by President Barack Obama. A slew of stars including Herbie Hancock and Stevie Wonder contributed their renditions of Paul's songs. Most of the day for me had been the second course I gave for my Investors Group colleagues on the "Pathway" software, during which time Laurie-Ann attended the baptisms in Ottawa Carleton Detention centre of two of the members of our current Alpha course. The previous evening L-A and I walked around downtown Ottawa for a couple of hours giving out bottles of water to street people, and praying for them, and encouraging them. All-in-all a pretty special 24 hours.
6 July 2010, 5:30 am
This is unusual. We got up at 5 in the Sugarloaf Hotel, Carrabassett Valley, Maine, to go on a canoe trip! An interesting way to start the day, certainly. But let's turn the clock back 24 hours. We had a good drive here, almost due East from Ottawa on Sunday 4 July. The whole of Maine we have seen so far is gorgeous. We are in a 4-star hotel at Sugarloaf Mountain with two huge beds in the room and all mod cons. Dinner in a restaurant en route in Stratton was lobster lasagna. On arrival here we watched USA vs Algeria where Landon Donovan scored the decisive goal in the final 2 minutes (this is for the final 16). Our three laptops and the original IG Canon printer are installed and we can communicate between them and the world with Dropbox. I am up on Pathway, IG's new contact management software, which I am teaching to my colleagues when I get back. L-A has her iPod plugged into the bedside clock radio/ docking station and we are listening to Blessings and Journeys.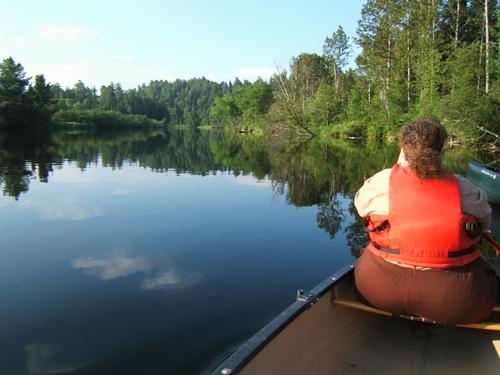 Peace on the Dead River, about to be disturbed

I have the electric guitar & amp, and the keyboard though I haven't yet started practising the music for Blackburn Hamlet Community Church where I start as the worship leader in 2 weeks. I have Einstein's "Relativity" (1916), The Book of Negroes, and Ray Simpson's "High Street Monasteries" as reading matter. We are all set for a relaxing week. We plan to take the mountain railway up Mt. Washington, on which I think the Snowdon mountain railway was modelled. Here's one of the pics from the canoe trip which turned out pretty strenuous but delightfully led by Bonnie Holding a registered main guid and fly fishing instructor.

1 July 2010
In the past 3 week we have experienced (and generally fixed) a series of computer problems/challenges which collectively seemed almost like a spiritual warfare attack:
1. The ARM computer CPU expired while I was using it. Turned out the fan that was meant to cool the Intel CPU failed, and the CPU fried.
2. Laurie Ann bought her Pink Dell from the shopping channel on TV and I set to work installing this Windows 7 machine, our first experience of the operating system.
3. My IG Dell was hit by the Security Master AV virus, one of a large number of rogue anti-virus software threats.
---------------
We managed to buy from Computer Onsite a used HP desktop into which Tony Tong transfered the ARM disk and my TV tuner video card which I use for loading live video from our digital videocam. We had to find the original executable files for many items of software applications. I bought via e-Bay a copy of Microsoft Office 200 Professional, which includes Access, in which the ARM database is written. At the time of writing I still haven't got Word to work, but almost everything else is fine. The exception was Windows Movie-Maker. I became just one more Movie-Maker user unable to reinstall it. So I got out the compact HP desktop that we had bought for Ron last summer and I transferred the TV tuner video card, even though it was too large to screw into the computer bulkhead. But it did slot into the motherboard and that's what matters. The result of this is that I am now doing my video editing downstairs on Ron's HP instead of timesharing with L-A on the ARM computer. And it's faster. I was able to process the video I took at Paul Cowley's visit to Ottawa on 28 June and get it on to Dropbox before we went to Maine.
The Pink Dell was installed without difficulty, and getting to feel comfortable with Windows 7 has been a positive spin-off.
For nearly a week my work computer was unable to access the corporate site or do e-Mail. Finally, with 90 minutes to go before the cut-off when we would be packing up to go to Main, the workstation specialist from IG called me, and an hour later my machine was clean. Since I was going to be teaching Pathway shortly after returning from holiday, this was a tremendous relief.

25 June 2010
TWTWTW
17 June: The ARM computer failed while I was using it.
18 June: Tony Tong sold me a refurbished HP, transferring our disk and TV video interface into it. $280 including mining the disk for Outlook inbox and personal files.
19 June: Jericho Road Spaghetti Dinner with Allen Churchill speaking.
20 June: To Smiths Falls First Baptist church to listen to Don Crisp, shortly to join Allen Churchill
hosting Good News in the Morning.
Elwood Mean arrived to stay two nights. Elwood is the Director of Campus Alpha in Canada.
21 June: Elwood met Rev Marvin Sinclair about starting Campus Alpha in Algonquin College.
Took Elwood to meet Chris Barrett, leader of the local Navigators, about facilitating Camopus Alpha in Carleton University.
Post GDOP BBQ at Fred's house, and I took Elwood along. A delightful evening with Christian friends.
22 June: Took Elwood to meet Tim Brock, a pastor at All Nations Church, about starting Campus Alpha in Ottawa University.
7:30: Presided over the Anglican Gathering of Ottawa AGM at Blackburn Hamlet Community Church.
23 June: Ottawa-Carleton Detention Centre Staff appreciation BBQ.
1:41: I was in the Investors group Kanata Office when the earthquake struck. The rumbling seemed to shake the whole 10 storey building, but it didn't get louder and I realized it was a 'quake after two or three seconds. It was big news in southern Ontario for the next couple of days.
24 June: Faced with being unable to reinstall Movie Maker on the refurbished ARM computer after the original had a CPU failure on 17 June, I decided instead to move the Cyberlink MSI ATI Theatre with its TV video input to the compact HP computer we had bought for Ron's use last year. I had to forsake the metal strip for securing it in the smaller footprint machine, and to get the software off the CD and onto a memory stick since this machine has no disk drive. Anyway, by midnight I had it working and was able to get Nahia Haddad's GDOP movie from mini DV format into Movie Maker on the HP using our JVC digital video camera and the Cyberlink software. The whole exercise was the most complex computer manoeuvre I have attempted, and the climax to a pretty amazing week.

15 Jan 2010
Haiti earthquake - and Bob Thornley down there in the thick of it.
Read his messages. Thank God he is sending messages. As you would know if you knew him, he is a tower of strength to all around him, and immensely practical. Just the man you need in a crisis.

16 Dec 2009
Last night Laurie-Ann and I went to see the new film Invictus, with Morgan Freeman playing Mandela, and Matt Damon playing Springbok rugby Captain Francois Pienaar. I commend it to anyone, but particularly those of us who these last few years have been given us a taste for all things South African (certainly applies if you have read Graham Power's "Not by Might, Nor by Power.") It will inspire you, whatever your aspirations. And if you like rugby or competitive sport generally, you will love the film. Anyway, I think it has a shot at an Oscar for best film and Morgan Freeman as best actor. Here are the words of the 1875 poem by William Henley from which the film gets its name:
Out of the night that covers me,
Black as the pit from pole to pole,
I thank whatever gods may be
For my unconquerable soul.

In the fell clutch of circumstance
I have not winced nor cried aloud.
Under the bludgeonings of chance
My head is bloody, but unbowed.

Beyond this place of wrath and tears
Looms but the Horror of the shade,
And yet the menace of the years
Finds and shall find me unafraid.

It matters not how strait the gate,
How charged with punishments the scroll,
I am the master of my fate:
I am the captain of my soul.
Blessings to you all for Christmas.
- Tony
Webmaster, Global Day of Prayer, Ottawa

25 Nov 2009
Sad news
In March 1991 we (Annmarie and I) had signed up as Nu Skin distributors. It was a decision that changed my life and allowed me to take control of my health.
Till then I had always had a problem with my hair blowing all over the place and not staying down when I brushed it in the morning.
So I started using the Nu Skin hair gel, later renamed StylinGel. I had always hated putting grease on my hair, but this was totally different. Light and non greasy, it just made my hair look like normal hair on other people. Since then I have never started my day without StylinGel. I truly believe that without it I could not have plied my careers successfully as a computer salesman and now a financial planner these 15 years. Looking well turned out is really important in sales.
This morning I was on the order line to Nu Skin to order products, and I heard they have discontinued StylinGel. I was, and am, devastated! How could they? How come others haven't shared my experience in huge numbers?
Post script: I bought Joico Joigel medium styling gel, and am actually very pleased with it. It is very similar indeed to Nu Skin StylinGel.

6 Nov 2009
Our weekend
Fri: 3 pm: Host Window of Opportunity at CKCU
6 pm: Start Alpha weekend at Bethesda Renewal Centre
Sat: 8 am: Prepare breakfast for Alpha Weekend, helping L-A
Alpha weekend continues through day, and we are home afterwards bu 9:30 pm.
Sun: 8 am: Host Over my Head at CKCU
10 am: Kanata Lakes Fellowship - play the music for Sunday service
1:30: Ottawa-Carleton Detention Centre with L-A for prison ministry in the maximum security wing - Alpha session: "How can I be filled with the Holy Spirit" - our second such event in two days.
9 pm: Time to relax: went to see Michael Jackson's This is it. Terrific!

27 Sept 2009
My weekend
Sat: 9 - noon: Conduct Alpha leaders training
5 - 10 pm: Public presention of the movie "Fireproof" in Beaverbrook parking lot. I was the tech and projectionist.
Sun: 8 - 9 am: Over my Head show host, CKCU-FM
10 - 11:15: Kanata Lakes Fellowship. Worship leader.
1:30 - 4:30: Prison ministry. Worship leader.
5:00 - 7:30: 49th anniversary of Nigerian independence. Worship leader.
Thank the Lord it's Monday tomorrow.

9 Sept 2009 (999)
Beatles remastered
I bought "Please Please Me" and "With the Beatles." The quality of sound and dynamic range are great. My only beef is that on these stereo disks they did not change the strange positioning of all the voices on the right and all the instruments on the left, just as they were on the disks I bought in England 46 years ago. I can only assume that had they centralized things they would have introduced serious phase errors. I am thoroughly enjoying listening to them - more than that; I derive a wonderful feeling of well-being. They are good for my health! Must be played faily loud. Sound great in the car, where the stereo positioning is less evident than on my wide living room system. I am looking for a syndicate of a few friends who would like to club together to buy the mono set. Some friends didn't know anything about this event (they don't read newspapers) and another did not even know what "Revolver" was. It is as if their ears and minds had been closed by forces unknown to prevent Beatle music coming into their lives. Now that is a close analogue of some peoples' ears and minds being closed to Jesus Christ, and not having any idea why he is so vital to those who know Him.

2 June 2009
E-mail to my M.P. Gordon O'Connor, cc. Irine Gerstein, Chair, Conservative Fund Canada
Dear Gordon
I am not sure that the "just visiting" attack ads against Michael Ignatieff are productive and they may be hurting the party in some quarters. I communicated this thought to Irving Gerstein several weeks ago. Last night on the CTV News at 11, the ad was shown twice within half an hour. It was the repetition that created some anger in my heart, and prompts this e-mail. Do you think we didn't get the message the first time?

Ignatieff's crime appears to me the fact that he has lived outside Canada for 36 years. How is this negative? I would welcome intelligent men who can bring experience from abroad above the kind of indigenous thinking that shaped these ads, definitely a Canadian bad tradition.

Right now Ignatieff is looking more assured than Stephen. And he stole points from Stephen by showing up at the National Prayer Breakfast last week.

As I said to Mr. Gerstein, there will be no more financial contributions from me to the Conservative Party of Canada while some of it may used for personal attack ads against anyone. And for every day that Ignatieff resists responding in kind, he and his party will ingratiate themselves a little more in my brain.
- Tony
Ps. The most serious problem facing the world long term is climate change. The effects of that will make the current financial crisis seem trivial. So attacking the carbon tax may not be such a good idea.

Tony Copple
61 Highmont Court, Kanata, ON, K2T 1B2
Verse of the Day:
http://verse.actsministries.org
18 April 2009
I am missing Laurie-Ann, who is on a trip to an art exhibition in Toronto. So I did something I have done before when a little down: to CD Warehouse I went to indulge myself. I came home with Van Morrison's "Astral Weeks Live at the Hollywood Bowl," and "Nirvana Unplugged in New York" DVD. What a superb double! The Nirvana was under $10 - how could I not! I am back in heaven! I have owned and enjoyed the original Astral Weeks, produced in the year of James my son's birth, 1998, since then. While researching the new Astral Weeks, I found an article about it and its predecessor on Head Butler, which now has a link on my home page.

16 April 2009
Tonight I dined with a priest who told me that half of his Ottawa diocesan colleagues do not accept that Jesus died his horrendous death to pay for our sins so that we can have everlasting life, whatever the Bible may say. Instead they believe only that Jesus is love, and that hell doesn't exist and judgement is outmoded. The Bible apparently was an attempt by men to describe events and philosophy and should not be used as a work of divine authority. Yikes. I am feeling smothered by a deep anxiety; aching for the souls of those parishioners who are 'pastored' by these priests. Yet why should I be surprised? 2 Peter 2:1 tells us this was happening then, and would continue as false teachers ply their evil trade of misinformation. Dear Lord, have mercy on them.

1 Mar 2009
Last month I read The Shack. (If you haven't yet, run to your nearest Chapters.) I learned what the love of God really means. Before it was an intellectual concept. Now it is tangible. If I meet anyone who has suffered the loss of a loved one, particularly a child, I will lend them this book. Laurie-Ann had the paperback and she gave me the audiobook because she wanted me to experience it and knew I wouldn't read it. It was recommended to us by our friend in jail, James P, who loves God so well. Join the campaign to have this made into a movie. All it needs is a critical mass of books sold. God had a big hand in the making of this book, and He isn't done yet with the project!

1 Feb 2009
So there is probably no God! - according to a current advertizing campaign.
But if you believe that and you are wrong, I would hate to be in your shoes when you die. The Bible is very clear that for those who have been told but still refuse to accept Him, God will not be merciful. Remember the parable of Lazarus. And if your answer to this is why should you believe the Bible, read it before making such a rash statement. I really fear for the future of my atheist friends.

6 Jan 2009
The 1-year anniversary of the first service of Kanata Lakes Fellowship - and we are still going...

CD Warehouse gave me a $5 gift certificate when I bought Electric Arguments by The Fireman a couple of weeks ago. Today was the day I cashed in. I spent a happy hour going through the music CD's priced at around $20, the minimum for my certificate to be valid. I short-listed the following: Plastic Ono Band; Mark Knopfler - a Night in London; Mike Oldfield; Nirvana unplugged; The Corrs; Roger Waters - In the Flesh; Pixies at the Paradise in Boston. My final choice: Pixies. I have several of their CDs after being introduced to them by James. The DVD did not disappoint! On this tour they had even played Ottawa but I hadn't been able to get to see them. Now I can - forever! This band which inflenced Kurt Cobain have a tuneful, humourous and intelligent approach to punk, and their 2004 reincarnation was very tight.

2 Dec 2008
Tonight Neil Young played Scotiabank Place during his major North American tour 2008. Wilco which normally sells out its own headlining tours was one of two supporting bands, the other being Everest. I had only decided to come when my friend Troy O'Brien told me that Wilco was on the bill, because I have seen Neil four times before, the first on his 1970 tour in London at the Hammersmith Palais if I remember rightly. So I came early - 6:30 to be ready for the 7 pm, start. After 11 I left, having seen Neil perform as an encore my second favourite song of all. What a night! Rock'n'roll really is here to stay!

There were very few spare seats although the majority, many of whom had paid between $60 and $100 seemed to prefer to sit out the "warm-up" bands. People are strange. As Everest started the arena was about 20% full. And that was a pity because they weren't bad at all. Master tunesmith Young would not have shared his bill any band that hadn't figured "no tune no good." I'd seen Wilco at Bluesfest in 2006 and have lots of their recorded material and am a strong fan. But I have to say that I prefer listening on disk to seeing them last night. Maybe my expectation was just too high. They have so many great songs but the selection tonight only included about three of my favourites. I would have liked Jeff Tweedy to talk to us some more - I don't think he introduced the band members. He has enormous talent and Wilco are a lot better than they seemed tonight.

Neil came on around ten past 9 to thunderous applause. And right from the first notes of his magnificent sounding guitar he was brilliant. When for his second song the opening notes of My My, Hey Hey blasted the rafters there was no holding the crowd. Everybody knew why they were here and were just wallowing in the gorgeousness of what Neil has made timeless.

This is a man of 63 who suffered a brain aneurysm in 2005, has had diabetes since childhood and walks with a limp from polio. Yet this is the best I have ever seen him perform and with such energy. His famous never-ending final chords were well represented. Half way through he took a walk up a ramp to a portable pipe organ, seemed to assume a new persona, and sang (with harmonica accompaniment) what I always call #89 in the green hymn book: "As longs the hart" (that link is I playing it years ago, not Neil). This was Mother Earth (Natural Anthem), with his words replacing the more well known "The water is wide." Wonderful. Unlike most big name concerts I have seen in the last decade, Neil's performances and the support from the marvellous musicians including his wife Pegi Young were better than the versions on disk, adding musical quality, spontaneity, excitement, dynamic range and visual excellence. And so the evening progressed through his acoustic classics from his After the Goldrush era always returning to the seminal rock numbers that he has contributed to the genre that will never die. And then came the end - or was it. After several minutes of audience roar he came back to do . . . wait for it . . . "A Day in the Life." I suffered pangs of pleasure as he recreated a masterpiece cover complete with both orchestral build-ups and the final chord that sufficed us for the evening and made us all proud and joyful and happy to be Canadian with him. Lynn Saxberg More reviews (lots) EdgeGirl video

1 Dec 2008
The Canadian government is attempting to push the self-destruct button. The great majority of people I have discussed the situation with are of one mind: the gang of three: Dion, Layton and Duceppe are dangerous opportunists and the possibility of ending up with Dion as PM are on a par with Sarah Palin becoming President. Very scary. We universally feel sympathy with Gorvernor General Michaëlle Jean who may be thrust into the position of reluctant kingmaker.

I admit to being an ardent Harper fan. His international presence within the G20 and G8 has put Canada back on the map. He is the respected PM of the country with the most stable banks in the world (UK banks are #40 and USA banks #44 on the list). His cool presence as a speaker and his wisdom have been a powerful voice in world affairs particularly through the current financial crisis so far. I even support his initiatives to tighten political funding and to curb certain union practices, though his timing for introducing these matters might have been reconsidered. In blatant disregard of his fine achievements, and leveraging the above mentioned measures that might have been better left for a future occation, and at a moment when our country needs stability to navigate the turbulent waters of current momentous events, Dion, Layton and Duceppe cook up a poison pill to derail him. If it is allowed to fly it will derail Canada from our good policies and intentions and position of respect in the world (other than on the same-sex marriage scandal). This reminds me of Churchill's defeat by the Bristish Labour Party in 1945, and the denigration of Margaret Thatcher by the Brits at a time when she was (and remains) a heroine to the rest of the world. I have written about this sad trait elsewhere in these pages.

Rally for Canada - 6 December 2008

1 Nov 2008
Life tips
I went to a 50 year Naval reunion in September this year. They only found me a couple of weeks before the event. It crossed my mind that I could even be asked to speak, so I constructed a list of things I have learned since I joined the Navy in 1958. In reverse order of importance, here's what I came up with:
TV is a time waster and can stifle your chance of achievement.
The Internet is a primary tool of globalization and yet anyone can use it. An individual can have a global influence.
Every problem has a least-bad solution. Keep calm when things go wrong. Things will go wrong from time to time.
Basic sales skills are good for everyone.
The gift of encouragement.
If you wait for others to acknowledge your skills and gifts you may wait a long time. Use your gifts! You decide if you have the talent.
A good education is necessary to help you appreciate the richness of this world and helpful when job-seeking. It is not correlated with entrepreneurial ability.
The is a very wide range of human ability, and most of us are very limited, so don't beat yourself up if you don't rise to the top. See Ineptitude. Human brainpower is randomly distributed across the world's population.
Happiness in marriage is unrelated to physical appearance, but strong Christian faith can make a huge difference.
Jesus is Lord, and we may be in the end times. My goal nowadays is helping as many people as possible get to Heaven.
Of course, I wasn't asked to speak. There was one, great speech (of which I have a copy), at the mess dinner, by Rob Walmsley.

31 Oct 2008


Laurie-Ann and Tony with friend Ron Bets on bass entertained for 1/3 of the evening; the other 2 /3 were poets and a visual artist. They played tunes which Tony has written, and one of them has words by an inmate in jail whom Tony has known for several years.

The evening ended with questions from the audience to us the artists, probing just what it is that makes us want to do this. It certainly isn't for money! See more info about our music.

Watch the videos:
Kenbits Part 1 | Part 2


1 Oct 2008
A few days again in Costco I noticed a DVD of "The Wall Live in Berlin" - for ten bucks! Though I had taped this event on 21 July 1990 when it was broadcast to the world on TV, I haven't watched it very much because of the poor TV sound. I had no idea that a DVD was available - had been since 2003. Costco of all places - when buying some coffee for church! Started watching it that afternoon. What a revelation! What an incredibly brave undertaking by Roger Waters, Tony Hollingsworth, Nick Griffiths - not to mention the Bleeding Heart Band, and the many guest artists. And all proceeds to Leonard Cheshire's Memorial Fund for Disaster Relief. The 5.1 surround sound is marvellous. The sense of being in that audience of 300,000, but in the comfort of my living room and the glorious music and outlandish visual effects from Gerald Scarfe's fertile brain combine to remind us of how significant was this moment in history. The documentary included on the disk is also first class; placing the event in its historical context and detailing the challenges of bringing the performance to fruition. I read today that 77 year old Mikhail Gorbachev is considering a return to Russian politics. He, and his friend Ronald Reagan should also be in our minds as we relive this true epic. And how come Roger Watters is less than a household name in this age?

1 Sep 2008
A cautionary tale. We bought a new Blackberry, and not expecting to use it for downloading media files paid for what is called a 4MB data plan, saving $15 per month over an unlimited data plan. Bad move. When the first bill came in it was for $357.63! This included a single item of $93.87. Bell data support were unable to identify what this was for! They just collected the money. Neither can they give any advice about which applications may be heavy users of data. While checking out the phone I had added the music store and radio applications. These post a warning of significant charges if your data plan is exceeded. I tried to load one song, but gave up after 30 seconds realizing this would take an age. Probably my $93.87 charge was the result. I am posting this as a warning to others. It brings a whole new meaning to the words user-unfriendly, and customer service. The saving grace is that the Blackberry (Curve) certainly is a fine device, but buy the unlimited data plan.

11 May 2008
Global Day of Prayer, and I am fighting emotions of sadness mixed up with - yes - a little anger. We had a wonderful time of communing with our great God, creator of the universe, through Jesus, with the Holy Spirit much in evidence. The arrangements had been carefully and painstakingly made, by people behind the scenes, and many who were on the platform tonight. The Holy Spirit was a focus; it was His day of Pentecost. The music by Geoff Dresser on guitar with an excellent bass and drums accompaniment complimented Teresa van den Boogaard 's magnificent work on the organ. Geoff was a fine pray-er as well as singer. As each speaker from many different backgounds took the podium, we were powerfully enveloped in the work of the Spirit, helping us weep for the Burmese people, rejoice for Chinese Christians, wonder at Egypt's Christian rising.

I am upset because of the disappointingly small crowd - about 170. I'm sad for the many sincere Christians I know who don't take great joy in prayer with God's children worldwide, and angry that it really does appear to be a slight by the long established denominations against the faster growing churches. I may be wrong but my sense was that there were very few Anglicans, few United, only the odd Baptist and Presbyterian, and not very many Catholics. In short, the main line churches snubbed this event. As a representative of a main line church, Anglican, I am confused by the insular attitude of fellow Anglicans, be they traditional or liberal, when it comes to joining the Body of Christ in a love offering. Since many Anglicans are aware of my involvement on the Global Day of Prayer, I also take this personally. Where were members of the Anglican Gathering of Ottawa, for which I have served as President for some time now? When I have mentioned the GDOP to any of you, it's as if you think I have this misguided attachment to some non-conformist bunch who aren't Anglicans. Sad, sad, sad. But our God is a great God and this doesn't faze him. He has a plan, and I am absolutely certain that the Global Day of Prayer is part of it.

1 April 2008
I'm going to rant a little. As a web master for lots of pages, some of them for official organizations, and some of those organizations being Christian charities, I may have an unusual perspective. I know many people are reading the various sites. My home page alone receives more than 100 hits a month. Yet I have almost never received any feedback or thanks. Now, this isn't a plea for recognition, or acknowledgent. These aren't the reasons I do this, obviously. But it is a sad comment on a take take take world which has little thought for the underlying give give give folks who are the backbone of society. I was so surprised to receive a message of thanks on 11 May 1998 that I married the sender.

6 January 2008
This Sunday morning, two men started a brand new church. I was one of them. This was a new experience for me. In the run up to the day itself I was strangely calm, and in the two days immediately preceeding it had managed to fix quite serious problems on my computer and my guitar amplifier, both of which were vital to the service, suggesting to me that God had given me an angel or two to assist me in the many tasks. It is an independent evangelical church in the Anglican tradition, with the emphasis on the word tradition. It will avoid the liberal experimentation - the urge to follow culture - of the western Anglican churches that have caused such pain for so many biblically faithful Anglicans in recent years. We call it the Kanata Lakes Fellowship, and it has potential for serving the spiritual needs of hundreds who could walk to the building which we rent on a Sunday: the Old Schoolhouse on Goldridge Drive, Kanata, five minutes walk from our house. So this church may serve the needs of "orphan" Anglicans across West Ottawa as well any any from the local housing estates. I publicized it by going door to door and handing out fliers. The pastor is Brian Devisser, not yet ordained, and 30. He preached a good sermon on the first day and led well the service that he had ably designed based on a modified Kenyan rite: somewhere between the Book of Common Prayer and the Book of Alternative Services (nearer the latter). I provided the musical elements on guitar. About 15 people came and all were most appreciative. I hope they'll come again next week. There were a journalist and photographer from the Ottawa Citizen, which is well aware of the current strife in Anglicanism so this new church was newsworthy. Our church had a website a week before it opened, here.

1 December 2007
The Ant and the Grasshopper
CLASSIC VERSION:
The ant works hard in the withering heat all summer long, building his house and laying up supplies for the winter. The grasshopper thinks he's a fool, and laughs and dances and plays the summer away. Come winter, the ant is warm and well fed. The shivering grasshopper has no food or shelter, so he dies out in the cold.
THE END
THE CANADIAN VERSION: ...more

1 November 2007
The Law of Diminishing Business Returns
I am more and more reminded by exposure to technology that the rule to expand or die may have unexpected consequences. The digital camera is an example. If you buy one today, you will never be able to understand or use more than a small fraction of its capabilities. That's why my wife and I have always obtained earlier cameras second hand from people buying new ones. It is also why people sometimes ask me to show them how to use their cameras. The manufacturers, up against the expand or die philosophy, believe that building in more and more sophistication, they can expand their market. But the reverse may be true. Another example is computer application software. I recently paid $100 for CD Creator 10, but have CD Creator 5 on my laptop. It turns out that Creator 5 does several tasks better than Creator 10. The developers failed even to keep some of the good features of their previous product in their need to make something new. Wouldn't it be nice if capitalism allowed for the static company - just carrying on doing what it does without feeling the need to make everything more feature-rich. I for one would buy from a company that didn't change much about the product other than the quality.

15 September 2007
Uncoolness
In the Ottawa Citizen today, an article The Apple of our eyes explains one of the key aspects of our consumer marketplace today: true coolness as exeplified by the latest iPods and Apple in general, a company that has understood what is cool and that its customers only want what is cool. This is a powerful lesson in marketing to North American consumers today.

I am very uncool. Most of my characteristics, behaviour and motivations when making purchases have nothing to do with what's cool and everything to do with what is cheap but does the job. For example I have never bought a new TV in my life. I couldn't care less what the motivations of other are when purchasing, I am 100% selfish and buy entirely for functionality never giving a thought to what anyone else would think about me or my purchase.

Hey! I would have thought another word for uncoolness would be warmth.

5 July 2007
Following the rave reviews for Van Morrison at Bluesfest last night, I decided I wasn't going to miss both of the two big names at Bluesfest this year, and drove down to see Bob Dylan with 25,000 others. It was 38 years since I saw him at the Isle of Wight, and the 4th time I have seen him live. I stood next to a diminutive delightful lady who had been at Woodstock. Because he is unquestionably the pre-eminent singer-songwriter of the age, I will forgive him for the averageness of his and his aged band's performance. One of the guitarists was very average, most noticeable on 'Like a Rolling Stone.' Bob played several banal songs that seemed out of place in a repertoire that is so rich. But I will forgive him because he has given me and millions such deep pleasure, and the fact that he still cares enough to tour is remarkable. That he said not a word to the audience till after his encore (I had left by then) I was disapointed with; one would have thought his new career on radio would have made him more ready to speak to us about life and the world. Compared with Delirious earlier this year, this concert was very average. His vetoing of the front jumbotron and TV cameras and the press meant that a nest of robins adorned the Citizen front page the next day. But I do forgive him, this writer of "Don't think twice it's all right," the best performance of the evening.

28 May 2007
Yesterday was the Global Day of Prayer, the culmination of 10 Days of Prayer, and locally, months of work by the organizing committee ably and prayerfully led by Rev. Fred Milnes. It was a good group to work with and we produced a Godly result - see the photos. I also made a digital video of the complete event. My estimate of attendance was 300 max. I had hoped for 800 so this was disappointing. The international coverage all day long on God TV was awesome - a powerful indication of the power of the Holy Spirit at work in millions of hearts. Yet the local secular world gave the event absolutely no attention - not one word in the press or TV, despite receiving our press release. I suppose that is not so surprizing when you consider the paltry interest shown among many churches and Christians, who appear to be of the opinion that unless it happens within the walls of their church or the boundary of their denomination they don't give a shit. I feel grieved that for so many such matters as sports and entertainment are paramount in their lives while our world is under attack by Satan and many are being picked off to do his work, and many are suffering so much; people who could still have joy in their lives despite suffering if only they knew Him. As I pray today I feel frustrated by the blindness to the gospel of so many.

25 March 2007
On this 200th anniversary of the passing of the law in the English pariament outlawing slavery in Britain, I was in UK for my mother's 90th birthday 22 March, and I received a thought that I feel like sharing. Are we not so blessed to have black people in our society? The descendants of the slaves have made western countries human. We would lose so much without black people in our midst, and not just economically. I love it that a proportion of our populations are from African origin. God continue to bless them.

I had another less reverent thought on this latest visit to UK. The English language has all but disappeared. Cockney has taken over. Seldom did I hear the Queen's English. The BBC has dropped all pretence that correct pronounciation means anything. I am probably the only person who finds this regretable. Professor Higgins, turn again in your grave. One more reason why I prefer Canada where everyone speaks the same dialect, and so snap judgements are not made about people based on accents.

15 February 2007
My birthday! Ever since we got married nearly eight years ago, whenever Laurie-Ann asked me what I would like for dessert, I always said "Baked Alaska," a magnificent creation I remembered from way back, probably navy days. Of course I never got it - until now. This week, as a special birthday treat, after she had checked many Ottawa restaurants and none offered it, she decided to make one, with Google help. Finally the great moment came when the frozen ice cream and sorbet and cake structure went into the oven to cook the meringue, for a very short time. Mmmmm, did it taste magnificent! Making Baked Alaska - video instructions.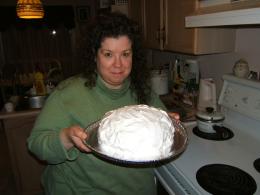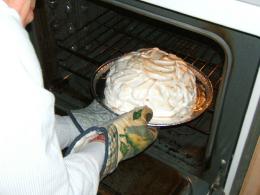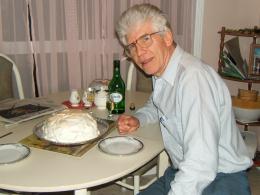 30 January 2007
Nora Jones' new record, "Not Too Late" came out today. I bought it. Played track 10 on Window of Opportunity as a random pick without having heard it (major self control) because I wanted to prove that there would be no bad tracks on the CD. I was right.
22 December 2006
Last week a judge ordered a Christmas tree moved from the lobby of a Toronto courthouse to a less conspicuous hallway so as not to offend non-Christians. This is either yet another example of the authorities taking action when they receive a single (crank) complaint, or an instance of the kind of bigotry exposed by Ben Stein. That atheists today are so passionate to stamp out any display of Christianity in a public place is a cause for major alarm. In this instance the Ontario Premier stepped in to cool the judge down. Watch out for future attempts to ban crosses, religious content in funerals, and charitable status for churches - unless the silent majority - you - becomes as active as the atheists.
7 December 2006
I am beginning to wonder if the caps on corporate political contributions were a good thing. In the last fortnight I have received begging letters from a municipal candidate I did not vote for (Alex Munter), a mayoral candidate I am wondering whether I was wise to vote for (Larry O'Brien), a provincial leader I never would vote for (Dalton McGuinty), and the Conservative party, who send me letters at least once a month asking for money because I have supported them. A very rough estimate of the annual mailing costs to these individuals and parties alone after postal subsidies is $8,500,000. They represent maybe 5% of political groups, so the total would be around $170,000,000. Apart from bolstering Canada Post revenue, this is a lot to pay for mail of which less than 3% would generate any return.
25 November 2006
21 November - 36 1/2 years after the Beatles' last release - "Let it Be" (18 May 1970), Apple released "Love," the soundtract from the Cirque du Soleil Las Vegas show. I was a happy owner of the disks (CD + 5.1 Surround sound-only DVD) by lunchtime. I had spent time in the last few days installing components to turn my stereo set-up into Surround Sound: a Technics SA EX31 receiver and an Athena centre speaker, both from a local pawn shop.
Four days later and I am still basking in the pleasure of listening to this marvellous realization by the father and son Martins of some of the finest music of the 20th century, researched, re-ordered and re-mastered into a theatrical event fitting such superb writing and playing all that time ago. I am only at my third listening and discovering more and more of the magic that Giles has worked, by splicing in and over-dubbing samples from original master tapes. The result is uncanny. I haven't checked back to the originals yet but I'm very happy with all the new versions for the time being.
My new sound system is worth every cent of its cost. It replaces a rather second rate amplifier and the sound even on basic stereo is significantly improved. It makes all my many disks sound great, not just surround-sound (movie and concert) DVDs. The 5.1 realization on "Love" is superb, better than any other music DVD I own, just adding greatly to the pleasure of Beatles listening. Even if you don't yet have a surround sound system, I recommend readers buy the double package for when you do.
Although a great job has been done with all the tracks, I have particularly wallowed in "Get Back," "I am the Walrus," and "Strawberry Fields." Will I ever tire of this music?
1 October 2006
For the Ottawa Alpha conference this September, I found myself having to chair the planning team. One thing I knew I wouldn't have time for was to write agendas and minutes for the committee meetings which started in February, to which only a faithful few ever turned up. On a previous Alpha project run by a planning group, the minutes and agendas became so detailed and time consuming to read that very few did, since they were only good for one meeting and then became dated. The coding used for actions was enough to put people off. In this project I would not have time to coach each person who would be involved in the team. So I used a different method which met our need well. I wrote a planning document which listed all team members, all tasks and objectives, showed the conference program and other associated events as they evolved. After each meeting I updated it and e-mailed to all who needed to be aware. It got quite long, but the find key is a wonderful help. Saved me a bunch of time and effort. I suspect it could be used for many projects.
16 July 2006
Just returned from Ottawa Blues Fest, where Wilco headlined this penultimate day of the festival. Alan Chrisman had introduced me to the band and suggested I buy "Summerteeth" a year ago, so I had great expectations. Wilco were amazing. They don't play too loud. They have songs with tunes and tunes with harmonic variations you never hear in today's music. I could hear the words! This bucks all the trends. Parents had decided that the music the kids like is not music, and undecypherable. Wilco only played one number from Summerteeth, but I enjoyed every song. So did the huge crowd who persuaded them to do five more songs as their encore. Many congratulations to Blues Fest for this inspired choice. I am sure many Ottawans were hearing Wilco for the first time. Maybe, just maybe we are seeing a return to music from noise in rock, and Wilco can pull it off. If their popularity continues to grow, we could see a trend here to counter rap and hiphop. Now I want to get all their other albums, but I guess that will have to wait for birthdays and Christmasses...
10 June 2006
On this day I had my first video conversation using Skype. I've used Skype for several months for audio calls to international destinations, but my son James in UK had tested the video facility. We had had a cheap digi-cam sitting around for a few years and I didn't think it would work with Skype - it's not a web cam - but it did work! It was James whom I had this first groundbreaking call with. After it, I spent some time repositioning the camera and adding a light for my face. One problem without an obvious solution is that my glasses always reflect the glow of my computer screen. This works better if you don't wear glasses.
1 May 2006
Never could understand why people don't seem interested in the things that fascinate me. I'd almost decided I was just strange, or superior (!). But in a blinding flash of inspiration I have figured it out. We all have a range of interests, and for the sake of this explanation, let's say that the average person has 100. Of these there will be some - say 75 - which are also enjoyed and appreciated by many others. An example could be TV, or Tim Hortons. Then there could be a further 15 that are felt to be extremely important by a smaller number, like Jesus, cars, hockey, radio, Nu Skin. There is such a variety of these that fewer people are passionate about any one of them. Then take the next 9 interests, quite specialized, any one of which one would share with an even smaller group. Railway trains, or Philip Glass might be examples in my case. Finally, the last 1%, interests which we could spend a lifetime trying to hook others on and getting frustrated through lack of response. Let's see: in my case that might be 8mm sound films, or audiobooks. The designers of Facebook have recognized these facts, empowering dispersed individuals to clan together to explore such esoteric subjects as "mushrooms are evil," "fans of Startrek & the colour green" (Boulian &). Don't forget that for me, 8mm films are just as important as TV. The 75 items that appeal to most appeal no more to them than any of their fringe items; it's just so frustrating when we don't seem to be able to get others excited in them.
1 April 2006
The Sea Shepherds is an group that opposes the seal hunt. So do I. But their latest project, trying to persuade Costco not to stock seal oil as a nutrition product, doesn't make sense. Here's how they refer to it on their web site: "a product obtained through inflicting incredible cruelties to baby harp seals, a so-called "health" product that contains heavy metals and PCBs and a product that presents a threat to the marine ecology of the Northwest Atlantic." Seal oil is rich in omega 3 fatty acids, a powerful nutrient which all of us should be taking. In addition to many other benefits, Omega-3 can reduce violent behaviour, see this. The nutrition industry in Canada is highly controlled, and products do not contain heavy metals and PCBs; to say so is wrong. We obtain a huge variety of foods and medicines from animals and fish that we kill. Seals are no different. To me, killing a cow or a spider is no less traumatic (to them) than killing a seal. Let's not be hung up on the fact that seals look cute. Where I side with the Sea Shepherds and all the other activists is in protesting the methods of killing the seals. There is no justification for inhumane slaughter. But it's far better that seals, which must be culled, are used for medicines and nutrition than furs. By making foolish claims and statements, the activists harm their own case. They should concentrate on increasing the proportion that are shot from 90% to 100%.
1 March 2006
One of the delegates at a music conference I attended commented that while the quality of musicianship had never been higher, the quality of songwriting is lower today than in some of the glory days in Ottawa's past on the music scene. As one who selects music for a radio programme (Window of Opportunity), I agree. Many CDs have just one or two tracks where the songwriting is really good.
I believe that we are overburdening people when we expect them to be both songwriters and players. Granted there are many examples of people who are, but on their early albums even the Beatles played songs written by others. Elvis never wrote a song. Today the concept of singer-songwriter has gone too far. Take myself. I can write good songs (such as the theme of Window of Opportunity, which Kate and Hollis sing) but my voice and solo guitar work leave a lot to be desired.
I think that in our Ottawa community, producers of CDs should be more willing to seek out good songs from other artists, and from songwriters. We may not yet be ready for a Motown-style hit factory, but singers should not feel it is vital to have written every song on their CD - even if this means that will pay royalties to others. We should encourage songwriters to submit songs to established musicians. The result would be a return to a scene where the songs of good but unrecognised songwriters were included on disks by recognized singers who need not feel it essential to have to write all their own work. Hoagy Carmichael couldn't sing or play. Bryan Anthony comes to mind as a local songwriter with huge potential but problems in the playing and production area. (And I have cut a CD of good songs badly sung, and continue to be driven to construct songs though they have little chance of seeing daylight.)
I see this as a way of maximizing the talent and the total revenue by using the best skills available in combination.
1 Feb 2006
Have you evert tried to deliver a letter to 60 Colchester Square, Kanata, a commercial development by Urbandale? There seems to be no such address. None of the businesses in Colchester Square display the street number 60, or a unit number. I asked several of them what their address was, which was the only way that I knew I had indeed found 60 Colchester Square, which is the address for all of them. Their universal excuse for not having a number posted was that everyone knows where they are! The idea that they may one day have to call emergency services had escaped them. Someone said that the fire engine would see the smoke. The concept of solving the problem by investing a dollar and sticking numbers on their doors has never occurred to them. One of them blamed Urbandale for not numbering the development. This problem is not limited to 60 Colchester Square. It permeates Ottawa commencial developments generally. Almost none of the businesses in Bank Street have numbers up, meaning that car drivers searching for any of them are driving dangerously, with eyes off the road. Is this an issue for the municipal elections? One has to ask why the City has failed to deal with it in the past.
1 Jan 2006
Last year in Toronto there were more murders than ever before, many involving guns. Sex crime is going through the roof, with abuse of children and babies the major categories. In the most prosperous nations on Earth, more people than ever have decided that they need to hurt, kill, rape, abuse and mistreat others rather than subjugating their urges. There are tens of thousands of web sites displaying child porn. The pornography industry raked in billions. Canada became the third nation to legalize same-sex marriage - a dreadful role model for the world. The Canadian Supreme Court judged that "swingers" clubs could allow wife swapping. The homosexual movement scored huge advances, permeating the courtrooms, TVs and cinemas of the world with propaganda designed to convince non-thinking people that it is normal to use our bodies in ways for which they were clearly not designed. Pleasure and orgasmic stimulation continued to be the driving forces of civilizations, regardless of whether for good or bad. Christianity continued to teach that we should love one another, including homosexuals, though not their homeo-erotic acts. The Canadian Charter of Human Rights and Freedom continued to protect evil people promoting pedophelia, while forbidding Christian prayer in schools.

Photo: Thom Fountain, at Ottawa Folk Festival 2005


Christians continued to pray for our nation.

I want to draw a few conclusions from this data.
1. Pornography is the underlying cause of much of the crime and pain in the world.
2. The Charter of Rights has been causing more harm than good.
3. Our children are not being taught the faith by their parents. The schools aren't teaching them about Jesus. The schools are teaching them that homosexuality is normal. If you think our present times are bad, wait this this generation of children is in charge of our institutions.
4. Until some or all of these trends are reversed, how can we expect our loving God to intervene? If we were a stock. he'd be advised to sell.
But we aren't a stock; we are more like a mutual fund. Among us will always be a few bad, but most are good. And we, the good, are increasingly being forced to follow agendas set by the bad, and to be restricted by laws designed for the bad. God knows this, and he won't forsake us. Indeed, he has indicated to some that Canada will become leaders in the fight for righteousness.

Please pray for our nation.

1 Dec 2005

A few days ago there was a news item about the YMCA apologising for having a children's class where kids were drawing angels. Aparently a mother complained that she didn't want her child introduced to angels. And this is the Young Men's Christian Association! One rule I have is to ignore complaints unless several are received on the same subject. I am a strong believer in multiculturalism, so long as that means allowing all cultures and religions to express themselves, including Christians. The movement to erase the word Christmas and replace it with "holiday" is not multicultural; it is evangelical atheism, and we should resist it with every fibre. I doubt that Muslims, Hindoos and Jews have any problem seeing Christmas celebrated. Atheists however hate anything spiritual.

1 Nov 2005

Ring Tones
Can someone tell me why apparently intelligent and mature people have ridiculous ring tones on their cell phones, such as the William Tell overture? They don't even seem embarrassed when they receive calls in the middle of meetings, disrupting the flow completely while they fiddle around looking for their stupid phones. What do I have on mine? I have set it to ring - just once - the regular telephone sound, so noone could possibly think an orchestra has just entered the room. Can I hear it if it only rings once? Yes.

1 Oct 2005

Silicon implants and penis extensions
On 25 September 2005 the Ottawa Sun printed a full page ad for penis extension. On 26 September the Ottawa Citizen reported that "experts insist silicone breast implants are safe" reporting on scientific evidence but failing to explain why women would want larger breasts. Has our society gone mad?

There are several reasons why people like to look "good". In our economic world, it is a fact that better looking people have more success in finding jobs, particularly at the top of the tree. That's one reason why women wear make-up and smart men use skin-care products and exercise. People just feel better if they look good. People also believe they are more attractive to the opposite sex if they pay attention to skin, grooming and weight. However, I would contend that there is only one possible reason that men might want a longer penis, and it has nothing to do with job interviews or admiring glances from their peers except perhaps in a nudist colony. As far as breast size is concerned, the only professions that would care two hoots about it would be exotic dancing and prostitution, with country music singing and movie acting possible contenders for third and fourth place. Yet clearly, thousands of women feel that nature has let them down, and that larger breasts will solve all their problems. This is simply wrong, however many think it is right. They have been brainwashed by the movie screen.

Outside of pornography, longer penises and larger breasts have nothing to do with human happiness, sensation or pleasure. I say this based on experience of three marriages and a healthy interest in (the opposite) sex as long as I can remember. In fact, most of us would do better choosing our mates blindfolded, or via e-mail. The eroticism that really works is between two minds, and any attraction based primarily on physical appearance is more likely to fail for that very quality. Hollywood surely proves this over and over. From personal experience as well as observation of the human condition, the attraction of minds is a pre-requisite for a fulfilling deep human relationship. The length of a penis or the size of breasts are irrelevant. They are also irrelevant in terms of the pleasure and fulfillment of sex between loving husbands and wives. In Scott Peck's novel, "A Bed by the Window", an unlikely love affair takes place in a mental institution between a severely disabled, immobile patient and his nurse. Their emotions are no less poignant than those of any other lovers.

Why would a newspaper accept ads for penis enlargement? It is because the law has taken away their power to refuse. As our sensation-seeking population demands the relaxing of restrictions on "freedom" you can expect to come face to face with ever more unpleasant advertisements in the future.

1 Sept 2005 *

Big Tobacco vs us
The Canadian government has recently decided to permit citizens to sue tobacco companies for their tobacco-related health problems. This seems to me to be a bad idea. Not that I hold any brief for tobacco firms.

The issue is one of allowing individuals to fail to take responsibility for their actions. The health problems associated with smoking have been known for decades. Even before they were proven, it could be assumed that inhaling smoke could hardly be good. Knowing this, people still started smoking. Now they believe the tobacco firms were to blame for allowing them to smoke. How many times do you have to tell someone that what they are doing is dangerous without their accepting the responsibility for the decision? This new legislation reinforces the myth that whatever you do someone else will bail you out, and that gratification in the moment is all that counts.

What applies to cigarettes should also be applied to drugs. We can't sue the drug pushers and manufacturers, and once someone is addicted, they will continue. The only good solution (as with cigarettes) is never to start. Today, methamphetemine is the latest scourge. It's meant to make you feel good about yourself and about life for a few days. Any individual knows when they take that first dose what will be the result. They assume that a caring health service will save them if things go wrong. Well it's time to slow down the dollars available for treating self-inflicted disease. Only if there is no treatment available are today's foolish youth and 20's likely to realize that the meth syringe is a one way ticket to hell. By the way, feeling good about yourself can be achieved with long-lasting effect by exercise, vitamins and minerals, a low fat diet and a personal relationship with Christ. I recommend starting at the end and working backwards and He'll help you (Rom 8:28).

2 July 2005

Less than a day before we leave on our Kenya mission, I feel absolutely blessed to have been able to view the Live 8 experience today, as I write, just finished. Don't ever doubt the power of rock music as a tool for good. As the G8 summit gets underway in Edinburgh next week, the leaders of the world's most "have" nations have a clear mandate from many millions to share their wealth by forgiving the debt of Africa's "have not" nations. And Neil Young included a powerful song to God, who surely was pleased by the days events. Very special moment: the presence of the young girl very near to death in the Live Aid film 20 years ago, now a beautiful woman. Sir Bob Geldof, your vision has been magnificently realised.

14 June 2005 *

The trend to denigrate people or companies that have been very successful continues to damage society. A significant amount of public money in the USA in the last 15 years has gone into censuring presidents and trying to bring them down for political gain. The criticism of both Bill Clinton and George W. Bush reached new heights. The new industry for get-rich-quick merchants is authoring tell-all books about famous people. Lawyers have not been innocent in this trend as they encourage people to sue and becoming household names as they prosecute and defend the famous. Michel Jackson is the latest victim of the need to crush people who have shown talent, leadership and initiative and actually achieved success. I am happy for Michael as he was aquitted yesterday on all counts, and he will now be as well known as a child molester - even though innocent - as a singer. In Canadian politics the rush to insult, drag down, criticise far outweighs any sense of encouraging those who have stepped up in leadership. Canadians criticise opposition leader Stephen Harper for lacking charisma because that's what the media tell them - this is probably the brightest intellect to have graced the House in decades. Give me intelligence over TV charm any day.

1 June 2005

Excellence in science fiction - Doctor Who.
The episode of Doctor Who broadcast in Canada on 24 May 2005 titled "Father's Day" was simply one of the best pieces of science fiction I have ever seen. As you may know Dr. Who first hit UK screens in 1963, but was reintroduced with new actors and writing this year. Without the huge budgets of Hollywood, the producers have succeeded in artistic terms far beyond what money could buy. This episode examined the results of damaging time, where a character from the future alters the past - specifically by saving the life of her father whom she never knew. The story, script, acting, and yes the special effects surpassed in intelligence even Babylon 5, and certainly Starwars, and in my view Startrek.

1 April 2005 *

Link established between diet and violence
March 21, 2005: National Post - Do murderers just eat the wrong things? I have long believed that the wrong foods and nutrients can significantly affect behaviour, self-image, anger/temper, apprehension, handwriting, learning ability, stress handling, memory. And that is just from analysis of myself during 13 years of using and studying nutrition with the help of Nu Skin / Pharmanex, which have allowed me to get most of these effects under control most of the time. But symptoms creep back if I run out of Pharmanex "Overdrive" for example. I believe that we might find such cause behind some of the spate of senseless violence in homes, schools and churches in North America recently.

1 March 2005 *

The war on nail scissors
Check out any airport X-ray security line and you'll find a bucket of nail scissors confiscated from passengers' carry-on bags. Those I have seen recently had about 200 pairs. Multiply that by, say, 2000 airport security check lines worldwide (a wild guess) and that comes to at least 400,000 pairs of scissors; more if they are on a second or third batch. What I would like to know is: is there any statistical evidence on the frequency of use of nail scissors as weapons on aircraft?

1 February 2005 *

I sometimes get calls from telemarketers representing companies whose products I own, trying to sell me their product again. When I ask them why they don't know I am a customer, they usually say they are using random lists. I called one company, ADT, and ended up talking to a sales manager, who explained that for them to pass lists of their customers to their telemarketing companies would contravene privacy rules. In my view this is a cop out that too many companies are using as they worship the great god of subcontracted telemarketing. If they don't figure out a way round it they will eventually begin to lose customers. Before I buy another high value product, I intend to demand an assurance in writing that I not be bothered by telemarketers working on behalf of that company. Anyone else like to join me in this campaign?

1 January 2005

On Boxing Day came the earthquake and tsunami that has killed more than 150,000 in countries bordering the Indian Ocean. Next day the Archbishop of Canterbury admitted that it dented his faith in a God who could allow such catastrophies. Many other have attempted to reconcile how a loving God would allow such suffering. Let's look at the logic.

The Bible nowhere says that God will take away suffering; on the contrary it suggests that "we also rejoice in our sufferings, because we know that suffering produces perseverance; perseverance, character; and character, hope..." (Romans 5:3). This universe obeys the laws of physics, and God created both. God loves his children more than we can ever imagine and does not wish us to suffer. So let us postulate that he might prevent all earthquakes greater than 9 on the Richter scale from killing people.

But why only these; why would he not then prevent deaths from earthquakes greater than 8. Or 6. Or 1.

Logically, why would he stop there? Surely he would also stop deaths from all major traffic pile-ups of more than 100 cars. But if 100, why not 50. For each of us, we only suffer one death, so surely God would prevent even a single death from car accidents (based on this logic). Surely he wouldn't stop there. He would prevent serious injury for any one person. And if he did that, why would he not prevent the weather from ever being other than sunny so as not to upset his creatures. And while he was at it, he would surely prevent all family arguments, because he loves families. Eventually, God would (in all logic) have to prevent the slight irritation one feels on the skin if a fly walks on it.

Clearly this is absurd - but every statement after the first can be defended in logic. The first, about the earthquake of 9 on the scale, must be incompatible with God's universe.

God grieves far more that any in such disaster (and there are worse things in the world than this that are not on our front pages, but he knows of all of them). He is there with his beloved people - and he loves all people - helping them in their suffering and giving them hope. That's what he does when the universe that follows the laws of physics follows them and kills people. No other type of universe in feasible except in dreams, the Garden of Eden, and Heaven.

See also Why did God let this happen? by Debby Gyapong.

1 December 2004

Pixies

We arrived back from a week in Orlando on Nov 28 and saw an ad for a gig by the Pixies in the Robert Guertin Arena in Gatineau that night. In fact starting in an hour. The Pixies! I had no idea they were still operating. I was tempted - but resisted. However, I have enjoyed reading the music press on the significance of this band from Boston around 1990, when James my son introduced me to them. There was great article by James O'Meara in the Nov 25 Ottawa Xpress. Always loved the melodic raw energy on the cassettes I have: Velouria (just 4 songs, one by Neil Yong) and Doolittle. For Christmas I bought myself "Frank Black Francis", Pixies leader Frank Black's recent CD with one disk containing his original demos, and the other disk reworked verions (by 2 Pale Boys) of some Pixies hits - great stuff; tuneful originality again. The Pixies were one of Kurt Cobain's favourites. I consider Nirvana are part of the golden chain of music succession. And immediately before them were the Pixies. Somewhere before them come the Clash, the Sex Pistols, Ramones, Velvet Underground, and The Beatles (particularly Revolution). What do most of these these bands have in common? Melody and harmony! Check out the harmonic progressions. Their songs major on tunefulness. Much of today's music majors on repetition and production, ignoring the art of songwriting, making them forgettable. Then, occasionally, an artist comes along who is talented enough to add melody to the format. An example is Michael Franti, my favourite of today's singers, with a hip-hop reggae beat as the foundation for his melodic tunes and significant lyrics.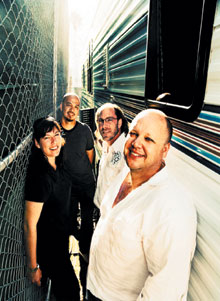 The current edition of Rolling Stone lists the 500 greatest songs of all time, and I have had $100 worth of pleasure just reading their takes on the top 20. I believe popular music is important to society. It has given me the greatest pleasure for 50 years, and I love all the music in my collection more every year. I want some of these songs played at my funeral.

Laurie-Ann and I just watched our DVD of Paul McCartney's 2001/2 tour, "Back in the US". As always it engulfed me: the music and the affection. It there were a prize for most loved man in the world, I think Paul could be the one.

1 November 2004

Capitalism?
I was in Kash and Karry looking for canned custard, and saw a lady apparently reading bar codes on a hand-held device. Thinking she might know where the custard was, I asked if she was on staff. She said "no". Then she said she worked for Wal-Mart and was doing the umpleasant job of comparison pricing. This got me thinking about the way that some companies today price their products - by seeing what the other guys charge and then undercutting. In a pure capitalist world, each company makes or handles goods and prices them based on manufacturing costs plus profit. Companies that have the lower costs increase sales through lower pricing. Higher priced competitors develop market leadership with another product. Consumers benefit. Wal-Mart in contrast uses another strategy; less capitalism than gangsterism. Buy everything at the cheapest prices, but sell at prices just below the local competition, maximizing profit, screwing customers, and putting competitors out of business. Hmm.

1 September 2004

Magazine overload
Every day or two another magazine arrives for me to read, generally oriented towards business matters. Because time is precious my routine is to bring them with me next time I break for coffee or a meal if I'm alone and spend a few minutes seeing whether they hold the holy grail to increasing my production. Sometimes I just toss them into the box where they end up after this cursery examination, without reading. Always I reflect on the fact that these magazines represent a way of making a living for a bunch of people, but I doubt their relevance to me in the overall scheme of things. And, now that my box is full of unread literature, I have to wonder whether the magazine industry isn't greatly overrated. Add to this scepticism the fact that some, particularly Time and Readers Digest, employ ridiculous tactics in giveaways to induce readers to become subscribers, and you can see that receiving another magazine this morning drove me to write these words and share my pain.

1 August 2004

The Internet as therapy
We are told by psychologists that a root cause of crime by youth is their frustration with annonymity in the world today. Their life seems of so little import that, driven by the human need to make a difference, they turn to crime and particularly violent crime, on the basis that notoriety is a finer fate than obscurity.

I too have felt these emotions. In a world racked by evermore horrendous problems (or so it seems from the media) my quiet daily activity in home and workplace appeared to have no chance of changing anything and I often thought about the fact that after I die there will be little to suggest I was ever alive.

It was partly for these reasons that I taught myself to create web pages. All I have ever done on the Internet is to use it as a library of information that I discover that may be useful to me in the future. The fact that others sometimes read it is a bonus. In some areas however, where I am passionate, I am writing for others, and boy, what a wonderful way to relax by getting it off by chest. I started with pet peeves. If I think something would be better done in another way, I post it there. My focus today is on the same sex blessings debate in the Anglican church. I receive e-mails daily from discussion groups where people are arguing the rights and wrongs and getting heated in the process. I never met anyone who was introduced to aspects of faith through heated argument; only by love and example, as on Alpha. So I set about to write what I believe and posted it. If I learn something new I add it to the page. My therapy is complete. In rare cases maybe I have helped the understanding of others. Even if this is not the case, my thoughts are in a public place and I am no longer annonymous. The Internet has been more helpful for my sanity in this amazing world of ideas, propaganda, greed and the acts of bad people.

That was Plan B. Plan A is of course to surrender your life to Christ and allow Him to give you purpose.

1 July 2004 *

The cult of the personality on TV and radio has gone far too far. Every single person (working for the station) who is allowed air time starts their words with the phrase "My name is ...." Why do they think we care what their name is? They should take a tip from the old-style BBC, or The Economist, the best world newspaper, and stay in the background. Even when all an announcer does is introduce another announcer, they seem to have to tell us who they are. I wonder if they are taught this in radio school, or whether it is a requirement of the station, or they do it because everybody does. I don't have a problem with a show host introducing themselves at the beginning of a show, or even during it. I do have a problem when the only point of an announcement is to introduce someone else, or a show. This cult of the individual originates way back in history - to the reformation. Prior to that all works were done to the glory of God. Since then, Gnosticism - for that is what it is - has come to the point where man promotes himself and his superior beliefs if it "feels right." The liberal movement of churches away from traditional beliefs is another example of Gnosticism at work today - see The A,B & C of SSB, final section.

1 June 2004

I enjoy contructing web pages. My web site is my journal - things I may need in the future - and if others benefit too, that's great. I write in the basic language of the web, HTML. Most other people and almost all professionals use web page generating software. That sounds like a grand idea, but the longer I do this the more I am grateful I learned HTML. And it took me at least an hour from a book I borrowed from the public library.

The problems with web generators are (1) they produce HTML code that is so convoluted it is very difficult to edit, except by generating a whole new page; (2) they sometimes apply layout rules and restrictions that I don't want to be limited by; (3) they cost money. They also take about five times as much text and memory as my code.

You professionals are probably now seething, and saying that I don't obey all the HTML conventions such as all tags in lower case. No, I don't, and what a freedom that is. The result seen by my readers is exactly the same.

1 May 2004

As I mature (ie age) I am noticing a change. We could call it "not buying fever." I just returned from a trip to the kind of place I have always enjoyed all my life: a CD store (used to be a record store). Instead of allowing myself one purchase, I left without anything. This wasn't because CD Warehouse wasn't stacked with great music and DVDs. The first display I saw was favourite classic disks at $7.50 including John Coltrane's "Giant Steps." I have long promised myself the intellectual pleasure of discovering Coltrane. But after wandering the store and listening to a number of CDs (including the exquisite Nora Jones) and a DVD (the Pixies) I was able to leave without picking up "Giant Steps" or anything else; what's happening to me?

Here's what I think it is. In each case I logically examined the amount of pleasure likely against the time it would take to give justice to the musical acquisition. I visualized myself after playing the disk and the level of ecstasy to be expected, and it wasn't as much as it used to be, say, if one took home Abbey Road, or Dark Side of the Moon, or a Mike Oldfield, or a Charles Ives symphony. Compared with listening to these (we have a huge library), tackling the new music just didn't stack up.

There's another (worrisome?) trend. What do I enjoy doing most these days? Well, I'm doing it right now. Creating for my web site (or any of the myriad other things I do on this little Dell miracle). Little else compares. And I can enjoy the musical collection as I do it. The intricasies of html are like a gorgeous puzzle to me, which I can usually solve. What other pastime could be more compelling? My lack of buying fever is apparent not only in record stores but everywhere. It is so easy for me these days to decide not to buy something. The fewer new physical possessions the better. Just give me the company of Laurie-Ann and the Internet and I'm content in the biblical sense (Gall 5:22). Luckily she's an Internet lover too, or this wouldn't work...

1 April 2004

One of my (financial planning) clients has been in software development since the mid 1970s. He told me that very little of the work he has done over this time is still in use, and while one project lasted 15 years before obsolescence, most these days are terminated within two of three years not by obsolescence but by company takeovers, and resulting scrapping of software. How depressing! He mentioned that some of his colleagues envied carpenters, who can see the results of their time and effort for many years. My friend has also tended to work incredibly long hours, often at the behest of supervisors in Europe demanding results by 9 am, which means he has the target of 4am EST to complete work.

If you are a carpenter, be grateful. If you are the owner of a software company, spare a thought for the health and marriages of those who work for you - over and above the money you pay them, which admittedly is good.

1 March 2004

"The Passion of The Christ" explains the mystery of Christianity. What's all this stuff about forgiveness of sins, ask skeptics. God landed on earth in order to die cruelly, taking on the punishment for all of our sins. We sin a lot – which needed huge punishment. Sin is another name for evil in the world. The punishment was simply awful – a fact that this film focuses on. If His death had been painless, there would have been no reason to come – and no Christianity. It is amazing that the creator of the universe was prepared to suffer for us so much - a definition of love.

For those who don't understanding these matters, Christianity is just another religion. Gibson makes us understand them through images that will stay with us till we die. I'd recommend people don't wait till then before they realise the Truth. This film may jolt many to figure out that a relationship with God (through Jesus) is essential to all of us. It took the thief on the cross to paradise.

More than anything the film made me love God more, for what he did for me, my sins in the past, and those I will commit in the future.

1 February 2004

I was showering the other day (where my best ideas come) and I realised that the project I had been working on for a couple of weeks would bear no fruit if I carried out my intention to write a proposal and send it to client. By then I knew the information the client needed. Writing a report would take four or five hours. He lives two hour's drive away, so if instead I visit him and present my findings face to face, I actually save time. So I called him and he has agreed that we will meet for that purpose, even though he had earlier asked for a proposal. In the past I have sometimes been less logical, and sent comprehensive proposals that took me days to write. They have never resulted in a decision to act by the client. Proposals never do. In fact they are more likely to give the client reasons not to act (often because they don't get round to reading the proposal).

In government, endless studies are done and reports forwarded with never a change to the status quo as a result. It's the same phenomenon.

The missing ingredient in each case is salesmanship. In my experience, very few people act without being sold. Recently my secretary Lynn decided of her own free will to apply for Long Term Care insurance, but she is a very unusual lady. I have rarely experienced situations where people ask for financial (planning) products; they must be sold. I suspect it is true in most other fields.

1 January 2004

I hate to criticize my fatherland, but after a splendid 2-weeks holiday there with family, I am left with some thoughts that confirm my pleasure in living in Canada. The first group of thoughts are easy to articulate, and are based on invasions of daily living by the authorities that I found oppressive. The widespread use of speed bumps that are unnecessarily large and quite capable of wrecking a car's suspension was an immediate turn-off (though I suspect they were at the request of local residents). The plethora of cameras photographing cars driving on bus lanes, and other infractions, means that we are in danger of receiving summonses as a result of our week's driving. The rules of "Congestion Charges London" are however the most anti-social and threatening of civil liberties.

I think the basic idea of tolls for drivers in central London is good, and it allowed us to drive in the West End with ease I had never before experienced. However, when I got on the Net the next morning I found that our £5 charge should have been paid by 10:00 pm on the day of our visit, and the penalty for us was now £40! I had assumed that, since we were not asked for money on entering the protected area, we would receive a bill in the mail. The City of London assumes that the population, including tourists, knows that the fee should be pre-paid. None of our friends or relatives did, and our car rental company had never mentioned it. Since we already had a parking charge of £40 for overstaying a pay and display lot, this was painful.

The explanation for the draconian policy and extortionate fines may be explained by the extreme attitude of Ken Livingston, the Lord Mayor of London, who stated years ago that he hated cars and would do everything in his power to fight them. As an arch socialist he probably sees them as toys of the upper and middle classes. The additional information from our taxi-driver on our ride to the airport that traffic lights in London are now a-synchronized (so that a succession of green lights never occurs) hammers the point home.

My second thoughts are an impression that the animals have started to run the farm; that decisions are being made by people more interested in making political points than improving the environment for living. I heard that a town council prevented a church from advertising Christmas services on a council notice board. In the past I always had the impression that the folk making the infrastructure decisions were on our side and would generally improve the situation by their decisions. Now I'm not so sure. In Canada we are less tight for space so have an advantage, but I do feel that the government is still basically on our side. Hopefully we won't be following in the UK's footsteps any time soon.

1 December 2003

Quote from Canadian Technology and Business magazine, 12.2003/01.2004, (no page numbering):
Wouldn't you prefer to receive that e-mail from anywhere in the office, or find that file even in an airport longe? Or maybe to sit out on the deck at home, surfing the Web or dealing with those e-mails that won't wait until Monday morning, while enjoying warm breezes and a cold beer?

Frankly, no.

1 November 2003

Who has my cellphone number? Answer, my wife and my secretary.

Don't ask for it; the answer is "no."

1 October 2003

Am I interested in owning a cellphone which takes pictures?

No, I'm not.

1 September 2003

I gave a talk about Alpha to a congregation in a small town where we had taken out a half-page ad for local Alpha courses. Very few in the audience had seen the ad, even though the newspaper is free and delivered to their doors. If I had asked them who had read David Warren in the Ottawa Citizen, or gone to WorshipFest, or had tickets for the David Bowie film the next day, or knew who Phil Ochs was, or many topical activities, none would have known what I was talking about. If I had questioned them on the exploits in a daytime soap opera, they probably would have fought to have their opinions heard. How have we come to this - lives untouched by matters that can shape society, yet riddled with trivia.

There are so many things in my own life that fill me with emotion and wonder, yet seem unknown to my friends and acquaintances, and I have a longing to share such pleasures. I think what I'll do is start listing some of those things so that I at least can savour them.

Now, I am aware that there are subjects that excite others that I prefer to lat pass me by. One is North American sport. Because I didn't grow up with the games, or develop a relationship with them, I consciously exclude them from my radar, thereby saving quite a lot of time for other activity, such as the Internet. By the same token, why should I expect friends not to do the same, consciously excluding certain activities (eg rock concerts) from their spread of activities. Tit for tat. Nevertheless, I will indulge myself and make that list of items that I can't understand why others don't get as much of a kick out of them as I do.

1 August 2003

At the Toronto Alpha Conference (today and tomorrow) Sandy Millar said something that has made a profound impression of my understanding of the way some other people think (by the way the conference was the largest yet with 2000 delegates, and a truly wonderful experience). In a discussion on the distinctions between appreciation of Chistianity by the head and by the heart, Sandy mentioned that he had heard from a lady who was demonstrably strong in her faith and said she didn't care whether Chistianity was true or not, she still wished to follow it because it was such a meaningful and profound philosophy (at least that is the gist of her comment). I believe her other interests we in new age areas.

This was an eye-opener to me and may explain why some folk are committed to Earth, to nature, to Wicca, to Budha, and to Islam and indeed all other religions. David Warren is reported in this month's Christian Current as stating that he believes Islam's weakness is that it is false - "but it is splendidly false." For me, if I did not believe in the truth of Christianity, including all the great miracles, the resurrection and the virgin birth, I wouldn't waste a further thought on it.

1 July 2003

On 11 June 2003 The court of appeal challenged the federal government by instantly legalizing homosexual marriage, and the government has accepted this decision from an unelected body created at least in part by patronage. Apparently they applied the logic of the Charter of Rights, which says that all groups should be treated equally and fairly, so homosexuals should be treated in the same way as heterosexuals.

During my childhood I discovered (with some fascination) that I was not equal to girls, and later in life I have noticed that God had a good reason for the ways he designed us - male and female - who would marry and have children. Suggesting that homosexuals be encouraged to marry breaks the fundamental rules of that design. To treat the group in equality with heterosexuals is as flawed as it would be to insist that males and females visit each others' public toilets or that men and women should all wear unisex clothes. "Vive le difference" say the French.

The theory of evolution suggests that nature supports the survival of the fittest and those who can be beneficial to the species. It has appropriately arranged that there would be no progeny from homosexuals. You may ask why God would create homosexuals. The sins of the forefathers are visited on future generations; to the 10th generation in this case.

The Netherlands and Belgium have led the way in recognizing homosexual marriage and Canada wants to follow. I foresee Canada's becoming the gay wedding destination for America (and they can smoke pot legally when they get here). Is this the image we seek for our beloved country? We have protected the rights of pedophiles so the prognosis is not good. While I don't want the government in my bedroom, neither do I promote heterosexuality, so I don't want to listen to homosexuals promoting their lifestyles in gay parades. I particularly don't want to see men kissing men or women kissing women on TV - it makes me nauseous.

The US will not enact similar legislation because George Bush in particular is guided by God's laws (none of us are perfect followers) and makes no secret of the fact, and the US population as a whole still knows what the Bible says, and are rightly less concerned about the sensibilities of non-Christians. Canada's politicians seem to believe that speaking out for God's rules is politically incorrect. They have fostered an atmosphere where promoting religion or religious values is not vote-catching. They are forgetting that the whole of our civilization is based on the Ten Commandments and the Sermon on the Mount.

The motivation of homosexuals to marry is at least partly influenced by the gaining of pension and other financial rights by a survivor. As a taxpayer I have a problem with that.

Should homosexuals marry? 67% said "no" in a June 17, 2003 National Post poll.


1 June 2003

Another G8 summit, this time starting in St. Petersburg, and moving to Evian, France. President Putin hosted the St.Petersburg leg - this just a week after he hosted Paul McCartney on a tour of the Kremlin and Paul sang to 20,000 in Red Square May 24. This is hatred crumbling before our eyes. "Peace will never come until we have changed human nature, until people begin loving each other instead of hating each other" (reading for November 13 in 'Day by day with Billy Graham'). Some believe that McCartney and the band had a hand in bringing down the iron curtain. See link.

Yet there are many today that oppose closer communication by world leaders. They appear to want to prevent the kind of relationship-building and cooperation implied by gatherings such as the G8 summits, and they oppose increased global trade. While power wielded by international corporations should be subject to national and international law, I say this is no reason for sometimes violent protest. I'm equally unhappy with heavy-handed response by security forces (including in Canada) in riot gear forcibly restraining peaceful marchers for any cause.

1 May 2003

Re the current debate about filtering pornography from children on library internet terminals (in Ottawa). Let's make an assumption that we have the technology to filter out porn sites accurately (we haven't). I cannot comprehend why any sane person would want pornography accessible in libraries to anyone, children or adult, and the matter should never have ever reached public debate. The chief librarians should have just installed the filters. Anyone who feels otherwise is simply wrong or a pervert. It is incomprehensible to me that a year has been spent discussing this matter. Why would we want to do anything on behalf of anyone wanting to watch pornography on a public library terminal? These are the same people who bombard our e-mail inboxes with disgusting spam. If the Civil Liberties Association says otherwise, then surely they will lose sympathy from all good people. Is it possible I am the only person who feels this way? Has the world gone quite mad? My local library has had to put up screens so that people wanting to look at porn will not upset passers by. Having said all of the above, the ONLY argument that supports the status quo is that if we can't yet accurately filter out porn sites we might filter out some sites that are legitimate, and we might fail to filter some porn sites.

1 April 2003

War - and Canada polarized over PM Chretien's decision not to support the action of USA and Britain and about 40 other nations to attack Iraq without UN sanction. The battle for Baghdad will start soon. Saddam's militia is firing on his own people preventing them fleeing from Basra where they were unwilling human shields. This fact alone is enough to illustrate the evil in the situation, an evil which in my view the Americans and British were absolutely right to challenge with force, and alone had the guts to act. My prayer and those of millions is that they will succeed before many more are killed on both sides. Isn't it interesting how there is no animosity towards Iraqis, only to Saddam. With James somewhere in the war area, I have a very personal concern for these events, unfolding in graphic detail on our screens.

There seem to be two types of political leaders: those who do what they judge the majority of their constituents want them to do, and those who do what is right even when the people they lead are against it - because they don't know all the facts. Only the second type are really leaders. The first seem to rule by opinion poll from behind. I believe opinion polls are worse than useless. I'm sure Churchill never let them influence his decisions.

My take on the reason for the war is this. Iraq is geographically strategic, bordering on many middle east countries that are sometimes opposed to US foreign policy. Iraq itself is a huge oil producer. In the continuing War Against Terrorism, triggered by the events of September 11, 2001 when the USA was attacked on its own soil, the USA will take both tactical and strategic steps to smoke out terrorists and countries that harbour terrorists and violently oppose US foreign policy. Saddam made a grave mistake provoking the US to attack Iraq by failing to comply with UN resolution 1441. Had he kept his head down he could have quietly continued his dictatorship for years. Instead USA now had an excuse to attack, and pursue the War Against Terrorism, and as a huge bonus, take control of one of the most strategic areas in the world.

1 March 2003

So this is what grief feels like. Phantom died on 17 February, our cocker spaniel, aged just 8. Over 24 hours his rear legs lost all strength, for reasons unknown, and he got the worst case of cherry eye the vet had ever seen. Over the next three days, he was helpless. I could put him on his feet and he could walk slowly, but he couldn't get up himself. His eye deteriorated and his temperature rose significantly. He was a very sick dog. I took the decision that he should go to sleep forever, and after a sedative, and I had said goodbye, he had the shot. He died without any apparent pain or trauma. I couldn't bear the idea of leaving him for cremation or burial by others, and I carried him to a grave in the woods near us which I had actually dug for Clancy our other dog, a year ago - but Clancy has recovered.

Then my troubles started.

I spend lots of time thinking about this creation of God that loved us so much. I walked him twice a day for six years. When I was alone before Laurie-Ann came, the dogs were my faithful solace. They took away the loneliness. And now, I have it. Clancy is so sad, and off his food. I am drawn to Phantom's resting place, and I like to touch places where Phantom was, around the house, and my car seat where he was on his last journey. I want quiet, to think of him, no music, no radio. I hope this pain goes away - and yet I don't want to lose it. I don't want him not to be in someone's thoughts. I see his sweet face as I said goodbye, and the thousands of times I held him, and it's hard, so hard. Other dogs weren't like Phantom. He captured hearts, and he won't let them go, even in death.

Annmarie and I buried him in his final resting place when the snow had melted March 29.

1 February 2003
I just read a great book: "Rich Kid Smart Kid", by Robert Kiyosaki, the Hawaiian businessman and investor whose ideas are shaking up the world of investing and education. At least I hope they are - though it's possible his many readers are all uninfluential individuals rather than corporate bodies with power to make changes. As I read the book I was again struck by a thought I've had many times: bright individuals figure things out, but then it takes so long - perhaps a hundred years - before the new paradigm filters down to the masses. They continue in their old counter-productive ways, in this case getting poorer while the rich get richer. What's wrong with this picture?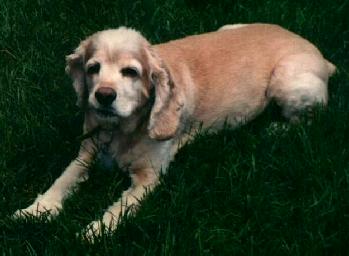 Photo: Lynn Williams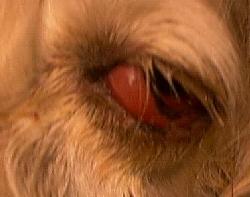 Phantom's cherry eye - the last picture
Pets' page
Every time I read a great non-fiction book of learning I think: "What a world it would be if everyone was taught this in school." I see the "masses" out there, struggling in dead-end jobs, unaware of what could be, if only they were told. How sad that TV, that comunication miracle, is used 99% for broadcasting popular mind-numbing garbage and 1% useful information, because few people tune in to the useful information.
1 January 2003
Planned obsolescence may get us out of the recession, as computer purchases recover following their hiatus after Y2K. I had a personal encounter with the planning of obsolescence. Laurie-Ann is a DJ on CKCU-FM and spends a lot of time planning radio shows. She needs to know how long each track is and unfortunately many CDs do not list this. CD players generally have a timer that will count up or down in seconds as the track plays.
These days you can't buy a CD player new; Future Shop only sells DVD / CD players. These devices have two problems. None of them seem to offer count down; only count up - so they don't tell you how long a track is until you've finished playing it. Secondly, most of them will not play CD-Rs - and these writable CDs are pleriferating as more and more folk want to burn their own CDs. While I'm ranting here, a word on VCDs - a cheaper form of DVD used for karaoke and Chinese Alpha course material - beware; just because a player is advertised as accepting VCD format, it may not play all variations of VCD. The only DVD/CD/VCD player that plays the Chinese Alphas is the Apex 1100W, which is also the cheapest.
So what I had to do for Laurie was to buy a second hand Sony CD player from Cash Converters, and it works just fine. It was a Christmas present from me and she was delighted. By the way, until now she's been planning her shows using her computer CD and "Real One" Player, which does display track times for the whole disk. The problem here is that about one CD in 10 won't play on it at all, and enhanced CDs crash the computer and she has to reboot.
25 December 2002
Jesus was born today, about 2002 years ago. We are at Laurie-Ann's parents home. Last night her mother Carol took us to Humber Valley United Church 11:00 pm church service and for an hour or so Jesus was openly acknowledged. But why do most of us consign him just to church time? For the first Christmas I can remember, I havn't been able to get him out of my mind all day. I am very thankful that I have now been given the Christmas gift of continuous acknowledgement of him. Carol and L-A had the gift some time ago. He is more than "the reason for the season"; he is God who gives us everything. Of course, the burden I now sense acutely is sadness for others who have not yet received the gift.
1 December 2002
I have two dogs, Clancy and Phantom. I'm very fond of them. Their lives are a sequence of eating, sleeping, taking me for walks and trying to keep out intruders while welcoming friends with love. They have no idea of the infrastructure that is in place to enable them to prosper: the dog food industry; the veterinary profession, pet by-laws, the humane society (even though Clancy came from there). They just go on from day to day and our heavenly Father provides for them. Though they know not the factors that foster them, they do always show appreciation for their human companions.
A few thousand years ago our spiritual ancestors, the Jews, were accompanied their daily walk by the continual presence of The Lord - at least for some periods of history. Two thousand years ago, the presence of God was reinforced by the landing on Earth of Jesus - God in human form. The early Christians were so fired up that Christianity has now spread through a third of the world's population. Yet many who have heard Jesus' name know little about Him, and care less. Even though we are totally dependent on God for every facet of out lives, we take all of it for granted, just like dogs, except that we seldom even show appreciation for our heavenly companion. We are blinded by the devil into believing that God is less than the most important fact of creation; indeed many doubt His existence. We are like dogs, sniffing around all day, yet unaware of His continuous crucial role in our lives.
15 November 2002
As my (early) Christmas present, Laurie-Ann allowed me the gift of my choice and it's revolutionizing my leisure time: an overdrive (fuzzbox) for my electric guitar so I can make a sound that's a little closer to that most creative of bands, Nirvana.
3 November 2002
Dr Allen Churchill quoted G.K Chesterton today on his (wonderful) weekly radio show "Good News in the Morning" (every Sunday on CFRA 580 AM at 6:60 am in Ottawa): "The world will never want for wonders, only for wonder." How true! In an environment of amazing wonders and achievement around us, many folk hardly raise an eyebrow when they hear of a discovery by the Hubble telescope, a quadraplegic athlete driving round the world, or a camera that can flow through the body. I remember how quickly the achievements of astronauts became of less interest than their regular soap opera. Even laudable achievements by close friends are often ignored. I think my wife Laurie-Ann's achievements in the world of broadcasting this year is wonder-full, yet we have few reports of friends even listening in either live or via tape delay. Strange. People seem incapable of praise, whether or not an achievement is praiseworthy. As for our attitude as a race to the wonder of creation, it seems that imprisoning it in the pages of atlases and encyclopedias is the most we can come up with, while we will gasp and scream over the trajectory of a hockey puck or soccer ball.
20 October 2002
Why is love like gravity? Gravity is the force that binds the universe together. It is so precisely devised and calculated that following the big bang had it been marginally more powerful the universe would have collapsed, or had it been less powerful it would have expanded too fast for any stable future. Every planet and star maintains its course and speed controlled by gravity. There is no item in our world or outside it whose mechanics is not defined by the force of gravity. [For more, see Gravity - an alternative theory by James Copple.]
Love is a force that binds people together in families. The family is the stable unit of social structure. Without love, humans (and other living beings) become random operators in a chaotic individualism. No art, no culture, no religion. The greatest commandment is "love one another." Love is the antidote to evil. Love is the reason we are not abandoned by our children when we become old and feeble. Take love away, and our society disintegrates. Yet in some relationships love can be so intense as to be destructive. Maybe scientists one day will calculate the precise amount of love necessary for stability in a given population.
11 August 2002
Just a month till the anniversary of the biggest shakeup in the history of the west - the day vulnerability came of age. Will it prove to have been the warning that shook us into action to prevent repercussions? Let's hope so. Let's also pray for more understanding between East and West. In my experience (I have had friendships with people from many nations) there's never any problem between individual humans - just between their governments and media.
I phoned my daughter Debbie today and we had a warm chat. A few month ago that would have been impossible, but we had a reconcilliation during the recent visit that Laurie-Ann and I took to UK in July. It's good to find your daughter. I've also has the great pleasure of watching all the family 8mm movies that I brought back, and seeing her as a truly beautiful child and teenager, ski-ing so well and having fun in childhood. My plan is to get those films on to DVD in due course. I'm going to send Debbie the tape of the interviews that I did with a couple of folk bands at Blue Skies Music Festival last weekend, and that Laurie-Ann broadcast on her program "Window of Opportunity" last Thursday night. This Blue Skies seemed to be the best of the three we have been to, thanks to the extreme generosity of our friend Barbara P, who lives close by, and houses and feeds us while most attenders camp out.
28 July 2002
Today the Pope gave mass to a million (?) young people (I don't like the term "youth") in the culmination of World Youth Day at Downsview, Toronto. I watched on TV. I had to tear myself away to go to church, but was gratified that Fthr John, Anglican, paid strong tribute to the pope in his sermon. For a frail man who can hardly stand, the strenth of the words, and their courage, are awesome. He tells a whole country where they are going wrong, with no more trepidation than he would use encouraging a single pilgrim (another word for "youth" in this arena). I guarantee he impacted the lives of all who heard him, particularly those who were there. I feel totally comfortable with identifying myself with Catholics. We all love the Lord, and the pope speaks right.
Today is also the 20th anniversary of the death of Keith Green, Christian singer, killed at 28 in a crash of a small airoplane he was piloting. It is probably a fact that had Keith not lived and produced his immortal body of Christian music, we