A Kind of Journal
by Tony Copple

Thu 17 May 2012
On this day we left for a 3-week road trip to see James and Kathy in Las Vegas, staying in timeshares in Colorado on the way and the way back. On the first day we got to our hotel in Columbus by about 9:30 pm after 1055 Km. Early next day we left to drive the 1116 Km to Kansas City. There to the Colorado timeshare was 1334 Km, and I had driven far more than ever before in one day. The yellow Mitsubishi had performed flawlessly. Along the way we dipped into several audiobooks. Phil Lesh's "Searching for the Sound - my life with The Grateful Dead" proved the perfect driving book *****. Normally we would listen to radio, mainly alternative rock, and comparing the quality with Ottawa's Live 88.5, our favourite. The endless plains of Kansas included the largest wind farms I have seen. The final stretch from Colorado Springs through the Rockies is a wonderful road but for us this time mainly in darkness.

When we woke up on the Sunday morning this was the view from the Wyndham Pagosa timeshare where we would stay till Friday. I searched for an ACNA church and found Trinity Anglican, Reformed Epicopalian, right here in Pagosa Springs. But I couldn't confirm its address, so went to Crossroads Christian Fellowship (Southern Baptist) on the resort and much enjoyed it, particularly the praise music. In the evening we tried to view the annular eclipse but it was obscured by clouds. As I write it is now Tuesday and we are about to set out on a visit to Santa Fe.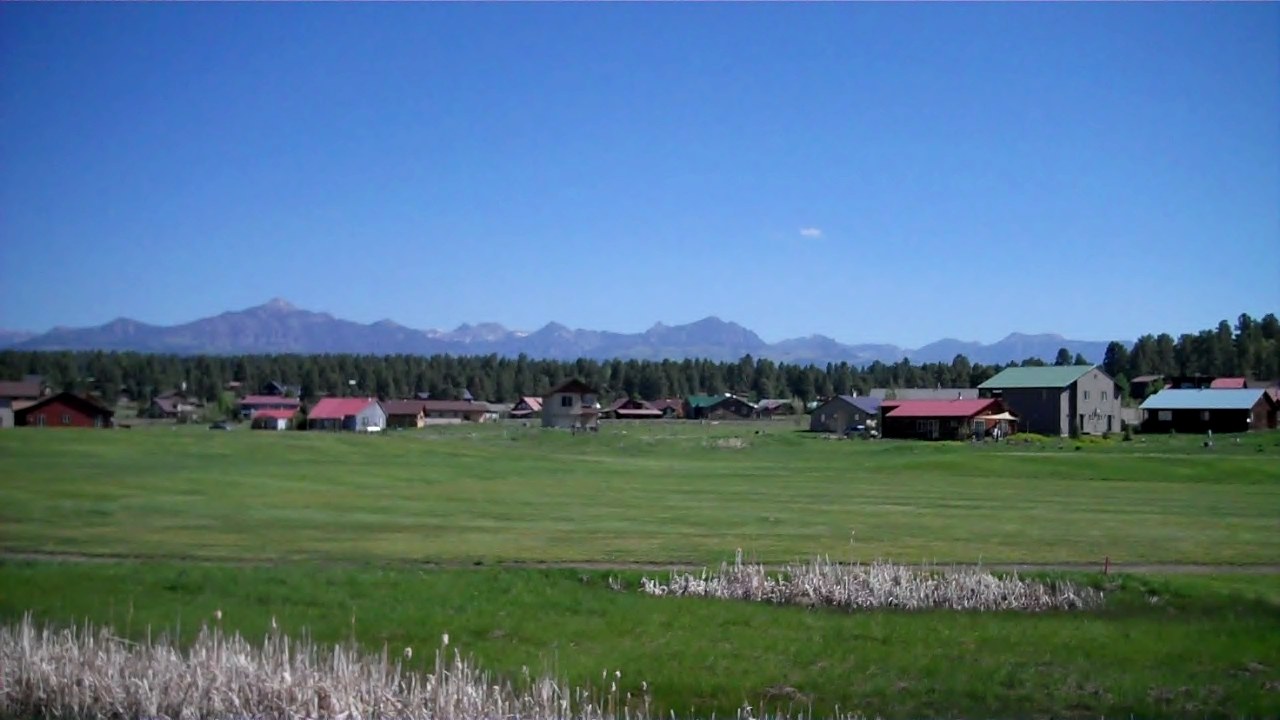 Tue 22 May Tonight we dined in the Blue Window Bistro, Los Alamos, and I swear that at least some of the other diners were scientists from the National Laboratory which with $2B annual funding is one of the most important centres of scientific researth on Earth. The meal and service were excellent. The half hour drive to Los Alamos from Espanola is spectacular, since Los Alamos is perched on a Mesa, and the surrounding landscape is thrilling. Earlier we had driven to Santa Fe, stopping for many photo ops, particularly Abiquiu, where artist Georgia o'Keeffe lived. On arrival in Santa Fe we visited the Georgia O'Keefe museum, an excellent gallery of her work, and bought souvenirs including the movie Georgia O'Keeffe. After checking out the Santa Fe railroad station and the town centre, we set a course for Los Alamos. Later on the way home, I was handed a speeding ticket by a state trouper (68 in 55 zone, only car for miles, $91), and when we arrived, after planting a baby prickly pear cactus that I had dug up on the roadside, I attempted to download the Blackberry pictures, but instead of downloading I seem to have deleted them. It is now nearly 1 a.m. and I am attempting to recover the deleted files from the Blackberry using Stellar Phoenix Photo Recovery software, and it is not working. L-A heartbroken. To be continued ...
Wed 23 May At about 1:15 this morning I discovered a new-to-me part of the Windows 7 filing sytem with the subdirectory I had created for the Blackberry pics, and there they all were! Panic over. Divorce proceedings on hold! I waited till she was stirring at about 6 am to tell L-A, and next thing you know she's up and at the computer. In the morning we relaxed, and in the afternoon drove to Durango, 'narrow gauge railroad capital of the world.' Delightful; particularly the old town. The original Rocky Mountain Chocolate Factory is here, and of course we needed to sample their wares. We watched Georgia O'Keeffe in the evening, which contains many of the images we had seen yesterday.
Fri 25 May With Monument Valley beckoning, we departed Pagosa Springs by 7:30 am. and continued West on the 160. By 11:30 we were in the desert; no trees, small scrub plants, yet a variety of pastels colours: grey, beige, pink and torquoise in the landscape. We stopped by Four Corners, where Arizona, Utah, Colorado and New Mexico all meet, and we were snapped standing in all simultaneously. On the floor of the car our cactus broke into flower! We drove on, searching for the turn-off to the Valley of the Gods. Found it, and then began a 17 mile circuit on a roller-coaster dirt road around the most extraordinary rock formations - buttes - I have ever seen. Then on to Monument Valley. This Navajo area has huge buttes - majestic - and another 17 mile rough trail with parties in small trucks to see the sights. We tried to drive it but soon gave up; it was too rough - and the tour trucks would have set us back $150. So we came on to Kayenta and the Kayenta Monument Valley Inn, where we dined in the Amigo Cafe and then listened to the on-demand version on Window of Opportunity from the afternoon.
Sat 26 May I started the day with a dip in the motel pool. Shortly after the wind came up. We left on the 160/3 in very blowy sandstorms and tumbleweeds on the move for the Cameron Trading Post, source of all imaginable Navajo gifts, and lunched in their nice restaurant where most dishes included fry bread. Stopped at a viewpoint on the Little Colorado River where I saw my first large canyon, and we bought three beautiful neclaces from a Navajo lady called Lulu. Then on to the Grand Canyon. Nothing prepares you for the huge scale of it all, and when you first arrive you can only ever see a tiny portion of it. Desert View was our first stop, with its lookout tower built about 1931. We then stopped off at about eight more lookouts en route to the Grand Canyon Village. See photos for an impression. As we left for Williams we passed through Tuscayan where we were able to watch the IMAX movie Grand Canyon in the National Geographic Centre, which really rounded out the day for us. It's the most viewed if all IMAX films.
Sun 27 May - Global Day of Prayer day Was expecting this to be a less exciting day: the drive to Las Vegas, but it tuned out to be one of the best in terms of sights. We opted for two hours on Route 66, a slight detour on the original road starting at Seligman. The wallpaper for this page is a photo of the tarmac in Seligman. Alongside us were train tracks with frequent very long and slow freight trains. After Kingman we saw the sign: "Las Vegas 90, Hoover Dam 60". I hadn't hoisted in that the dam was at least near our planned route. Turned out we drove right over the high bridge downstream of the dam (without realizing it), but after 3 miles returned on the tourist road to see the dam in all its glory. First place I went was back to the high bridge we had just crossed, but on the pedestrian walkway, from where I saw thrilling views of the dam and Lake Mead behind it. From there we drove to the top of the dam, and drove across, looking back up at the bridge high above, and looking on to the lake. From the other side, more photo ops, and despite the many pedestrians and cars, I was impressed by the excellent way this world class tourist destination is organized, without armies of security men. What a salute it is to the engineers of the 1930's. See photos in HD.
So we then made the final leg of our outward journey to Tinted Mesa Court in a northerly subburb of Las Vegas where James and Kathy (my son and daughter-in-law) are living. We can come a further 1258 Km from Pagosa Springs. They have a lovely place with palm trees on a gold course and cacti in their back yard, alongside which I placed ours from New Mexico. I watched some Gobal Day of Prayer coverage on God TV. After a dip in the pool and hot tub, we had a wonderful steak dinner, and then YouTubes and Soundclouds till bed time. In the last 3 days we have visited the Valley of the Gods, Monument Valley, Grand Canyon and the Hoover Dam. Wow!
Mon 28 May As soon as we had set the dates for our road trip, I had bought our tickets for The Beatles - Love, at the Mirage on the Vegas 'Strip.' Tonight was when it would happen. We left on the half hour drive at 4:30, picked up our tickets, savoured the atmosphere of the city within a city that is the Mirage, and were in our seats by 6:45 for the first of two packed out shows that would be performed tonight, 6 years after it opened. See short film of before and after the show, and my review for the Ottawa Beatles Site. Of course I knew something about the show from the DVD, but the real thing was an experience like no other. As the a capella 'Because' ended and it breaks into 'Get Back' the events around us erupted to multiple magic movements and I instantly teared-up at the joy and exuberance of it all. From one great interpretation to another, Cirque du Soleil's combination of beautiful music superbly reproduced, mime, ballet, gymnastics, trapezes, humour, robotics, Beatle-lore, 2 cars, roller blades, video and the voices of John, Paul, George and Ringo entranced all who were there right to the glorious climax of (what else) 'All you need is Love.' It was as if every song was written for this specific performance. It was a joyful and well-satisfied crowd that left the theatre, humming the tunes, and ready for the other delights of the Mirage. Our destination was one of the many restaurants. Then we returned to the (free) parking lot and drove the length of the Strip enjoying the sights and entertainment venues, before driving home.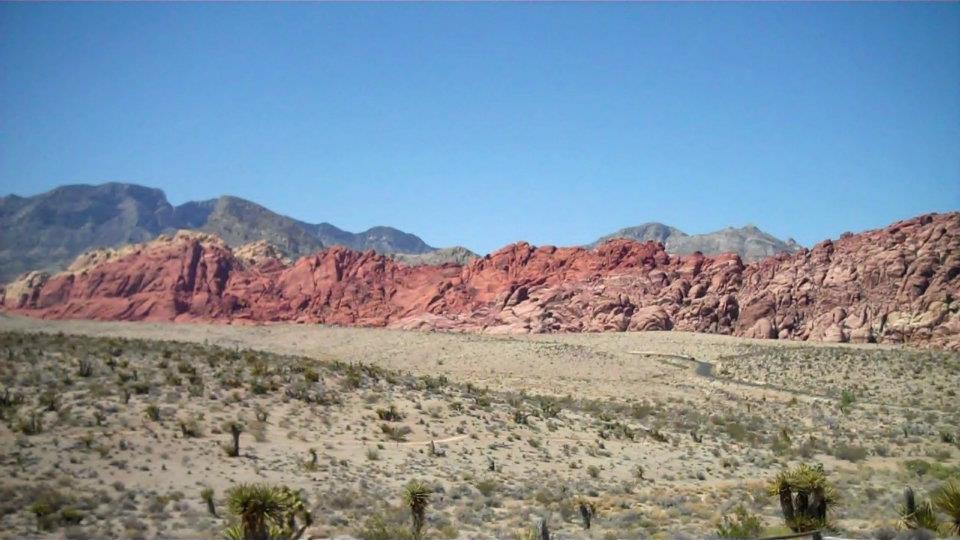 Wed 30 May Red Rock Canyon is a beauty spot half-an-hour's drive from the Centenial district of Las Vegas where James and Kathy live. With Kathy as our guide we visited Red Rock and its 13 mile driving trail today. The evolution of these rocks from under-sea sand dunes over millions of years and the introduction of one part per million iron oxide give them the remarkable look they have today. As we drove I noticed a judder in the car steering when I turned the wheel sharp left ... In the evening we went to North Forty BBQ restaurant, and then Yoghurt Land for dessert.
Next morning I checked the steering fluid in the car. OK. Hmm .. may be something else wrong, so we took the car to James' local very friendly service centre, Purrfect Auto Center on Ann Road, where chief engineer Juan diagnosed a major wear problem in the steering mechanism. We had no choice but to have them fix it, and as I write we are hoping that all will be well in time for our departure tomorrow. This meant we had more time around the house, and I started reading James' book to be published shortly on Amazon: The Truth Seeker, which postulates that much of what we believe is not true. Kathy suggested we visit Fremont Street in Las Vegas, and drove us in their Jeep. A curved roof with a zillion LEDs covers a quarter-mile lomg tube-like venue for live music, casinos, stores and coffee shops. We saw the 9 pm rock video on the roof - quite the tourist attraction. We dined in the buffett of The Golden Nuggett, and finished the evening with a visit to The Las Vegas Sign.
Fri 1 June Just postponed our hotel at Green River 24 hours, because the garage diagnosed an additional problem - a bent strut - which may have caused the main problem - and getting a replacement has so far delayed the repair by 22 hours. So Plan B is to leave here early tomorrow as soon as the car is fixed, and have one fewer days in Steamboat Springs where a timeshare booking awaits us. Looking on the bright side - this delay is painless compared with a steering breakdown in the middle of nowhere.
... The car was fixed today, so we'll be on our way early tomorrow morning, Saturday.
Sat 2 June (60th anniversary of the Coronation). After final exchanges of computer files and our goodbyes and thanks to Kathy and James, off we went back to Canada. We stopped for gas a few miles before entering the Valley of Fire National Park, near Overton, Nevada. Anywhere else, just one of these rocks would be memorable. Here, there are hundreds. The car started cutting out when we stopped to admire the views. I worried if it was related to our recent servicing, when I had the anti-theft lock disabled, since it had become unreliable. Laurie-Ann suggested the gas we had just bought might have been bad. And so it proved. After topping up at the next filling station, the problem went away. A couple of hours later we cut through a mountain range in the Virgin River Canyon - amazing experience. We lunched in Mesquite NV, coffeed in Cedar City Utah, a great dinner in Denny's in Salina (best value meal so far), after which we drove 175 Km with no services through absolutely gorgeous mountains till we arrived in Green River and the Knights Inn. The final part of the trip was in darkness, and we gimpsed impressions of some magnificent scenery by the light of a full moon. What a great day's drive! The car had performed well after its refit.
Sun 3 June We were expecting the Arches National Park in Utah to be special. 1M tourists a year are drawn to this desert loacation to view the results of erosion on this once under-sea area: the buttes, the fins, and the natural arches. Afer taking in a movie at the Visitor Center we followed the tourist road that winds around the best of the sights and marvelled, stopping to take photos at the many small parks designed for this. The climax for me was a half mile hike up a steep path to a place from where I could view 'Delicate Arch' which apears on all the publicity brochures. That was definitely my work-out for the day.
We lunched at Pizza Hut on Moab. Leaving the Park we followed route 128 for 44 miles through the Colorado River Byway. This time, in contrast to the Grand Canyon, we were at the bottom with the water and a rail track, looking up at God's massive architechture. We saw rafters and canoeist on their Sunday relaxation.
By mid afternoon I was feeling drowsy even though L-A had been driving for an hour. We went into MacDonalds in Fruita for ice cream and coffee (and poor service), and I had an Overdrive (Nu Skin). Normally I take one a day to keep my brain and body in gear, but had not done so on the holiday, just relying on LifePak. An hour later I was feeling much better; back to normal. We were following the Colorado River (it was flowing in the opposite direction) along I 70, and in the Glenwood Springs area we drove through a long canyon with magnificent road engineering. The dual carriageways were seldom on the same level. There were several tunnels. The rail track was on the other side of the river. See the pictures (top of page for links). At Wolcott we turned left for Steamboat Springs. We were listening to the original James Bond stories (Octopussy) when we came to Bond where we ate the rest of our pizza from lunch as the sun set. The final leg of the run north to Steamboat Springs was partly on a rough road, but we arrived about 10:30 pm, half an our before the Legacy Vacation Club closed for the night. Phew! We had clocked 1,277 Km since Las Vegas.
Mon 4 June The cactus Clara seems to have survived the drive so far. One dead flower has fallen off. I had added some sand to the soil from James' garden where other cacti were thriving. This was our first stop where WiFi was not available in the room; only in the resort lobby. I went grocery shopping (Safeway) and then made a Facebook photo album of the Arches. At 3 I phoned the Old Town Hot Springs to hear that they could fit us both in for a 30-min massage at 3:30, $50 each. We went. This would be my first experience of both massage and hot springs. Receiving the massage from my masseur Lynn was delightfully soothing. Then we went into the first of the pools where the water was warmest. The sulphur bubbles were rising. No chlorine, just many other minerals. As with the Nu Skin herbal mineral bath, the fingers did ot crinkle; this was not drawing moisture out of the body as does a regular bath or pool. L-A found an alcove where she happily stayed most of the time, while I visited all the pools and went down the water slide (more vigourous than I had expected!). We left about 5:30 having definitely had our money's worth. We dropped in at the boathouse pub for a beer and a Cosmopolian respectively, watched a mile-long train pass by just the other side of the Yampa River, and savoured our happy situation. I am writing this the following morning and cannot say I feel any difference in my body; maybe it will develop. L-A does feel some benefit in her neck muscles. In the evening L-A cooked us a fine tilapia dinner, and we watched the very informative Grand Canyon DVD "Rim to River" L-A had bought at the Desert View gift shop. In the last 10 days we have learned a lot about canyons.
Wed, Thurs 6,7 June As we started on the final leg home, knowing it would be hard driving for three days, I had mixed feelings. I wanted to be through all the driving, but I didn't want the holiday to be over. What we didn't discover till days later was that we left our precious box of favourite CDs and DVDs in our room at the Legacy Vacation club ... On Tuesday we drove 1083 Km from Steamboat Springs to Gretna, Nebraska. Steamboat is at 7500 ft, yet we started by climbing for miles over Rabbit Ears Pass, and there was snow below us. We passed through Laramie (where the man came from) which has a rare classical station KUWY.org and across endless praries. In Sidney, NE we found a gas station where using a Master Card did not require a zip code (in all others we had to pre-pay and estimate how much would go in the tank.) I finished reading The Truth Seeker by my son James Copple, a remarkable book that examines the bedrock of human psychology and beliefs. In Gretna we searched in vain for a non-fast-food restaurant open after 10, ending up at Subway.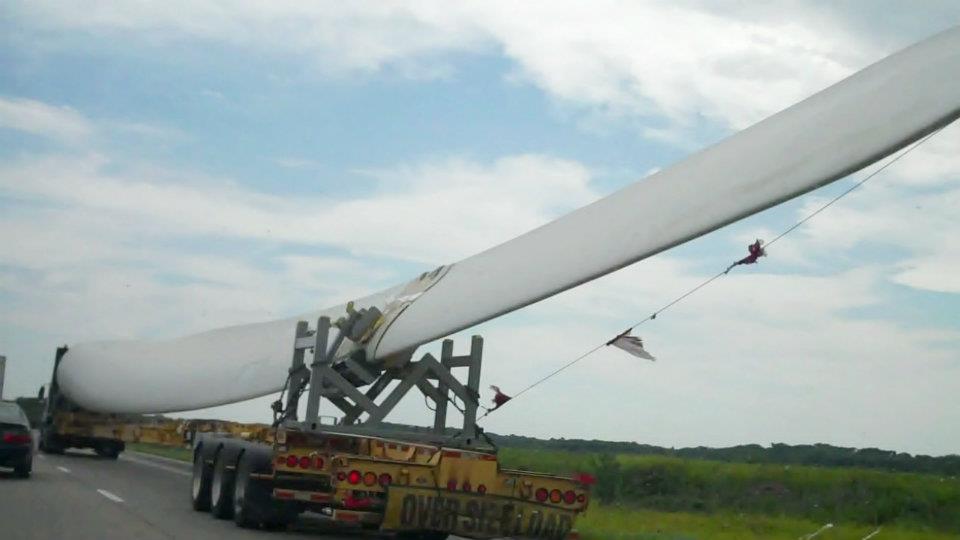 Wednesday L-A took the helm at the start of the day and drove three hours non-stop. En route for Chicago we came across Ottawa, Illinois, and were intrigued enough to stop and explore. On the road we saw windmill parts being shipped - huge up close. We drove 999 Km this day, reaching Kalamazoo, and dining in Denny's. We decided that Denny's and IHOP were our favourite restaurants of the trip.
Fri 8 June - final day From Kalamazoo to Ottawa, via Sarnia, 1,065 Km. Spent a very pleasant 90 mins with Steve and Carol, Laurie-Ann's parents, in Etobicoke. Clara survived the trip! We listened to Micheal Crichton's State of Fear which debunks global warming. We listed the places we had passed by about which well known songs have been written: Cleveland, Indianapolis, Indiana, St. Louis, Kansas City, Durango, Mexican Hat, Grand Canyon, Route 66, Las Vegas, Laramie, Chicago, Saginaw. The following Friday Laurie-Ann built some of these songs into Window of Opportunity. I updated a list of my favourite sights on the trip, starting with the best:
The Beatles - Love, Las Vegas, Nevada
The Hoover Dam, Nevada
Grand Canyon, Arizona
The Arches National Park, Utah
Los Alamos, New Mexico
Valley of the Gods, Utah
Monument Valley, Arizona/Utah
I 70 in the Glenwood Springs area, following a Colorado River canyon, Colorado
Route 128 through the Colorado River Scenic Byway, Utah
Countryside around Abiquiu, and Santa Fe, New Mexico
Tinted Mesa Court, Las Vegas, James & Kathy's home
Pagosa Springs and Durango, Colorado
Valley of Fire, Nevada
Red Rock Canyon, Nevada
Route 66, Arizona
Four Corners, CO,AZ,UT,NM
We finally arrived home about midnight. We had travelled 10,343 Km, spending $854.77 Cdn on gas (12.10 Km/$). Fuel consumption 10.723 Km/L, or 30.29 MPG. We had taken hundreds of photos, the best 20% of which are on our Facebook pages, and accessible from the links at the top of this page (even if you are not on Facebook). I still have to edit the movie ... These are the happy memories that will not fade away.

On Thursday 14 June we couldn't find our CD box, which L-A needed to prepare Window of Opportunity. Panic. Where had we left it? Maybe Las Vegas? Probably Steamboat Springs. We hadn't taken it from the car for any of the hotels. By my second call to the Legacy Vacation Club in Steamboat Springs, they had found it! What relief! They will be sending it by mail.