Client Appreciation Concert at The National Gallery - My talk - 10 Feb 2011
Ladies and Gentlemen,
Welcome to this special evening, the sweetest part of which will be a concert performance by the Laila Biali Trio. That will start by 8:30 latest. I am the warm-up act. My name is Tony Copple and I work for Investors Group. I planned the evening in appreciation for my clients, who work too hard and deserve a night off. About a quarter of them have come which meant we had room for others to join us. In the audience tonight we have several distinct segments. A Venn diagram of my activities would intersect a number of different sets of people in this city, so the chance to bring you together at this private event was fun. First, my clients at Investors Group. It is because I really do appreciate you all, that I have organized this special event. You have become intertwined with my life in a very close way, and it truly is a pleasure for me when I meet with you to discuss matters of great importance.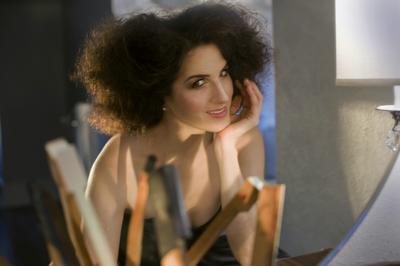 Many of you have brought your friends tonight and I welcome those friends of friends most warmly. You accepted their invitation and advice that this would be an evening you shouldn't miss. You are special. Secondly I welcome other friends of mine, mainly from church circles. You have shown me kindness and fellowship over the years. Thirdly we have many from the word of music, including several board members of the Ottawa Jazz Festival and the Ottawa Folk Festival, personalities from CKCU, my favourite radio station, and CKCU listeners. I thank CKCU for letting me play Laila's albums as much as I liked for the last few months on air, which makes them a sponsor. In the audience tonight are some musicians, including Kellylee Evans, Juno nominee and an Ottawa treasure. A fourth group in the audience are music fans who jumped at the chance to see her play, for the first time in our city. A fifth group are staff from the Elizabeth Bruyere hospital across the road. The most important member of the audience for me however, is my dear wife Laurie-Ann. She is sitting right there. Laurie-Ann, please smile and wave graciously. And the second most important is my helpmate and greatly valued assistant, Lynn Williams. Lynn smile and wave!
I should tell you how this event germinated. Over the last couple of years I have recruited four individuals to become financial planning consultants at Investors. There is nothing more effective you can do to ingratiate yourself with management at Investors than to increase the size of our consultant force. All four of the new consultants were previously my clients, so I knew them and their circumstances well enough to be sure that this would be a good career move for them. If you bring in four, you are given a sum of money to hold a Client appreciation event, or you can use the money to offset business expenses. I chose the former. The personal financial planning profession is regularly voted in the top three job satisfaction careers in North America. Yet few people seek out this profession. They are just not told about it in school or university. They hear about it from someone like me. For the majority of planners, this is a second career (or in my case, a third.) So, if you would like another concert a year from now, bring me names of people looking for maximum job satisfaction. The only vital skills are the ability to make friends (technically: build relationships), and the ability to write grammatically in one of the official languages!
Since music has always been so important to me, I had long had a dream to invite clients to a concert. When I am finishing a business meeting, it somehow doesn't seem to be appropriate to say "I'm fond of you and I really care about you and your family." But inviting them to something like this, with the right artist, is a way for them to know how I feel about them - about you. One day I was reading The Anglican Planet, a newspaper not known for music criticism, and I read an article praising Laila Biali very highly. Even though I listen to hundreds of CDs sent to me care of CKCU, I had never heard of her. So I downloaded her latest album, Tracing Light, from iTunes, and watched video material on YouTube. I was stunned. Not only is she a prodigious pianist; she has a voice like nothing I had heard before in the world of jazz. She spans genres and octaves naturally, and her musical arrangements and choices of material are exemplary. Her own tunes are among the best on her albums, many of the others being standards.
I realized that she would be perfect for the purpose. I have never organized a concert before. Discussions followed with her agent, and with the National Gallery. At the end of the negotiations I could just afford her. She had never played Ottawa. Two weeks ago she was nominated for a Juno for Tracing Light in the Vocal Jazz Album of the year category. The other nominees are Emilie-Claire Barlow, Jeff Healey, Nikki Yanofsky and Kellylee Evans … Kellylee; are you here tonight? CLAP
Stock markets are exhibiting increasing volatility. One of the reasons for this has a bearing on the fundamental principle of investing. One evening in 2000 I had a call from a very elderly client with a couple of thousand dollars in a RRIF account. She said: "Tony, do you think we should buy Nortel?" By the time the taxi drivers and little old ladies are talking about a stock, it is way too expensive to buy and everyone should be selling - which Nortel stockholders did precipitately a short time later. Yet the public as whole hasn't realized this so they buy and buy, pushing the price up far too high. The opposite is also true. When the price of a stock or a mutual fund has fallen to a level that everyone would call cheap, that's when huge numbers of amateur investors sell and puts the proceeds into money markets and guaranteed investments, thereby guaranteeing they will not enjoy any subsequent recovery, and also forcing the security price even lower. If I as a financial planner can persuade my clients to take no action at either of these extremities, I will serve them well. This is money for jam. I get paid for persuading people to do nothing! If I can persuade them to sell high, and buy low, the opposite of what the majority is doing, I will serve them even better. This is called contrarian investing. Now let's extend that concept across the nation. Investors Group has more than a million clients who are being taught to invest wisely by consultants like me. If the whole population was getting professional financial planning advice like this, so much more money would be growing and put to work, instead of being lost, that the gross domestic product of Canada would rise, and many more than the current figure of 4% of the population would retire wealthy. I am not making this up. It was a conclusion offered by our president Murray Taylor to the Senate Banking Committee here in Ottawa on 12 May 2010 studying pension reform. As headlined in today's Ottawa Citizen, we have a major problem with financial literacy, with billions in government tax benefits going unclaimed. We don't teach personal financial planning in schools or universities. The only ways to learn are by considerable reading and study, or by having a personal financial planner watching over your affairs.
By the way, there are six distinct disciplines of financial planning, only one of which is investment planning. Another is estate planning; that's making up for the fact that the government will receive very large sums of tax money when couples die with sizeable assets. Good estate planning can benefit a family to greater degree even than good investment planning.
I don't often talk about myself during financial planning sessions. My clients are much more interesting. But just for the record, I joined the Royal Navy at 17, was sent by them to Cambridge University to obtain an engineering degree, and retired from the Navy at age 30 with the rank of Lieutenant Commander. In 2008 I attended a 50 year anniversary celebration of joining the Navy, with about 60 shipmates and their wives, at Datmouth in England. After the Navy I moved into the new fangled world of computers, first teaching programming, and then sales, which doubled my salary. I switched careers to sell life insurance and immigrated to Canada 24 years ago, rejoining Data General, who I had worked for in UK. In 1994 I joined Investors Group. Noone was more surprised than I when friends seemed prepared to entrust me with their financial planning, and they are still my clients. The activity I enjoy most is meeting potential clients for the first time. Two nights ago I had such a meeting. It was my 977th first meeting and the 976th time I went through the initial 10 minute presentation of what I do and don't do. The time I missed it out didn't turn out too well. One of my earlier clients turned up with a suitcase full of small denomination bills and turned it upside down on to the table saying "invest that." Much more recently she called me, very excited because her investments had reached a value of $100,000. She makes me laugh a lot every time we meet. Another young client with about $300 invested introduced me to his company HR department when they were looking for a new group RRSP provider. That led to more than 100 new clients instantly. I have an Arab Sheik as a client who would only invest in our ethical Summa fund. He made a large capital gain but won't pay any tax on it. Last week a 15 year old became a client investing $50 monthly from her part time job. If she keeps that up, she won't need a high salary with all that income tax to ensure her future; she'll be a millionaire by 65, and she won't have to pay tax on it either. I could go on with many stories in this fascinating career. Along the way I have had three weddings and finally figured out that family is more important than job. I was taught about the trinity and hell at age 5, became a convinced atheist at 25, and was converted back to Christianity at 40, which is now the backbone of my life. My favourite form of entertainment and information is audio books which I borrow about once a week from the wonderful Ottawa library.
All this brings me to something of a milestone in my life. The King James Bible is just turning 400. Next Tuesday I will be 70, much younger - than the King James! Welcome to my birthday party. There's no cake but the entertainment will be absolutely first class. Some of my clients are now wondering - is he going to announce his retirement, leaving me high and dry? Well, heck no. I plan to continue for a minimum of five more years. This is not unusual in our industry. What we old guys lack in testosterone we make up for with experience and such maturity! Actually, the testosterone is just fine. I'm a two lifepaks a day person - read: I'm fanatical about nutrition and prevention of illness. In fact I have never had a sick day since I had mumps in 1978. Last year I led a Global Alpha Training mission to Freetown Sierra Leone last May and hardly even felt the heat. I love working with young people and setting them on the road to financial self-sufficiency.
Now, to the music. You won't have to wait much longer. The Laila Biali trio consists of Laila on piano and vocals, Larnell Lewis on drums and percussion, and Ross MacIntyre on bass.
Honoured as both SOCAN Composer of the Year and Keyboardist of the Year at the 2005 National Jazz Awards, Laila has showcased her original music at world-class venues spanning five continents, from New York City's Carnegie Hall, to the Cotton Club in Tokyo, Japan - evidence that her compositions, playing, and singing are touching people of different musical tastes. She is an incredibly versatile musician who can seamlessly move between all styles of music, displaying a keen jazz sensibility, the sensitivity and technical command required by classical music, and the strong rhythm and groove needed to play more pop and funk-oriented material. Her versatility has won her touring engagements with top-tier artists over the past few years, from jazz trumpeter Chris Botti to singer-songwriter, Paula Cole, and platinum recording artist, Suzanne Vega, and more recently accompanying Sting on tour.
Laila's two most recent releases are From Sea to Sky, and Tracing Light. If you would like to take home signed copies of these, I recommend you come to the reception desk after the show.
Although this is her first ever concert in Ottawa, Laila will return on 24 June for the Ottawa Jazz Festival. So if you like what you are about to hear, spread the news to your friends. I know I'm going to be there. I just can't get enough of her music.
Ladies and Gentlemen, The Laila Biali Trio. CLAP