Interac E-Transfer Service
(Improved version of an "Email Money Transfer" (EMT))

Only available for Canadian-dollar accounts held in Canada at this time.

It is the same simple, convenient and secure way to send and
receive money directly from one bank account to another.

To send an Interac e-Transfer, the fee is usually free (sometimes $1 to $2).

To receive and deposit an Interac e-Transfer online through
a participating Canadian financial institution is free.

Alternatively, the recipient can collect an
Interac E-Transfer using the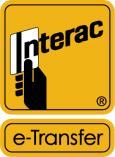 Participating Canadian financial institutions:
Online Banking info links
Simplii Financial
simplii.com
(Formerly - President's Choice Financial)
How do I send an Interac® e-Transfer?
Sign in to online banking and select "Interac® e-Transfer" from the left-hand navigation.
Follow the on-screen instructions to complete the transfer.
RBC, Royal Bank of Canada
rbcroyalbank.com/search-public/index.html?IR_INTERFACE_ID=5&question=How do I send an Interac e-Transfer online?
TD, TD Canada Trust
tdcanadatrust.com/products-services/banking/electronic-banking/ways-to-pay/email-transfer.jsp
Scotiabank, Bank of NovaScotia
scotiabank.com/ca/en/0,,2820,00.html
BMO, Bank of Montreal
bmo.com/personal/banking/everyday/managing-money/transfer-money
Tangerine
tangerine.ca/en/faq/spending/index.html#r1
(Formerly ING Direct)
CIBC, Canadian Imperial Bank of Commerce
cibc.com/ca/how-to-bank/online-banking/send-receive-emts.html
Please contact us with your questions.
(provide - name address and a phone number).
Be careful when entering your email address
(We've gotten many rejections).
Thank you for visiting our website and
looking forward to hearing from you.
You will find us to be honest and easy to work with.
A unique experience you will return to,
for those life-time memories.
Our clients become our friends as
we look forward to next year's adventures!
Until then, good luck and good hunting!
Thanks to our clients from
Michigan, Pennsylvania, Vermont, New York,
Wisconsin, Connecticut, Florida, Quebec and locals.
Looking forward to meeting you!
Looking forward to hearing from you.