Table of Contents
---
Geographic Organizations:
The Canadian Association of Geographers (CAG) is the national organization representing practising geographers from public and private sectors and from universities. The CAG is active on many fronts: from the dissemination of geographic research to the promotion of geographic education and cooperation with international organizations.
---
---
---
Rideau River Shoreline Classification Methods.
Abstract:
Healthy and productive shorelines are valuable resources, which if properly managed in a sustainable manner, can provide social, economic and environmental benefits. A shoreline that is bordered with natural vegetation (instead of human development such as retaining walls) can also aid in stabilizing slopes and help in filtering water by removing various sediments and pollutants including pesticides. By restricting access to the water by domesticated animals (such as cows) and allowing a buffer zone of trees along the waters edge, a well-managed shoreline can also help reduce nutrients from both animal and human sources.

Management of the shoreline requires up-to-date knowledge of features that comprise the shoreline as well as the riparian and littoral zones. These features should be mapped and stored in a GIS (geographic information system) for mapping and analysis purposes. By applying a systematic analysis of various shoreline, riparian and littoral features the health and effectiveness of the shoreline can be determined. As well, if the shoreline areas are mapped in the future using the same criteria, then change detection procedures can be employed to measure if the health of the shoreline has improved, degraded or has remained in a contact state.

Three organizations (CSW, RVCA and Parks Canada) have cooperated to do such an analysis of a section of the Rideau River between Smiths Falls and Ottawa in Ontario, Canada. A version of M.A.P.L.E. (Mutual Association for the Protection of Lake Environment) was modified and expanded to map the shoreline features of all properties along the Rideau River in 2002 and 2003. Most of the fieldwork was done via small powerboats, which allowed access to relatively shallow inshore areas. Large-scale flood plan maps were used as base maps and various shoreline features (such as lot boundaries) were recorded with GPS. Digital photos were also taken of each property and then catalogued onto CDs. The results of the shoreline mapping were stored in a GIS and hardcopy maps were produced showing the various shoreline features including type of shoreline (natural, regenerative, ornamental, degraded), land vegetation cover, aquatic vegetation, erosion and land use. This paper examines the effectiveness of this shoreline classification procedure for the Rideau River and its potential use for other shoreline areas.

Key words: ArcView, Shoreline, Classification, M.A.P.L.E., Property Description Form, Offshore Floating Objects, GPS, GIS, Change Detection, Base Maps, Land Use, Rideau River, Rideau Valley Conservation Authority, Centre for Sustainable Watersheds.

The original WORD files that were used for that presentation are available here:
---
---
Using Remote Sensing Data to Detect Sea Level Change.
On November 13, 2002 I made a poster presentation on the above topic at the ISPRS/ASPRS conference in Denver, Colorado.
The original WORD files that were used for that presentation are available here:
Paper on Using Remote Sensing Data to Detect Sea Level Change
ABSTRACT
Remote sensing data and Geographic information systems (GIS) are relatively new and potentially valuable tools for coastal zone management. This paper examines the effectiveness of using remote sensing data to detect sea level change. Since resolution is such an important and vital element of spatial digital data for use in geographic information systems, it is important to know how to assess its quality, accuracy and level of precision. Using remote sensing data to detect sea level change also requires accurate historical baseline spatial data and knowledge of how the coastline is defined and mapped. Map datum refers to the various locations to which geographic measurements are referenced. This referencing system is an important item on the list of cartographic components that help to identify and categorize individual maps. For example, many North American maps have been, or will soon be, converted to a horizontal map datum known as NAD83. Along with horizontal datum, maps are also referenced to vertical datum. The choice of vertical and horizontal map datum along with other cartographic elements such as map projection, scale and meta data will determine to what level of precision coastal change can be accurately measured. This paper will explain how to select the most appropriate baseline spatial data as well as the type of the remote sensing data that will provide the most reliable results for the detection of seal level change. Cobscook Bay, Maine was used for two case studies to demonstrate some of these coastal mapping parameters.
A Draft copy (WORD format) of a paper on the same topic is available here:
Kostiuk, M. (2002). ISPRS Paper: Using Remote Sensing Data to Detect Sea Level Change.
---
---
Cobscook Bay, Maine. A Case Study.
Michael Kostiuk

ABSTRACT




Determining the accurate length of the coastline is important for such coastal zone management applications as shoreline classification, erosion, biological resources, habitat assessment, and for the planning and response to natural(e.g. storm surges) and manmade disasters(e.g. oil spills).




The increasing use of spatial data and GIS (geographic information systems) by organisations and researchers is a valuable tool for coastal zone management. The effectiveness of the results obtained by using a GIS is dependent upon the quality of the data that goes into these systems. This data is known as spatial data, since each geographic feature in the database has its own geographic coordinates such as longitude and latitude. Another important aspect of spatial data is that of scale. As with a map, spatial data contains geographic information that is limited to the scale of the database. For example, a 1:100,000 scale map does not show as much detail as a 1:50,000 scale map because it displays an area that is four times smaller. The reduction of detail on maps is known as map generalisation. Map generalisation not only limits the amount of information that can be shown on a map, but it can also limit the accuracy of a map. The same is true of spatial data. Spatial data is simply map data in a digital format.




This paper will demonstrate how five different types of spatial data produce different results for shoreline length, high water area, and the number of islands in Cobscook Bay, Maine.

To see the the entire paper, follow this link: GIS For Coastal Zone Management
---
---
Upcoming Coastal GIS Conference:
---
---
---
Ottawa Streetcar 696 Restoration Group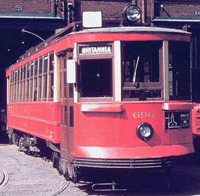 This section describes the restoration of Ottawa streetcar 696. This area contains information about the projects as well as a brief history of Ottawa streetcars with pictures.
Enter Here: to go to Streetcar 696.
---
---
How Ottawa can Save 75 Million!
Convert the South-East Transitway to Light Rail First: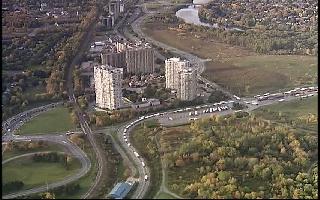 Follow this link to learn how the City of Ottawa can save $75 Million dollars by converting the South-East Transitway to Light Rail instead of Double Tracking the North-South O-Train line.
Click here: Save $75 Million.
---
---
Denver LRT, a Model for Ottawa's Proposed Light Rail System
Read about the successful Denver, Colorado Light Rail system and how the same methods and technology can be applied for the proposed Light Rail System for Ottawa. To read more, go to this link: Denver LRT: A model for Ottawa.
---
Sites relating to Public Transportation:
Transporation Geography Page. This site contains a series of maps, images, videos, and opinion about Transportation in Canada and around the world. The videos are "very" informative!
Transport Action. Transport Action (formely Transport 2000) believes that transportation is more than just a means of moving goods and people, measured only by profits or political benefits. Transport 2000 believes that public transportation impacts on land use, economic development and the quality of life. Transportation is a tool to protect the environment, conserve energy, diminish land pressures, curtail the growth of road and highway spending and promote economic growth.
---
---
---
GIS INFORMATION
The following links are a small sample of GIS and Geography related information that can be found on the Internet.
GIS use in Health and Medicine
---
Geographic Magazines On-Line.
---
GEOGRAPHICAL NAMES
---
GOVERNMENT INFORMATION (CANADA)
---
<! Free Scholarships advert>
---
GOVERNMENT INFORMATION (U.S.)
---
---
INTERNET Resource Guides
---
MAP LIBRARIES AND ASSOCIATIONS
---
MAPS (ON_LINE SOURCES)
---
GIS Data
---
REMOTE SENSING Images and DATA
---
Weather Sites
---
TOURIST/TRAVEL INFORMATION
---
Global Positioning Systems(GPS)
Note: SA has been turned as of May 1, 2000!
---
UTILITIES
---
<! Petsmart advert>
Employment in GIS
---
---