Where is Apo Island?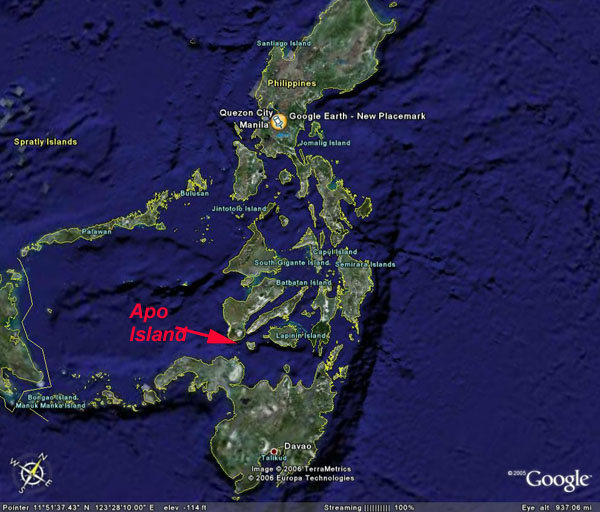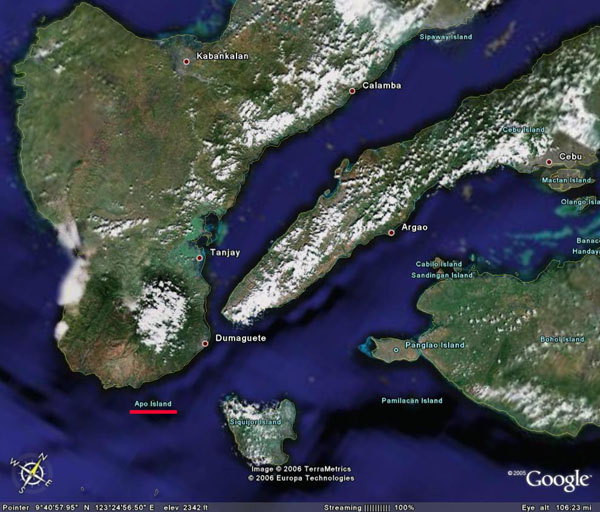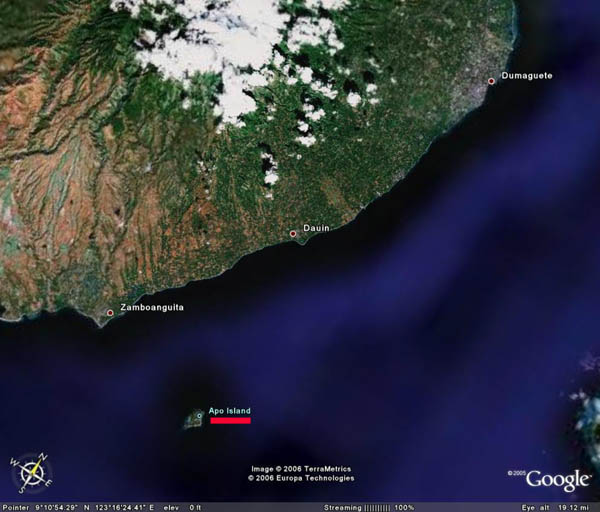 The flight from Manila to Dumaguete is only an hour, but you know what airport waits are like. Richard rather blew it when he got a phone call from Martin just before the security gate in Manila and told Martin "Not now! Call back in half an hour!" We subsequently learned that Martin had had 100 guys lined up from his Vocal Majority barbershop group, ready to sing "Happy Birthday". Oh is our name mud. As for me, I passed some of the waiting time in a long cell phone conversation with one of the project managers in Davao City, and then texting my colleague in the office to ask her to send some follow-up e-mails off for me. Take the day off? What is this day off?
We emerged eventually in Dumaguete to an airport much like that in Madang (Papua New Guinea) thirty years ago -- one small building, one long airstrip, and a crowd of idle onlookers. Dumaguete itself is a pretty large city, with jeepneys and tricycles filling its streets (smelly, smoky motorcycles with a canopy and side car seating two). The suburbs go on forever, with a gradually increasing proportion of coconut trees and Brahmin cattle among the cement-block houses - very PNG.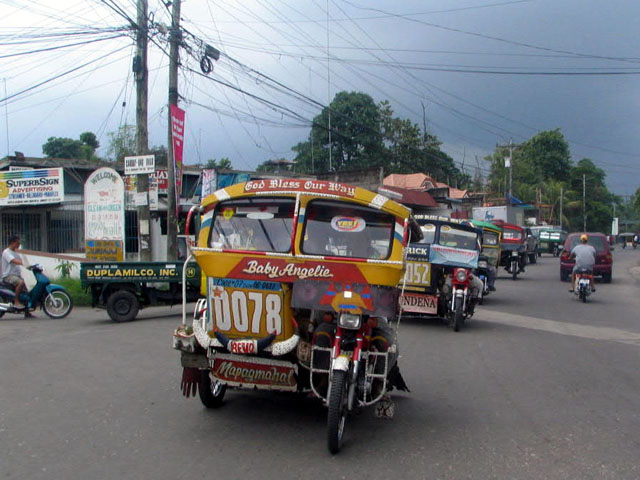 Our greeters at the airport ushered us to another nostalgic vehicle - a pick-up truck whose covered back had benches down both sides. Cushioned benches, though - a step up from Madang's PMVs. The road was paved all the way, too. We rode for about an hour to the take-off point for Apo Island, near Zamboanguita south of Dauin if you're into using atlases, where we wrote our names in the manifest at the coast guard's hut, changed our shoes for Teva sandals, rolled up our pants and clambered through the surf on to a banca - an outrigger boat carrying a dozen passengers - for the 45-minute ride to Apo, with the captain cautiously gauging the waves and timing his engine work to keep us steady. There, good and wet from flying water despite the rain capes they'd lent us, we hopped out again through the last few waves to a pebble beach and followed our bags along a two-metre-wide concrete path through a village and arrived at Liberty's Community Lodge in time for drinks and sunset-watching.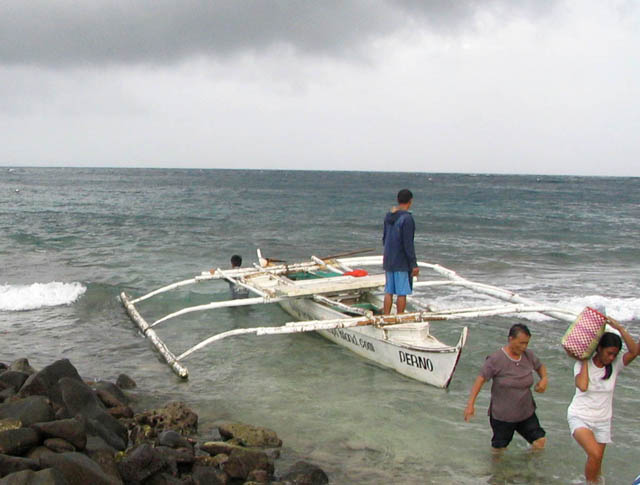 A month later, we were back again to complete our Scuba Open Water diving course. This time the weather was much nicer with sunny weather every day and very calm seas. It made the trip across much less exciting, except for the two little girls who were dancing on the front of the boat and causing their mother to grab at them every time the banca lurched over a small wave. Don't ask about life jackets!
The pictures below are from our trip back to the mainland. It was calm enough that Richard felt confident enough to keep his camera out of the hold. We had a great view of the approaching mountains on the main island (Negros).