Diving
We were kept extremely busy Friday evening through Sunday evening reading our scuba instruction books, watching instructional videos, writing reviews and tests for the first three modules, learning how to put together and care for the equipment, and taking four dives. Two were supposed to be "confined water dives" - what you'd do in a pool if you were taking the course in Canada - but they really just started out in a shallower area of the dive site, and each time the instructors took us out deeper afterwards for a tour around the coral. The water was still quite rough in front of the Lodge, so we loaded up the gear and hopped aboard the trusty banca for a quick ride to the other side of the island which was leeward and calm.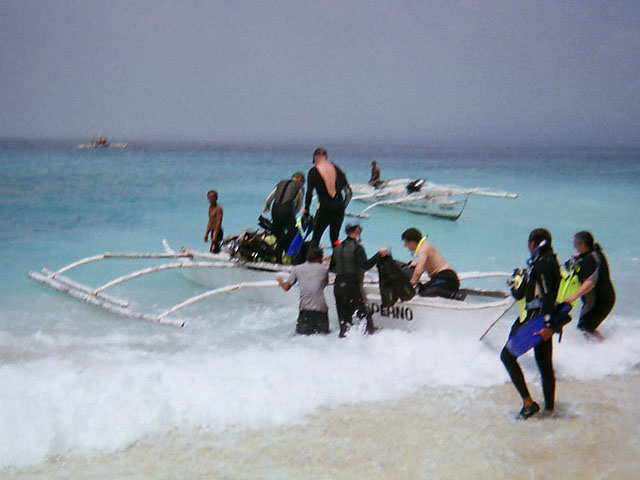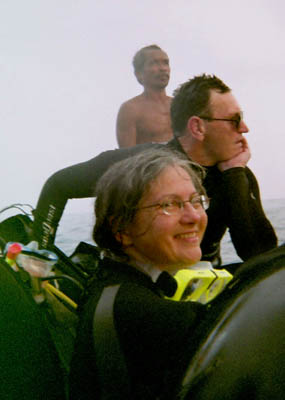 The first tour was extremely closely supervised -- I had the senior instructor practically glued to my back, because I don't think he thought much of my buoyancy control. It turned out to be quite difficult to stay at one depth, and indeed on that first trip I kept either bumping into the bottom (fortunately sand, never coral) or starting to ascend too much. You have to get things just right using your added weights, your inflation and deflation of your buoyancy vest, and the amount of air in your lungs. They also drill, drill, drill never to hold your breath for even a second. It's not really an issue for most of the dive, but when you are ascending you could, um, rupture your lungs because the air in them expands as you return to lighter pressure.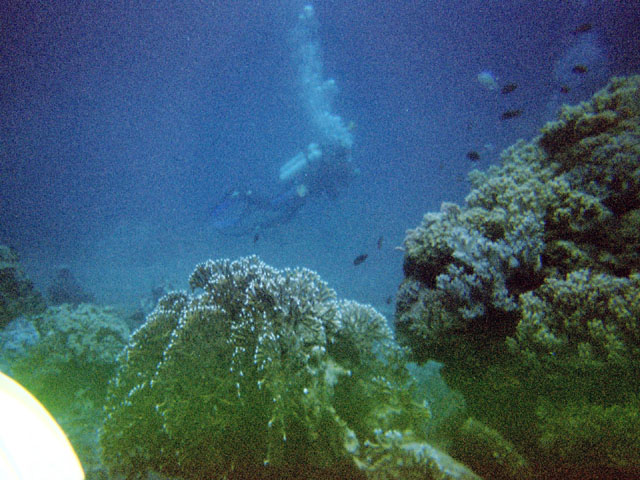 By the second dive we were performing better and able to look around at some truly fine coral and fish, and by the end we could really pay attention to our surroundings, not just to the technical aspects. Among the highlights were a black-and-white water snake, a Harlequin sweetlips (a fish that looks more like a handkerchief, it's so fluttery) and a lion fish, as well as huge parrotfish and grouper, as well as generally far superior coral to what we've seen recently in the Caribbean.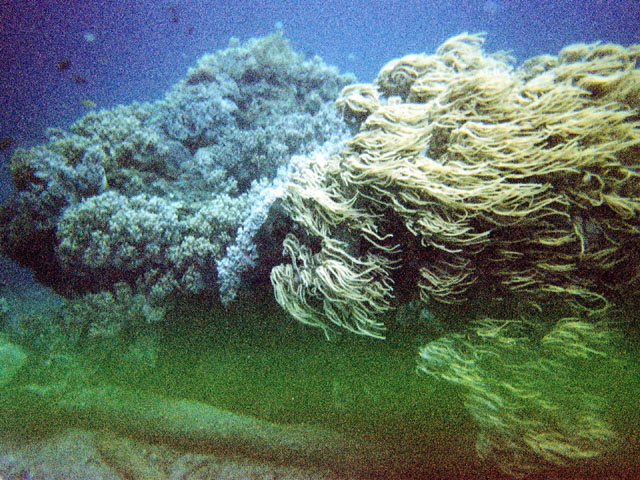 It may be best to draw a veil over the awkwardness of finding and putting on a wet suit. Now there's a motivating factor to lose weight. I felt like a sausage trying to pull a second casing onto myself. There was a bigger guy than me there, but we will note that he brought his own custom-made wet suit (as well as a multi megabuck underwater camera... he was NOT on the learners' course with us). Soaking the hair and skin in salt water twice a day for an hour or so is also no beauty treatment. Under the water, your skin goes pasty white (especially the palms of your hands), and the breathing regulator in the mouth is even less attractive than a hockey mouth guard. Since the "shower" left a lot to be desired, shampooing the hair didn't always happen. Richard found the residual salt water to be a fine substitute for hair gel.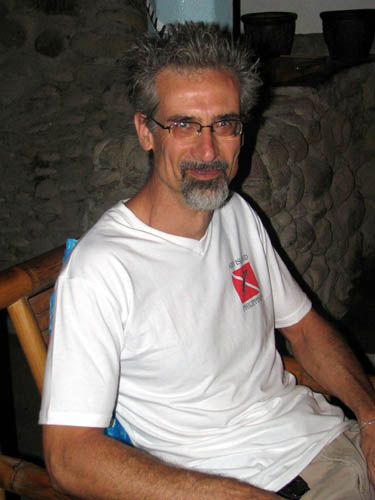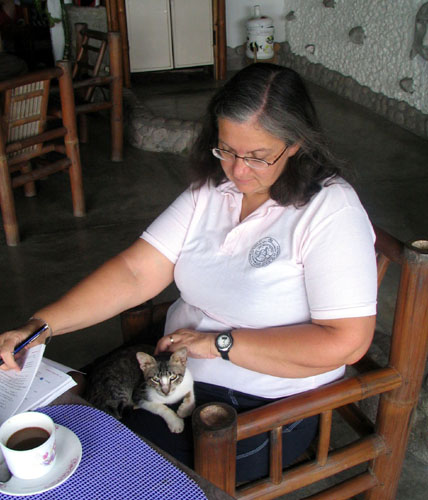 Somme tout, it was fantastic, and we definitely want to go back and do the second half of the course to qualify fully as Open Water Divers (right now, we can only dive under the supervision of an instructor or divemaster, and we wouldn't want it any other way...). However, I doubt that this would be how our girls want to spend their Christmas vacation, so we'll just have to see about another long weekend soon. Of course it does mean more hard work studying (suitably aided by a cat.)
Second Trip
Well, we DID go back and are now Open Water Divers. It helped to have read through the rest of the book at home between trips, and David Lewis was kind enough to give the two of us his personal attention for four more dives and a couple of classroom sessions. Once again, the "confined water" dives were conducted in a sandy area of the reef (this time just in front of the Lodge) and we had plenty of time to cruise around the coral and commune with the fish. Unfortunately we found that Richard's face mask had cracked, and the first dive had to be cut short after the exercises (Richard got extra practice in mask clearing, removal and replacement.) The dive shop made a valiant effort to fix it, but it kept on leaking under pressure. So Richard borrowed my mask (slightly less correction in the lenses), and I borrowed an even less corrective mask from the dive shop. Both of us could see moderately, but distant objects were somewhat blurry.
The highlight of these dives was our trip out to the coral wall in Chapel Bay. We swam down a gradual slope with a variety of coral heads, then suddenly the bottom dropped from 12 m to about 30 m. The view at the edge was amazing - there was a curtain of bubbles drifting up from beyond the wall where about a dozen other divers were swimming slowly along out of sight. We carefully sank to our training limit of 18 m and hovered beside the wall, practicing our buoyancy control and admiring the strange convolutions of coral. There was even a small cave, but it was crowded with the other divers so we just had a quick look from the outside. As we were coming back over the edge of the wall and up the slope, we were thrilled to see a green sea turtle "flying" along nearby.
The weather was so beautiful and the sea so calm that we just couldn't get enough underwater sightseeing. On two afternoons, after our scuba diving, we walked through the village to the beach by the marine sanctuary and snorkelled around that bay for an hour or so. Here it is very shallow and there is an amazing variety of coral and fish. Richard's mask worked acceptably for snorkelling (with frequent clearing), so we both had great views of the scenery. He also tried the underwater camera again, but sadly it leaked and the film ended up badly scratched and damaged. Here are a few of the better pictures, somewhat processed to remove the worst of the damage.