Blacknoise
The following photos were taken at the Jubilee Pavillion, Oshawa - Feb. 20, 1982 (General Admission - $4.50)
They have all been provided by Maxine Ashcroft. Thanks Maxine!!
This one was taken at Zolly's Forum, Oshawa - Feb. 25, 1984 (General Admission - $4.00)
These pictures were taken at the Misty Moon Cabaret in Halifax, Nova Scotia for two nights. The dates were...November 21 & 22, 1986. They were kindly provided by Phil Talor (aka Digital Phil)
These photos were provided by Michael S. DiBlasio who I lives in Cleveland, Ohio. He had a neat story to go along with it. Thanks Michael!!
"A long time ago,Paula Doug and I were vacationing in Toronto, when we heard the local d j announce that FM were playing a gig in Hamilton, Ont. I tried calling the radio station so I could get the club name and address but no one would pick-up the phone. I grabbed the phone directory and called Martin Deller. I knew he was in the book because my friend Gary and I had called him on a previous trip in Toronto. We`re big RUSH fans , and MAX WEBSTER too. Martin was nice enough to give us directions . The Reformation Tour 1983 at The Boathouse."
| | | | |
| --- | --- | --- | --- |
| | | | |
| | | | |
| | | | |
These scans were taken from the August 1980 issue of Canadian Musician. (They were kindly supplied by Ken Ames)
Brett Maraldo has graciously provided a personal tape cover of some of Nash's favourite recordings. Notes and picture by kind permission of Brett Maraldo
"Breathless was Nash's first "serious" band, 1973. Edith Massey aka Miss Edie died in 1984 at the age of 66 (same as Nash). on this recording from The Horseshoe Tavern in Toronto, 1979, she performs with The Viletones and dedicates Queen of Punk to Nash. This is the cover of the tape written in Nash's hand that he recorded of these various gigs. If I recall correctly Nash mixed the front of house sound for the Miss Edie gig. This was one of Nash's more memorable concerts, for him personally as an audience"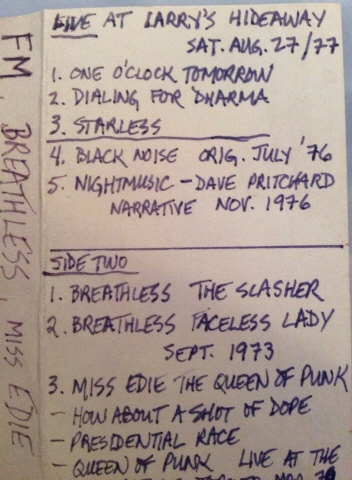 Email: