Blacknoise
Cameron Hawkins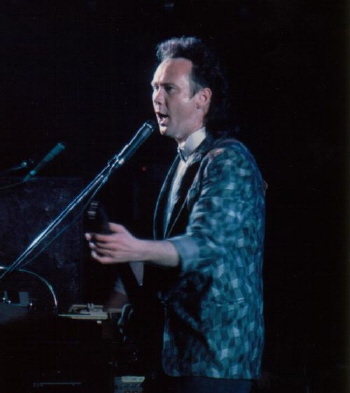 (Picture by Laurie Overton)
Bio provided by Cam Hawkins
Cameron Hawkins was born in August 1952 in Toronto. He lived in Scarborough as a pre-schooler and moved to the suburb of York Mills when he was 10. The music programs in his Junior High and High School were excellent and not surprisingly, music was his best subject...by a mile.
His earliest musical influences were his parents. His Dad was a killer boogie-woogie piano player. He was also a dixieland and big band jazz fan and the hi-fi (pre-stereo sound system) was always jumping. His father also gave him an "Electronic Engineer" kit-for-kids with which he could dabble in electronics. From his Mom, Cameron inherited an appreciation for classical music.
Cameron's first instrument was a ukulele which unfortunately was crushed while wrestling with his younger brother. For about three years Cameron took piano lessons, but it wasn't until he began playing cello at age 13 that he took learning an instrument seriously. Cameron studied the cello until he was 18, playing in orchestras and chamber groups and studying privately. His cello has survived intact.
Like any kid his age, Cameron was a pop music fan. The Beatles, The Beach Boys, then Bob Dylan, Procol Harum and The Band were early favourites. At the same time he loved classical music, especially Bach. This mixture of rock, classical and jazz styles came to the point of fusion at the beginning of the '70's.
Around that time, Cameron was the leader of a chamber orchestra that was playing the Brandenburg Concerto #3 by J.S. Bach.
Then a jazz-rock three piece British band called The Nice released an album with a spirited arrangement of the same piece of music for Hammond organ, bass guitar and drums, in performance with a string orchestra. (The Nice, Ars Longa Vita Brevis). The boundary-breaking organist in the group was Keith Emerson, on his way to superstardom with ELP.
The final piece of the puzzle was the Brandenburg #3 performance on the all-electronic recording Switched on Bach, by Wendy Carlos. In this recording, the arrangement was a faithful, note-by-note transcription of Bach's score played on a revolutionary new kind of instrument - the synthesizer.
These were fascinating times, indeed, for a teenager with eclectic music tastes. But it would be several years before Cameron was able to make his contribution to the mix.
Right about the time the Minimoog appeared.
---
Nash The Slash: Electric Violin, Electric Mandolin, Glockenspiel, etc.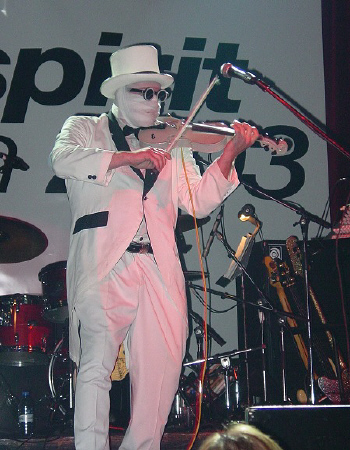 (Picture source spiritofradio.ca)
Nash The Slash (1948-2014)
There can be no words to describe the effect that Nash the Slash had on independent music. He was a true believer of being himself and never becoming "slick and artificial" His early work with FM was innovative and his solo career opened a lot of new doors for him and inspired a lot of other artists who wanted to stay true to their own ideas and music.
Nash was born in 1948 to a mother who was a singer and classical musician. At home, she played piano, his brother cello, and Nash violin. Soon after hearing Cream's Sunshine of Your Love, Nash tried to play it on his violin. "But you can't play heavy rock on a violin, so I bought a mandolin. And a mandolin is tuned like a violin, so instantly, I knew how to play," he says.
Nash gets his name from an early silent film called Do Detectives Think? (1926). The bumbling duo Laurel and Hardy look for a murderous butler named - Nash the Slash. The idea for the bandages came when the 3 Mile Island nuclear disaster was in the news in 1978. Before he went onstage one night to perform a new idea called The Neighbourhood Alert Show, Nash had the idea to wrap his face in bandages soaked in phosphorescent makeup. "When the stage lights were on me, I was white-faced in bandages, but turn out the stage lights, and I glowed green phosphorescent," he says. "The bandages stuck, so I basically started using them for every show, and they looked really cool. What I liked about the bandages was the anonymity. Dressed in white with a white face and a white coat, I become part of the screen, and blended into the background." The bandages, at least for performances, have never come off since.
Nash studied classical violin at the Royal Conservatory of Music in Toronto for eight years, and later pursued electronic music at York University. A few years later, he did sound design for The Kidnapping of the President, a film featuring an all-star cast of Hal Holbrook, Ava Gardner, Jackie Burroughs, and William Shatner. Many film scores followed, including Roadkill and Highway 61. With cofounder Cameron Hawkins they formed FM in 1976 and recorded the now gold Black Noise. Nash left soon after to start a solo career. He came back to FM to record 3 more albums with them; Con-Test, Tonight and Retroactive. His current work is with artist Robert Vanderhorst who has done a few albums covers for FM. The project is called Two Artists.
Much more info can be found on Nash's Website and Steve Gregory's Fansite.
---
Martin Deller: Drums, Percussion, Synthesizer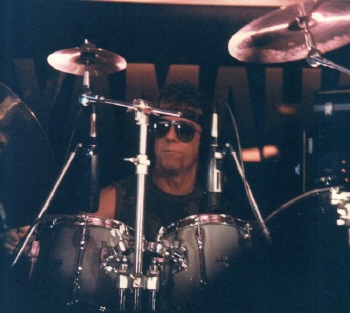 (Picture by Laurie Overton)
Martin was born in Canada but raised in France and Africa before returning to Canada to study jazz drumming. He later studied jazz and electronic music composition. He joined up with FM to record the first album, Black Noise. Martin stayed on until FM recorded the Tonight album and then came back for the triumphant Retroactive CD and show in 1994. He owned a successful recording studio in Toronto which he has now sold and moved onto other projects. http://boomka.com
---
Ben Mink: Electric Violin and Electric Mandolin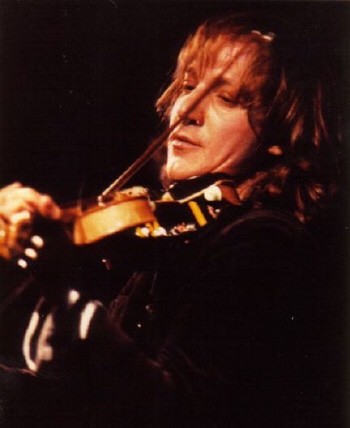 (Picture by Laurie Overton)
Ben was born in 1951 to Polish parents in Detroit. He was raised in Cleveland and taken at 11 to Toronto, where he began his career at 18 as a guitarist with the group Mary-Lou Horner, house band at the Rock Pile. He later played violin and mandolin in turn with Stringband, Murray McLauchlan's Silver Tractors,and CANO. In 1978, Mink joined FM, appearing on the Direct to Disk album and remaining until 1984.

Ben Mink also has played on recordings by Dan Hill, Anne Murray, Ronnie Prophet, Raffi, the guitarist Ken Ramm, and he also guested on Rush's "Signals" album. Ben later enjoyed considerable success through his affiliation with singer K.D. Lang.

One of his more recent collaborations was playing guitar and co producing Geddy Lee's 2000 solo album entitled "My Favourite Headache". He has also produced the last 2 Heart albums.

---
Greg Critchley: Drums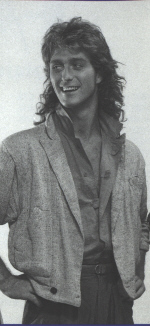 Greg is a drummer who has worked over the years with a great group of Canadian and International artists. He has worked with Kim Mitchell, Regatta, Gowan, Rik Emmett, and the Dixie Chicks. He joined FM for only one album, "Tonight". Greg currently is a writer for a Toronto based studio that records commercial jingles called Lick Music. His current website also lists working with producing, drumming, composing and writing. http://www.gregcritchley.com
---

Simon Brierley: Guitar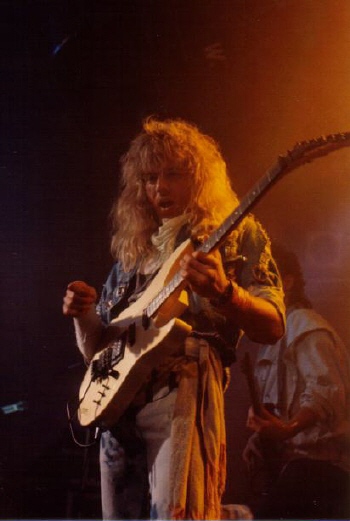 (Picture by Laurie Overton)
Simon has played guitar with Lee Aaron and Strange Advance. He is on Lee Aaron's album "Call of The Wild", Andy Curran's solo recording and also worked with Greg Critchley on the Strange Advance LP, "The Distance Between". He also joined FM for the Tonight release only.
---
Email: