13. http://www.telusplanet.net/public/dgarneau/french15.htm
Copied 2007.09.21
NEW FRANCE 1650 - 1654
Quebec Culture

The first Garnaud (Garneau) settles L'Ange Garden



08/22/2007
FRENCH HISTORY 1655-1659

FRENCH INDEX Return to Main French INDEX

DIRECTORYReturn to MAIN HISTORY INDEX



The Iroquois continue to war on the French


1650
Nine marriages, forty three births and ten deaths are recorded in Kebec, New France. The census of New France reached 705 people.
Forty five Frenchmen married with Indian sauvagesses in Acadia before 1650.
(I)-Elie Barbeau dit Villeneuve is in Quebec.
Barbe Hebou, former wife of Jean Milouer (Du Maisne), made a bequeath to the Jesuits.
If fewer than 10% of a ship's company died crossing the Pacific Ocean, then the captain of the ship considered the voyage most successful.
Only 50 men held Fort Montreal. Between 1650 and 1653, 32 French settlers were killed by the Iroquois and 22 were captured. The Iroquois made such ravages in New France that many settlers believed they should go back to France.
The shrine of Sainte Anne de Beaupre is established on the banks of the St. Lawrence River by the French fishermen in gratitude for deliverance from Atlantic storms.
Menou d'Aulnay drowned.
Many of the letters sent back to France by the early parish priests deplore the slight regard most colonists had for the Church, its commandments and rituals.
Fort Chicoutimi (Chueretimi & Chigoutimy) is established at the confluence of the Sagueny and Chicoutini rivers.
Nicolas Denys (1598-1688), a La Rochelle Merchant, established a fishing establishment on Cape Breton Island that would eventually fail.
Nine Frenchmen are killed at Three Rivers by the Iroquois.
As many as sixty Europeans have been living among the Huron in the past sixteen years that a mission has been established, many of whom are of a very feeble constitution. No one has died of natural causes, bit withstanding the great inconveniences and sufferings.
The wheat crop this year was excellent especially at Montreal. The Iroquois had driven most of the Savages from Montreal and only 50 French remained. Most French were surprised that Montreal had not fallen to the Iroquois continuous assaults. Three Rivers has also been continually assaulted and a number of times was in fear of falling.
About 47 families at Belle-Isle-en-mer were identified as being of mixed blood (Metis). It is believed the Malacites were decedents of mixed blood people of Saint-Malo fishermen and Indian women. They were located on the Saint John River, Acadia.
The French seized the Island of St. Crox from the Spanish but could only hold it for a few years.
(I)-Madeleine Maranda, veuve July 13, 1698, (I)-Nicolas Pinel de Larochelle, arrived Quebec 1650 and married February 10, 1659 Quebec (I)-Renaud Andre.
Acadia ( Nova Scotia) recipes called for English 'Brawn'. Brawn was originally for the flesh of the pigs head that has been boiled, chopped and molded. In Acadia ( Nova Scotia) it meant a veal-shank and pork-hock stew made by boiling the meat off the bones in seasoned water. The stock from that water was called 'Brawn'.
June: Father Bressany, brothers Robert le Cog d-1650, two domestics Jean Boyer and Charles Amtot with 25 or 30 French traders and as many Savages departed Three Rivers in 22 or 23 canoes.
July 10: Kebec, an unnamed ship arrived from Rouen, France
July 14: Kebec, the Neuf or Saint Jean at 80 tonnage arrived with captain Jean Bourdet, the Chasseur at 120 tonnage captain Terrier.
August 20: Robert le Coq. a Jesuit Donnes d-1650, is killed by the Iroquois at Three Rivers. Most Jesuit were condemned to death by the Huron so this could be a Huron killing.
August 28: St. Antoine de Chambly, birth/death (IV)-Jacques Gautier, Metis, son (III)-Jacques Gautier, Metis, b-1744 and Marie Joseph Quenneville.
September 1: Father Gabriel Druillettes (1610-1681) departed Quebec for Boston to establish an alliance with New England against the Iroquois, but he was unsuccessful.
September 8: Kebec, the Cardinal at 300 tonnage arrived with captain Jammes
November 28: Quebec, birth (II)-Henry Bourdon, Metis, died October 27, 1665 Quebec, son (I)-Jean Bourdon d-1668, and Jacqueline Potel, most likely a sauvagesse or Metis, d-1654.
December 30: The Ursuline convent at Kebec is destroyed by fire.
1651
Ten marriages, thirty four births and sixteen deaths is recorded in Kebec, New France.
New France had only 1,050 permanent residents.
Noel Godin near Three Rivers is killed by 10 Iroquois and La Jeunesse is wounded.
(I)-Jean de Lauzon (1584-1666), a soldier, is appointed Governor New France from October 4 or 14, 1651 to September 12, 1656. He had accumulated a vast estate in the St. Lawrence Valley using the Compahnie Des Cent-Associes since 1627. He then went on to enrich himself and his family using his position. He imposed a virtual monopoly on the fur trade to enhance his families wealth. This is the man who seized the furs from Groseilliers resulting in the loss of the Northern Bay to the Hudson Bay Company.
(II)-Louis Prevost, Metis, b-1651, son (I)-Martin Prevost, (1611- 1691) and Marie Oliver Sylvestre Manitouabewich, Huron or Algonquin, b-1620; married February 1672 Chateau-Richer, (II)-Francoise Gaignon b-1655; 2nd marriage February 17, 1681, Chateau-Richer, Marguerite Careau
Louis Prud'homme had his 1647 Quebec marriage to Anne Archambault annulled in 1651 due to his having been bigamous (he had a wife back in France). Not listed in Tanguay.
(I)-Pierre Esprit Radisson (born 1636 France, died 1710 England) arrived in New France this year, following his half sister to Trois Rivieres. He would have a profound impact on Canada; greater than any other Coureurs des Bois or Frenchman.
The Onnonta'eronnons attacked the French Fort Ahwen'do,e, and had destroyed 100 men.
February 5: Quebec, birth, (II)-Paul Tessier dit Chaumine, Metis, died April 26, 1730 Longue Pointe, son (I)- Urbain Tessier, (1624-1689) and (II)-Marie Archambault, Metis baptised, 1636, died August 16, 1719 Pte Aux Trembles, Montreal; married October 13, 1681 Chateau Richer (III)-Madeleine Cloutier b-1660 died February 12, 1748 Longue Pointe.
February 25: (II)-Charles de la Tour (1595-1665) is appointed Governor of Acadia and married Motin widow of his arch rival the infamous (I)-Menou Charles d'Aulnay de Charnisay (1604-1650).
June 18: Leonard Marbau on Montreal is killed by the Iroquois.
July 26: Denys Archambaut was instantly killed at Montreal when his cannon burst while firing the third charge against the attacking Iroquois.
August 7: Maturin, Antoine des Rusier's man at Three Rivers is killed by the Iroquois.
August 18: Kabec, the ship Petit Saint Jean lands captain Rene Boutin.
August 24: Trois Rivieres, Quebec, (I)-Pierre Couc dit Lafleur, b-1624, a Coureur de Bois, a soldier and interpreter is at Trois Rivieres, Quebec, he died April 1690, St. Francois du Lac. He married April 16, 1657, Trois Rivieres, Quebec, Marie Mite8ameg8k8e (1631-1699) an Algonquine
September 18: Louyse wife Chagniau is killed by three Iroquois in her house.
October 13: Kabec, three ships arrive, the Saint Joseph at 350 tonnage captain Maitre Jean Boucher, the Passemoy at 250 tonnage, and the Vierge at 320 tonnage captain Pierre Boileau.
November 11: Three Frenchmen drowned, servants of Giffard who had gone to trade skins on the Isle of Orleans.
November 23: A Frigate from Montreal arrived Kebec with a load of beaver skins. Montreal has become a strategic location for the fur trade. Above Montreal are few Iroquois and traders did not want to adventure down river and expose themselves to more danger.
December 7: Quebec, birth, (II)-Noel Langlois, Metis, died October 9, 1693, Beauport, son (I)-Noel Langlois dit Boisverdum, pilote (1606-1684), arrived Kebec 1634, 1st married Francoise Grenier (Garnier), born Montreal area, died November 1, 1665, Quebec: 1st married 1672 Quebec Aymee Caron; 2nd marriage December 2, Beauport, Genevieve Parent
1652
Seventeen marriages, forty six births and eight deaths are recorded in Kebec, New France.
France is seriously considering abandoning the New France Colony if nothing is done to protect the fur trade from the Iroquois.
Cairn dedicated to first settlers L,Ange Garden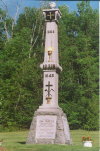 L'Ange Gardien, New France, located 14 kilometers north of Quebec city, that became a parish in 1670, would become the original homestead of the first Garnaud in New France. Domain du Fief de Lotinville, from 1652 to 1690, held East L'Ange Gardien. The original settlers in East L'Ange Gardien listed, starting from the West to the East River Petit Pre during this period to 1680, are:
(I)-Pierre Tremblay, born 1626, married 1657 a Ozanne Achon born 1633, are living here before 1663 with 2 arpent of land.
(II) Rene Goulet born 1650, married 1670 a Catherine Leroux and are probably living here after 1670 with 1 arpent of land.
(II)-Adrian Hayot born 1638 married (II)-Madeline Guyon born 1647 and possible living here in the 1660's with 3 arpent of land.
Michael Guion Du Rouray lived here with 2 arpent of land.
(II)-Pierre Trudel born 1658, Quebec son (I)-Jean Trudel; married February 26, 1680 a Francoise Lefrancois and they held 2 arpent of land probably inherited from (I)-Jean. Four Garnaud's would marry Trudel's namely Angelique, Pierre, Catherine and Louise.
(I)-Abraham Fiset born 1636 married Denise Savard with 3 arpent of land.
Etienne Jacob lived here with 3 arpent of land.
(I)-Thomas Lefebvre born 1647 married 1669 Genevieve Peltier probably settled 1669 with 3 arpent of land.
(I)-Louis Levasseur born 1628 married 1666 Marguerite Belanger probably settled 1666 with 3 arpent of land.
Domain du Fief de Lotinville awarded 6 arpent of land assumed this year, 1652.
Cairn listing the names of settlers 1645-1664, L'Ange Gardien, New France,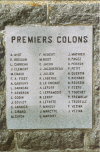 (I)-Pierre Esprit Radisson (1636-1710) is captured by the Iroquois and becomes their adopted captive (1652-1653).
Anne Riviere (likely a sauvagesse) b-1652 and married to (I)-Jean Alary, b-1640, they were living at St. Ours in 1652.
Nicolas Denys (d-1688) established Nepisiguit, then called St. Peters and in 1826, Bathurst, New Brunswick.
New France, Canada is composed of six significant locations at this time:
1. Tadusac is the first port, set 300 miles up the Saint Lawrence River, is only occupied two or three months of the year. The Barbarians from over 300 miles arrive here, as do numerous ships to trade.

2. Kebec is 120 miles upstream from Tadusac and is a fortress of the French. It is constructed upon a mountain, at the narrowest point of this St. Lawrence River. There is a French colony there, and, quite recently, a Huron one; and the Barbarians called Algonquin spend several months of the year there before going to their hunt.

3. Four miles upstream from Kebec, on the Saint Lawrence River, there is the residence of the Jesuit Society, called Saint Joseph where the Algonquin spend half of the year, with some French families, it is also called Sylleri (Sillery), for the founder, who was called Chevalier Noel Brulart de Sylleri (Sillery) (1577-1640). Sillery as an Indian reservation was (1637-1680's).

4. Ninety miles beyond, still upstream, there flows into this King of Rivers, which at its mouth is 60 miles in width, and here more than a mile and a half, with both flow and ebb of the tide, although more than 400 miles distance from the sea. There flows into it, I say, attributer which we call the Three Rivers, because it issues as if by three mouths, by reason of two Islands, which divide it into three streams. At this place is the second fort of the French on the River Saint Lawrence, and a second colony of theirs, and, during a certain time of the year, of Algonquin Barbarians.

5. Then, ten miles further, still upstream, is the Lake called St. Pierre, 24 miles in length and 10 or 12 miles in width, famous through the incursions of the Hiroquois, a river prolongs it; and six miles beyond, at the mouth of this River (which is named after the Hiroquois, because it comes from their lake), was the Fort Richelieu.

6. Fifty miles beyond is the Great Island of Mont Reale, 180 miles distant from Kebec, which was formerly thickly in habited by Barbarians, while now they are very few. There is a fort of the French, with some families, who are founding the third colony. This island is about one hundred miles in circumference; and there the two branches unite which form our Great River.
The known environment of New France, Canada includes:
In the direction of the summer sunset is a lake of about 1,200 miles in circumference, which we call "The Fresh Water Sea". A lake 600 miles in circumference is called Lake Herie. A third lake, still greater and more beautiful is called Ontario or Beautiful Lake but the Jesuit want to call it Lake St. Louis. Further to the west, more than 300 miles distant, beyond the Sault or Cascade is a lake larger than the "Fresh Water Sea". North of this lake is the "Lake of the Stinkards" (salt water). Living around these lakes are the following known nations: Algonquin, Huron, Sault, Ondatauauat, Tobacco, Cat, Neutral, Andastogenronons of New Sweden and the Hiroquois. The Huron means Hure, having hair like the bristles of a wild boar.
The barbarians even bath in winter using hot baths in a little cabin, using hot rocks and they plunge into rivers and lakes then back to their hot baths. They do this for cleanliness, health, and for pleasure. The Jesuit suspect they do it for superstition and consider it a barbarous activity. The French at this time only bathed but once a year. It is noteworthy that the term barbarian or savage was used to describe non-Greeks then later to describe non-Romans and was applied to the French.
The Jesuit considered conjugal lovemaking within marriage as a degeneration of the ideal state. The ideal is a repugnance for carnal intercourse. Those who considered this abnormal thinking were classified as barbarians.
The bartering of trading goods was strictly forbidden to the inhabitants of the French Colony. As a result the Coureurs des Boise emerged as an entity in 1653. These free enterprisers went to the Great Lakes and Upper Mississippi, named 'Pays d'en Haut' (The Upper Country).
March 6: The Iroquois attacked Three Rivers but are defeated by the Huron.
May: The Ursuline opened a new convent in Quebec.
May 10: Father (I)-Jacques Buteux (1600-1652) is executed by the Iroquois, at St. Maurace River, north of Trois Rivieres. Buteux was noted for the introduction of brutality among the People of Tadoussac including the whipping of little children, at church, even those at the breast.
May 26: A Frenchman at Montreal is killed by the Iroquois while attending cattle, a French woman escaped with 5-6 wounds.
June 8: Two Huron under the protection of the French are killed near Three Rivers.
June 23: Kabec, two ships arrived captain Jean Pointel and Captain Jean Poulet, the Petit Saint Jean arrived and the Passemoy at 250 tonnage also arrived.
August 19: Guillaume Guillemot, the Governor of Throis Rivieres, and 22 settlers are attacked and killed by the Iroquois. Charles Garmant or Garman, age 10 years, is captured at Cap Rounge, his father and another Frenchman are presumed dead. The Jesuits are still trying to obtain his release in 1660.
September 30: Quebec, birth (II)-Jacques Bourdon, Metis, son (I)-Jean Bourdon d-1668, and Jacqueline Potel, most likely a sauvagesse or Metis, d-1654.
1653
Sixteen marriages, fifty one births and fifteen deaths are recorded in Kebec, New France.
Philippe Muis D'Entremont, b-1601, Normandy, France, died 1701, Port Royal, Acadia (Nova Scotia), married 1849, Madeline Helie Du Tillet, b-1626, likely arrived Acadia 1649-1653.
The Jesuit vision of the Mountain of Montreal is a mission to convert the Natives and stop French exploration and free trading. This objective failed, and one hundred new settlers arrived this year, being the only significant expansion since its creation. The French population of New France is estimated at 2,000 persons. To test the weak and fumbling French leadership, two hundred Mohawk warriors made a surprise attack on the Hospital. The Hospital, across the little St. Pierre River, the Mountain of Montreal, is on high ground. The Mohawk retreated as the timing did not appear right. Thirty-two French mercenaries were killed and twenty two were captured by the Iroquois during the past three years. The Mission of the Mountain of Ville-Marie (Montreal)'s defenses consisted of a mere fifty men. The Iroquois themselves are being attacked by their neighbors to the east and south and offered peace to the French in November. A revolt by the upper nobility in France failed and they are deprived of any political power.
As a result of the French Iroquois War, Ville-Marie (Montreal) has not traded for a single beaver skin from the Savages for the past year. At Trois Rivieres, the few natives that came were employed to defend the place. The stores in Quebec is the image of poverty. It is noteworthy that Ville-Marie (Montreal) only contained 60 people of which only 20 is capable of bearing arms.
Le Mercier a Jesuit wrote: "our entire French youth is planning to go trading with the Nations, who are disseminated all over the territories, and they hope to come back with beaver pelts from many hunting seasons."
The Wendat (Huron) make a promise to the French that they will deliver furs next season as did the Savages west of Sault Ste Marie. The French in turn promised to go out among the Algonkins, Sault and dispersed Huron.
Two hundred Iroquois surrounded 26 Frenchmen. These barbarians discharged their pieces at a position of close proximity, they fired 200 shots, without killing or wounding a single man. The French claimed they fired the pieces correctly but it demonstrated the inaccuracy of the pieces.
Pierre Boucher (1622-1717) is made Governor of Three Rivers (1653-1658).
Trustee from 1656 to 1660, prisoner of the Iroquis in 1661 and soldier of the 17th Squad in 1663, Marin Jannot drowned accidentally and was buried in Ville-Marie (Montreal) on July 24, 1664.
The following is translated from an article about Marin Janot, from a book entitled "Les Recrutès" by Roland Auger, which I will attempt to translate. Marin Jannot dit LaChapelle was from a town named LaChapelle, by Monthausen, near Chateau Thierry, where he was born. He enlisted in 1653 becoming part of the recruitment, although he can not designate the place and the date of his enlistment. He received 108 in advanced wages and signed the acknowledgement the following June on the 20th, before leaving the roads of Saint-Nazaire. Marin Jannot was a carpenter.
He had scarcely arrived in Ville-Marie, that he definitely decided to settle there. Monsieur de Maisonneuve gave him a grant of land February 2d in 1654.
This great recruitment (Le Grand Recrue de 1653) was organized by M. de Maissonneuve and medically assisted by a 32 year old nun, Sister Bourneoys. They finally set sail on the 20th of June, 1653 in the ship "Saint-Nicholas-de-Nantes" and traveled 350 lieues (875 miles) before they were forced to return, due to the fact that they were leaking like a sieve.
Although 153 had signed for this voyage, collecting their wages in advance, only 102 actually boarded the ship. Also, their provisions had been ruined, yet their courage was still very high, and on 20 July 1653, they sailed once again for the New World, arriving at Quebec on 22 September 1653; 64 days later.
There, their ship had to be burned as the tide could not lift it. Sister Bourney's aid to the sick was not enough and eight persons died on the voyage. At Quebec, Governor de Lauzon, refused to let them have boats to complete their journey to Ville-Marie, as they were sorely needed for the defense of Quebec and also their rations were too short to give them to this recruitment. They finally arrived at Ville-Marie on the 16th of November, 1653.
Nicolas Denys (1598-1688), a La Rochelle Merchant, acquired territory in the Gulf of St. Lawrence from Canso to Gaspé, including Cape Breton and other Gulf Islands, with rights to land and government. He would turn his establishment over to his son Richard Denys in 1670.
This reference appears in "Your Ancient Canadian Family Ties" by Reginald L Olivier: "There were four recruitments (1640-1642-1653-1659) which had brought to Canada, 278 men, 45 women and children and three Religious Sisters. (Special mention should be made concerning the one in 1653, since this is the one that Marin Janot was a member).
Kabec, three ships arrived this year, the Patriarche Abraham captain Guillaume Poulet, a ship by captain Jean Pointel, the Saint Nicolas for Montreal by captain Pierre Lebesson.
The Jesuit Relations say that, for a year, the warehouse at Ville-Marie (Montreal) has not bought a single beaver from the Indians. Destroyed too were the Jesuit Missions in Huronia.
(I)-Emmanuell LeBorgne (1610-1675), a merchant of Rochelle, learned of the death of (I)-Menou D'Aulnay de Charnisay (1604-1650) who owed him 160,000 livres. He assumed Charnisay owned all of Acadia and was determined to recover the debt.
February 24: Port Royal, Acadia (II)-Charles La Tour (1594-1666) married Charles de Menou d'Aulnay's widow, he died 1650.
April 21: Some suggest this was August 21: At Three Rivers, 16 Frenchmen (servants, sailors and others) deserted the colony, intending to leave the country. These included: Barre, lance-corporal, and La Montagne, soldiers, La Rose, a servant of Monsieur de la Poterie and Lespine, Baudet, servant of la Grandresnil, and sailor, des Noters, la Fond, sailor, du Plessis, la Verdure, sailor, la Montagne, Savary, la Franchise, Teste-Pelee, servant of la Franchise, Coquelin, sailor, des Lauriers, Paul Langlois, sailor. It is noteworthy that servants and indentured engages were virtual slaves for three to five years. These were unique in desiring to leave the colony as most went Coureurs des Bois.
April 27: Two servants of Dauteuil took flight into the interior likely encouraged by the flight of 16 French on April 21.
April 27: Monsieur Charon is wounded in the throat by a pistol shot, at his residence on the Island or Orleans, by two of his servants. They were captured May 7.
May 12: Jacques Junier fled Sillery, Kebec, by crossing the Saint Lawrence River.
June 26: The Onondagas sent 18 chiefs to Ville-Marie (Montreal) for peace negotiations.
July 20: The New England colonists are under-taking war against the Dutch and their Iroquois allies.
July 30: News arrived that the Algonquin of the north are uniting with the remnants of the Tobacco and Neutral tribes, are assembling beyond the Sault Ste Marie, Lake Superior, to unite against the Iroquois. It is noteworthy that the Algonquin had previously, before the arrival of the French, had assembled a great army to punish the Iroquois for their evil ways. In this way peace had been secured in the past.
August 21: The Iroquois attacked Ville-Marie (Montreal) but are defeated by the Huron. Three Rivers is also attacked. The siege lasted over eight days. When no progress is made by either side, peace is declared and the Iroquois return prisoners taken as did the French.
August 30: In Ville-Marie (Montreal), he married Francoise Besnard, daughter of Pierre and Catherine Riverin from Pourray, diocese of Mans.
August 30: (I)-Emmanuel Le Borgue (1610-1675) with his son (II)-Alexandre Le Borgue (1640-1693) arrived Port Royal to recover money owing to him. He forced the widow of (I)-Menou D'Aulnay de Charnisay (1604-1650) to sign a document saying he was owed 206,286 livres. He then set out to plunder Acadia starting with Pentagouet (Castline, Maine), La Heve where he burned everything, Saint-Pierre and Nipisiguit. He assumed (II)-Charles La Tour (1595-1665) and (I)-Nicholas Denys (1598-1688) were mere vassals to be crushed. The Laurentian settlements of Denys was plundered, burned, and the people taken into slavery. He then attacked Fort La Tour but was repulsed.
September 22: Marguerite Bourgeoys (1620-1700) wanted to open a school at Ville-Marie (Montreal), but there was only one school child so she cared for the sick and poor.
October: The Savages reported the French party who deserted Three Rivers earlier this year are discovered in Gaspe. Some had died from hardship and privation, and there were indications that they had eaten one another.
October 22: Quebec, marriage (I)-Paul Vachon (1630-1703) and (II)Marguerite Langlois, Metis (1639-1697) daughter (I)-Noel Langlois (1606-1634) and Francoise Grenier (Garnier) d-1665, sauvagesse.
October 29: Bouchard's wife was convicted for being violent to the person of Dr. Ettiene Bouchard on the Public Road. Francoise Besnard remarried to Guillaume Bouchard in Ville-Marie (Montreal) on October 22, 1690 and she leased to Charles Gervaise, a farm on the outskirts of Ville-Marie (Montreal) and renewed the lease April 14th 1694 and October 7th 1696. Her son, Pierre Janot, paid her a life-annuity, March 8th 1698, the same day she sold a portion of the land to Nicolas Janvrin.
November: The vessel that departed Kebec for France, richly laden with the spoils of the beavers of this country, was itself despoiled, falling into the hands of the English who were waiting for it in the channel.
November: About 140 individuals arrived Ville-Marie (Montreal) boosting the population to 200 people.
November 3 The Iroquois Nation made peace with the French, but some Mohawks, Oneidas and Onondagas continued to fight.
November 16: THE RECRUITS courtesy of Brad La Chapelle
Editors Note:
In the 1600's, Montreal, Canada is known as Ville-Marie. The Iroquois were constantly attacking and killing the villagers, and they asked for help from France. In 1653, France held a Grand Recruitment to help the settlers, and this was known as "Grand Recrue de 1653." 153 men signed up to go to Canada, but 50 did not honor their contract and 8 died on the voyage, leaving a total of 95 able bodied men. Of these, 24 were massacred by the Iroquois, 4 accidentally drowned and one died when his house was burned. Of those left, 49 have left descendants in Canada. These soldiers were credited with not only saving Ville-Marie from extinction, but the whole of Canada as well.
When volunteers arrived, they were not allowed to use their proper names and each adopted an "alias" or "dit" name. Therefore, Marin Janot, became known as Marin Janot dit LaChapelle. It is supposition on my part, but since he was from the LaChapelle/Monthodon area of France, he apparently took the name of his hometown.
December 3: Nicolas Denys (1598-1688) purchased the rights to the islands of the Gulf of St. Lawrence from Cap Canso to Cap des Rosiers on the Gaspe from the Company of New France.
1654
Thirty five marriages, sixty four births and twenty four deaths are recorded in Kebec, New France.
(I)-Jean Aubuchon of Trois Rivieres married Marguerite Sedilot- age eleven years and 5 months.
Pierre (Laverdure) Doucet, b-1621 fled to Quebec in 1654 when Port Royal, Acadia fell, his 1st wife whom he married in 1640 died in Quebec, 2nd marriage 1660, Heriette Pelletret when he returned to Acadia.
(I)-Charles Le Moyne (Lemoine) (1624-1683) married an adopted orphan named Catherine Tierry age 13, likely a Savauge or Metis?
Father Simon Le Moyne (1604-1665), a missionary to the Wendat, journeyed to Iroquois country, promising to establish a mission in 1655.
(I)-Philippe Mius d'Entremont, (1601-1701) receives from (II)-Charles La Tour (1594-1665) one of the few signeurie ever given out in old Acadia, signeurie of Popomcoup (Pubnico), at Cape Sable, Acadia.
(II)-Jacques I Mius d'Entremont, b-1654, East Pubnico, Acadia (Nova Scotia), died 1763, son (I)-Philippe Muis d'Entremont, (1601-1701) and (I)-Madeline Helie Du Tillet, b-1626: married 1677 Acadia Anne La Tour
(II) Gilles Trottier (1628-1658) is captured by the Iroquois and freed the following year. He became an interpreter and continued in that role until his death. He never married and gave all his property to the church in Ville-Marie (Montreal). Source Lyle Trottier.
A number of persons are free-trading, and the Company wishes to know the number and quality of such persons.
The Acadian children born between 1654 and 1670 had little or no knowledge of France. Unlike New France, they were not governed by the religious, nor the seigniorial system or an Intendant. Seigneuries were granted at Port Royal, Beaubassin and along the St. John River, but had no influence on daily life. The Acadians adopted the Indian practice of family networks, forging strong family kinships among themselves. The Jesuits, Capuchins, Recollets and Sulpicians took part in religious and educational needs, but no order achieved unquestioned authority like in New France. Every Acadian settlement contained Metis families, usually of Micmac ancestry, and they were readily accepted as Acadians.
Two young Coureurs des Bois encouraged 250 Ottawa to trade into Fort Ville-Marie (Montreal).
The Wendat (Huron) arrive by the hundreds with furs as promised last year.
Thirty Frenchmen and two Jesuits returned with the Ottawa to live among them to improve trade.
The population of Port Royal, Acadia is listed as 250 people, mostly from France. Thomas Temple (1615-1674) and two others obtained the rights of trade and government in Acadia ( Nova Scotia) following the English conquest this year.
Kebec, 6 ships arrived, the Fortune at 100 tonnage captain Pierre Le Besson, the Petit Saint Jean captain Rene Boutin, the Verie from Naples, the Saint Nicoers, the Patriarche Abraham captain Jean Poulet and the Colombe Mouillee.
February 3: Ville-Marie (Montreal), marriage (I)-Jean Gervaise, procureur fiscal (1621-1690), married (II)-Anne Archambault, Metis, b-1621, died July 30, 1699, Ville-Marie (Montreal), daughter (I)-Jacques Archambault (1604-1688), and Francloise Toureau, sauvageese, (1600-1663).
April: At Ville-Marie (Montreal), a great number of beavers inhibiting the streams and neighboring rivers attracted our Frenchmen thither, as soon as spring opened and the snow and ice melted. On all sides they hunted and waged war against these animals with pleasure and profit alike. A young surgeon in pursuit of beaver is captured by the Onneiochronnon (Iroquois). He was later released and returned to Ville-Marie (Montreal).
April 28: The ordinance of Governor Jean de Lauzon (1584-1666) took over the fur trade for his own personal profit and decreed that no one else is allowed to trade except those authorized by himself. A Lauson monolophy.
May 3, Quebec, birth (III)-Noel Pelletier, Metis, died September 1, 1712 Riviere Ouelle, son (II)-Jean Pelletier d-1698 and (II)-Anne Langlois, Metis, (1637-1704); married 1676 Madeleine Mtgnault
June: The Tionnontatehronnons (Tobacco Nation) arrived Ville-Marie (Montreal) and Three Rivers to trade furs for French goods. They could speak both the Huron and Algonquin languages. These people are now living near the Lake of the Stinkards (Salt Water), at the Bay of the North.
June: The Iroquois are attacking the Cat Nation and the village of Sonnontoehronnon (Iroquois) is already taken and burned. Among the Cat People are some displaced Huron's.
June: Captain Anniehronnon, a Metis, the son of an Iroquois mother and a Dutch father arrived Kebec from Fort Orange in New Holland to confirm peace with their Savage allies.
July: Captain Anniehronnon, a Metis, returned to Kebec with two French prisoners captured by the Iroquois.
July: The Iroquois are favorably disposed towards the French. The Iroquois are not mistreating their Huron captives. It is not known why their disposition changed over the next few years.
July 4: Robert Sedgwick (1611-1656) of New England, in retaliation for attacks on English ships, attacked Acadia. Because of the civil war started by the infamous (I)-Emmanuel Le Borgue (1610-1675), Acadia had few defenses. Sedgwick easily took Le Heve, Pentagoet and Port Royal.
July 17: Fort Sainte Marie surrendered to Robert Sedgwick (1611-1656) and (II)-Charles La Tour (1595-1665) is taken prisoner.
August 6: (I)-Medard Chouart Sieur Des Groseilliers (1618-1695/98) turns Coureurs des Bois and, with another Coureurs des Bois- Pierre Esprit Radisson (1640-1710), goes to what is known as the Western Area of the North Bay. They go up the Ottawa River, near Lake Nipissing, then down the French River towards Georgian Bay and Lake Huron, to the Links between Lake Erie to Lake Michigan.
August 16: Port Royal surrendered to Robert Sedgwick (1611-1656) of New England. Fort Pentagouet on the Penobscot River also fell.
September 2: Robert Sedgwick (1611-1656) of New England, having captured Acadia, departed for England with (II)-Charles La Tour (1595-1665) as his prisoner.
September 19: Jean Aubuchon of Trois Rivieres married Marguerite Sedilot- a child bride who was 11 years and 5 months old.
October 12: Ville-Marie (Montreal), death Yves Batar by the Iroquois.
October 26: Ville-Marie (Montreal), birth (II)-Marguerite Gervaise died January 18, 1690, Ville-Marie (Montreal) daughter (I)- Jean Gervaise, procureur fiscal (1621-1690), and (II)-Anne Archambault, Metis b-1621, died July 30, 1699 Ville-Marie (Montreal); married February 19, 1669, Ville-Marie (Montreal), (II)-Jean Baptiste Gadois, b-1641, died April 15, 1728 Ville-Marie (Montreal)..
FRENCH HISTORY 1655-1659
FRENCH INDEX Return to Main French INDEX