Adolphus Ghostkeeper - Paddle Prairie Settlement
research link: documents / reports / academic papers
see also: Adolphus Ghostkeeper and others
Photo taken 1979 at the Overlander Hotel near Jasper, AB. at a Federation of Metis Settlement Associations conference on the history of the Settlements. The conference was chaired by Maurice L'Hirondelle, President at the time. On the Monday June 18, 1979 following the conference the province removed files from the offices of the Settlement Associations (see 1979 Report of the Provincial Ombudsman).
The conference was attended by such people as Adrian Hope, Richard Poitras and many other elders.
Video of the conference roundtable, shot by D. Wall, is available..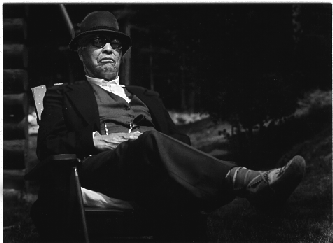 photo © D. Wall