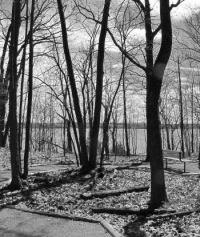 ---
Home
---
contact
r[dot]mark[dot]woods
[at]gmail[dot]com


---

rss

atom

feedburner
---
Berfrois
The Morning News
Directory
Open Access Journals

aaaaarg

ubuweb

internet archive


---

---
November 24, 2015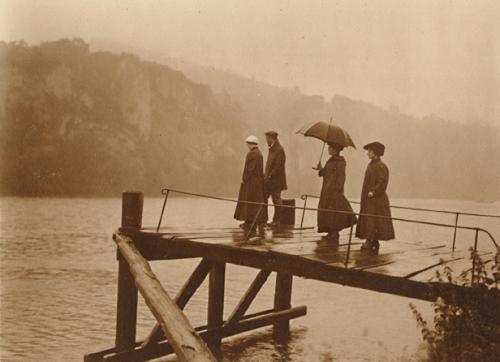 Léonard Misonne
(1870 - 1943)
_______________________

Technology and the Spaces Between Us
Hira Nabi
public seminar
(....)

It might be counter-intuitive, as we have been conditioned to believe that as our lifestyles become more mechanized, we lose touch with our selves, our sensory experiences, and even with our humanity. However, I have come to believe that technology in fact humanizes us, and it creates space for interaction and engagement. It creates room for inquiry and a point of interception. It allows for a node where strangers can overcome awkwardness, or norms of respect for privacy and space, and reach out to each other. Is it possible that our use of technology has become so naturalized that it has displaced our sense of comfort and familiarity with other humans? It is entirely possible.

This is not entirely without context — we live in a world that is saturated with hyper-mediation. Media and its material objects contain our lives and the meanings we produce from living. We live in an age of technology, where connectedness and access to information is not anymore considered a luxury, but a basic need and right. As I write this, efforts are being made in Germany by groups of volunteers to provide access to free WiFi to refugees. We have come to anticipate technology in our midst. We expect to be surrounded by it, enmeshed in it, encircled by it, and connected to one another through it. We preempt material objects of technology and media in the everyday, such as security cameras, cell phones, smart phones, tablets, speakers, mechanized infrastructure, and platforms of social media. Our response to technology and mediated spheres is our response to modern living. It is our jaded response to a surveillance state, to hyperaware notions of time and space that can be collapsed into visual and oral bytes of information to be shared and consumed. It is our response to the making public of private lives, and the contestation of what privacy can and should be.

...(more)
_______________________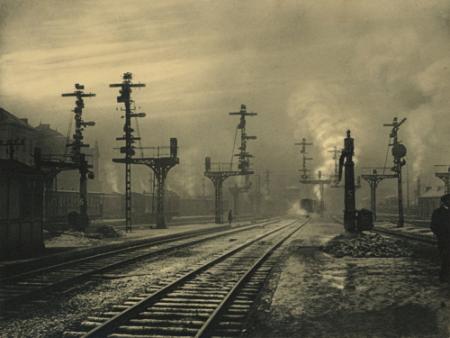 Sortie de la gare, Namur
Léonard Misonne
1938
_______________________
...everything is so fragile. I feel so lost. I live off secret, radiating, luminous rays that would smother me if I didn't cover them with a heavy cloak of false certainties. God help me: I have no one to guide me and it's dark again. When I surprise myself in the depths of the mirror I get a fright. I can hardly believe that I have limits, that I am cut out and defined. I feel scattered in the air, thinking inside other beings, living in things beyond myself. When I surprise myself at the mirror I am not frightened because I think I am ugly or beautiful. It is because I discover I am of a different nature. After not having seen myself for a while I almost forget I am human, I forget my past and I am as free from end and awareness as something merely alive. I am also surprised, eyes open at the pale mirror, that there are so many things in me besides what I know, so many things always silent.
- Clarice Lispector

via Richard Marshall
_______________________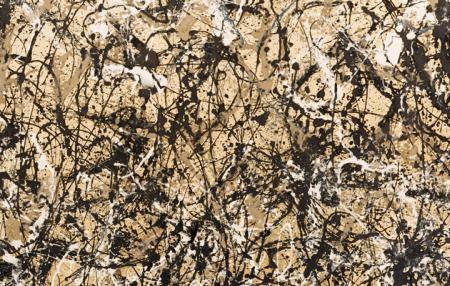 Autumn Rhythm
Gary Garvin

It's the image that often returns and holds me, of standing next to my brother at the Metropolitan before the Pollock, Autumn Rhythm, seventeen feet of swirling black lines and streaks of white, black and white blotches, slaps of muted colors, all on unprimed canvas, the canvas itself browning with age, as if expounding the painting's mortality, the memory, like the Pollock, a forceful dispersion where nothing settles.

If you stand too close you only see disconnected lines, the splatters, the idiosyncratic blots, Rorschachs of indeterminate personality.

If you stand too far you just see a mass of paint squared on the wall among other masses of paint from the other paintings in the gallery.

But if you stand just far enough away the lines move, the painting engulfs and absorbs you in its patterns, in its rhythms, so that there isn't anything else but the paint, the lines, the motion. One moment it flies apart, you are scattered in an exploding universe; the next it contracts, falling back into itself, you shrink, back into yourself, nowhere, into nothing, you are lost. When you close your eyes, an afterimage of chaos.

Madness. Yet the large painting has presence and looks to point to something still larger, as if it stands at the threshold of some kind of meaning within us, without, within and without and beyond.

Assumed is that art has anything to do with life.

...(more)
_______________________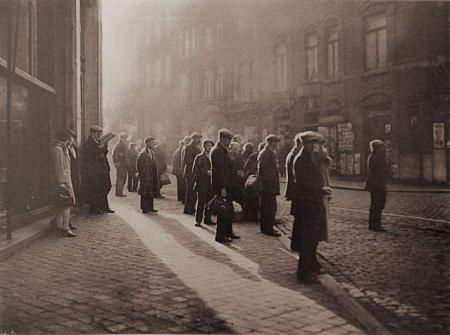 Léonard Misonne
_______________________

beirut 12 / 11: maurice blanchot and georges bataille
3:AM culls two essential voices speaking in the shadow of the atrocities of earth…
Maurice Blanchot

Intellectual despair results in neither weakness nor dreams, but in violence. It is only a matter of knowing how to give vent to one's rage; whether one only wants to wander like madmen around prisons, or whether one wants to overturn them.

(....)

To see was terrifying, and to stop seeing tore me apart from my forehead to my throat.

(....)

Whoever digs at verse must renounce all idols; he has to break with everything. He cannot have truth for his horizon, or the future as his element, for he has no right to hope. He has, on the contrary, to despair. Whoever delves into verse dies; he encounters his death as an abyss. We can never put enough distance between ourselves and what we love. To think that God is, is still to think of him as present; this is a thought according to our measure, destined only to console us. It is much more fitting to think that God is not, just as we must love him purely enough that we could be indifferent to the fact that he should not be. It is for this reason that the atheist is closer to God than the believer.
_______________________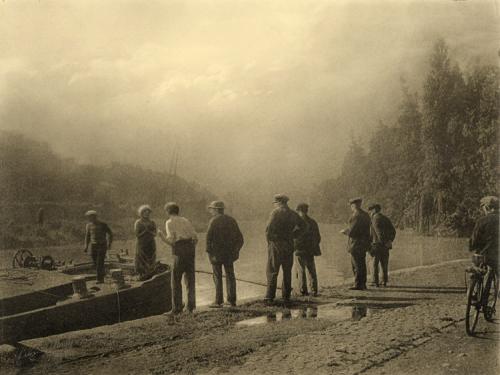 Léonard Misonne
1909
_______________________

Translation without limits & the limits of translation, part one
Jerome Rothenberg
Keynote speech, American Literary Translators Association annual meeting, October 30, 2015
I would like to talk — however briefly — about the ways in which translation has served me as a form of composition and as an underpinning for much of my work as a poet and a writer. I have never thought of myself as a professional translator, since my grasp of any language other than English has been limited and has made any translation that I've worked on a slow and sometimes a very indirect process (often, too, in the case of languages that are exotic from our point of view, in collaboration with other translators). I have not as a rule added to or subtracted from the original when translating, but within those limits I have thought of myself as a poet using translation as a means for making poems or bringing new poems into English. Even more than that, I have had a need (I emphasize: a need) to translate and, by translating, to connect with the work and thought of other poets — a matter of singular importance to me in what I have long taken to be my "project" and the central activity of my life as a poet.

I do not think of this as in any way unusual, although it has taken me a long time to recognize it for what it is. Many writers, but poets in particular, inherit and carry forward the works of those who came before them. In my own case the work I've done with ethnopoetics and with the construction of anthology-assemblages — along with a devotion to the "experimental" as a basis for my writing — has made such considerations still more central to my practice. Looking back at it now it seems inevitable to me that I would have gotten as engaged as I did with translation and for translation to have had the influence it did on the work I was doing.


Translation without limits & the limits of translation, part two: 'The Joys of Influence'
Jerome Rothenberg
I realize that where I am at this point is already at a considerable distance from what my more literally directed side (and yours) would recognize as translation, that it begins to touch on what I have elsewhere and persistently spoken of as "othering" (a word my spell-check refuses to recognize as legitimate). Still I would like to digress for a few minutes to speak of collaboration as it touches on translation and as a foundational part of my poetics and an antidote perhaps to those anxieties of influence that were injected into literary discourse some forty and more years ago. Translation of course is, at its best, the joyful acceptance of influence and of shared voices in the process of creation and transcreation. In that sense too it opens to an acceptance of collaboration and community (however problematic they may sometimes be) as foundations for the work at hand. And I would take translation as a metaphor for the entire poetic process.


---
November 23, 2015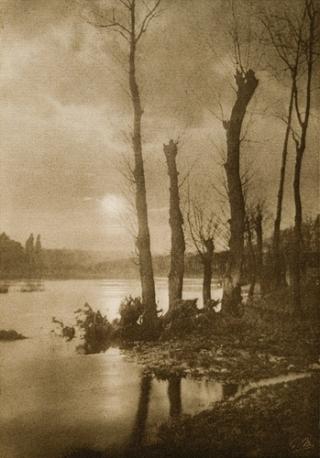 Fin d'Automne
1903
Gustave Marissiaux
1872 - 1929
_______________________
A Personal View Of Gray
Shuntaro Tanikawa
translated by Takako Lento

However white a white may be, it never is a true white. In a white without a single bit of cloudiness, invisibly miniscule black is lurking, and that is always its constitution itself. A white does not regard a black with hostility, but rather it is understood to contain a black, because a white by its nature fosters black. At the very moment of coming into existence, a white is already beginning to move toward a black.

But in its long process toward a black, however many gradations of gray it passes through, a white does not cease to be white until the very moment it is totally black. Even when it is infiltrated by what are not thought to be attributes of white such as, for example, shadows, dullness, or absorption of light, a white is gleaming behind a mask of gray. A white dies in a flash. In that instant a white disperses, leaving no traces, and a total black rises up. But —

However black a black may be, it never is a true black. In a black without a single speck of gleam, an invisibly miniscule white is lurking like a genome, and that is black's constitution itself. At the very moment of coming into existence, a black is already beginning to move toward a white . . .
On Shuntaro Tanikawa's Journey (1968) To I Myself (2007)
Portrait of a poet: A translator's notes
Takako Lento
_______________________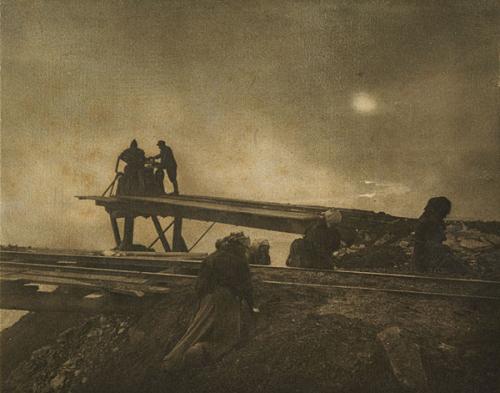 Tipping Point
A slag heap
Gustave Marissiaux
_______________________

One Life Only: Biological Resistance, Political Resistance
Catherine Malabou
translated by Carolyn Shread
critical inquiry
(....)

Symbolic life is that which exceeds biological life, conferring meaning on it. If refers to spiritual life, life as a "work of art," life as care for the self and the shaping of being, peeling our presence in the world away from its solely obscure, natural dimension.

Foucault's concept of body and Agamben's concept of bare life bear witness to this unquestioned splitting of the concept of life. Paradoxically, they expel the biological that is supposed to constitute their core—and it thereby becomes their unthinkable residue.

(....)

... As Agamben writes, "Bare life . . . now dwells in the biological body of every living being" (HS, p. 140). Once again, therefore, there is space for something other than bare life in the biological body. And in what, then, does that which is not in the bare life of this body consist? More precisely, we come to see, bare life is that which lives in the biological body without being reducible to it—its symbol. It must be said, the biologists are of little help with this problem. Not one has deemed it necessary to respond to the philosophers or to efface the assimilation of biology to biologism. It seems inconceivable that they do not know Foucault, that they have never encountered the word biopolitical. Fixated on the two poles of ethics and evolutionism, they do not think through the way in which the science of the living being could—and from this point on should—unsettle the equation between biological determination and political normalization. The ethical shield with which biological discourse is surrounded today does not suffice to define the space of a theoretical disobedience to accusations of complicity among the science of the living being, capitalism, and the technological manipulation of life.

...(more)
via
—synthetic zero
_______________________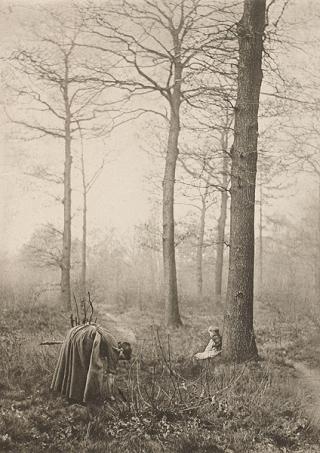 The Wood Gatherer
Gustave Marissiaux
1897
_______________________

Hawthorne: Science, Progress, and Human Nature
A series of critical essays accompanied by annotated stories
The New Atlantis
Nathaniel Hawthorne and the Spirit of Science
the editors
(....)

Hawthorne was not himself acquainted with active scientists and inventors and did not closely follow their work as it unfolded, and so his stories have only an indirect connection to the specific discoveries and advances of his day. His interest instead was scientific technique as a means of power, and what people might want to do with it. Words such as "symbol," "type," and "emblem" appear throughout his work, suggesting connections to eternal temptations. Several of his most famous stories depict fantastical potions that even now do not exist — but the aspirations driving their creation are as old as man; these stories envision powers we have always wanted but might not wisely know how to wield. Others among his tales reveal the sphere in which technology has no dominion, and how forgetful we are that it cannot help us there.

Beginning with the essay on the facing page, The New Atlantis inaugurates a series devoted to Hawthorne's thinking about science, technology, and progress. Over the course of the next several issues, we will take up his short fiction one story at a time, offering close readings and thoughtful commentary. The selections will range from familiar favorites to buried treasures. Each essay will be accompanied by an illustration by the marvelous Elliott Banfield. And with the publication of each essay, we will simultaneously publish a critical edition of the corresponding story on our website, TheNewAtlantis.com/Hawthorne. Please join us in recognizing and learning from the wisdom of this giant of American letters.

...(more)
_______________________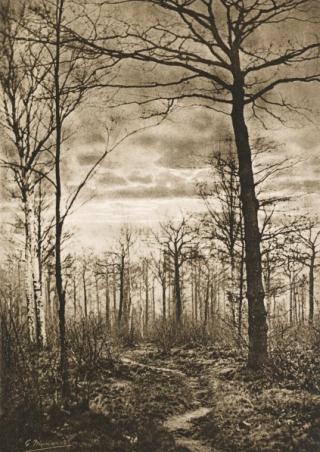 Gustave Marissiaux
_______________________
Continuing To Write
Shuntaro Tanikawa
Translated by Takako Lento

A train runs on a single line along the gorge
monkeys have given up on evolution
familiar bagpipe sounds are receding
and I have no choice but to continue writing poetry

A mother sits on a sofa, nursing her baby
a sudden explosion surprises a midday street corner
opinions are noisily voiced in a new morning
a youth is sulky, reading comics

so what do they matter?
An official history lines up only heroes
projecting old scarred images
and I have no choice but to continue writing poetry
I cannot find the end
because I don't know the beginning
Day after day I live with doubts about believing
Only the sky is limitless, like salvation

I live with refuse that has no place to go to
forgetting the names of missing persons
pawning off offerings to the altar
unable to distinguish nanometers from light years

Asked about pros and cons in rapid succession
I dodge my swaying moods
I seek supreme bliss deeper than meaning
I have no choice but to continue writing poetry

from I Myself
Shuntaro Tanikawa
Shuntaro Tanikawa poems
New Selected Poems
Shuntaro Tanikawa
(trans. by William I. Elliot and Kazuo Kawamura)
reviewed by Simon Haworth
_______________________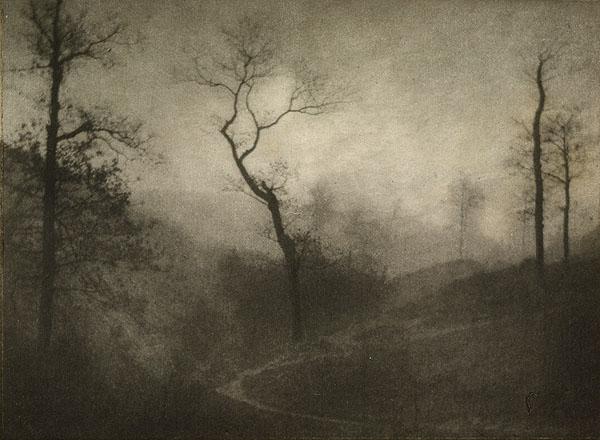 Crepuscule d'Hiver
Gustave Marissiaux
1908
_______________________
Turn to history - excerpt
Linn Hansén

(....)

Literature supports the idea that many people have suffered.
By turns suffered and done other things.
What is it like to be human is it safe or is it hard.

One says that something terrible is going to happen then something terrible happens that is bad luck.
Someone falls off a swing or a war comes that is not back luck that is history.

The Bible is a footnote to Plato.
The Finnish ferry is a footnote to the kayak and the irritation is a footnote to the real fury.
The lamb is a footnote to a dodo's child.

Memory is poorer but more trustworthy than an anecdote.
A déjà vu is shorter but more surprising than a memory.
The nobility is historical as well as the monarchy while a déjà vu is the opposite of history.

The following things have burnt throughout history parliaments buildings forests hearts common people's houses whole cities.
Just after the telescope came the night sky.

...(more)

Blackbox Manifold 14 Special section:


Corals: Poems Heard In Europe
- curated by Michael Farrell
---
November 19, 2015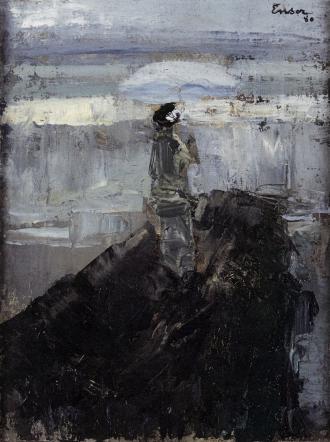 Woman on a Breakwater
1880
James Ensor
d. November 19, 1949
_______________________

Pale Tradescantia
Maria Arambula
The Dark Mountain Blog
(....)

A field full of resilient weeds can be a source of hope. I often look upon untended land and think, life finds a way; wishing in the expanse that a home is being made for other, more fragile beings. Yet year after year, the same plants expand their territory, almost mimicking human monocultures. Here in the deep south, late winter is awash with the warm golden red of sour dock singly occupying the fallow cotton fields. The famed, now almost beloved kudzu, is still found in vast stretches along roadsides, creating sculptural representations of the trees they have swallowed. In the shallow swamps, whorled tangles of invasive hydrilla dominate the homes of the native American water lily. Today, Pfeiffer's warning to listen to weeds is even more stark as hydrilla is now proving to be a vector for a never-before-seen bacteria dubbed 'the eagle killer'. In the endless heat of the American South, these plants are adapting rapidly with uncanny intelligence. What are they trying to tell us?

Humans tend to believe nature sends us messages. I, too, search for secrets in rustling breezes or thoughtfulness in the bowing head of a mockingbird. Yet, I feel more grounded when I decide there are no hidden messages intended for me; to instead experience a communion, a call away from the self, and into the living community. In order to stop echoing my own anthropocentrism, I must resist the idea that nature is there to tell me anything.

...(more)
_______________________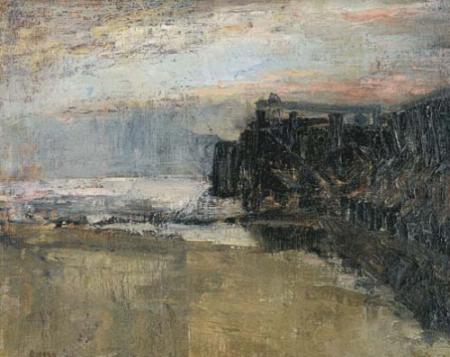 James Ensor
_______________________
Five Poems
G.C. Waldrep


IV. Santa Monica, California, 1988

Therefore rest (the idea of). When one reaches an opposite coast
it's either sink or swim or else stake out one's God
on the illuminate sand. Turning back is not an option,
one can never hope to turn one's back,
the text is in the turning, this is the logic of the boustrephedon,
every text turns from next to next. Call this narrative.
I think it is crucial to know who, precisely, is being excluded from the garden.
A respite from the text, a respite from the next,
any Buick could serve as the vehicle for a Sunday nap,
any le Corbusier cube. And the sea waits like a small rickety chair
in its musty room, almost forgotten.
Note to the architects of languor:
The dead do not approach the camera with the hesitation we suppose.
Rest, too, is a concept realized consistently in one direction.
Rest is the common currency of a charming detail.
_______________________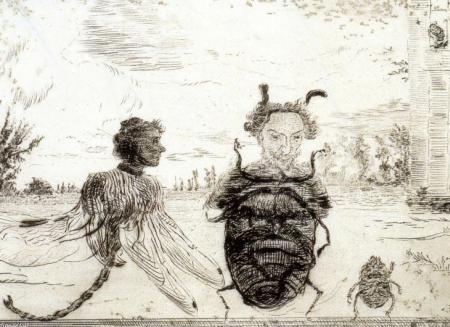 James Ensor
_______________________

body - November 2015
The Czech Issue
Poems from Instruction Manual
Jirí Kolár
(1914 - 2002)
Translated by Ryan Scott

Never Again

Board a tram
or bus
and become acutely aware of
the vibration beneath your feet
the sounds inside and out
the life all around
the presence of those others
recall how many times you went somewhere
to and from and with whom
guess what everyone is thinking
what's his job how he has lived
what he reads what dream he had
somewhere in the memory
keep enough space

for

what you would like to befall you
what distresses you
what you forget about
and meanwhile keep listening
to the voice in your head asking
what you would do
if you knew
you will never return home again
_______________________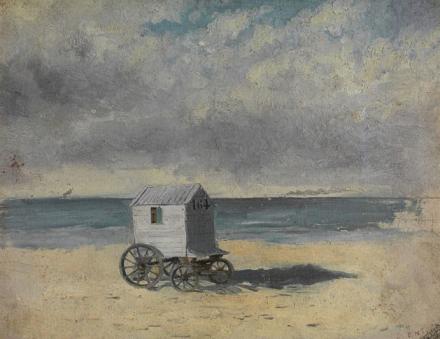 James Ensor
_______________________

Bad thoughts can't make you sick, that's just magical thinking
Angela Kennedy
aeon
(....)

It might seem counter-intuitive to adopt a skeptical position against such culturally and medically entrenched ideas. But my research suggests that psychogenic explanations for physical conditions can be dangerous. They contain numerous confused ideas, flaws in reasoning, and fundamental problems in methodology, often making a mockery of claims to be 'scientific'. Such explanations constitute a 'God of the gaps' theory, whereby fictional, sometimes magical narratives slip into medical reasoning whenever there is a vacuum of knowledge. They contain prejudicial assumptions about people and how they experience their ill-health.

Yet the assertion that physical illness is due to psychosocial stress is absurdly common, in both the popular media and the medical literature. ...(more)
---