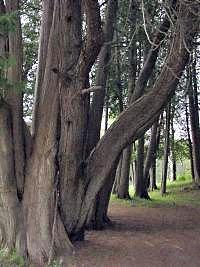 ---
Home
---

rss

atom

feedburner
---
Feed My Mind
---
CBC Music
40 channels
24/7
---
Idle No More
Occupy
Occupy Directory
Canada
The Politics Page
OpenMedia.ca
The Morning News
Directory
Open Access Journals

aaaaarg

ubuweb

internet archive


---

---
May 21, 2013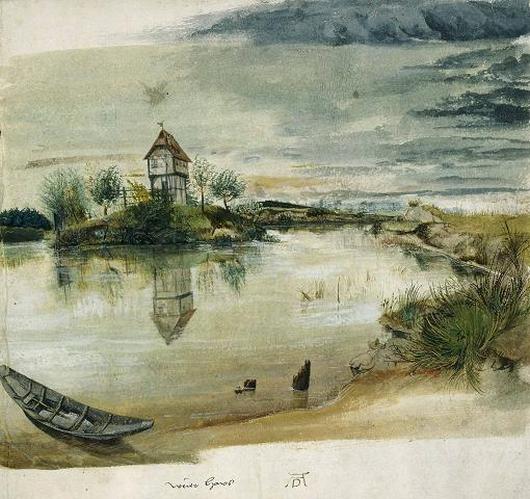 Fisherman's House on a Lake
near Nuremberg
C.1496
Albrecht Dürer
21 May 1471 - 6 April 1528
_______________________

Argument with Myself
Mike Jay reviews Permanent Present Tense: The Man with No Memory, and What He Taught the World by Suzanne Corkin
Memory creates our identity, but it also exposes the illusion of a coherent self: a memory is not a thing but an act that alters and rearranges even as it retrieves. Although some of its operations can be trained to an astonishing pitch, most take place autonomously, beyond the reach of the conscious mind. As we age, it distorts and foreshortens: present experience becomes harder to impress on the mind, and the long-forgotten past seems to draw closer; University Challenge gets easier, remembering what you came downstairs for gets harder. Yet if we were somehow to freeze our memory at the youthful peak of its powers, around our late twenties, we would not create a polished version of ourselves analogous to a youthful body, but an early, scrappy draft composed of childhood memories and school-learning, barely recognisable to our older selves.

Something like this happened to the most famous case of amnesia in 20th-century science, a man known only as 'H.M.' until his death in 2008. When he was 27, a disastrous brain operation destroyed his ability to form new memories, and he lived for the next 55 years in a rolling thirty-second loop of awareness, a 'permanent present tense'.

(....)

For the long remainder of his life Henry was blandly unaware of his own story. He would readily volunteer that he had 'a lot of trouble remembering things'; if pressed, he might speculate that 'I have possibly had an operation or something.' His short span of consciousness led to repetitive behaviour – making the same observation repeatedly, or mechanically eating two lunches in a row – but his conversation was characterised by a gentle wit and quizzical, punning exchanges that seemed to test every statement for possible meanings. (When Corkin commented on Henry's love of crosswords by dubbing him 'the puzzle king', he responded: 'I'm puzzling!') He had occasional episodes of frustration, anger or panic, but was usually good-natured and accepting of the scene around him. In many respects he displayed the serenity and detachment promised by the Buddhist ideal of living in the now, freed from regrets about the past or anxieties for the future. He was certainly more content than his most extreme opposite, Solomon Shereshevsky, the subject of A.R. Luria's The Mind of a Mnemonist. Shereshevsky's inability to forget became a life-destroying torment. 'The trail of memory can feel like a heavy chain,' Corkin observes, 'keeping us locked into the identities we have created for ourselves.' Henry was, by contrast, 'free from the moorings that keep us anchored in time', though Corkin also wonders whether his lack of anxiety and emotional churn might have been related to the partial loss of his amygdala.

...(more)
_______________________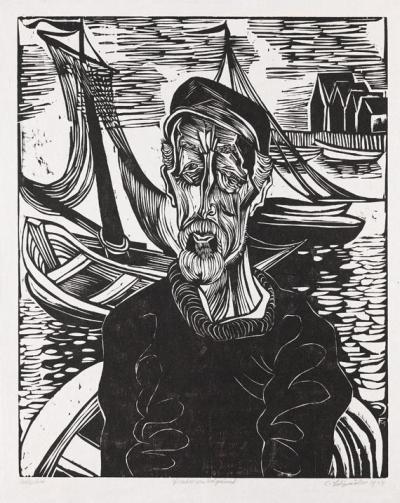 Conrad Felixmüller
_______________________

The U.S. as a party-state
Adam Kotsko
An und für sich
... Interpreting the party-state phenomenon through liberal democratic norms, the "totalitarian" analysis decides that since something like civil society or the private sphere no longer has the desired autonomy, we can only conclude that the state, as the only other available center of power, is over-dominant. This is a profound misreading of the situation, however, as Foucault points out in Birth of Biopolitics. The problem in party-states is not that the formal state structures are too strong, but that they're too weak to restrain the party-movement that instrumentalizes them.
_______________________

Corruption Study
Study of Changing Societies
Volume 1'6
_______________________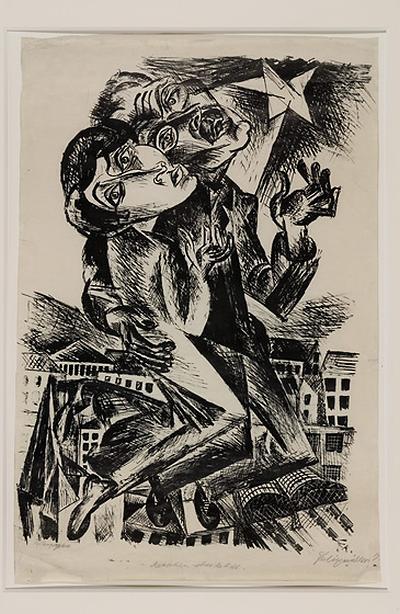 Men above the World
(Epitaph for Rosa Luxemburg and Karl Liebknecht)
1919
Conrad Felixmüller
(21 May 1897 - 24 March 1977)
_______________________
Singing
Primo Levi
Translation by Marco Sonzogni, Harry Thomas

…But when we began to sing
Our songs, senseless and good,
It seemed that everything
Stood as it once had stood.

The days were merely days.
Seven made a week.
Killing we thought was wicked.
Of dying we didn't speak.

The months sped by so fast,
With too many to come for complaints!
Again we were only young:
Not martyrs, the shamed, or saints.

We had these thoughts and others
As long as we could sing.
But it's all hard to explain,
Being a cloudlike thing.

3 January 1946

MPT (Modern Poetry in Translation)
Poetry and the State, Series 3 No.15
Edited by David Constantine, Helen Constantine
_______________________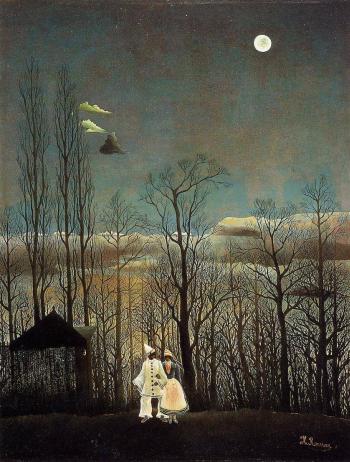 Carnival Evening
1886
Henri Rousseau
May 21, 1844 – September 2, 1910
_______________________
Husserl's Theoretical Horizon, or a Ghost Is a House You Live in
C. Dylan Bassett

1.

Ghosts do not happen alone. Ghosts are made
from rooms and glass and cherry trees. They lie down and become
horizons. You see by them.
You remember.

2.

Some ghosts want to undo you, to take you apart.
They crawl in cupboards and bang against the wood.
They rearrange furniture and hide
your good shoe. You cannot fight them, you do
not know their names. Other ghosts want
to hold you together, to bake your favorite lemon cookies
in the middle of the night and climb in bed with you
and comb your hair with their glassy fingers.
You hate these ghosts most of all.
You know their names exactly.



Memorious 19
---
May 20, 2013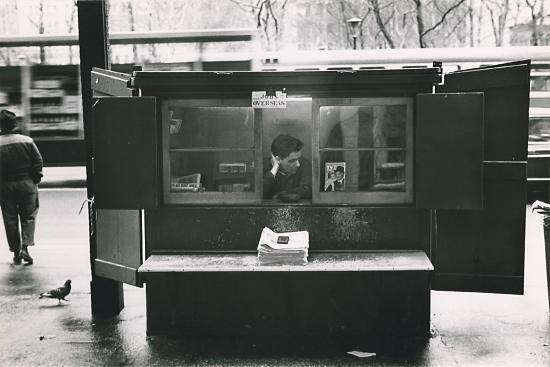 news stand
New York City
1963
Street Exposure: The Photographs of Ronald Reis
289 photographs and contact sheets
made between 1957 and 1973
primarily in London and New York City
Duke University Libraries Digital Collections

via
_______________________

Digging Up Bones Or, The Labyrinths Beneath Our Feet
Tom Jacobs
(....)

***

I told this story late at night the other day while I was making cocktails for friends, and I didn't think much about what it was about or what it meant or where it was headed. I just told it. But I can now see some kind of pattern, some kind of meaning in the bare fabric of the thing. A warped reflection of what's been passing through my mind lately. There's something there about what happens when we excavate and examine the past. It can as easily induce insanity as it can generate revelation. To some extent it's about how we regard it, about how we comport ourselves in the presence of history. We can choose to hold it close or to cast it away. It can engulf us or it can reignite something that's been lost or forgotten. Either way, the excavation will lead us to seeing and maybe even understanding something new and strange.

There are labyrinths beneath our feet all the time. Beneath our apartments, our homes, our towns and cities. They are there.

***

...(more)
_______________________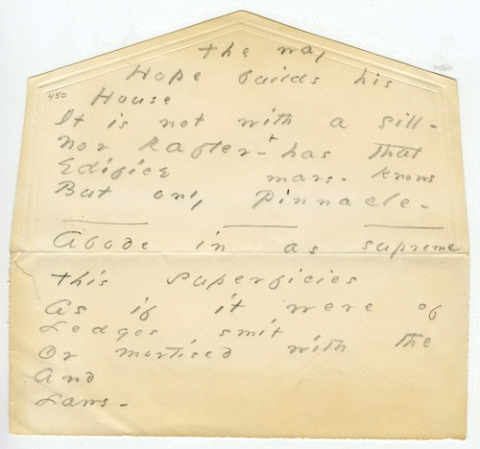 Emily Dickinson's manuscript of "The way Hope...
Emily Dickinson at Amherst College

via
The way Hope builds his House
It is not with a sill —
Nor Rafter — has that Edifice
But only Pinnacle —

Abode in as supreme
This superficies
As if it were of Ledges smit
Or mortised with the Laws —
_______________________

Excerpts from Children of the Days: A Calendar of Human History
Memory on Legs
(January 3)

On the third day of the year 47 BC, the most renowned library of antiquity burned to the ground.

After Roman legions invaded Egypt, during one of the battles waged by Julius Caesar against the brother of Cleopatra, fire devoured most of the thousands upon thousands of papyrus scrolls in the Library of Alexandria.

A pair of millennia later, after American legions invaded Iraq, during George W. Bush's crusade against an imaginary enemy, most of the thousands upon thousands of books in the Library of Baghdad were reduced to ashes.

Throughout the history of humanity, only one refuge kept books safe from war and conflagration: the walking library, an idea that occurred to the grand vizier of Persia, Abdul Kassem Ismael, at the end of the tenth century.

This prudent and tireless traveler kept his library with him. One hundred and seventeen thousand books aboard four hundred camels formed a caravan a mile long. The camels were also the catalogue: they were arranged according to the titles of the books they carried, a flock for each of the thirty-two letters of the Persian alphabet.

(....)

The Perils of Publishing
(April 24)

In the year 2004, for once the government of Guatemala broke with the tradition of impunity and officially acknowledged that Myrna Mack was killed by order of the country's president.

Myrna had undertaken forbidden research. Despite receiving threats, she had gone deep into the jungles and mountains to find exiles wandering in their own country, the indigenous survivors of the military's massacres. She collected their voices.

In 1989, at a conference of social scientists, an anthropologist from the United States complained about the pressure universities exert to continually produce: "In my country if you don't publish, you perish."

And Myrna replied: "In my country if you publish, you perish."

She published.

She was stabbed to death.

...(more)
_______________________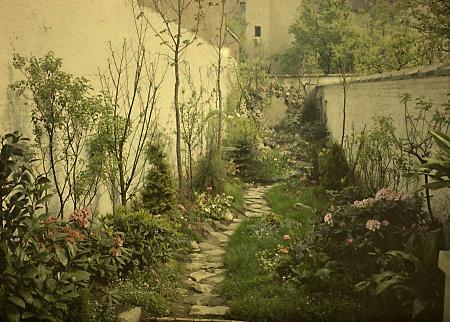 Gardenview
1914
Alfonse Van Besten
(1865-1926)

Belgian Autochromists

via
_______________________
Draft 74: Wanderer
Rachel Blau Duplessis


Book I

This the place where hopes had left
their traces, stark in storm,
stoked in "astonishing nights, foreigners among humans,"
whose eye thirl, window whorl they Open Wide
seeking wordth and depth,
if ever, given
ques and querl, this wordth and depth could be,

and want to speak to sight, to sigh and
rage, not for that hour, nor for that place
yet nowhere
unembellished by some trace,
documentary (that and more), witnessing (that
many more) and witless, hurtful, "jesting air"—en-
joined, frozen in mo ti on but not to crumble, rather
stand. This has to stand, inside, longside as
It; and yet is split, is double split, in impulse, turn, and goal.
Still somehow moves (un-
sanctioned? leaden?) fated, stripped,
by road or pathway or through trackless field,
Up hill or down.

What hope then for the wanderer?
Yet and Yet and Yet in place.
Aura of words in a storm face.
There are plenty of reasons to wonder.

(....)

Book X

The loops of thought and new-mint sound
began to rise along the toil of push.
Or this was just posturing. It was
really the small crumple exaggerated
pinch and poke; poppit, prime and pry.

So from the rubbish gathered up a stone.
Then from the rubble gathered up a stone.
One for the heavy-laden grave.
Two for the split in the person.
Three, three,
and on and on.

But then began a rubble wall.
random pieces placed in counter-poise.
Slate, granite and conglomerate,
sandstone, limestone,
brick, and shale

wedged up from field or quarried from,
or found and piled, or gathered up
at the dusty sides of road.

The force retained as each rock balances.
The brightened chips of brick
get set at angles.

Sometimes such a wall will stand, or
even under pressure
simply shatter round the edge

because of energy. The properties
of various
stones and of mixed
elements
allow for inner motion and for
give and hold.

This is one thought, sometimes proportionate.
Although sometimes not.

Voices of the dead give speeches on these principles of physics.


_______________________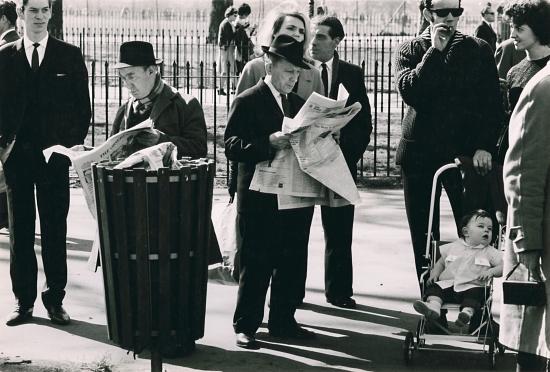 speaker's corner
Hyde Park
Ronald Reis
_______________________
... as time had gone by, years had passed, I am now able now to understand why for instance the Tower of Babel story was a story I didn't like at all. This God acting like a universal chief of police, punishing and hating and being—how could he find that giving us the diversity of languages was a punishment? The diversity of languages is one of the best treasures of the human condition, of the fact of being human in this earth. Because diverse is the best thing, I mean, the best of the world is the fact that the world contains so many worlds inside. And so many languages. We have different languages because we have different musics and we are walking musics. As we are walking time.

Eduardo Galeano interviewed by Robert Birnbaum
---
May 17, 2013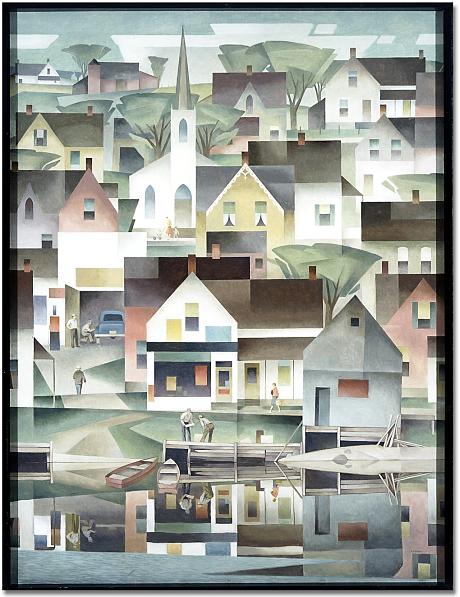 Untitled
1966-68
A. J. Casson
(May 17, 1898 – February 20, 1992)

The Group of Seven
Canada, 1920-1960's
_______________________

Short Cuts
John Lanchester on Google Glass
(....)

The cruder and more obvious problem with Glass is less to do with the user's self-engagement, and self-withdrawal, and self-whatever, and more to do with the effect on the rest of us. Imagine a world in which anyone around you can be recording anything you say, filming anything you do. We already live in a version of that world, of course – especially in Britain, global capital of the CCTV camera. But you can see a camera or a phone or a tape recorder when it's held up in front of you. Glass is different. William Gibson tried on a pair briefly at a conference, and tweeted: 'Expect Google Glass to be reworked into less obvious, more trad spectacles, sunglasses etc, for covert use.' A racing certainty, I would have thought. (And a disaster for those of us who are lifelong spectacles wearers of the old-fashioned type. You already have to leave your phone outside places where they're super-sensitive about recording images or words: blockbuster movie previews and 10 Downing Street. Can it be long before we'll have to leave our specs behind too, or at least prove that they're Glass-free?) It's hard to get one's head around the disruptive potential of this omnipresent recording. At the end of an hour's general chat in a newspaper office the other day, the conversation turned to Glass, and we all replayed the talk in our heads, editing out the bits we wouldn't have said if it had been possible someone present had been recording everything. The conclusion was we'd have managed about five minutes' small talk about the weather, followed by a 55-minute silence.

...(more)
_______________________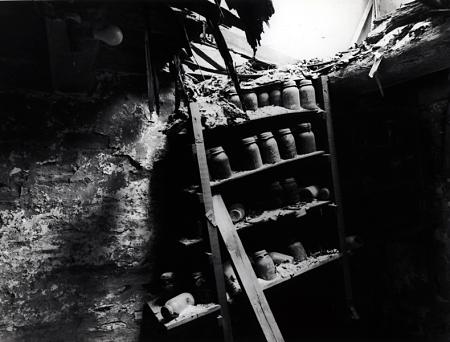 Forensic Landscapes
Emma Wilcox

Emma Wilcox at the Gitterman Gallery
_______________________
Wrong
an assemblage by John Latta


(....)

Sextus need
not offend Pythagoras

calling his
'wrong moment
foolish for
sobering frenzied
youths with
a righteous
spondean' (instead
of quitting
their dive)

—Louis Zukofsky, out of "A-19" ("A" 13-21, 1969)

....

One goes on asking questions. That, then, is one
Of the categories. So said, this placid space

Is changed. It is not so blue as we thought. To be blue,
There must be no questions. It is an intellect
Of windings round and dodges to and fro,

Writhings in wrong obliques and distances,
Not an intellect in which we are fleet: present
Everywhere in space at once, cloud-pole

Of communication. It would be enough
If we were even, just once, at the middle, fixed . . .

—Wallace Stevens, out of "The Ultimate Poem Is Abstract"

....

. . . And truly it little matters what I say, this or that or any other thing. Saying is inventing. Wrong, very rightly wrong. You invent nothing, you think you are inventing, you think you are escaping, and all you do is stammer out your lesson, the remnants of a pensum one day got by heart and long forgotten, life without tears, as it is wept. To hell with it anyway. Where was I . . .

—Samuel Beckett, out of Molloy (1955)

...(more)
_______________________
Utopia deserted
Sointula, British Columbia
Findians, Finglish, Finntowns
Vesa Oja
books from Finland
_______________________

Axioms for a Dark Ontology
larval subjects arranjames response
attempts at living
(....)

On the first axiom (Life is an accident and has no divine significance), I am convinced that this is still to be thought through. In order to think this we ought to return to Paul Virilio, this time not as dromologist but as the thinker of the accident. If life is an accident, indeed, if creation itself is an accident, then within all temporalities is the one temporality, the overarching cosmological rhythm of that accident working itself out: creation is catastrophe, the moment everything begins and ends are immanent, and so there is no need to mourn or weep. All we have is this world: a world that is in free play, that has absolutely no reason to be this way or that beyond the reason we give it. This is the emancipatory quality of nihilism that opens us up to euphoric visions
Post-Nihilistic Praxis and Some Further Axioms
larval subjects
_______________________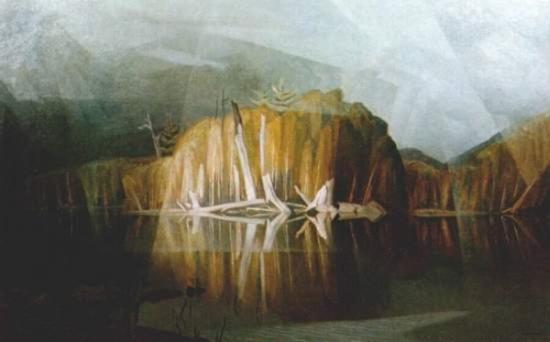 "Rain, Mist and Sun"
A. J. Casson
_______________________

Haruki Murakami on "The Great Gatsby"
Translated by Ted Goossen
from "In Translation: Translators on Their Work and What It Means"
Columbia University Press
(....)

These were the texts I had kept close athand over the years, the books I loved. Most of them, of course, already existed in standard translations; yet if I could refresh them—"wash them anew," as we say—even slightly, my efforts would have been worth it.

My translation of J. D. Salinger's The Catcher in the Rye, which I published several years ago, is part of this "rewashed" series, as is, of course, this version of The Great Gatsby. I have no desire to take exception with the translations of my predecessors. Each is outstanding in its own way.In fact, if a reader who had grown attached to a novel through one of those translations were to demand to know why I had gone to the trouble of producing yet another version, I would find it hard to justify myself. Nevertheless, it is my conviction that, as I wrote when my version of Catcher came out, every translation possesses its own "best before date." Although numerous literary works might properly be called "ageless," no translation belongs in that category. Translation, after all, is a matter of linguistic technique, which naturally ages as the particulars of a language change. Thus, while there are undying works, on principle there can be no undying translations. Just as dictionaries eventually become outdated,so, to some extent, does every translation (including, of course, my own)grow obsolete as times change. I would even go so far as to say that whena specifc translation is imprinted too deeply on the minds of its readers for too long, it runs the risk of damaging the original. It is therefore impera-tive that new versions appear periodically in the same way that computer programs are regularly updated. At the very least this provides a broader spectrum of choices, which can only benefit prospective readers. (....)

I translated Gatsby at an extremely personal level. I wanted to make my long-standing image of Gatsby clear and concrete, so that readers could picture the distinct colors and contours of the novel and feel its textures. To do this, I strove to eliminate anything that was the slightest bit obscure or that might leave the reader feeling as if they had somehow missed something.I have always felt that translation is fundamentally an act of kindness.It is not enough to find words that match: if images in the translated text are unclear, then the thoughts and feelings of the author are lost....(more)
via
Open Culture
_______________________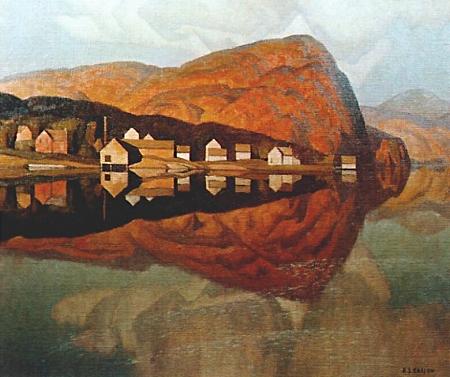 A. J. Casson
---