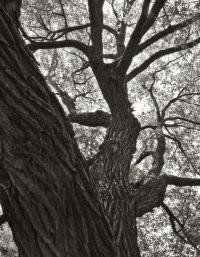 ---
Home
---
contact
r[dot]mark[dot]woods
[at]gmail[dot]com


---

rss

atom

feedburner
---
Berfrois
The Morning News
Directory
Open Access Journals

aaaaarg

ubuweb

internet archive


---

---
July 03, 2015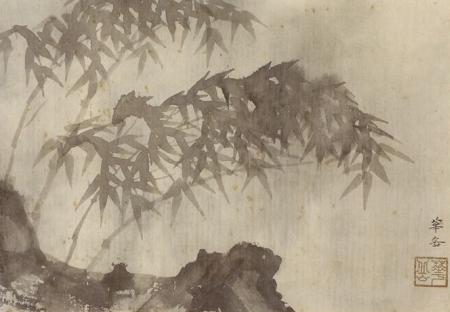 Bamboo in the rain
Kagaku Murakami
b.: July 3, 1888
_______________________

Scar Letters
Theodore Worozbyt
Beard of Bees Publications (March, 2007)
Salamander

If not for the rock the salamander wouldn't twitch in the rain. The red twin doors stuck on one side, the one nobody used. An insect has left me with months of agues, a lump of greenish brown under my hip skin. The liquid on the keys is sticky. I knew ghosts who smell like turtles and put the erasure of the sun in a shoebox. If you walk before dawn in the grass by the river you will die. Make no mistake. The grackles knew. I grew corn, Silver Queen, sweet on the tongue as bees. My tulips bloomed in the shade. Incarnadine and saffron are their names. I breathe in deep the smells of feculent chemicals because I am clean in my yellow windbreaker, terrified of stings. If I had been in love just once more I might have made it through the membrane separating microscopic gauze from immensities. The pinhole was supposed to make an image on the other side, on the foil. It was the only safe way to look without burning out your eyes. The rock gave a sucking sound when I pulled it from the leafy dirt. The salamander wriggled like a starry midnight sky with feet and eyes in my palm. When I put the salamander back, the rock fit wrong. White and flat, the pebble roof contained my mother. The day was cloudy, the total eclipse invisible. Underneath the row of skylight windows she moves around in the kitchen and the black and white tv is on. She is watching Andy Griffith as she cleans. His wife has always been dead and he doesn't wear a gun. In my hand, in the rain, it stopped moving when I turned it over and pressed my finger to its bleached belly, as if touching by then meant anything but how it would be remembered.
Theodore Worozbyt
at the
Poetry Foundation
_______________________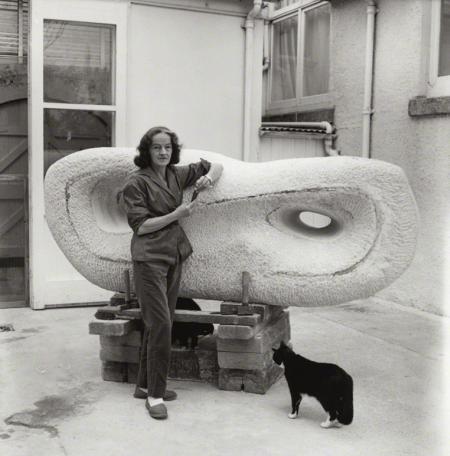 Barbara Hepworth
1903 - 1975
Photo by Ida Kar,1961

Looking at the world through the eyes of Barbara Hepworth
Barbara Hepworth's work and its universe of meaning.
Ali Smith
(....)

"Your work is very organic," an interviewer says to her in the 1970s. "It's meant to be," she replies. "I'm organic myself." The book (Barbara Hepworth: Writings and Conversations (Tate Publishing) is full of small, brilliant revelations, such as her interest when she visited Brancusi's studio in 1933 in how he used "great millstones" as the bases for his classical forms – maybe a source of her own penchant for breeze blocks? On a larger scale the collection prompts a rethink of any clichés to which we might have settled, over the years, about Hepworth and her work. "I think of landscape in a far broader sense," says the artist it's easy wholly to associate with the real landscapes of Yorkshire or St Ives; "I extend its meaning to include the whole universe."

Art for her was a language with real consequence – "the only language", she said in 1952, "which nations can speak together and they don't quarrel. And yet in times of stress and war, the tiny grant which the state provides to maintain the visual arts is the first to go." The book makes clear her deep political involvement. Hepworth, the opener-up of deep recesses in closed forms, writes to the Times in 1956 about the Hydrogen Bomb, "a subject which must occupy the deepest recesses of all our minds". It is she who drafts the statement sent to the Sunday Times signed by 59 artists in 1961: "there can be no true culture while we make stock-piles of nuclear weapons". She makes a handy "list of my convictions" to give to a visiting Daily Express journalist in 1961: pacifist, UN and nuclear disarmament supporter, anti capital punishment, a Labour Party member after Suez, an anti-pollution activist . . . "I'm surprised at myself," says another interviewer, this time from the Yorkshire Post, arriving in St Ives in 1962 to lambaste her for defaulting to the southern warmth and, he imagines, a cliquey artists' community. She talks to him seriously, shows him some works. He apologises, a bit amazed. "I'm usually quite a reactionary, you know." And to Robert Hughes in 1966: "We had a silent spring here last year," she says; "have you read Rachel Carson's book?"

...(more)
Cool Moon
from Aegean Suite
Barbara Hepworth
_______________________

Putting Poetry In Its Place
Simon Armitage
The Hillary Lecture, Oxford - 2 March 2015
(....)

On the few occasions I've been to lectures on poetry given by poets, it turns out that the best kind of poetry, and indeed the right kind of poetry, is coincidentally very similar to that of the lecturer's. And something of that kind will no doubt happen today. But I hope not to use this hour to lay down the law about what poetry is or what it isn't. And I should apologise in case the title 'Putting Poetry in its Place' has attracted people under false pretences, brought curious citizens cycling over the cobblestones hoping I might belittle my chosen art or give it a bit of a dressing down in public. All I want to do, in fact, is to celebrate the role of setting and situation in poetry, and to gently worry if part of poetry's inheritance is being gradually forfeited in favour of more ethereal tendencies and styles. Its environmental birthright squandered for a mess of lentil stew.

Most poets I know teach, and most of them teach poetry, and the focus of much of their work is not the poetry of Dickinson or Shelley or Chaucer but the poetry of their own students. Poets teaching poetry has become something of a given over the past three or four decades, to the point where the term 'poet' is as much a university pay-grade as it is a description of a person's literary accomplishments, particularly in the United States. Whether this relationship between creative writers and Creative Writing is a good or bad thing is open to question. To some it's a necessary way of providing esteemed practitioners with financial security, recognising their artistic merit within an academic setting, disseminating knowledge among dedicated novices, and spawning future protégés through a professionalised form of intellectual apprenticeship. To others it's a shameless method of raiding the bank accounts of unrealistic students, battery-farming sterile poets, cloning anaemic poems in the poetry workshop's fluorescent daylight, and ensuring poetry's descent into kind of software programming language incomprehensible to all but the Masonically initiated. If it's the latter then I'm as guilty as anyone, having presided over hundreds of poetry workshops and seminars through several lectureships, professorships and visiting professorships in this country and abroad, but the Hogwartian system of poetic education isn't my subject here. What concerns me, fascinates me, occasionally horrifies me but now rarely surprises me, is the number of times students bring poems to class which leave fellow students baffled and bewildered, and leave the tutor in much the same state. Poems which even after the most rigorous, in-depth reading they're ever likely to receive, by several high-functioning individuals with a declared commitment to the cause, still resist the most basic analysis. The class might marvel at the clever use of a gerund in line three, or spend 35 minutes debating the relative merits of a semi-colon over a hyphen, or the poem might lead us into a discussion about recent breakthroughs in neuroscience. But by and large it remains a mystery. Which wouldn't be a problem if mystification or deliberate vagueness was the author's intention, but upon interrogation it usually turns out the poet had a very clear picture of the poem in his or her mind, a sort of framed vision, outlining a very definite set of circumstances. When I ask the author to replace the title, 'Echoes' it might be called, or 'Conundrum in the Key of Clouds' as I had recently… when I ask the author to replace the title with a geographical place-name appropriate to the poem's subject matter, or to replace an adjective with some straightforward description of the poem's whereabouts, seven times out of ten everything becomes clear. The poem's unintended obscurities are resolved.

...(more)
Areté
_______________________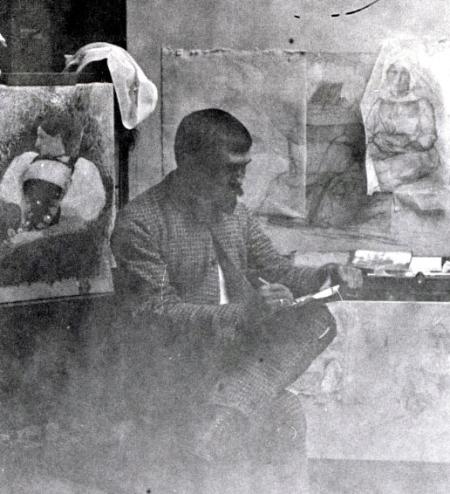 Pascal-Adolphe-Jean Dagnan-Bouveret
d. July 3, 1929
Working on Tracing Drawings for "Breton Women at a Pardon." ca. 1887
Photographer unknown
_______________________

An 18-Hour Playlist of Readings by the Beats:
open culture
These 249 tracks include not just figures like the previously alluded to Allen Ginsberg, William S. Burroughs, and Jack Kerouac, but other beloved Beats such as Gregory Corso, Peter Orlovsky — and Charles Bukowski, not a figure one necessarily associates closely with that movement. Some Bukowski and/or Beat enthusiasts will tell you that each would have nothing to do with the other. Yet the hard-living poet and self-confessed "dirty old man" occasionally admitted to something approaching fondness for certain members of the supposedly higher-minded counterculture: "He's better to have around than not to have around," Bukowski once said of Ginsberg. "Without his coming through, none of us would be writing as well as we are doing now, which is not well enough, but we hang on."
_______________________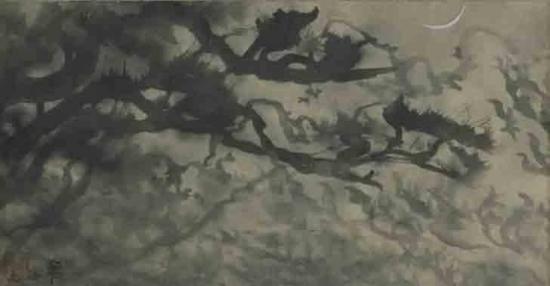 Crescent Moon over Rugged Mountains
Kagaku Murakami
1936
---
July 02, 2015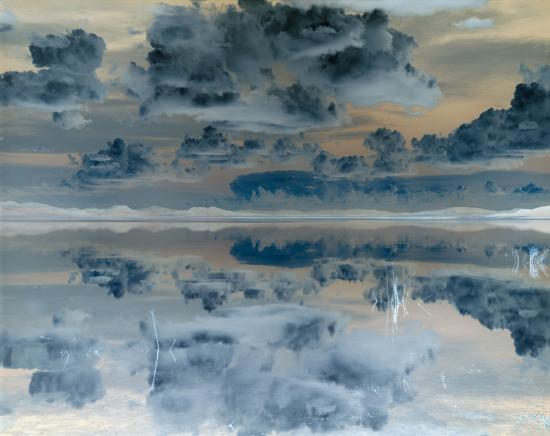 Color Reverse
Richard Misrach
_______________________
ON SUNDAY MORNINGS
Togara Muzanenhamo

walk down and enter history,
smoke white breeze over trilby
shadow, warm September air.
Corrugated roofs skirt over
iron railings, linking sunlight
store to store. Avenues run
wide as riverbeds cut straight,
ironed flat by the wind, sun
and rain. With the glare it's
almost a dated photograph
from 1922, stiff grey streets,
the growing town dwarfed
by the thought of surrounding
land, distant hills bounding
north. Now bitumen stands
thick where dark grit sands
absorbed sunlight, shaded
gables shrinking into heat,
old colonial names – faded
but blocked out in concrete –
speak like scripts on graves,
and not one car in sight, nor
a lone hum, but rustling leaves
scuttling by to a chorus caw
of crows, the town deep in
slumber, its people locked in
dreams they hardly remember
when they wake past noon –
the dry mists of September
turning through the small town.

Togara Muzanenhamo at Poetry International

via The Page
_______________________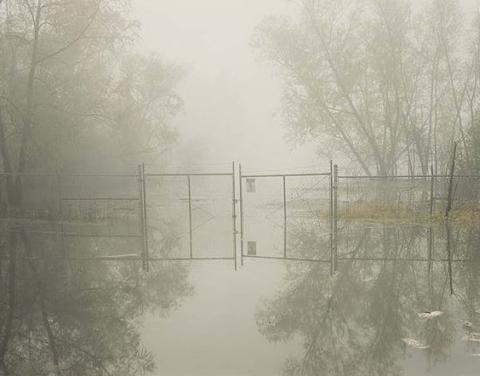 Hazardous Waste Contaiment Site
Dow Chemical Corporation
Placqueline, Louisiana, 1998
Richard Misrach
_______________________

Ecopoetic resurgence:
Feral/interdisciplinary/bioregional
Notes on ecopoetries from the Association for the Study of Literature and Environment Conference (June 23–27, 2015)
Linda Russo
jacket2
In their plenary at the recent conference of the Association for the Study of Literature and Environment, Donna Haraway and Anna Tsing oriented us toward the concept of a multi- species world-making based on the ecological process of resurgence. Resurgence, they clarified, is the response to a "disturbance" – any quick ecological change, such as farming. They explained that in our management of ecosystems, we block resurgence – even though an ecosystem (and we humans) can't survive without it. Resurgence arises from the ability of plants and animals to move around and make their own rearrangements of and contributions to an ecosystem. Blocking resurgence results in the eruption of destructive feral biologies – they spoke of killer fungi and other forms of blight unleashed by and on nonhuman organisms. With this as a backdrop, Haraway and Tsing provoke a new, collaborative world-making with deep-seated materialities. They begin and end by reminding us that stories, in particular, help us rethink human and nonhuman resurgence.

In their model, it seems, feral biologies are solely destructive. But as I listened to several ecologically-oriented poets present their work over several days, I saw ferality engaged as positive resurgence. The feral sometimes took the form of posthumanist subjectivity, sometimes it was articulated through a rewilding of knowing through poetic interventions into otherwise "settled" discourses, sometimes it sprung up as a reworking of relations in place through an emergent bioregional consciousness. In a variety of works I saw the creation of new contexts for thinking and enacting ecological work.


_______________________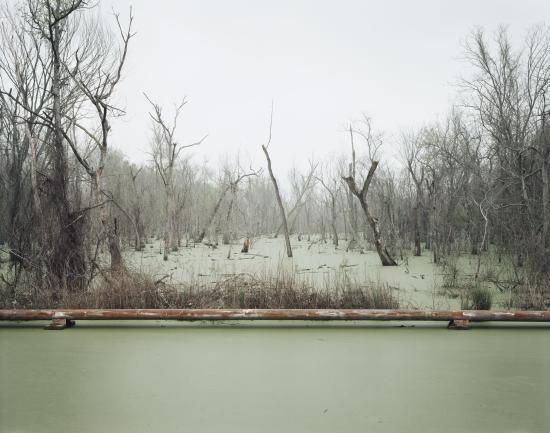 Swamp and Pipeline
Geismar, Louisiana
Richard Misrach
_______________________

Oppression
From: Marilyn Frye, The Politics of Reality
(....)

The root of the word "oppression" is the element "press." The press of the crowd; pressed into military service; to press a pair of pants; printing press; press the button. Presses are used to mold things or flatten them or reduce them in bulk, sometimes to reduce them by squeezing out the gases or liquids in them. Something pressed is something caught between or among forces and barriers which are so related to each other that jointly they restrain, restrict or prevent the thing's motion or mobility. Mold. Immobilize. Reduce.

The mundane experience of the oppressed provides another clue. One of the most characteristic and ubiquitous features of the world as experienced by oppressed people is the double bind – situations in which options are reduced to a very few and all of them expose one to penalty, censure or deprivation. For example, it is often a requirement upon oppressed people that we smile and be cheerful. If we comply, we signal our docility and our acquiescence in our situation. We need not, then, be taken note of. We acquiesce in being made invisible, in our occupying no space. We participate in our own erasure. On the other hand, anything but the sunniest countenance exposes us to being perceived as mean, bitter, angry or dangerous. This means, at the least, that we may be found "difficult" or unpleasant to work with, which is enough to cost one one's livelihood; at worst, being seen as mean, bitter, angry or dangerous has been known to result in rape, arrest, beating, and murder. One can only choose to risk one's preferred form and rate of annihilation.

(....)

The experience of oppressed people is that the living of one's life is confined and shaped by forces and barriers which are not accidental or occasional and hence avoidable, but are systematically related to each other in such a way as to catch one between and among them and restrict or penalize motion in any direction. It is the experience of being caged in: all avenues, in every direction, are blocked or booby trapped.

Cages. Consider a birdcage. If you look very closely at just one wire in the cage, you cannot see the other wires. If your conception of what is before you is determined by this myopic focus, you could look at that one wire, up and down the length of it, and be unable to see why a bird would not just fly around the wire any time it wanted to go somewhere. Furthermore, even if, one day at a time, you myopically inspected each wire, you still could not see why a bird would gave trouble going past the wires to get anywhere. There is no physical property of any one wire, nothing that the closest scrutiny could discover, that will reveal how a bird could be inhibited or harmed by it except in the most accidental way. It is only when you step back, stop looking at the wires one by one, microscopically, and take a macroscopic view of the whole cage, that you can see why the bird does not go anywhere; and then you will see it in a moment. It will require no great subtlety of mental powers. It is perfectly obvious that the bird is surrounded by a network of systematically related barriers, no one of which would be the least hindrance to its flight, but which, by their relations to each other, are as confining as the solid walls of a dungeon.

It is now possible to grasp one of the reasons why oppression can be hard to see and recognize: one can study the elements of an oppressive structure with great care and some good will without seeing the structure as a whole, and hence without seeing or being able to understand that one is looking at a cage and that there are people there who are caged, whose motion and mobility are restricted, whose lives are shaped and reduced.

...(more)
via
flowerville
_______________________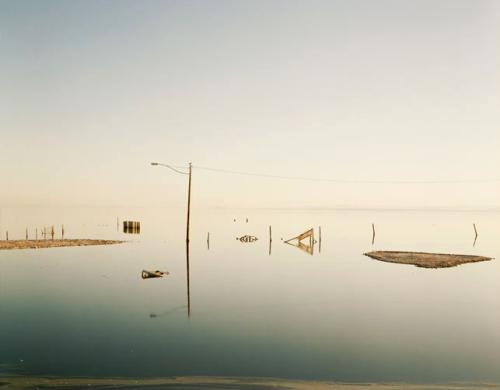 submerged lamppost
Salton Sea, California, 1985
Richard Misrach
_______________________

"Night Visit"
Emmanuel Bove
translated by Alyson Waters
asymptote
What was making me sad? My books—all my books—were sleeping on the shelves. No one had spoken badly of me. My family and friends had no particular worries. I found myself in the midst of all things. So I did not need to fear that events, in my absence, would take a turn I would be unable to change. I was not unhappy with myself. And, even had I been, this intensity of feeling was different.

(....)

I was dozing in an armchair. At the seam where the red velvet meets the wood, golden tacks form a border. One of them was missing and, there, the edge sagged a bit. I sat motionless. My hand tugged at this seam without my being aware of it, as it sought unconsciously to pull out the next tack.

It was only once I had managed to pull it out that I became aware of what I was doing. I felt a small joy at this discovery, as I feel each time I catch myself doing something without realizing it, or when I bring to light a sensation in me of which I was unaware. It makes me as happy as a ray of sunshine or a kind word. Anyone who would criticize me for this tiny joy will never understand me. I think that seeking knowledge of oneself is a pure deed. To criticize me for digging too deep into myself would be to criticize me for being happy.

I have to say, though, that this joy is very fragile. It really is not equal to the joy a ray of sunshine gives us. Quickly it disappears, and I have to look for something else inside me to bring it back to life. Then, in the intervals, it seems that everything is hostile to me and that the people around me, with their simple joy, are in reality happier than I am.

...(more)
---
June 30, 2015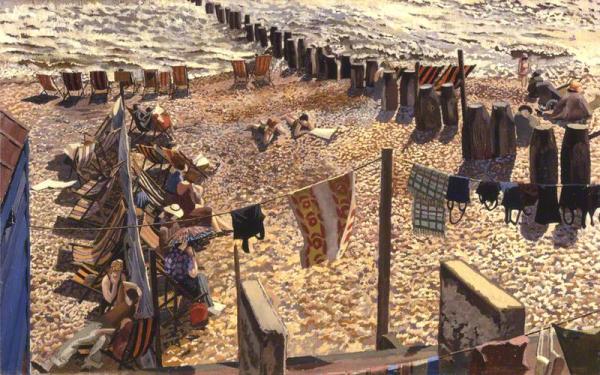 Southwold, Suffolk
1937
Stanley Spencer
b. June 30, 1891
_______________________
Kelp chorus
Endi Bogue Hartigan

They are all throat in the night–they say the word spirit with ease
They are the drifting, violet gowns of the throat
They are all night in the throat–they are all ease in the all
They say the words blue and baleen and sailing and seas
Perhaps they have the relationship of the throat determined and so are all it
Or, they have the slick violet gown of the throat and they are the luster of
the gown slipping over the fragile, wet word of the spirit
Or, perhaps the word spirit with ease is the same as the throat
Or, the naked "they" is the same as "they say"
Then we want it divulged, what they have, or had, or seem to have in ease,
a sea of violet gowns washed up in small pathetic heaps,
they are all heaped in the white, coughed up on salt-encrusted sand,
iridescent froth sticking or popping against them
At the touch of the bubble, an acid hurt
Then we are all them, and not without ease

from
Pool [5 choruses]
Endi Bogue Hartigan

Iterations and interstices
Endi Bogue Hartigan on fields and crowds and more
(....)

If you've been to the Oregon coast — or really almost any coastline — you've probably seen tangled heaps of kelp, those drying, gelatinous, fly-ridden, stinky, wonderful heaps. I often end up reading "kelp chorus" when I give readings from this book, partly because of the sound, and sometimes I ask people to imagine these kelp mountains as an embodiment of voice, but multitudinous voices, tangled. I am pretty sure when I wrote this poem that the kelp and the chorus were a clustered entity from the start, so it is hard to see one as reflection of the other, exactly. I always liked how the chorus in classical literature could exist both inside and outside the narrative of the theater at the same time, so in the context of this poem, I imagined this kelp mixture at the shore edge in that similarly paradoxical space, where voices may or may not touch, and there is sting in both distance from and closeness to this tangle.

The entry point is different with each poem that touches on natural forms of course, whether they are lilies, or other forms, but I'm definitely drawn to poetry that has physicality to it — whether through music, thought, or imagery. I've been fortunate to live in pretty amazing places (I have spent most of my life in the Pacific Northwest and Hawaii), so it's easy to use language drawn from this environment as a kind of material paint. But it is more than just paint; it is not secondary but intrinsic. The kelps and lilies and shorelines of the natural world are a nuanced place to explore complex, public subjects like crowds and violence. It is also a way to say that "confusion and injury" inevitably occur in the context of this lushness, that they are simultaneously the material.

...(more)
_______________________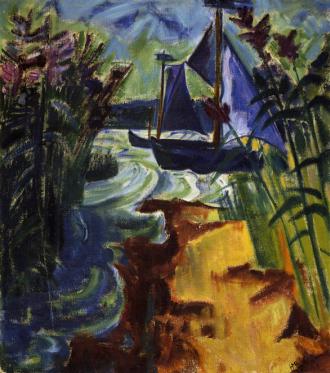 Max Pechstein
(1881-1955)
_______________________

Both together: Migrations by Gabriel Josipovici
Stephen Mitchelmore
this space
(....)

The scenes never stop to clarify a traditional back story, nor even to insert narrative conjunctions, so that the café scene in one paragraph moves straight into another in which the man is pacing to and fro in his bedroom. A scene from adulthood moves then without pause to a scene from childhood, yet not as in stream of consciousness but something less secure, less comforting, not contained within a mind but as if the meaning of each lived moment is sought in repetition and in order to resist the constant migration of mind and self. The apparent distress of the protagonist in this quest is described with a mixture of clinical distance and romantic metaphor and simile.

The bulb hangs down in the middle of the room. It is lit, making the curtainless window appear like a black mirror in which only the blub itself is reflected. But the light is poor and seems to have difficulty reaching the walls of the big room. Even the washbasin and the bed are in shadow.

Silence flows away from him in dark rivers.

Falling backwards, in a wide arc, he stretches out his hand to grip the lamppost and encounters only air. The black sky presses on his face like a blanket.

Everything flows away from him. It flows outwards and away in dark rivers.

The rhythms of repetitions and returns build an uncommon presence, as if the words have been typed directly onto the page, indenting the paper with the urgency and confusion of a writer trying to catch up with the world and himself. So, soon after 10pm, I had started reading Migrations and before midnight I had read 50 pages. And this is why I read: the gifts of chance rediscovery, of being returned to real needs, which is also why I remember Thomas Bernhard, aged 19 and on the edge of death, reading Dostoevsky's The Demons: "Never in my whole life had I read such an engrossing and elemental work ... it had shown me a path that I could follow and told me that I was on the right one, the one that led out".

The elemental in literature is often misdiagnosed as outré subject matter or writing described as raw and unmediated, yet in Migrations the elemental appears as the subjection of form and content to the logic of its title: constant becoming in constant undoing; constant undoing in constant becoming; the logic of birth and death. So the man is unnamed not in order to protect identity but to loosen the binds of identity, for time to colonise the means by which the identified resists time and self erasure. ...
_______________________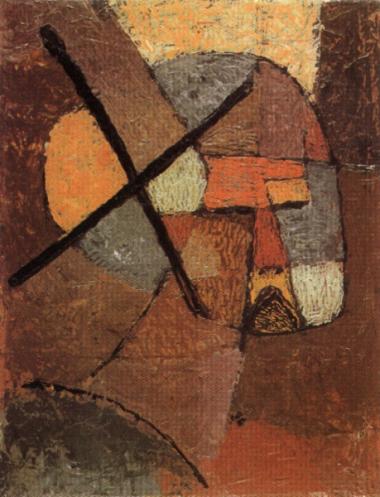 Struck from the List
1933
Paul Klee
d. June 29, 1940
_______________________

The Predator Class: Social Exclusion and Savage Capitalism
S.C. Hickman
(....)

This sense of expulsion, eviction, exile: the twilight-zone effect that one no longer belongs to one's roots, one's country and place of origin; and, yet, does not belong anywhere else, either: that one is a permanent exile from the earth, caught in a stasis and void in-between the living and the dead, a ghost inhabiting two worlds. He says this is happening to us all now. Visibly in the actual refugee camps, and invisibly in all countries where one is excluded from the fantasy worlds of the predatory elite who act as overseers from their gated communities and securitized enclaves. Maybe we are all exiles now, those of us on the left who exist in-between the lost object of utopia, and the actual dystopian futures that exist around us in the realms of oppression. Not belonging, a non-belongingness – a discordant inharmonic dissonance of the dissident.

...(more)
_______________________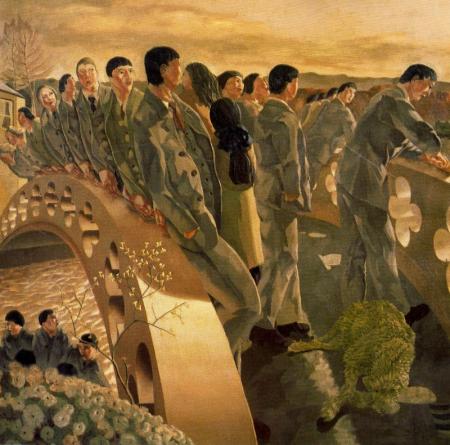 The bridge
Stanley Spencer
_______________________
It is interesting that many of the claims that, back in the mid-1970s, made Feyerabend a radical maverick are, nowadays, rather commonplace. Consider the general picture of science sketched in Against Method, of 'science' as pluralistic and disunified, socially situated, unavoidably value-laden, complexly bound up with sociopolitical concerns, whose social and epistemic authority is disputed and, to a degree, fragile.

- Ian James Kidd
Remembering Feyerabend:
On the Fortieth Anniversary of
Against Method
Terence Blake
This year is the 40th anniversary of the publication of the first edition of Feyerabend's AGAINST METHOD. It seems an appropriate time to revisit the book, and Feyerabend's thought more generally, to see what contribution it can make to our current intellectual and existential concerns. Feyerabend did not separate philosophy from the general culture, and he constantly considered abstract intellectual pursuits in relation to concrete life. This privileging of life over abstract motivations is the well-spring of Feyerabend's repeated claim that he is not a philosopher. Paradoxically, this insistence is part of what makes him a great philosopher, one who breaks the rules not out of "provocation" but because he has not the slightest interest in allowing his conduct and thought to be governed by the abstract stipulations of lifeless thinkers.


_______________________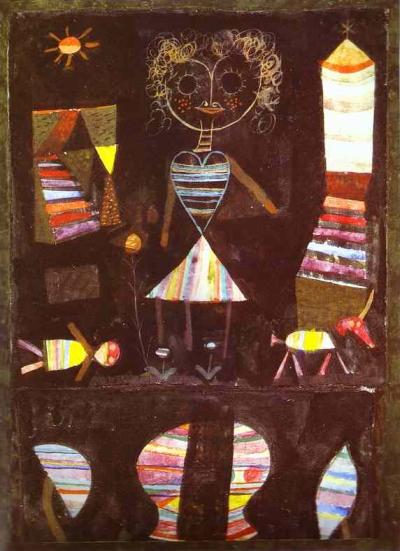 Puppet theater
Paul Klee
1923
_______________________

Toward a politics of information
A conversation with Luciano Floridi
eurozine
(....)

At this stage of human history, we conceptualize, we understand the world, we model the world in informational terms – and that's a good thing; it makes a lot of sense. Instead of having a Newtonian conception of a human being, like something made of mass, in terms of physics, chemistry and biology, we describe human beings in terms of networks, informational properties, privacy, and so on.

This means that, when I suggest that we are informational entities, what I'm talking about is an epistemological way of doing metaphysics, pretty much in the Kantian tradition; we understand the world today in informational terms, and therefore we look at each other as informational entities in a network, and that's why some of the issues that were not there in the past, because we didn't focus on them, are now very evident, such as the importance of privacy, online security, or education as a way of shaping the informational self. Not that they were entirely absent in the past, but now they are much more salient issues.

...(more)
---