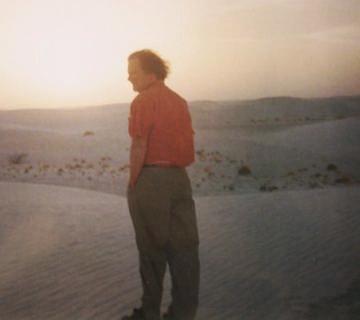 Listening
White Sands NM
photo - my sister
---
Peter Quince at the Clavier
Wallace Stevens

IV

Beauty is momentary in the mind --
The fitful tracing of a portal;
But in the flesh it is immortal.

The body dies; the body's beauty lives.
So evenings die, in their green going,
A wave, interminably flowing.
So gardens die, their meek breath scenting
The cowl of winter, done repenting.
So maidens die, to the auroral
Celebration of a maiden's choral.

Susanna's music touched the bawdy strings
Of those white elders; but, escaping,
Left only Death's ironic scraping.
Now, in its immortality, it plays
On the clear viol of her memory,
And makes a constant sacrament of praise.
These pages are produced by Mark Woods in Perth, Canada, a small town in Lanark County near Ottawa.
This site is hosted by The National Capital Freenet - the biggest freenet in the world.