The Kanata Group is a grass roots discussion group of people who enjoy one another's company and breakfast together once a month. We like to maintain connections with local community associations and people of influence in the region. Since the demise of the city of Kanata, there is an increasing need for discussion forums in Kanata that can feed ideas to those who now govern us but are more remote than we would like. Municipal planning decisions are often made by a tiny group of good people prepared to make themselves heard against the general apathy of the masses, and sometimes decisions are taken that later are not liked by those very masses who were not engaged. We feel that we can become a source of local ideas and concerns, and that liaison between us and the community associations will facilitate this. Lest readers believe this may be a talk shop without action, see our 2001 report to the Mayor of Ottawa, which was quoted by him at a Chamber of Commerce event in 2006.
Members of the Kanata Group benefit from each others specialized expertise, and can therefore introduce our personal clients to other professionals whom we know well. We much enjoy the company of guests from local enterprises, whom we frequently invite to join us at our breakfast meetings which have taken place since 1996 on the first Thursday of each month without exception. We have also given public seminars on a variety of subjects. We like to maintain contact with all previous members and guests who are reachable by e-mail.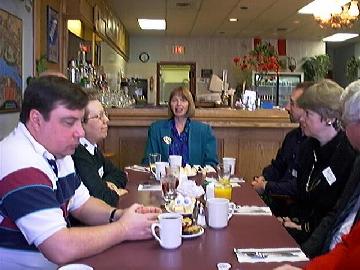 A Kanata Group breakfast meeting (March 2, 2000) when our guests included Mayor Merle Nicholds and leaders from local community associations: Peter McNichol (KHCA), Michelle Iseman (KLCA), Brian Gallop, (KBCA).
History of Activities
On June 10 1997 we held the first of a series of multi-discipline seminars on advanced subjects of interest to our clients. These seminars were held in the Kanata Public Library, Hazeldean branch.
See partial list of financial talks that we are ready to give at short notice.
Below: Claudette Cain, who was then Mayor of the City of Gloucestor, and an Ottawa mayoral candidate, and her campaign manager Mary Rozenberg, attend a Kanata Group breakfast on June 1, 2000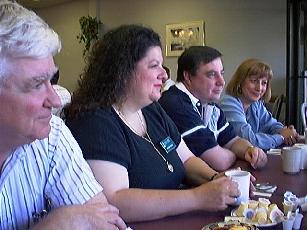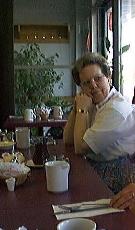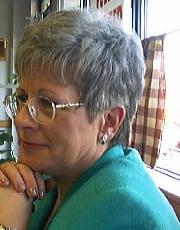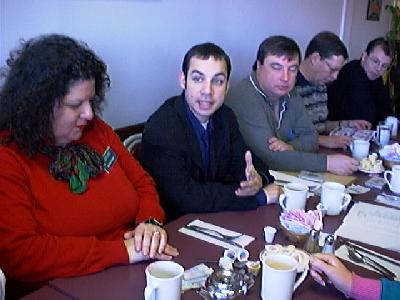 Ottawa City Councillor Alex Munter outlines his expectations for the new City of Ottawa when it takes effect Jan 1, 2001, at our December 7, 2000 breakfast. Another guest (sleeve, bottom right) was Vickie Townson, life coach from The Coaches Training Institute. If you may need a coach, phone 224-9259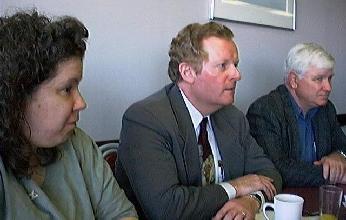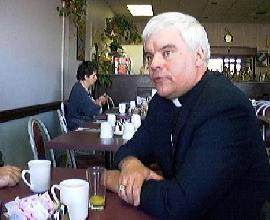 Laurie-Ann Copple, Dave Atkins, Bill Colls breakfast with Rt. Rev. Peter Coffin, Bishop of Ottawa, April 5, 2001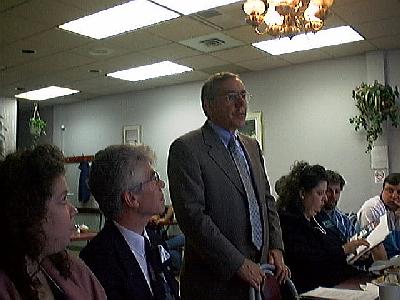 Mayor Bob Chiarelli was our principle guest Oct 3, 2001, with more than 30 members and guests having the chance to meet him informally and hear his perspectives on Kanata in the future.

Mr. Chiarelli left with our detailed report on concerns we had identified during research for this event.
Click the picture for more
Photo: Wendell McConnell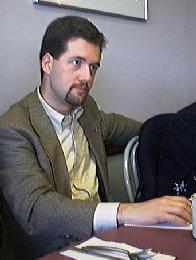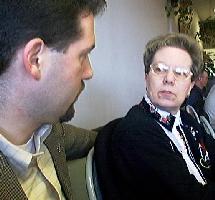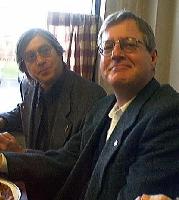 Scott Reid, MP, Lanark-Carleton visits the
Kanata Group for breakfast December 7, 2001.
Also pictured: Heather Colls, JC Delisle, Chris Browning.
On August 2, 2002, our guest was Steve Kanellakos, General Manager, Emergency & Protective Services for the City of Ottawa. Mr Kanellakos speaks to CBC Morning's Mark Kelly Morning's Mark Kelley about whether Ottawa is prepared for bioterrorism or some other kind of attack.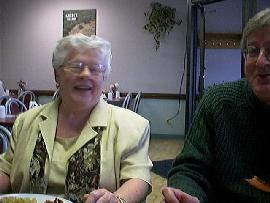 June Lemmex, Chair of the Board
Queensway Carleton Hospital
- our guest Oct 4, 2002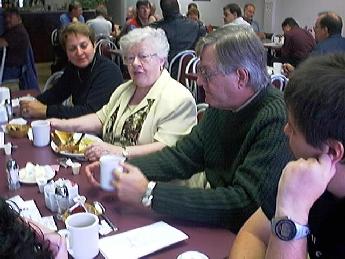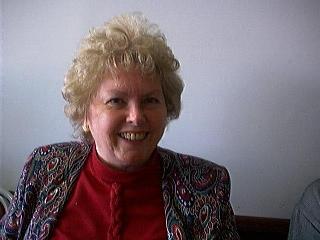 Marianne Wilkinson, nominee for Provincial Liberals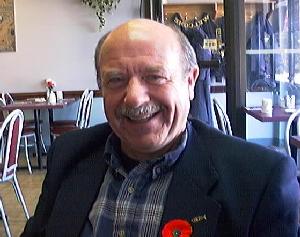 Ray Scanlan, National Alpha in Prisons Advisor

Marianne and Ray were guests at the Kanata Group, November 7, 2002

On Dec 5, 2002, our guest was Kanata's Ian Nicholson, aka "The Miser" broadcaster, businessman and philanthropist.
He published The Miser's Gazette and hosted "It's Your Money" Sundays on CFRA in Ottawa until sadly he passed away in April 2003.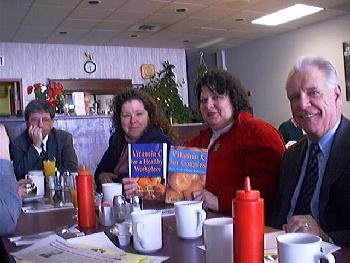 Photo: JC Delisle

Our gathering on Mar 6, 2003 included Luke De Sadeleer, "The Couples Coach" &nbsp www.thecouplescoach.com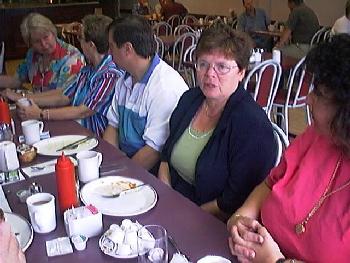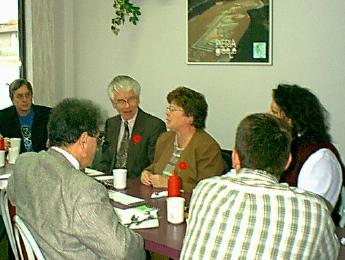 Executive Director of the CRC, Peggy Feltmate, who succeeded Alex Munter on City Council.
Peggy joined us on Aug 7 (left) and again on Nov 6 (right).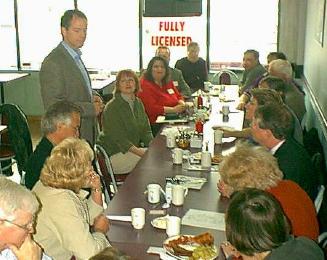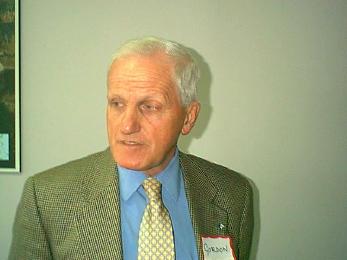 Federal candidates Dan Wicklum (Lib) -left, Gordon O'Connor (Cons) - right,
and Rick Prashaw (NDP) - below, charmed us on 6 May 2004.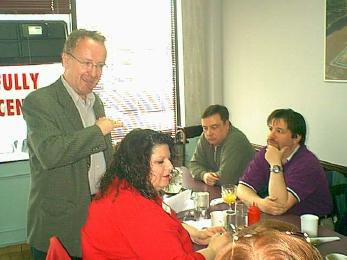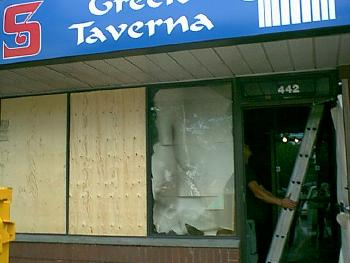 Police say that a fire that caused serious smoke damage to the Minos Greek Taverna was set by an arsonist. Firefighters were called to the fire at around 2:30 am on June 23, 2004 Apparently some kind of projectile was thrown through the windows, seen boarded up in this photo. Repair work is under way. The Kanata Group ate here once a month for several years.

After Minos, we moved to the excellent Gabriel Restaurant on Stonehaven.

5 May 2005 Gerry Turcotte - RCN, Algonquin College, OCRI, CRC distinctions RH Photo: Heather Colls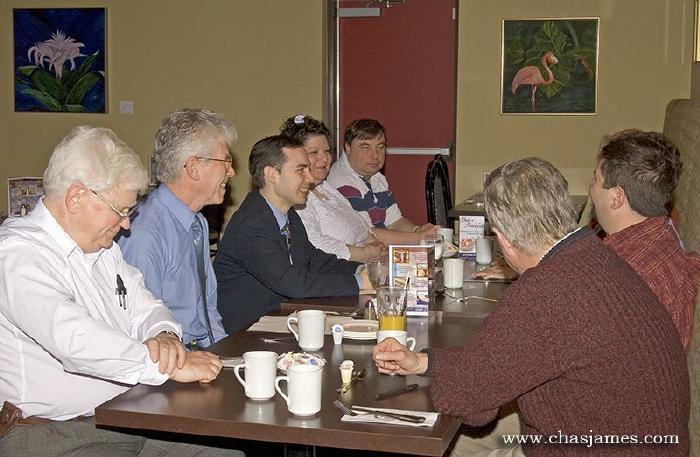 4 May 2006 &nbspAlex Munter and the rest of us appreciating a comment by Marianne Wilkinson (obscured),
both contenders in the November municipal elections. More pictures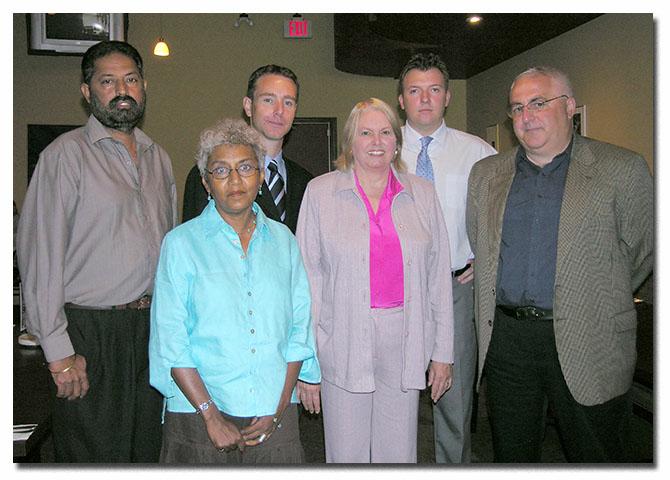 3 Aug 2006 &nbspA rare group photo - by Chas James - of contenders for Kanata North and South wards in the November municipal elections. From left: Amrik Dhami -S, Anu Bose -N, Jeff Seeton -N, Marianne Wilkinson -N, Matt Muirhead -N, Allan Hubley -S
More pictures
2 Nov 2006
CBC Radio producer Michael Bhardwaj joined the Group for our second encounter with municipal candidates, Matt Muirhead, Anu Bose, Marianne Wilkinson, Jeff Seeton and Eric Forgrave. Listen to the broadcast which went our on All in a Day on 8 November. Pictures to follow; come back soon. December 2007
Download Marianne's report after her first year in office.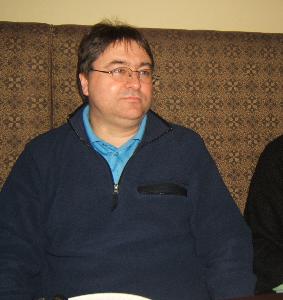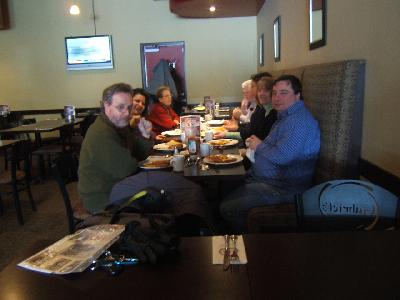 On 6 March 2008, Nevil Hunt, editor of the Kanata Kourier-Standard was a most welcome guest,
and did not flinch as we fired at him a plethora of subject matter with which to fill the paper.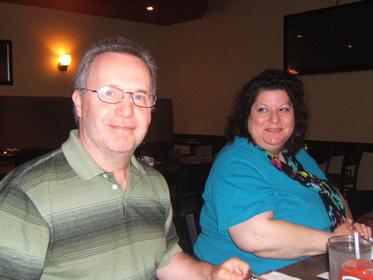 7 Aug 08: Chas James joins us after three
months in Qatar, full of fascinating tales
At the breakfast meeting of the Kanata Group 7 May 2009 a motion was proposed by founder member Tony Copple to wind up the main activity of the Group: breakfast meetings. After a very brief discussion or cogitation the voting in favour was unanimous: 1. In his brief speech, Tony (right) mentioned that in the 12 years and 144 unbroken sequence of meetings since the Kanata Group first met in Harvester House in May 1996, he had attended all but three of the meetings. That's a lot of cholesterol - but it's OK just once a month. During this time he has been stimulated by the company of hundreds of members and visitors, and has particularly appreciated the leadership of Michelle Iseman. The Kanata Group web site will remain as a memorial to all of you.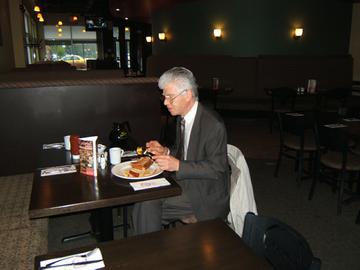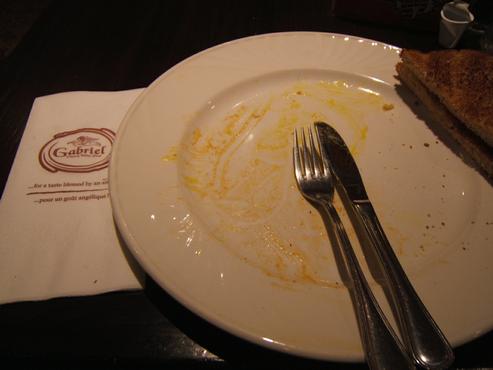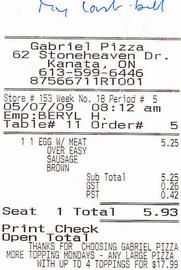 ---
If you would like to consult with any Kanata Group member, start the ball rolling with an e-mail. Just name the member you would like to contact you (in confidence).
- Tony Copple, Founder Member and Secretary.
---