Pat Drummond
Hi, net-pals! I'm from Saskatchewan, land of big skies, friendly people and cold you can chew. I grew up (no snickers please) in Rosetown, Saskatchewan and moved to Saskatoon to study mathematics at U of S. I got involved in student government by getting elected for the College of Arts & Sciences. I mananged to graduated with a B.A. Magna cum laude to the astonishment of all my pals in The Sheaf and yearbook office.
I moved to Ottawa for my first job at the National Research Council. I was known as the "blond mathematician" until I switched to computer programming. This was shortly after the electricity was invented. The first computer program I wrote was for a PDP-8S (S for slow), the "first minicomputer under $10k". It had 4 KB of memory (RAM) and an old teletype with a paper tape reader. Really. Every time the folks next door plugged in their coffee kettle, the computer lost it's "memory" and I'd have to reload all the software for about 30 minutes - and start over! Computers are sure easier to use now. I worked for the National Defence Communications Security Establishment before it was famous. A highlight of my time there was a trip to Alert in the high Arctic in the 1970s, where I was the only woman for a thousand miles! I'm a member of the "Order of the Arctic Hare", having seen one - in the dark!
Looking for a little variety in my life, I decided to take a different road and organized a national conference, then got involved in a boat sales and rental management company. During that time, I followed my interest in photography and had several cover photos published in a national boating magazine. I also wrote a few short articles about knot-tying and food - hope I didn't poison anyone!
Boating
After discovering the Rideau Canal and the Thousand Islands, I took courses in seamanship, piloting, navigation, and weather. Jim and I have owned a power boat, sailboat, kayak, canoe, and assorted dinghies. We went on a Carribean cruise and charted sailboats in the Virgin Islands and Bahamas. Once the cruising bug bit, we acquired an Aloha sailboat so we could cruise south (aka snowbird cruise). After thousands of miles we returned, and friends were surprised when we said, "Ever good to be back". It was the first time in a year we had seen flat calm water! Even "Skipper" our boat cat stopped falling in after using up 7 of his 9 lives! A few years after returning to shore, I started Pat's Boating in Canada - a labour of love which has made me friends around the world.
Online at the National Capital Freenet
In 1993, NCF set up a new Internet service. All you needed was a computer with a 2400 bps modem connected to a phone line and you were connected to an entire community of people. Eureka! My ID was ad995. After years away from computers, I had discovered a new use for them. I emailed for the first time, talked to people in interest-based discussion groups, and searched online databases using "Archie" and "Veronica". The text-based Lynx web browser was all we had to visit websites. You could also connect (Telnet) to other freenets and universities. NCF became one of the world's largest community networks, and was voted Canada's best. By 1996, NCF set up a Web server so members could use graphical browsers Mozaic and Netscape. I coordinated testing and documentation for the new services. (1997 - 2003) "Text" connections and the Lynx browser are unknown to most people today, but both are still available at NCF.CA. [Internet pet peeves]
I wrote several chapters of The NCF Survival Guide published for sale in 1994, and gave many seminars to help Ottawans "get connected" to the Internet for the first time. NCF Diary In 1996, I created Pat's Boating in Canada. (Even online, I never get very far from water!)
"The Ice Storm of 1998" forced me to organize the "NCF Home Page Contest" using a borrowed laptop running on a generator in my very cold home! I even arranged for Jim Carroll (author of the 'Canadian Internet Handbook') to be one of the judges. We were without power at home for 9 days in January. (Read my Ice Storm Diary) I coined the phrase "net-slave" around that time.
In it's second decade, NCF became a full-service ISP, so by 2008, former "freenuts" had moved over to Facebook!
Be who you are and say what you feel -- because those who mind, don't matter, and those who matter, don't mind!
PDQ Web Design
I had designed computer graphics on contract and started designing websites quite by accident. I named the new service PDQ Web Design, and learned the wonders of marketing, advertising, taxes, and networking. A background in online communication, small business, computer programming, plus art and photography courses gave me a good start. I often communicated with clients entirely by email and telephone. The most difficult part of the business is finding new clients and networking.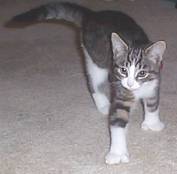 I was a member of the professional associations International Webmasters Association and the HTML Writers Guild, as well as local business groups Osgoode Business Association , Manotick Women's Business Network, Rural Womens' Business Network, and Rideau Chamber of Commerce.
Over eight years, with clients from Ontario to B.C., from small clubs to large corporations, I met lots of great people and made new friends. I'm now retired, but the PDQ Library is still around as a references.
Pepper cat (boat cat v2 at right) sorted everything that landed on the floor! She provided lots of the smiles.
"Boating in Canada"
In 1996, I created a Web site called Pat's Boating in Canada. At the time, CPS was not interested in promoting their courses on the web, so I just jumped in with both feet. It's still helping Canadian boaters find the information they need to go boating.
My name in the title ensured that no one mistook it for a government website (they didn't get any boating regulations online until years later!). I immediately started getting email from people across Canada and around the world! The site was featured in Sympatico's Net Life magazine July/Aug 1999. The site and I were also the first "monthly feature" of Ottawa Webgrrls, which morphed into Ottawa Digital Eve.
And now...
Business, Web design, computer consulting, and programming, writing, teaching, community networking, and sailing are in the past. I continue to do photography, volunteer work, travel, gardening and birding in retirement, and maintain 2 websites in "retirement". I'm still married to my first husband. I think variety really is the spice of life.