Over 150 former OBE staff members gathered for an evening of entertainment and reminiscing on September 21st, almost 50 years since the creation of the Ottawa Board of Education and over twenty years since its dissolution. The organizing committee had a wonderful time planning the reunion and we hope that all who attended enjoyed themselves as well.
The 2019 OBE Reunion was based on the theme, "Celebrate 1969", the year the province amalgamated several smaller boards to create the OBE. The video shown that evening was another highly entertaining production by Steve Moretti and Pat Holloway.
Marc Moretti took individual pictures of the reunion attendees which have been included in this slideshow. Instructions for how to download full resolution images, suitable for printing, can be found here.
The one and only "Lady Bugs" (distant relatives of the Beatles - Sylvia Darwood, Yvonne Navratil, Susan Scott, Barbara Clark, accompanied by Sally Robinson) made a special appearance to the delight of a very appreciative audience. A video of their performance is included in the slideshow linked above.
The profits from the 50/50 draw and the silent auction will once again be donated to the Marjorie Loughrey Artists in the Schools Program. Once all of the receipts for expenses have been submitted and a decision is made regarding future reunions, we will announce the amount we will be donating this year.
Marjorie Loughrey Artists in the Schools Program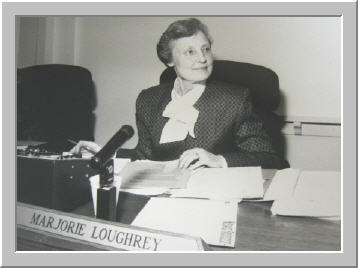 Marjorie made a significant contribution to education through her years as an Ottawa School Board Trustee. She believed that an education in the arts was fundamental to the emotional, intellectual and social development of each child, and this conviction led her to play a lead role in establishing the Canterbury School of the Arts. The award in her memory funds an artist to work for one week each year withall the students in one of Ottawa's inner city elementary schools.
The Education Foundation of Ottawa administers the annual award.