An Invitation to a Fun Filled evening at the OBE Reunion 2019

At the close of the evening of the 2017 reunion, these positive comments were overheard: "Best reunion yet!" and "We must do this again." So plans are underway for a reunion in the fall of 2019, to be held on Saturday, September 21st.
So please, come join us as we once again walk down memory lane. There are former and current staff members who would love to see you again.
Watch this space for further details.
Une invitation à la soirée de retrouvailles 2019 du Conseil scolaire d'Ottawa (OBE/CSO)
À la fin de la soirée des retrouvailles de 2017, ces commentaires positifs ont été entendus: "La meilleure rencontre à ce jour!" et "Nous devons le refaire." Nous prévoyons donc une autre soirée de retrouvailles pour le samedi 21 septembre 2019.
Joignez-vous donc à nous pour vous revivre les beaux jours à l'OBE\CSO et renouer avec d'anciens collègues de travail. Contactez d'anciens collègues, formez un groupe et réservez une table juste pour vous pour une soirée de plaisir avec des amis!
Presentation of Cheque to
Marjorie Loughrey Artists in the Schools Fund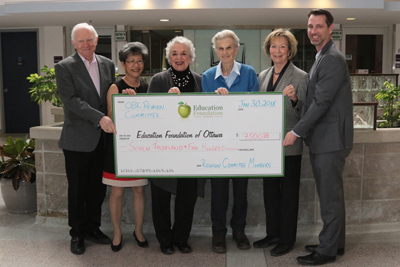 A cheque for $7,500 was donated to the Ottawa Education Foundation for the Marjorie Loughrey Artists in the Schools Program. This represented the profits from our 2017 Reunion. Shown in the photo from left to right: Murray Sands, Bonnie Cheung, Elda Allan, Jane Dobell, Mary Lou Fleming, Chris McGarvey.
Thanks to all who attended and supported this very worthy cause!
Marjorie Loughrey Artists in the Schools Program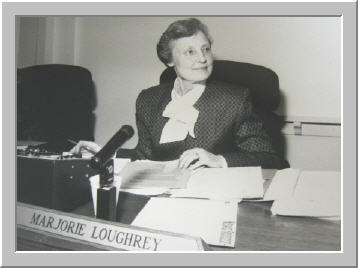 Marjorie made a significant contribution to education through her years as an Ottawa School Board Trustee. She believed that an education in the arts was fundamental to the emotional, intellectual and social development of each child, and this conviction led her to play a lead role in establishing the Canterbury School of the Arts. The award in her memory funds an artist to work for one week each year withall the students in one of Ottawa's inner city elementary schools.
The Education Foundation of Ottawa administers the annual award.