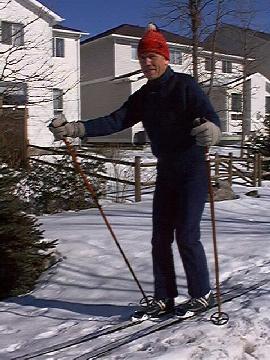 I downhilled for many seasons in Europe during my thirties and forties, and have gone out occasionally in Canada, about twice a season till 1995. If you can hear music, it's the song that most evokes skiing pleasure for me; a hit in 1972(?) in Italy by Umberto Tozzi: "Donna Amante Mia." In 1997 I had the opportunity to buy some cross country skis from my friend Jon Gilbert on his departure for Japan. Since we had ski-able land behind our house it made sense. Now I don't know why I waited so long! The journal shows most recent first.

Photo: Laurie-Ann Copple

3 Feb 2017	Same trek reverse direction same weather same thrill.
		Click this picture for quite a few more.  
                 


20 Jan 2017	Have I really not skied since 2012? 
		Maybe I forgot to record it in these 
		pages. Anyway, we moved to Britannia 
		last year so this was the first time 
		I had explored the surroundings. The 
		Trans-Canada Trail runs 40 yards from 
		our building, and on both sides of it 
		are the kind of places I love to ski. 
		This picture was taken by a lady out 
		for a walk, and I chatted with quite 
		a few out on the Family Day holiday. 
		Click this picture for quite a few more.  
		I was out for 90 minutes; it was so 
		delightful. Warm sun, no wind, and 
		heavy snowfalls a few days before.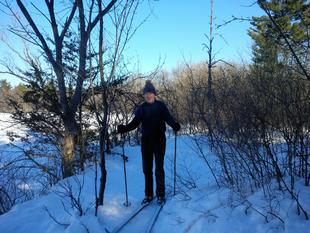 2 Jan 2012	My New Year's Eve ski had me feeling terrific the next day. So I went out  	 
		again today even though it was colder and icy. Instead of the regular park 	 
		circuit I avoided crossing roads and went West along Goulbourne Forced Road    		 
		as I used to many years ago before the building of thousands of home behind   
		ours on Signature Ridge. See 1997 below.  I came back along Hemlo, forgetting  
		that there would be no sidewalks and had to ski on the iced-up road surface.





31 Dec 2011	It's been longer than I thought since I have 
		ventured out. I guess the arthritis was 
		getting in the way in 2009 and 2010.  I am 
		now 6 months after right hip surgery and today 
		posed no problems at all. What a joy to be 
		out on New Year's Eve. No wind, very mild, 
		yet plenty of snow that had come just in time 
		to give us a white Christmas just a week ago.
		I took my 'normal route' and of course 
		revisited all my normal thoughts on this 30 
		minute circuit.  Quite a lot of others out 
		walking, but mine were the only ski tracks.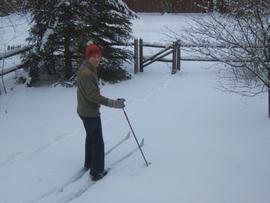 12 Jan 2008















Was invited to ski with Jiri and Hana at their 
home in Richmond, and had a marvellous time 
covering about 2 kilometers all on their land.
Accompanied by Tara their German shepherd we 
went as far as the Jock River, which as Jiri 
explained was none too safe to ski on, even 
though frozen over, due to occasional warm 
springs that made the ice too thin.  As we got 
home snowmobilers thundered past leaving fumes, 
which seems a strange way to enjoy the country-
side. This afternoon reminded me of the time I 
swam around the Bob's Lake island with J & H.  
Afterwards we had tea and home made cookies 
and some financial planning.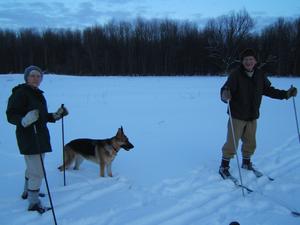 25 Dec 2007 Couldn't resist the combination of sun, snow (lots), and Christmas Day on my own - L-A is missioning in Pakistan. Said a special prayer for the dogs as I passed their resting place, and next saw the schoolhouse which, God willing, will become a church in less than two weeks. There's work to do! 3 Feb 2007 Wow! I missed a year! Anyway, in strong sunshine I couldn't resist it today and went round the "circuit." Clancy and Phantom still hold my attention as I went past the grave and then the school house where I parked the car on their last walks. Despite my fall at Christmas time I felt great with no arthritic effects whatsoever. 12 Apr With an urge to visit the dogs' grave I went out across Goldrige and on the "circuit" returning along the path from the schoolhouse. No problem with arthritis since the full effects of regular cider apple vinegar kicked in a few month ago. 5 Apr 2005 Hey! My first April ski, after a freak storm. But it was also the first time I skied with a German Shepherd, Mistra, who we were looking after. We went to Goldridge and back, and although I couldn't persuade her to haul me along except for a few yards, we both enjoyed it a lot. I think this is very good for my arthritis; after the last ski I was pain free several days. 22 Mar 2004 First time in 2004. Wasn't sure if my arthritic leg would stand up to it, but no trouble. To the grave, then along to Goldridge and back along Goulbourne Forced Road. Bright sun, and a late snowfall during the previous weekend allowed me not to pass a year without skiing. 15 Mar Similar to Feb 27. Last sunny day with lots of snow? 27 Feb Phantom check, then to Goldridge, and back via the old schoolhouse, then along Goulbourn forced road, retracing Phantom's last journey. 21 Feb 2003 I skied to Phantom's temporary resting place to make sure he was safe from interference. He died Feb 17. 28 Mar Yet another late snow dump made this sunny Thursday irresistable to me (yet fully resistable to rest of the population) as I retraced Palm Sunday's route anticlockwise, edited somewhat. En-route I entertained building workers as this crazy skier appeared in their work areas. 24 Mar A couple of mid March snowfalls made a Sunny Sunday trip possible; urban ski-ing through the back yards of housing developments. Snow too warm to allow skis to run well; nevertheless one of the longest outings I've done (45 mins!) and invigourating. A large clockwise circle. 23 Feb 2002 My personal ski hill further developed - but not for ski-ing - I wound my way through peoples' back yards in a bid to recapture the atmosphere and geography of previous seasons. No-matter, the pleasure of being on skis again made up for the urban scenery. This was the day when Laurie-Ann took the pictures on this page. 17 Mar 2001 Most of the ski area close to home in 1997 has now gone under the developers' bulldozers. On this first trip out in 2001 I skirted what used to be my local ski "hill" but has now become blasted rubble. There has been a huge amount of snow this year, and too cold to ski till this week, so the snow was deep and wet but not packed enough to hold me in many places. 22 Mar IG Ski Day at Mt. St.Marie. Sunshine all day. All the snow was man-made but we all had a great day. I hadn't been downhill for 3 years, but it all came naturally and I had about 12 runs between 10.30 and 3:45. Had to take an hour's break in the afternoon in addition to lunch, but had no after-effects of the best days exercise for years. 1 Mar 2000 A long circuit for this first trip out in the new millennium, starting at Afton Place, into the bush and a long trek up future roads. 27 Mar Brilliant day, still loads of snow. Did the regular circuit. Was the afternoon after Day 1 of the new Alpha course at GCUC. 20 Mar Went out on the morning of my final CFP exam. Brain into gear. The icyest conditions I ever x-countried in. Made it back OK. 16 Mar A circuit around the hills to right as part of my keep fit activity for final CFP exam week. 14 Mar Sunday afternoon, warm sun, and I ski'd the area I used to take behind the house before it became a housing estate. Out 45 mins, and took a delicious bath on return. 8 Mar First night time skiing in Kanata; well, dusk. Followed yesterday's tracks in reverse. Delightfully lonely in the woods with the possibility of falling and not being found. 7 Mar 1999 First time this year when it was just warm enough, and there was more snow than ever before after last week's storms. On my anticlockwise loop around the "ski area" to North, fences I'd had to climb over before were invisible, and the snow was only 6" short of covering the garden fence. 20 Mar 20 The original trek, after a big snowfall previous day. This was the day before Annmarie left, and I did the fourth CFP examination. 24 Dec Christmas Eve on the snow covered Signature Ridge site 29 Nov 1998 First time out on what will be Signature Ridge. Great to be back, but Oh what they've done to my piste 29 Mar Raining...but I went out and enjoyed a short ski (Easter Sat) 11 Mar Had a late meeting cancellation - so went ski-ing! 8 Mar Just managed to get a sweat up prior to my CFP. Wealth Creation exam. Did it get me through...? Yes! 7 Mar Best run yet, along the path, then back into the wilderness, followed deer tracks for a time, met up with other tracks which led me through the woods to the high points, and then downhill. Kept on thinking of Bev's description of deep snow ski-ing. 6 Mar First day in nearly a month with sun, new snow, not cold, and no wind (my pre-requisites for a ski-trip) 8 Feb Gorgeous day for a trip to the Centrum and back. 6 Feb Beautiful, sunny, fresh snow - I couldn't resist going out for half an hour over the hills at the back, even though this was the middle of a working morning. I fell 4 times in the deep snow; that's how great it was! 2 Feb My second trip, along Goulbourn Forced Road behind us. Just delightful. I could feel my muscles from yesterday. 1 Feb First trip out, on the wilderness land behind our home. I'd never explored it in the summer because of brambles and burrs. In the snow it was delightful. 28 Jan 1997 Bought the skis and boots from Jon Gilbert when I found the boots fitted perfectly.