The Year of the Rabbit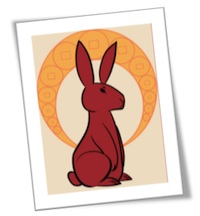 Illustration by Gisele Weaver
Around here though, it's always about the cat.
This is a wee page where I pay respects to my favourite year in the Chinese zodiac.
I celebrate the Lunar New Year because it gives me a sense of hope and promise in the dark days of winter for opportunities to come.
It also gives me the opportunity for some serious housecleaning to refresh my surroundings.
May you experience harmony in your personal space and relationships.
May you experience good health, patience and kindness during these troubling times.
Dig deeper for information about that novel we published in 2011
---
This page is hosted at NCF, a community organization. Get online today! Express yourself.
Updated: January 2023