The Year of the Rabbit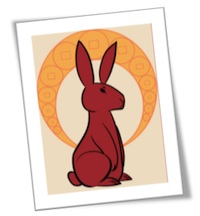 This is a wee page where I pay respects to my favourite year in the Chinese zodiac.
I celebrate the Lunar New Year because it gives me a sense of hope and promise for opportunities to come.
It also gives me the opportunity for some serious housecleaning to refresh my surroundings.
Year of the Ox - February 12, 2021 to January 31, 2022
May you experience harmony in your personal space and relationships.
Dig deeper for information about that novel we published in 2011
---
This page is hosted at NCF, a community organization. Get online today! Express yourself.
Updated: February 2021