Weloop Hey 3S Sports Watch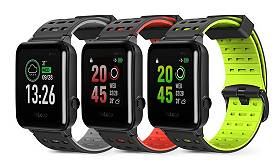 What the Hey 3S Can Do
This watch by Xiaomi in partnership with WeLoop looks like an Apple watch but at a much lower price. It's also much lighter, more comfortable and has amazing battery life! When fully charged, the battery can last up to 30 days based on 200 message notifications and 1-hour running per day. With GPS enabled it can be used for up to 1 day. The watch requires an Android or Apple app to synchronize your watch data for activity, sleep and heart rate and display it in various ways. It won't make calls or play music, but here's what is can do:
measure steps
measure cycling - uses GPS
measure walk/run - uses GPS
measure swimming - waterproof to 50 m
measure heart rate (Hr)
calculate calories burned
identify activities (sleeping, walking, running)
monitor sleep and assess quality
receive notifications from phone, including calls
"Do not disturb" mode blocks notifications overnight
email notifications display the subject
serve as an alarm clock
manage your smartphone
has GPS, bluetooth 4.1, gyroscope, accelerometer, compass, pulse detector
screen 3.25cm (1.28") resolution 176×176 Corning Gorilla 3
weighs only 38 grams (1.34 oz)
GETTING STARTED
With the watch, you get a wireless magnetic charger, USB cable and watch strap(s). The black plastic charging device is square with metal pins on two corners. To charge the watch before use:
plug the small plug on the 12-inch cable into the charger
plug the larger plug into a USB port (computer or wall converter)
place the watch into the charging device matching the metal pins
the watch displays % charge - remove and unplug cable when done.


Maximize battery life by keeping the charge between 60-80%.
Attach the watch bands to the top and bottom of the watch. The short strap with a fastener fits on the top, and the longer strap fits on the bottom. Both have a metal pin with a small lever to help you slide the ends of the pin into the matching holes on the watch.
When you install the Weloop app, it first asks you to set up an acocunt and log in. Then you select the watch you have (Hey 3S), the app finds it, you tap the 3S, and your phone connects to it. If your Bluetooth is off, it prompts you to turn it on. You can set up reminders from your phone, SMS messages, notifications (email, twitter, phone, and other app on your phone), 'do not disturb' times when notifications aren't allowed. You can set an alarm - with optional daily repeat if you like. You can update your watch firmware via phone's Wi-fi. Notifications are by vibration, not sound. Details for the app are below.
You can wear the watch on either side of the wrist. (Hr measurements work ok on both. The strap is snug and my finger still goes inside the band.) Note that if you move your wrist during HR measurement, you may get inaccurate results. (This may explain the occasional spike in my graph.)
The watch needs connection to your phone's Bluetooth (to 4.1) for sending/receiving activity data and receiving phone notifications. The phone GPS does not need to be on as the watch has its own GPS for tracking. When you go for a walk, run or cycle, you don't even need to take your phone with you - just sync your data for tracking, steps, and Hr later. The phone's Wi-fi is used for Hr data, Workout records, and tracking maps.
USING THE WATCH
The watch 'main' screen displays the clock screen you chose on your phone app under Device > Watch Face. The only choice with the 4 digits of time displayed all on one line is "race", and no choice offers 12-hour time. (Hopefully this will change.)

To unlock the main screen, you press either left or right button. The tiny lock icon in the upper left corner of the watch face disappears. (If you don't do anything for 4 seconds you are returned to the main screen and it locks again.) From the unlocked main screen you have 3 choices:

Left button - display status (connected), name (CExxxx), battery (85%)

and DND (do not disturb): OFF/ON


Swipe up or down to view these screens:

Weather conditions symbol (sun, cloud) and temperature.

Step count (for the day), calories burned, miles walked.


Right button - display menu screens - swipe left or right to move between them.

Once you are in the menu screens, the left button will return you to the menu screen (clock). Within functions, tapping a GO button starts a function; tapping a curved back arrow returns to the previous screen.
MENU FUNCTIONS
ICON APPEARANCE
Menu Screen 1:
Notifications
talk balloon
Heart rate (Hr)
heart
Walk/run
shoe with red laces
Outdoor run (GPS)
Indoor treadmill
Cycle (GPS)
wheel, yellow handlebar
Menu Screen 2:
Swim
ladder
Stopwatch
stopwatch, red dial
Count-down timer
broken circle, green dial
Watch face toggle
square, red dial
Menu Screen 3:
Settings
gear, green centre
Do not disturb (DND): block vibrations
About: displays ID and firmware version
Swipe up to see Reset, Power off (Rt button off/on)
WALK/RUN
Select either "Outdoor run" or "Indoor run" (treadmill). When you select "Ourdoor run", the GPS (Global Positioning System) turns on and starts scanning for GPS satellite signals it needs to track your geographic location as you move. When you are finished your walk/run, exit the walk/run function (forgetting may ruin your data and will drain your battery). The next time you are near your phone App (Bluetooth), your watch automaticaly syncs your tracking data to the phone. It also syncs to the Internet (Wi-fi) - you need to be online to access data and graphs for heart rate (Goal), running, cycling, and swimming records (Workout).
USING THE WELOOP APP ON YOUR PHONE
When your watch and phone are connected via Bluetooth, your steps, Hr (heart rate), sleep... data is automatically synced to your phone. You may also force a sync by swiping down from the heading "Today" at the top of "Goal" tab. The other tabs are Workout, Device and Me.
A. GOAL
You step count for the day is displayed over your "goal" setting. ** To view the same data for previous days, just swipe right. (It appears this data may be stored until you clear it, but I'm still looking for how this is done.)
Under that is your heart rate for measurement for the day. Tap "more" to view all measurements in a time list as well as a graph.
Then a list of times during the day, identified by type of movement with details like steps, distance for movement. Sleep lists time asleep, restless and awake. Tap "more" for a graph and "quality" of sleep. At the top of the page you can tap on the calendar icon (left) or the graph icon (right) for more information. In the calendar tapping a date leads to a page that is 'close' to the date - seems to be a bug. Also remember to return to 'Today' as this never resets.
B. WORKOUT
This tab contains saved data for running, cycling and swimming workouts. Tap the Running, Cycling or Swimming Record, then the workout date to view more information. Running and cycling workouts have 4 tabs: Track, Details, Lap, Chart. The Track tab shows a map of your track based on GPS data. Tapping on a Swimming Record shows distance, time and average pace in minutes per 100 feet (if using Imperial units) - tap a date for more data in 3 tabs: Details, Lap, Chart.
Track - displays a Google map (Wifi required) of your run, walk or cycling workout based on its GPS data. Speed is colour coded from green to red. Tap "pace" so view more data. This tab does not appear for Swimming Workouts.
Details - displays total distance and time, average pace (min/mile), average Hr, number of steps, average cadence (steps/minute) and Hr graph showing duration (min.) for anaerobic, threshold, aerobic, and burning.
Lap - shows average lap (min/mile), fastest lap, and most lap.
Chart - displays graphs for pace (min./mile), Hr (beats/min.) and Cadence spm (steps/min.)
The arrow icon at the top right allows you to share these numbers and graphs to Facebook, Twitter, or "Save all" - which saves the graph images to phone storage (?).
C. DEVICE
Your device picture, ID, and connection status is displayed.
D. ME
Displays your weekly step count and goal, active days, percentage of days your goal was achieved. Displays best day's step count, best week, best month, and longest streak of days you achieved your goal.
There are links to:
Profile (nickname, gender, birth, Imperial or metric, height, weight, goal (steps/day)
Feedback
Help
Account binding: options for Facebook, email
About Us: displays software version
"Sign out"
When the watch loses Bluetooth connectivity, it can't sync when you start the app. The Help in the "Me" tab may help, but I've found it's just easier to go to the "Device" tab and press "Forget device". Then it will start looking for a watch to connect to. Select the "Weloop 3S" when it finds it.