Bay of Fundy Kayak Trip
On August 7, 1999, I took a one day Kayak trip in the Bay of Fundy with Eastern Outdoors of New Brunswick, Canada.

The weather was great that day with only a few clouds in the sky and warm enough that only a tea shirt needed to be worn with pants and a life vest. I left Eastport, Maine, USA by bicycle on the 9:30 am (Atlantic time) ferry to Deer Island, New Brunswick, Canada and drove across the Island to the coastal village of Richardson where I met the Eastern Outdoors' group that had just arrived from St. John, New Brunswick .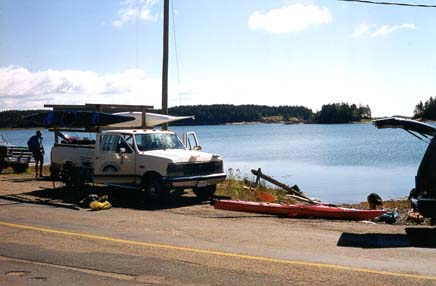 After the two guides instructed us (myself and two couples) on the basics of sea kayaking and emergency procedures, we made our way out from Deer Island to the outer islands. Along the way, one of the tour guides (Bob) stopped to get a closeup camera shot of a Bald Eagle that was feasting upon a Great Blue Heron.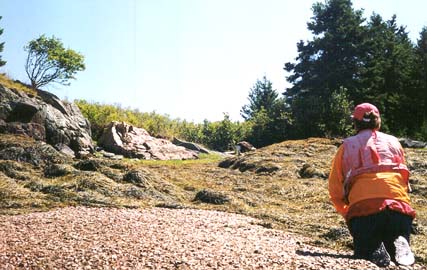 Around noon, the group stopped for lunch.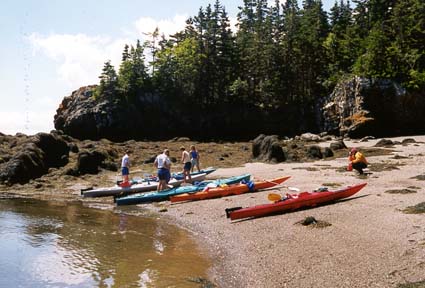 After lunch we headed out towards White horse Island(seen in the far distance).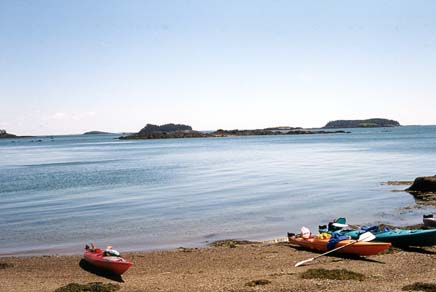 Along the way we saw porpoise and a seal, but unfortunately no whales were seen that day!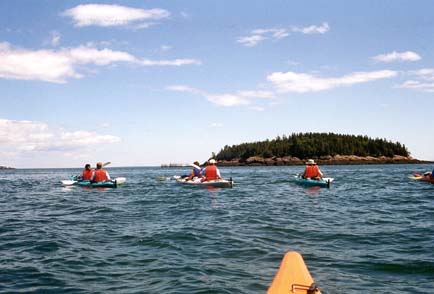 After a long paddle over open water we arrived at White Horse Island. This island was quite a seabird refuge: Puffins, Gulls, Cormorants, Gannets just to name a few.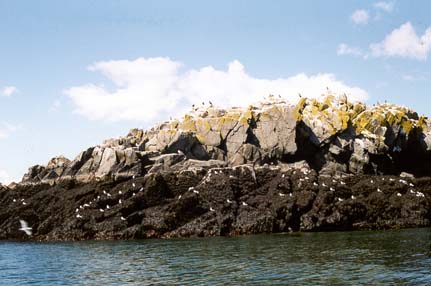 Then we headed back across the water in the direction of Campobello Island.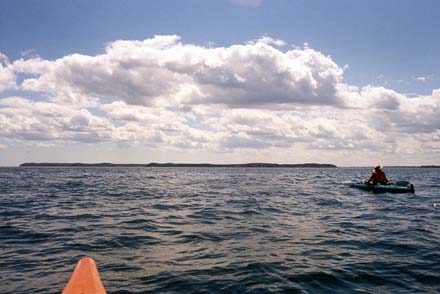 Time for a break on a nice beach!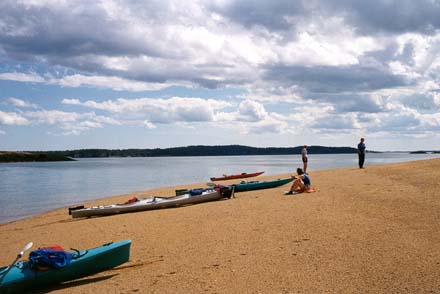 On the way back to Richardson, we passed by some Aqua Culture fish pens full of growing and leaping Salmon.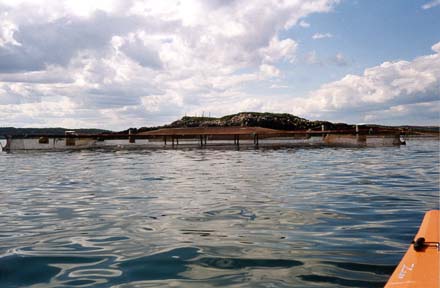 Well, that's it! It was quite a day, and I will fondly remember the experience. I recommend taking this trip if you have the opportunity to come to New Brunswick. Viewing the Bay of Fundy from a Kayak is one of those rare undiscovered experiences. Eastern Outdoors is a good choice for this type of adventure. They charged only $59.00 CDN for a 7 hour trip. You can check their web page at www.easternoutdoors.com for more information.
Michael Kostiuk. August 11, 1999.
---
---
Return to Michael Kostiuk's home page.
---
---
---