On the Radio:
A Page from a Volunteer Radio Host October 2008
by Laurie-Ann Copple

Recently I was pulled aside by Kristian Gundersen, who asked me many questions about my radio-host hobby and my two radio shows at CKCU 93.1 FM (Radio Carleton). It is now well-known that I had St Paul's own "Travelling Tenors" (Phil Tanner, James and Colin Mackenzie) on Over My Head on Sunday, September 28th and apart from their depth of sound overwhelming the system somewhat, we had an incredibly fun interview. Lorna now has a copy of that interview on the St. Paul's office computer, and if you bring in a memory stick, I'm sure it can be copied for your enjoyment.

After Kristian's questions of how a radio station works (they are all somewhat different), I decided to write about what I do each week (on Window of Opportunity – CKCU's Friday Folk-ish show at 3:00 – 4:00 p.m) and once a month (on Over My Head – CKCU's source for sounds by artists with a Christian world-view on Sundays 8:00 – 9:00 a.m.).

I have been a CKCU volunteer since March 2001, and was trained to become a programmer and radio host over a year. During that time, I helped on Over My Head each week with different radio hosts and was paired with Dean Verger (who was the proprietor of Rasputin's Folk Café before an arsonist torched it in July 2008). Dean had the Window of Opportunity show from 12 midnight to 2 a.m. Friday morning, and I took one hour of this slot while I learned under this wonderful man. He gave me the show for my own in August 2002, and I began to host live musicians on the show- doing interviews and live concerts. Later I added phone interviews and collected little recordings of musicians giving their support to the show. I grew more confident as a public speaker through radio, which greatly affected my speaking ability on mission trips in Kenya and Pakistan. I also emcee'ed musical events and stage hosted for folk festivals such as Winterfolk and Ottawa Folk Festival.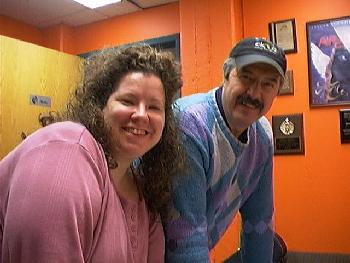 With Dennis Lakusta at CKCU's studios, January 2003
Since I am a radio host, I get many cds sent to me for the Window of Opportunity show. Some of these are good and I encourage those musicians in their work. I have been using the gift of encouragement God has given me in this secular environment. You never know when someone needs encouragement! One musician was on the show in 2003 with her boyfriend, and they were playing together and promoting his music. I asked her how she was progressing in her own music, since she was an excellent singer and a good guitarist. Her response was a very hurt expression, since didn't know how to receive the encouragement I had for her creativity. Yet over two years later, that young woman was blossoming in her art and life. Her first cd had a list of thanks to all who had helped her on her journey. I was amazed and blessed to notice her thanks to: "Laurie-Ann – for saying exactly the right thing when I needed to hear it". I still pray for this young woman as I do many of the artists I have on both shows.
CKCU has been a campus/community radio station since 1975, and some of the shows began well over twenty years ago. Over My Head began in 1979 as Song for You, which was pioneered by Galaxy Radio's Lorne Anderson. Many of the hosts who worked at CHRI 99.1 FM in its early years were on Song for You before CHRI was granted its CRTC license. After CHRI began, the three-hour Sunday morning slot was shortened and now included Black Gospel show Gospel Express as well as Over My Head. There have been many radio hosts on Over My Head,, but presently the rotation includes myself, my husband Tony, and David Leibold from St. George's Anglican Church. Window of Opportunity moved to the Friday 3:00 p.m. slot in September 2003, and I've been building a larger listener base from government workers driving home, and others listening on the internet (http://www.ckcufm.com). Some listeners include St Paul's members, and at times if I know they are listening, I give them a little greeting on the radio, just to let them know I think they are special…
If like to tune in when I'm on the show, I'm on Window of Opportunity usually every Friday at 3:00 p.m. at 93.1 FM – the genre is folk-ish but I also play blues and acoustic genres. I am next on Over My Head on Sunday, November 30th at 8:00 am. I also plan to have the Travelling Tenors back in the studio at CKCU in mid-December – but on the folk-ish Window of Opportunity instead. Tune in sometime – you may even hear me talk about St. Paul's! Its just another way I minister to the world that God loves.
Laurie-Ann Copple
Window of Opportunity Fridays 3 – 4 p.m. (with Tony hosting monthly)
http://web.ncf.ca/eh202/window.html
Over My Head, Sundays 8 – 9:00 a.m. (on a rotation with Tony and David)
CKCU 93.1 FM / www.ckcufm.com
---
Home