Concerts seen in the Ottawa Region ...

Play Tony's Carnegie Jig
- by Ted Wills

Bluesfest 2015 - Richard Thompson**** and many others - see pics - on 12 Jul 2015
The Kruger Brothers**** at First Unitarian Church, s/g Lynne Hanson 7 Mar 2015
Kris and Dee at Raw Sugar Cafe 20 Sept 2014
Bare Naked Ladies**** at Investors Group Apex, Quebec
The National****, at Ottawa Folk Fest 12 Sept
Lorde****, at Ottawa Folk Fest 11 Sept
Jesse Stewart - Sounds from Space - the Voyager Golden Record Remix Project (Chamberfest). If it weren't for Carl Sagan ...
AWOLNation at Bluesfest, 12 July 2014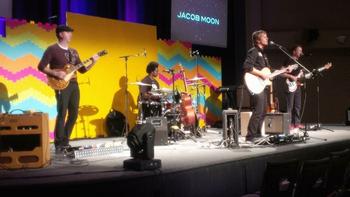 Jacob Moon at The Bridge 8 Mar 2014
Ryan McNally and Declan O'Donovan, The Rainbow Bistro, 4 May 2013
Billy Bragg, Bronson Centre, 4 May 2013. See also
Chopper McKinnon Tribute, Southminster United Church, 4 May 2013
Laila Biali Trio****, NAC 4th Stage 16 Mar 2013
Kongero, private performance at the Swedish Embassy, 13 Mar 2013
Missa Cubana: Coro Vivo Ottawa**** 9 Feb 2013, Knox Presbyterian Church
Don Ross and Brooke Miller, Irving Greenberg Theatre, 27 Jan 2013
Back Home for Christmas: Coro Vivo Ottawa**** 7 Dec 2012, Orleans United Church
The Songs of Nick Drake****First Baptist Church, 9 Nov 2012 See also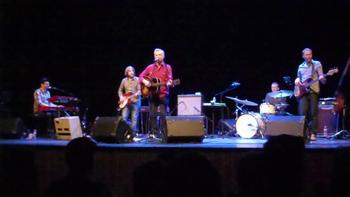 Billy Bragg at the Bronson Centre
Ottawa BluesFest: Lucas Haneman, Sierra Leone's Refugee All Stars, and Norah Jones
The Balconies, Young Empires, K'naan****, and Metric, 8 and 15 July 2012

Ottawa Jazz Festival, opening night****, Phil Dwyer band with Laila Biali, John Mayall and Robert Cray, 21 June 2012
The Beatles - Love**** by Cirque du Soleil, at The Mirage Resort, Las Vegas
1st Ottawa Grassroots Festival, at 330 Kent St. Legion, with Rick Fines, Katherine Wheatley, & Missy Burgess, Keith Glass, organizer Bob Nesbitt, 28 April 2012
Lyle Dillabough & the Ottawa Valley Review - The songs of Hank Williams Snr.
4 Mar 2012, Carleton Place
Steel Moon, with warm-up Andrea Simms-Karp, - NAC Fourth Stage, 21 Jan 2012
9th Annual Christmas Goose concert - NAC Fourth Stage, Fri 9 Dec 2012
Doug MacLeod, Alcorn Studios, Ottawa, 5 Nov 2011. Made recordings.
Natalia and Montuno, Dows Lake Pavilion, 4 Oct 2011
Hal Bruce, Greyhawk Golf Club, 29 Oct 2011
The Big Chill, Elmdale House Tavern, 25 Aug 2011. Jim Hurcomb is their drummer.
Ottawa Jazz Fest. George Kolar and Larnel Lewis, without Laila Biali, stuck on the tarmac at the airport.
Laila Biali Trio****, National Gallery, 10 Feb 2011. I organized this private concert as an appreciation event for my clients.
Ernie Cox - Christmas Gospel Celebration at the NAC, 17 Dec 2010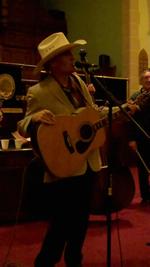 Lyle Dillabough being Hank Williams
Comfortably Numb, Canada's Pink Floyd show, at the Museum of Civilization, 26 Feb 2010
Harmonic Generation, and Quintessence, at St. Thomas the Apostle church, 13 Dec 2009. A Capella rules!
Toronto Symphony Orchestra at NAC, 10 Dec 2009 Philip Glass 2nd Violin concerto****, premiered the previous night in Toronto.
Classic Albums Live presented A Very Lennon Christmas at Centerpointe Theatre 9 Dec 2009.
Ian Tamblyn in his only Ottawa appearance in 2009 on 4 December, at a house concert at Dean Verger's. Promoted Gyre, but even played two Neil Young songs, Sugar Montain and Hey Hey My My. A charming Canadian treasure.


Dar Williams****, at The Blacksheet Inn, 27 Feb 2009. L-A and I arrived about 3 hours early to secure front row seats, so had a chance to chat 1-on-1 with Dar. Photo: far right.
Jen Grant, at The Blacksheet Inn, 14 Feb 2009. Tony only. Had read of her a week before in the Citizen, got "Echoes," loved the concert, got autograph. Photo: near right.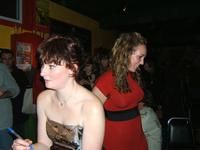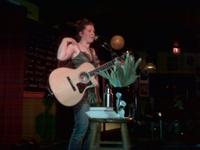 Canadian Songbook, Centrepointe Theatre, 28 Dec 08, with Murray McLaughlan, Stephen Fearing, Catherine MacLellan, Lynn Miles
Lincoln Center, NYC, 2 July 2008, New York Philharmonic, Romancing the Riviera
Emory Lester Set, Willie P Bennett and Crescent and Frost, host Charlie Sohmer at Library and Archives, 25 Jan 08. **** for the concert as a whole, part of the Still Escaping Concert series, promoted by Nutshell Music. Willy P was dead within a month.
Kris Kristofferson, at Ottawa Folk festival 07, plus Oh Susanna, The Arrogant Worms**** and Eliza Gilkyson****
Bob Dylan, at Bluesfest 07 Lynn Saxburg's video blog, Trevor Finlay band, Amos the Transparent****, Chorale de la Prophetie, Soul Influence, Toronto Mass Choir, Geoff Moore (All presented by Compassion Canada), DJ Champion & his G-Strings, Stephen Fearing, Blackie and the Rodeo Kings.
The Golden Dogs at Westfest, 9 June 07
Delirious**** at Change '07, Scotiabank Place, 23 May 07.
First time in Ottawa for one of the best rock bands in the world.


Eppiphane at Capital Music Hall, 24 Nov 06. This was 3 weeks after the sudden death of their keyboardist Craig Cameron, 18. Excellent performance by surviving members.

Jesus Christ Superstar, at Earl of March School, Kanata, 17 November 2006

OCFF Conference, 2006, at the Crown Plaza Hotel. Both Laurie-Ann and Tony attended as members, and met many personalities, and saw a bunch or wonderful new artists perform, including Mike Evin, Janine Stall, Kate Rogers, Alex Puentes - Alex Cuba Band, Hayes Carll, David Celia, Treasa Levasseur, Kelly Lee Evans, Phil Lafreniere, Ana Miura.

Ottawa Folk Festival 06 August 18 - 20: included James Hill, Dawn Tyler Watson, Ian Tamblyn, Steve Earle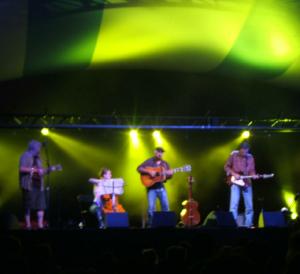 Ian Tamblyn & friends at Folk Fest 06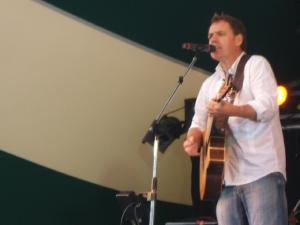 Martyn Joseph at Stewart Park festival 06
Strings of St John's and the Church of St. John the Evangelist Choir: John Rutter's Requiem, St. Paul's church, Kantana, 9 Apr 2006****
Heather Dale, Rasputin's, 7 Apr 2006
Motown Generation, Casino du Lac-Leamy, Dec 15
Rozalind MacPhail and friends, Zaphod Beeblebrox, Ottawa, Nov 27
Eric Bogle****, Black Sheep Inn, Wakefield, Nov 17
Ottawa Folk Festival 05 August 18 - 21: Willie P Bennett, Joan Armatrading, The Dreamsicles, Chuck Brodsky, Saral Lee Guthrie, Chris Smither, Sue Foley, Ann Lindsay, Jason Fowler, Original Sloth Band, Tony McManus, Painting Daisies, Kalan Porter, The Wailin' Jennys, The Arrogant Worms.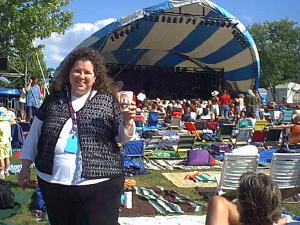 Laurie-Ann was a main stage host at Folk Fest 05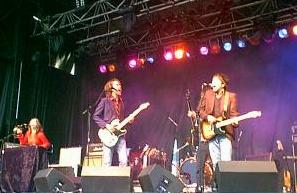 The Golden Dogs
J D Gordon, with Charlie McCoy, Steve Piticco, Ted Gerow at The Ron Maslin Playhouse Oct 14
Ottawa Folk Festival****, Aug 26 - 29,04 Joel Kroeker, Eileen Ivers, Michael Franti, Corb Lund Band, Arlo Guthrie, Judy Collins, Zo&euml Lewis, Roxanne Layton, Jackie Washington, Scarlett, Washington & Whiteley, Shane Simpson & Paul Boudreau, Connie Kaldor, Eve Goldberg, Harry Manx, Kate Weekes, Joe Grass, Kristin Sweetland, etc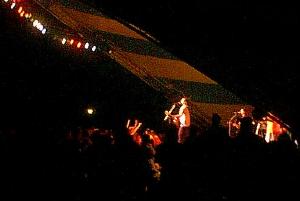 Michael Franti and Spearhead
WorshipFest 04, Aug 8, 2004: Robin Mark****, Nicole C Mullen, etc

Blue Skies Festival****, July 30 - Aug 1, 2004: Magoo (right), Oh Susanna, Kiran Ahluwalia, Zo&euml Lewis, Bebop Cowboys, Michael Occhipinti, das macht SHOW, Fred Eaglesmith, many more.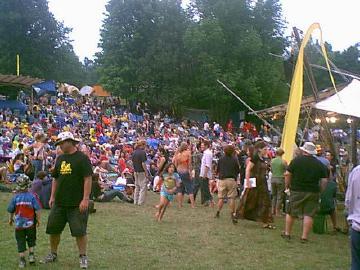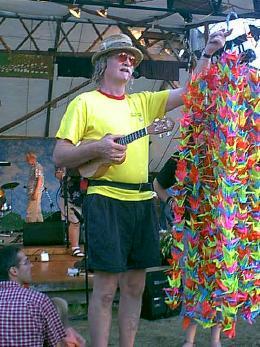 Bruckner's 5th Symphony, May 3, NAC, Ottawa Symphony Orchestra, conducted by David Currie
Grey Jazz with Bobby CleallMay 2 2004 Jazz Vespers, All Saints' Westboro
CKCU Spring Music Fest, 18 April, 2004
Georgette Fry, Paul Bourdeau, Shane Simpson, James Cohen, Toasted Westerns, Pat Moore Trio, Ragged Flowers - the last two introduced by Laurie-Ann
Winterfolk 2 festival, Toronto Jan 31 - Feb 1 2004. Various artists. L-A was an emcee
Jane Siberry, Shushan tour****, Dec 20 2003
- Ottawa National Library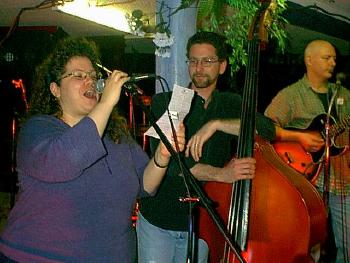 NAC 4th Stage Nov 22, 2003
Dennis Lakusta, Tony Turner
Arrow & loon Nov 1, 2003
Shane Simpson & Lynn Hanson, with Paul Boudreau, and Brian Gladstone
Rasputin's Oct 24, 2003
The Ballad of Phil Ochs****
Performed by Zachary Stevenson,singer/guitarist/actor
CKCU Ottawa Folk Festival 21-24 Aug 2003
Richard Wood, Dar Williams, David Francey, Mighty Popo, Lynn Miles,Emmylou Harris, Buddy Miller, Betty & the Bobs,Zoe Lewis,Ian Tamblyn, Tony Turner, Sonny Ochs, Terry Tufts, The Laws, Arrogant Worms, Jane Siberry, Trout Fishing in America, Festival Choir (incl Laurie-Ann), Finest Kind, Ron Sexsmith, Sarah Harmer
Stewart Park Festival, Perth, July 26, 2003
Allen Dobb, Christine Graves, Murray McLauchlan, Sarah Slean, Strings Attached (incl Justin Haynes), Ron Hynes

Ottawa Bluesfest, 2003 Jul 12, 2003, City Hall
Shane Simpson, Stacey Earle, Anders Osbourne & Chief Monk Boudreau, Luther Wright & The Wrongs, The Henrys, The Chickens, Jim Bryson, Russell Delegation Choir, Dan Ackroyd & Jim Belushi
Philip Glass, July 5, 2003, NAC, together with Colin James & Colin Linden, Chocolate Genius, Mary Jane Lamond, Rita MacNeil, The McGarrigles (whole family), Loreena McKennitt, Kendra MacGillivray and Ottawa Composite Pipe Band ****, presented by and in support of Sierra Club of Canada, Atlantic Region and its vital work preserving Nova Scotia coastline environment.

Peter Kiesewalter, Jane Siberry, Rebecca Campbell, 23 Aug 03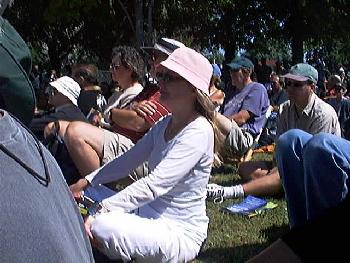 Jane Siberry watching at the Rogers Stage, Folk Festival 23 Aug 03
Tom Paxton and Jory Nash 10 Nov 2002
at the National Library

Rasputin's Oct 19, 2002
Dennis Lakusta, Lynn Harrison, Brian Gladstone, Tony Turner and others

Ottawa Folk Festival****, Aug 23 - 25, 2002
Aug 23: Bill Morrissey, Harry Manx, The Cottars,
Colin James & Colin Linden
Aug 24: GrooveLily, Lorne Elliott, Nerissa & Katryna Nields, Toronto Tabla Ensemble, Greg Brown, Richard Thompson
Aug 25: Terry Tufts, Guy Davis, Garnet Rogers, Melissa Ferrick, The Bill Hilly Band.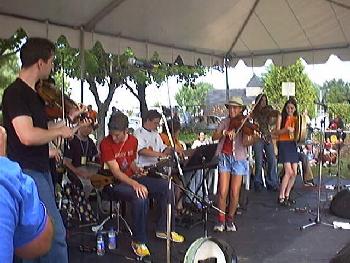 Some Bill Hillys & The Cottars at Ottawa Folk Fest 2002
Blue Skies****, Aug 2-4, 2002, including The Wailin' Jennys, The Bill Hilly Band, The Duhks, Aengus Finnan, Alan Gerber, Ian Tamblyn, Terry Tufts, Magoo, Andy Rush, Tom Leighton and the Blue Skies choir, which we were in!
Ottawa Tulip Festival, 2002 Tulip Cam
May 11 Martina Sorbara, Danny Michel, Sarah Harmer
May 12, Siobhan, Zachary Richard
May 16, La Bottine Souriante, Barra MacNeils
Blue Skies Music Festival****, Aug 3-5, 2001:
Aug 4: Stephen Fearing, Jorane
Juan Jose Carranza, Groove Lily
Aug 5: Washboard Hank, La Corde de Bois,
Still on the Hill, Alpha Yaya Diallo,
Georgette Fry Band****

Stephen Fearing at Blue Skies 2001
Ottawa Bluesfest, 2001:
July 12: James Brown; July 13: Blues Traveler
July 14: Anders Osborne ****, Tab Benoit ****, Jumpin' Johnny Sansone, Rev MC Hammer, Ike Turner
July 15: Capstone, Daniel Band, Glenn Kaiser, Chris Thomas King, Colin Linden, Richard Bell and Colin James, Maria Muldaur, Li'l Malcolm and the House Rockers, Double Trouble, Little Feat
Ottawa Tulip Festival, 2001:
May 14: Jim Bryson, The Sadies ****, Buddy and Julie Miller
May 16: Bill Frisell
May 21: Colin James, the Candidates

Anders Osborne at Bluesfest 2001 on the Luisiana stage
CKCU Ottawa Folk Festival ****, August 26, 2000, where we enjoyed many acts, including Sarah Harmer, Melwood Cutlery, Lucy Kaplansky, Garnet Rogers, Jesse Cook, The Arrogant Worms, F'loom, Lynn Miles, Karen Savoca & Pete Heitzman and Greg Brown. Tony had a lesson on the penny whistle.
Blue Skies Music Festival ****, August 4-6, 2000, with many wonderful performers, including Connie Kaldor, Darlene, Willie P.Bennett, Colin Linden, David Francey, Jason Fowler, Martha Wainwright and a surprize appearance for Talk to me of Mendocino by her mother Kate McGarrigle.

Martha Wainwright at Blue Skies 2000
Al Green: Ottawa Bluesfest July 8, 2000 (bought our second low chair)
The McGarrigles: Ottawa Bluesfest, July 8, 2000
Five Man Electrical Band: Nepean Days, June 17, 2000
Glen Soderholm: **** Trinity Church, Kanata, June 9, 2000
Jann Arden: June 11, 2000, NAC
Deborah Klassen at Kanata Baptist Church, Fri Apr 14, 2000
Chris de Burgh: **** April 8, 2000, Corel Centre, Ottawa
The Homeless Men of Montreal: March 24, Dominion Chalmers church (Tony)
Bruce Cockburn: March 20, 2000, Centrepointe Theatre, Ottawa

Anna & Kate McGarrigle at Ottawa Bluesfest 2000
Kate & Anna McGarrigle: **** November 6, 1999, Centrepointe Theatre, Ottawa
Ottawa Jazz Fest 99: Gerry Mulligan Tribute band, Michael Kaeshammer Trio, Jul 28; Benny Goodman Tribute Band
Ottawa Bluesfest 99: Eric Burdon & The New Animals****, Little Richard (bought our first "low chair") b
Delirious?**** at Creation '99, Mt. Union, PA, June 23, 99
Formerly Unknown (at our (Laurie-Ann and my) wedding,) June 18, 99
Garnett Rogers, at GCTC, Mar 14, 99
Kanata Symphony, Nov 98
Eric Clapton and Bonnie Raitt, Corel Centre, Sept 15, 98
The Ottawa Folk Festival, Aug 28 - 30, 98 (with Laurie-Ann), including Arlo Guthrie,**** Fred Eaglesmith,****
The Wyrd Sisters, Moxy Fruvous, David Essig, Roy Forbes, Vance Gilbert, Cindy Thompson
Festival Canada/NAC: Denyce Graves**** - Preview July 4, 98
Ottawa Bluesfest: Wide Mouth Mason + Johnny Winter July 2? '98
The following were all seen at the Billy Graham Mission to Ottawa, June 25 - 28, 1998:
Ben Heppner and the Ottawa Symphony Orchestra + Lena Di Paolo
The Montreal Jubilation Choir + Susan Aglukark
Jars of Clay + Michael W. Smith
Amy Grant + Tracy Dahl, both with Ottawa Symphony Orchestra
Susan Aglukark at the Ottawa Tulip Festival, May 16
The Immanuel Tour, Ottawa, Dec 19, 1997: Deborah Klassen, Dustkickers, Hiram Joseph
Ruth Fazal ****, Ottawa, Nov 15, 1997
Deborah Klassen **** and Nancy Beaudette, Kanata Wesleyan church, Aug 97
The Nutcracker, Earl of March Theatre, Linda Jamieson Ballet, '96
The Pete Best Band, Ottawa, '96
Neil Young ****, Ottawa, November 96
Imaginary Heaven, GCUC, Kanata, November 16, '96
Kate & Anna McGarrigle,**** Ottawa, November 96

****: 4-star performances
PrimeTicket.net

---
Window of Opportunity - Laurie-Ann's weekly radio show
OCFF Festivals
Home