Some Worcester Ministries
December 2017

We are Laurie-Ann and Tony Copple, missionaries: coppleswesterncape.ca
We are members of IRIS Western Cape, Robertson, but we are based in Worcester.

We operate an Internet radio station, CWCP Radio, twice a week on Wednesdays at 9 pm, and Thurdays 8pm South Africa 6pm GMT 1pm EST.
Link to Galcom Xstreamer where CWCP Radio will appear when actually broadcasting. Programs run approximatlely 1 hour.

As we discover Worcester society and infrastructure during our 3 year mission here, I will list those organizations we have connections with, or have heard about through friends, that are working for the social benefit of disadvantaged people, and/or spreading the Gospel. These are just a subset of the many organizations working to help the poor and sick in this apparently prosperous town. If you would like to delve deeper into our life here, check out my South Africa daily journal.
Many links are to Facebook pages, unless they have web sites.
Nation Builders - Salt & Light
Locally made jewelry, neclaces. Contact Kudzai Masimira, +27 79 958 8065, kudzairhulani@gmail.com
Pastor Folla with YWAM

Bringing the joy of knowing Jesus, and food to the children of Avian Park - three times a week.
Hear them sing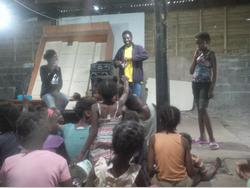 Kibbutz El-Shammah
Mission: To make a people ready for the Lord, by addressing all the domains of society and bringing Roodewal into alignment with biblical principles.
It was Erena van de Venter's vision 30 years ago to work among gang members and drug addicts that gave birth to The Kibbutz in 1993.

The Eco Club, teaching youth how to be kind to the environment and to love animals, life skills, camping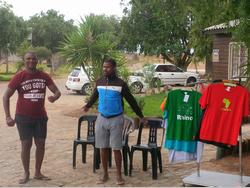 Change Makers, Worcester
Preparing a way for men to break free from the
stronghold of gangs and drugs, and for them to
find their God-given purpose and meaning to life.
Change Makers, Worcester is located in Moriah House, Roodeval.
Listen to interview with Erena van de Venter and Mia Heradian on CWCP Radio.

Boa Boa, screen printing for T-Shirts etc - for profit business.
Listen to interview with Aubin Alexander, founder, on CWCP Radio






Disciple the Streets - Marco and Rens Ruiters