History of "Window of Opportunity"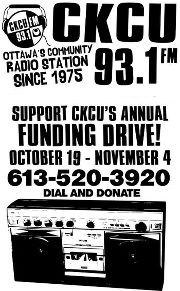 Your hosts Laurie-Ann & Tony Copple, and Chris White invite you to support our program Window of Opportunity and this station - the finest community radio station on the planet! If you haven't yet done so, you can still make your donation here:

.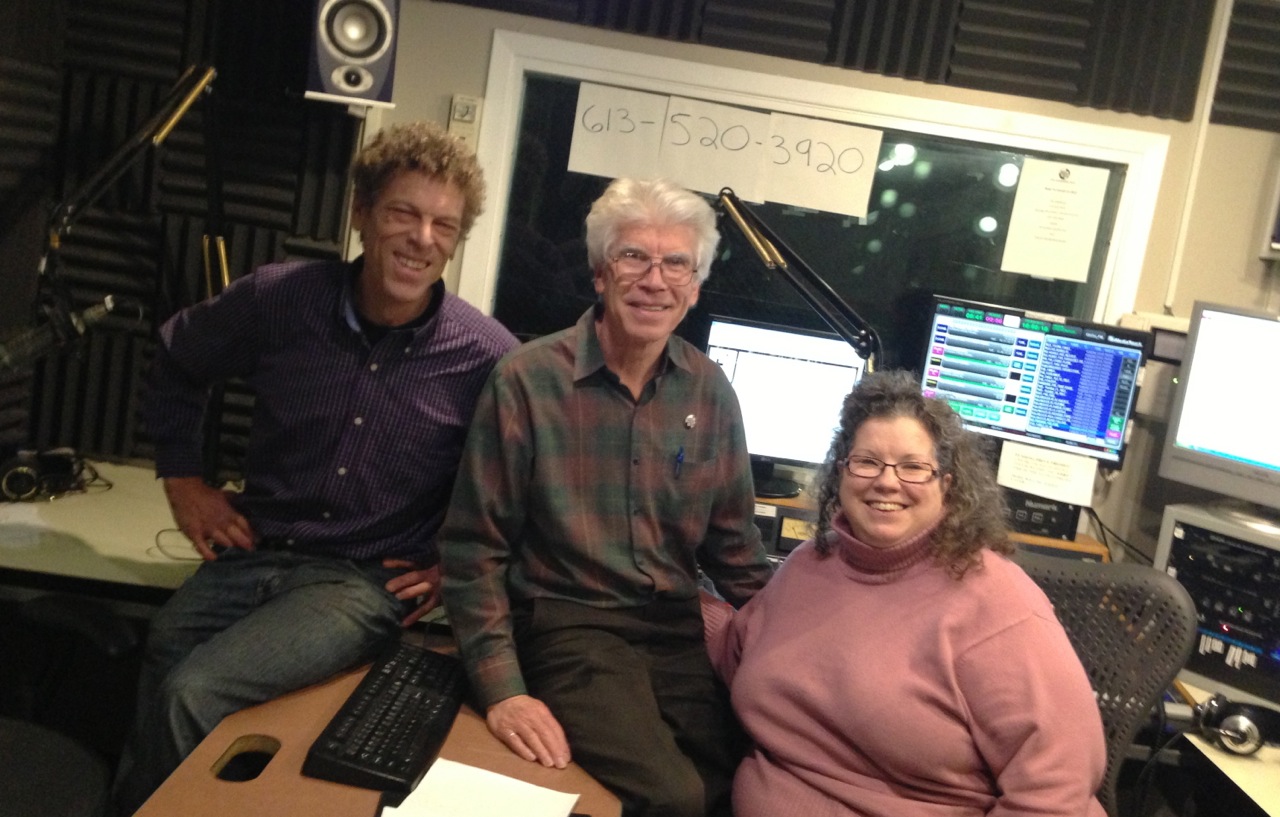 Chris, Tony and L-A
26 Window of Opportunity listeners contributed a total of $1,985 (last year was $1,190.50) to the station target of $120,000. 22 Over my Head listeners contributed $1,357. We thank our loyal listeners very sincerely for their contributions, ensuring we stay on air another year.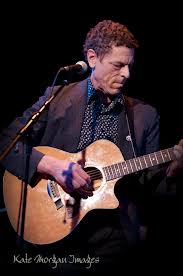 During Tony and L-A's road trip to Las Vegas in 2012, Chris White guest-hosted the show 18 May - 8 June. He did such a good job that L-A invited him to join the team and host on the 2nd Tuesday of each month. This began 14 September 2012. Here was the announcement we made at the time:
We are delighted that Chris White, Ottawa Folk Festival founder, recipient of the Helen Verger award 2012, singer songwriter, humourist, CKCU volunteer, and all round great guy is now hosting the show every second Friday of the month, bringing his special personality and musical favourites to our audience.
Céad Míle Fáilte, Chris!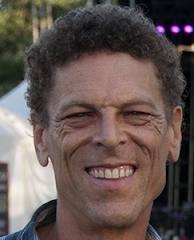 2010 saw Laurie-Ann join the Algonquin College School of Radio Broadcasting for their excellent 2-year course. Thus began her long term plan to make broadcasting her career. This had two effects on Window of Opportunity. Firstly, Tony's share of the show hosting increased significantly during the Algonquin semesters. Secondly, as Laurie-Ann learnt more sophistated methods of radio production, she brought these skills to Window, making for more professional programming.
In 2005, Laurie-Ann's husband Tony Copple began co-hosting the program with Laurie-Ann. She was teaching him how to operate the sound board, and introducing him to her folk musician friends as they came into the studio to play live. By 2006 Tony was sufficiently proficient to host the show solo from time to time and although Laurie-Ann remained the primary host, this arrangement gave them both flexibility which was extremely convenient.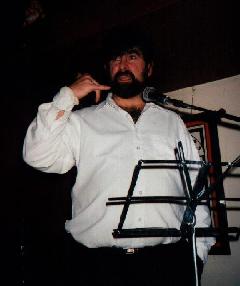 Dean Verger, at Rasputin's
This was Laurie-Ann's e-mail in response to folk singer Carolyn Anele's request for information in the fall of 2002 ....since the the show has switched to Friday afternoons from 3 to 4.

"I've been on the show since January 25, 2002 as co-host, early July as host, and late August as full producer. The show was created in 1999 by Dean Verger, the proprietor of Ottawa's Rasputin's Folk Cafe. I was matched up with Dean when he needed a co-host, and I needed further practice on the board. It was a good match, so much so that I thrived on the show, and developed my nascent taste for folk, blues, bluegrass, Celtic etc. Dean was even more eclectic than I am - and played everything but opera. He often would have 70s rock sets, but I've modified that part of the program. I've made it a showcase for artists who are starting out - with different genres of folk-ish music, and with a mandate to promote Canadian and female performers. (I do also like to mix in older folk music as well). In the Summer of 2002 Dean offered me the show as sole host, and I jumped at the chance.

I have had several artists on my show so far - Christine Saunders co- hosted a show with me and we played tracks off her new album and discussed them (early November); I've played an interview and tracks off a pre-release of Lynn Harrison's new album (Dec 6, 2002), and my husband Tony and I interviewed the Duhks and the Wailin' Jennys for a show in August 2002. I hope to have some live performances on the show - starting with Dennis Lakusta on Jan 3, 2003, and Tony Turner in late February.

I am also one of the hosts on another program called "Over My Head," which features artists who are Christian but not (yet) in the Christian contemporary top 40 scene.

Window of Opportunity's time slot is Thursday midnight - 2 am Friday EST, listed as a music program on the CKCU program schedule. I will be away from the radio station on Dec 27, 2002 and between Jan 31 - Feb 16, 2003. I will be in Argentina, so Dean Verger will be the radio host during those weeks.

I've received quite a bit of feedback from Canadian artists about my mixes of different genres and eras of music, and these have been positive. The show is being recognized as a place where up and coming talent can be showcased, although like every other radio host at CKCU, I am a volunteer (and that includes veteran Chopper McKinnon of Canadian Spaces). I would be glad to tell you the approximate time I would be playing your music. Most likely you would be in the first half hour, since the first set is nearly always female artists. (You can listen on the web using real audio at www.ckcufm.com). The only variables are what nights you would be played and what order you'd fit in... (I plan intuitively and match artists together that set each other off to good effect). Since I'm a visual artist, I've just used the same intuitive creative sense in mixing music. I hope that illuminates my show somewhat for you.

Cheers, - Laurie-Ann."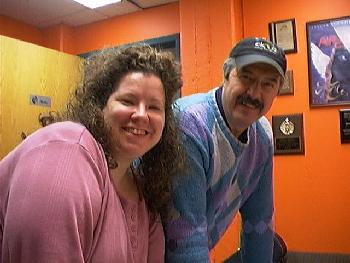 with Dennis Lakusta at CKCU's studios, January 2003
---