"Window of Opportunity" and "Over my Head" Guests, Interviews and Stings
1 Feb 2013 - Window of Opportunity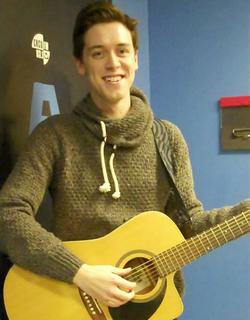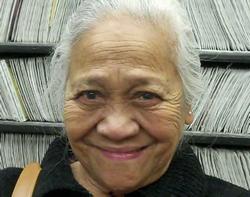 Cameron Barr played a gig at Gaia Java coffee Co. in Stittsville on 23 November 2012, and Tony was impressed, booking him for an appearance on Window. A 4th year Carleton engineering student, Cameron has been writing and singing since age 14.
Left - Cresenciana, 80, visited CKCU studios with her daughter Adel Catoy for Over my Head on 3 February 2013, and ended up on air.
3 Feb 2013 - Over My Head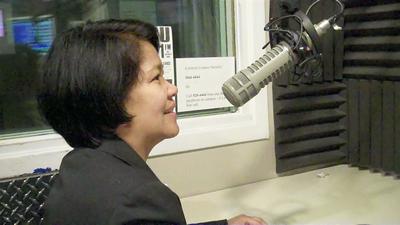 Pastor Adele Catoy from Jesus is Lord (Filipino) church joined Tony for Over my Head, our sister show on Sunday mornings at 8. The subject under discussion was the Global Day of Prayer, for which both Adele and Tony are on the organizing team, which will take place this year on 19 May 2013 on Parliament Hill.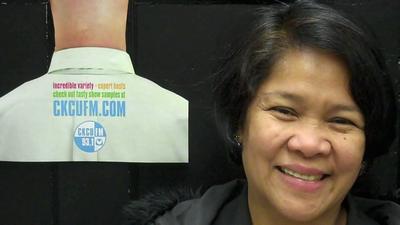 25 Jan 2013 - Window of Opportunity: Brooke Miller

In-studio guest (and a couple of phone-in) artists between 2006 and 2012 included Mayor Jim Watson, Anthony Sam, Meredith Luce, Derek Olive, Kristin Sweetland, Andy White, Lynn Harrison, Robert Farrell, Eppiphane, The Travelling Tenors, Harmonic Generation, Quintessence, Chris Maclean, Marie-Josée Houle, Doug McLeod, Morgan Friend, Steel Moon, Kris and Dee, Stephanie Vezina, Natalia and Montuno, Richard Carr, Bill Connelly, Pat Moore, Terry Gillespie, Soha Kneen, and Peter Budgen.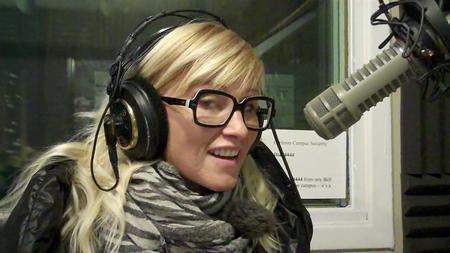 Brooke Miller
6 June 2010 - Over my Head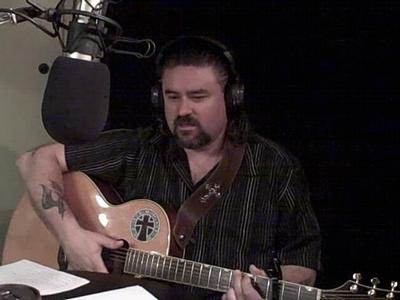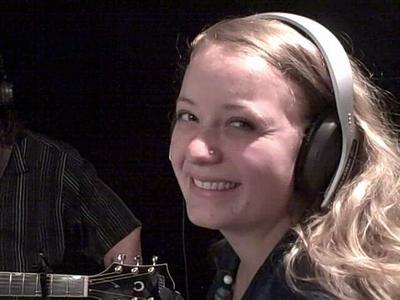 Scott Towaij and Hanna Speirs

December 2005
Dec 30: In studio: Eppiphane members
Dec 9: Barrie Davis
Dec 2: Co-host David Newland, train show

November 2005
Nov 25: James Hill (Ukulele)
Nov 18: Rozalind MacPhail
Nov 11: Guest host: Tony Copple (click for blog)
Nov 4: Phone interview with Lisa Patterson

October 2005
Oct 14: Guest host: Tony Copple

September 2005
Sep 23: Live in studio: Meredith Luce
Sep 2: In studio: Eppiphane members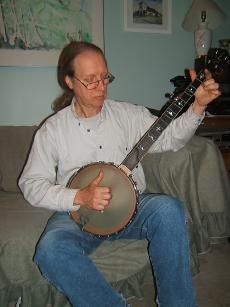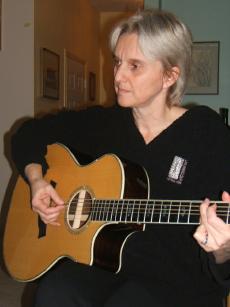 Kate and Hollis, 20 November 2005
Aug 2005
Aug 19: Guest hosts: Tony Copple & Ted Wills; photo right.
Aug 12: Live in studio: Chris White, artistic director of Ottawa Folk Festival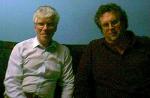 July 2005
July 8, 15, 22: Guest host: Kate Greenland - Thank you Kate!
Ju1 1 Live in studio: Tim Aylesworth, plus phone interview with Adam Kavanagh, lead singer with Eppiphane

June 2005
Jun 24: Live in studio: Carol Teal and David Joyce
Jun 17: Guest hosts: Pat Moore and Kate Greenland
Jun 10: Phone interview with Marianne Girard

May 2005
May 6: Live in studio: Tony Turner

April 2005
Apr 29: Live in studio: Brian Gladstone
Apr 22: Live in studio: Kate and Hollis
Apr 15: Phone interview with Nonie Crete

March 2005
Mar 4: Live in studio: Natalia Zukerman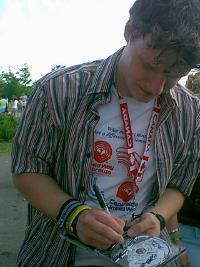 Adam Kavanagh after Eppiphane's
Canada Day set in Kanata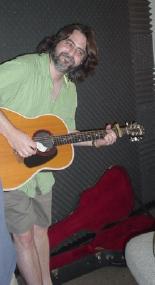 Tim Aylsworth
Sept 24: Phone interview with Natalia Zukerman
Sept 17: Phone interview with David Newland
August 2004
Aug 27 (Weekend Warmup) - Phone interview with Chris White, artistic director of Ottawa Folk Festival
July 2004
July 16: Live in studio: Glenna (Garramone), Lloyd MacHardy and Vince Morash
July 23: Live interview with Sean Peever
June 2004
June 25: Phone interview with Peter Verity
June 18: Live interview with Cheryl Neill
May 2004
May 21: Live performance by Beth Cahill and Annabelle Chvostek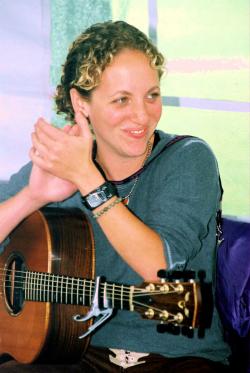 Natalia Zukerman photo: Thom Fountain
April 2004
Apr 23: Live interview with Allison Brown, Linda Grenier, Sharon Hinblest, Bill Cameron
Apr 16: Phone interview with David Newland
January 2004
Jan 30: Phone interview with Jory Nash
Jan 23: Phone interview with Lynn Harrison
Phone interview with Peter Verity
Jan 16: Interview with Bill Garrett and Sue Lowthrop
Interview with Jennifer Noxon
Jan 9: Phone interview with Marianne Girard
Live: Doc MacLean
December 2003
Dec 26 & Jan 2: Pat Moore hosts
Dec 12: - Live: Shane Simpson and Lynne Hanson
- Phone interview: Leslie Alexander
Dec 5: - Ph interview: Jennifer Claveau
- Live interview: Tony Turner - Writers Bloc - on Christmas Goose
November 2003
Nov 28: - Interview: Kristin Sweetland
Nov 21: - Interview: Kim Beggs, +
Phone Interview with the Secretary
of Folk Alliance Canada, Dana Whittle
Nov 14: - Live: Dennis Lakusta
Nov 7: - Live: The Laws
October 2003
Oct 31: - Ph interview: Brian Gladstone
Oct 24: - Interview: Athena Reich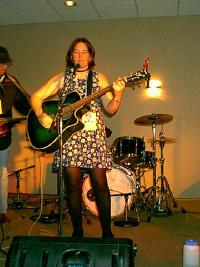 Kim Beggs
September 2003
Sep 19: - Interview / featured artist: Louise Peacock of Kid Wezel
August 2003
Aug 1: - Guest host: Juan Dinero (aka John Inca)
July 2003
Jul 25: - Guest host: Tony Copple
Jul 18: - Guest host: Pat Moore
Jul 11: - Guest host: Pat Moore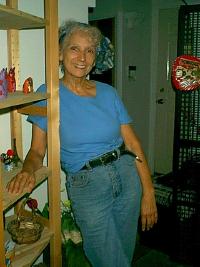 Louise Peacock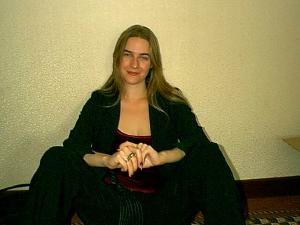 Kristin Sweetland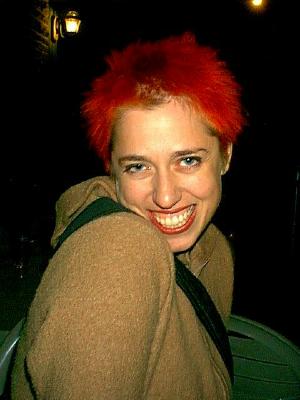 Athena Reich
May 2003

May 23: - Live performer / interview: Sean Peever
May 16: - Interview / featured artist: Allen Dobb
May 9: - Live Interview / featured artist: Ernie Hawkins

April 2003

Apr 25: - Live interview / featured artist: Erin Gignac & Allison Brown
Apr 4: - Live performer / interview: Tony Turner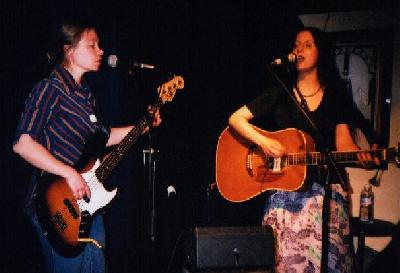 Erin Gignac and Allison Brown at Rasputin's.
Click pic to hear their version of the Window theme.

March 2003
Mar 28: - Guest host: Rachel Hauraney. Interview: Shane Simpson
Mar 14: - Interview / featured artist: Eve Goldberg
February 2003
Feb 7: - Guest host: Dean Verger
Feb 14: - Guest host: Dean Verger
January 2003
Jan 31: - Guest host: Dean Verger
Jan 17: - Interview / featured artist: Lynn Miles
Jan 10: - Featured artist Aengus Finnan
Jan 3: - Guest performer Dennis Lakusta
December 2002
Dec 27: - Guest host: (former producer and host) Dean Verger from Rasputin's
Dec 20: - Co-host Laura Welch
Dec 6: - Lynn Harrison, interviewed by Laurie-Ann Copple
November 2002
Nov 8: - Co-host and interview-ee Christine Saunders
Nov 1: - Co-host Tony Copple (CKCU-FM funding drive)
August 2002
Aug 9: - The Duhks, interviewed by Tony Copple
Aug 9: - The Wailin' Jennys, interviewed by Tony Copple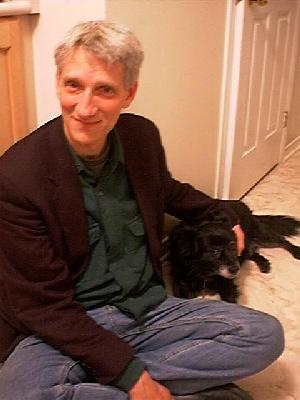 Ernie Hawkins (with our dog Clancy)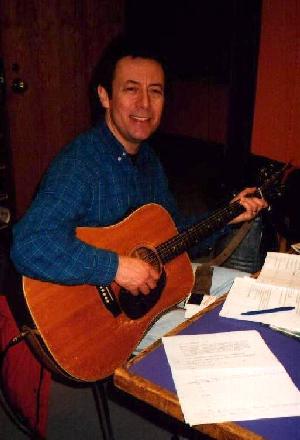 Tony Turner at CKCU April 4, 2003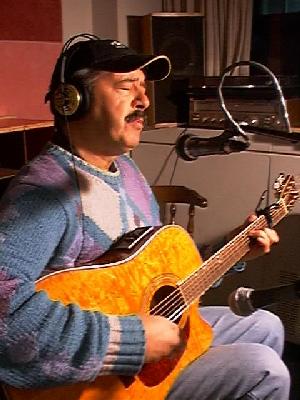 Dennis Lakusta at CKCU Jan 3, 2003