Milada Havelkova First Room
Dr. Milada Havelkova was born in the Czech Republic. She started her medical studies two years before the WWII, and after the Prague universities were closed by Germans, she spent five years as an assistant to an orthopedic surgeon. After the war, she graduated from medicine followed by training in neurology, and worked first in Prague and then in the northern part of Norway. She came to Canada with her 6-year old son in 1952 and for half-a-year washed dishes in a Sudbury restaurant until she got her Canadian medical licence. After a post-graduate course in psychiatry, she joined the Hospital for Sick Children with a particular interest in pre-school autistic and brain-damaged children. She began to paint only at the age of 68. She lived on the shore of Georgian Bay not far from Owen Sound. The ever changing view from her living room appears in many of her paintings. The photograph is from the winter of 2002 when, at the age of 84, she was still on cross-country skis every day. Milada Havelkova died January 18, 2005.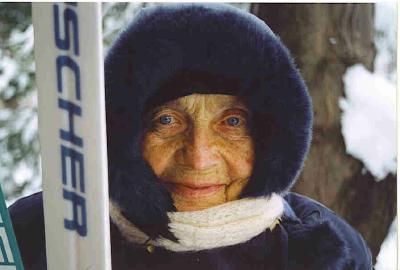 Dr. Milada Havelkova

Killarney Park
Oil, 1987 [Soukup]
24x18 ins (61x46 cm)

Field near the brook
Water colour, 1990
19x15 ins (48x38 cm)

Road down the escarpment
Oil, 1982
12x10 ins (30x25 cm)

Kitchen still life
Oil, 1982
19x15 ins (48x38 cm)

Cold Summer
Oil, 1993
20x16 ins (51x41 cm)

Early morning on the bay
Water colour, 1988
22x15 ins (56x38 cm)

Departing geese
Water colour, 1981
17x15 ins(43x38 cm)

Myakka River - Florida
Oil, 1982
29x22 ins (74x56 cm)

Ice on the bay
Water colour
19x14 ins (48x35 cm)

Florida Evening
Water colour


Impatients on the Window
Water colour, 1990

Brook crossing
Winter 1993


Moon on Georgian
Bay I Oil,
[Bina Rosengerg, Israel]

Pointsettia by the window
Water colour, 1988
14x10 ins (45x326 cm)

Moon on Georgian
Bay II Oil


Most of the pieces illustrated are owned by the artist.