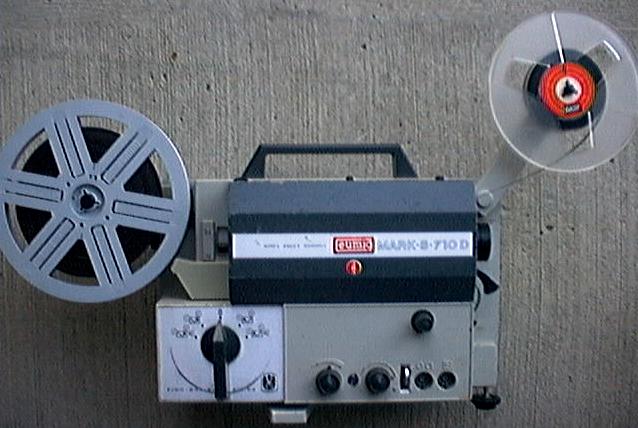 If you have one of these still in use, I'd like to hear from you! Please e-mail me, Tony Copple. We S-710D users should know about each other.
In 1962 I shot my first 8mm film. B & W. This was long before super-8. I was in Singapore and Hong Kong in HMS Ark Royal as a sub-lieutenant. In about 1967 I decided to add sound to my films and bought a projector which allowed the tape from a regular reel-to-reel taperecorder to pass through the speed mechanism of the projector. It was capable of maintaining approximate synchronism for a 7 inch half hour film; not good enough for lip synch. , offering sound stripe recording and playback for standard-8 (it also handles super-8). Now I was able to lip synch, and over the next ten years filmed and added sound to 15 7-in reels of standard-8. It took me about an hour to complete each minute of sound. Recent enquiries suggest that in North America where I now live very few people ever added sound to standard-8; perhaps one or two individuals. In Europe I suspect there were a few more of us. If you are one, I would dearly love to hear from you. The reason is this. Some time in 2001 the sound circuitry failed. Either the record/playback head was defective, or the audio amplification. I was only able to show silent movies - boring. You can imagine that I dearly wanted to see my machine repaired, or to obtain another in good working order. In the future I plan to transfer all my films to DVD. At commercial rates in Canada, this would currently cost nearly $400 per film, even if I can find a service that would do it from standard 8 with stripe. Does anyone know of such a service?
October 2002
I discovered a firm that was able to repair the sound circuitry! They are Nortown Photo Service, of Mississauga, Ontario, 905-624-0163, toll free 877-677-3686. The original owner of the firm, Horst Kammera, still had the expertise and knowledge. I sent them the machine and left it with them till we visited Laurie-Ann's parents for Christmas 2002, quite close to them. Horst retired in about 2007, since when Nortown no longer services these machines. On Christmas Eve we picked up the repaired machine. We tried it out with a film show to her family early on Christmas morning. The film, "Rogues Gallery," starts early on Christmas morning 1979, with James and Debbie discovering their pesents. The sound system worked just fine, including their lip-sync'd voices! The only problem was a mains hum, since I was running it off a bulky drop-down transformer.
29 May 2007
This e-mail arrived from someone who had been reading this very web page.
Hello Tony,
I read on your website of your interest in a Eumig S710D projector. I have an S710D that I purchased back in 1970 in Italy. In fact the original box, microphone, packing and manual is included - but the manual is in Italian! It seems to work fine mechanically, but for some reason the lamp won't go on. I know the lamp is OK so it looks like it needs to be checked out by a technician (circuit diagram is included in manual)
I no longer have any use for it. Let me know if you're interested
Best regards
John Elder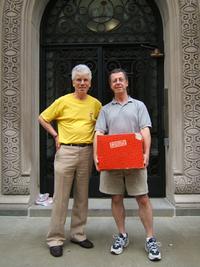 This was too good to ignore. To cut a long story short, Laurie-Ann and I decided to take a vacation in New York City, and pick up John's machine while we were there. All went well, and his machine came back to join its twin. At home I found out some good news and some bad. Good: it was a 120v machine, so I wouldn't need the transformer. Bad, not only was the lamp not working; the sound was also U/S. So, the two machines went back to Horst Kammera at Nortown for a canibalizing job. Imagine my excitement when the Italian machine (120 v) came back with the souns card from my original machine installed. And then, nervous with excitement, I did a stupid thing.

I plugged the mains from the transformer into the new machine. After half a minute smoke was rising; I realized what I had done and unplugged - but the sound card would not work when I plugged into 120 v mains. Miraculously the mechanics and the light were OK. I left the damage on my table till October 2008, too embarrassed to call Horst. I didn't give up on video work altogether - I familiarized myself with Windows Movie Maker, and was able to make a short film of my work colleagues at play and port it to YouTube. Windows Movie Maker is first class - and free! Its digital editing features for both video and sound are a delight to use.

October 2008
I had attended a Royal Navy 50-year reunion in Dartmouth, England. And on the flight back, I resolved to have another go at the projector, since my first films had shots of my brother officers from those distant times. Maybe I could bring them some memories. I unplugged the signal cable from the sound card and attempted to feed the signal direct to an audio amplifier, but nothing came. I called Horst. Discovered that three weeks before he had left Nortown, who had closed down their Eumig repair facility. They had actually ditched a number of spare sound cards of the type I could now use. However, he encouraged me to persevere. I found a fuse link that had lifted, and replaced it. I then tried feeding the line output from the projector to an external amplifier and - bingo - I had sound! I used an old reel to reel taperecorder as a pre-amp, feeding the signal from the projector to the line from one channel from the replay head. Next, I split the sound output and in addition to playing it with the external amplifier and speakers, fed it also to my laptop input, and was able to record sound without the shutter clatter! I had set up the projector to project onto a white surface. I then filmed the projected image with a digital video camera, recording the sound on the computer. I also made use of the recording on the camera of the sound coming from the speakers as a monitoring audio channel which I muted before finalizing the film. Windows Movie Maker enabled me to exactly synch the picture to the sound, or the sound to the picture as necessary. The finished product was then up-loaded to YouTube.

You can see the result on my first sound film, the third video on Tell-all videos from way back. The first two films I dubbed music onto since my original dubbed sound was nothing special. I have since added more videos on this page.

I used the advice from Robert Weidner (see 20 Feb 2007 message below) with great success to rejuvenate the rubber on the two wheels driven by the motor, to get the speed control working. However, when the film runs at the correct 16 fps, necessary for recognizable voices, there is an interference pattern between that and the digital camera speed, resulting in approx 2 Hz fluctuation in brightness which you can see on some of the YouTube transfers. So I make a recording of the sound at the correct speed, but run the picture slightly fast to minimize the interference. I then match the two together in segments in the editing process.

In the earlier films there is a darkening of the right side of the screen on the final result. It was not related to the offset between the camera and the projector which is only about 2 degrees to left or to right. Then I noticed that the projector lamp was not firmly seated down in its housing. Easily fixed. The first film taken without this problem is the first part of Lara's Film. While it's true that the overall quality I'm achieving is not Blu Ray, I am very satisfied with the result for the cost - virtually zero.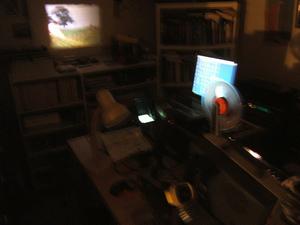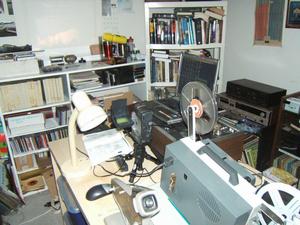 April 2009
Just when I was about to do some 8mm transfers my last projector bulb expired. So I set about finding a supplier. After research, I discovered Buchanan Lighting, right in my home town of Ottawa. They have bulbs in stock, and their price of $Cdn 30 is very reasonable. They will ship worldwide. Here are their coordinates: Buchanan Lighting Ltd, 129 Loretta Avenue North, Ottawa, Ontario, K1Y 2J7, Canada, Tel 613-728-3551
2016
I discovered Home Video Studio in Indianapolis. Their president Robert Hanley convinced me that they really could digitize standard 8mm film with sound stripe, and so it proved. I send them 'Rogues Gallery' and they did a fine job. There was still a mains hum on the soundtrack, but at the time I was ready to work on the remastering, James (my son) was able to use his significant audio skills to greatly reduce it. I did quite a lot of editing, making it less amateurish and re-recording most of the music. Here's the result. In 2017 I sent 'Travelling Light' and 'Summer of 24' to them, and they did a fine job with both. Should be remastered by late summer 2017. I was confident enough this time to ask them to ditch my originals rather than pay for them to be returned to me, having downloaded and reviewed the digital files.
------------------------------
Some Responses to this web page in addition to John Elder's from May 2007.
May 2003
Several messages came for Brunel University, London, England:
Here's one:
I thought you might be interested to hear that a group of us are doing a design project on the exact model projector you show on your website, a "Eumig Mark S 710D".
The project is to dismantle, and analyze the design process, that goes into every aspect of a given object. I guess the one we were given to look at is old property of the university..
If you have any information on the projector you could email me it would be much appreciated.
Regards,
Simon Clarke
Brunel University
By Tony C: I'm afraid I don't have a manual for the projector. Lost in the frames of time...
June 2004
Hi Tony,
I came across your page regarding your Eumig S-710D projector. I currently have one and I am in the process of transferring some of my old films to video/DVD.
I don't have an instruction book and have been able to figure out pretty much all the features. However, I am a little confused as to the purpose of a big red button at the back (or more correctly left side, when viewing the controls). It can be pushed in but it doesn't seem to do anything.
Would you know what it is for? If not, do you know anyone that might? And. Did you ever come across a manual for it? Where could I find one?
I would appreciate it if you could let me know.
Thanks,
Rob, Canada(!)
January 2007
My mother's 90th birthday is this March 22. I just had the idea to film excepts showing her from my 8mm reels, with my digital video camera to show at the birthday party. When I turned on the projector, it would hardly run. Either the motor is tired, or the drive mechanism slipping too much. So again, I need to try and find a replacement machine in good order. If you have one, whether or not it is for sale, please get in touch.
20 February 2007
From: Robert Weidner
I found this info on the Internet and used brake fluid on my Eumig S-710 D to restore the rubber on the two rubber covered wheels that are driven by the motor. I propped up the projector on end so that the drive wheel was level and did the forward wheel one day and propped it up the other way and did the reverse wheel the next. After the soaking, I wiped off the wheels with a cloth before starting up the projector. Before the repair the projector would not run at 24 fps at all. Now it runs at all speeds.
Sometimes the roller rubber hardens. If this is the case, coat the rollers with a bit of brake fluid (non-silicone) and let it sit overnight. Next AM, carefully clean the residue and run a blank sheet or two through the printer to pick up any leftovers. Brake fluid is an excellent rubber rejuvinator.
IBM, for example has used brake fluid (yep, from the local parts store) to restore rubber printer rollers for years. How do I know? I was an engineer there and made several trips to pick up the stuff for our lab where we tested it. I honestly don't know about today's compounds but as recently as 6-7 years ago the solution received by the field techs for this purpose was essentially nothing but plain old-fashioned brake fluid (non-silicone). IBM isn't alone in the practice, I assure you. I know for a fact that techs from NCR, Unisys, Plessy and Recognition Equipment Corp used the same solutions.
Regards
14 March 2010
From: Howard Avery
Hello Tony, My name is Howard, I live in Adelaide South Australia, and have just read your web page while looking for info on the Eumig-S-710D. I picked this unit up at the side of the road about 12 months ago, as I had some old super 8 film non-sound that I wanted to view and this was out in the weather thrown away. Today I was cleaning up the garage and spotted the projector, and decided to plug it in and try it out; to my surprise the unit came to life including the lamp, plus I was also getting interference sound when rotating the volume pot. However the drive is turning but not the spools for the reels, but I am yet to look into it further re the rubbers as mentioned in your web page.
If I can bring the unit back to life and play my old movies, I will attempt to transfer them to DVD via my mini DV camera and DVD recorder. Once I am finished with it, If you are interested in this unit, I would be happy to send it to you for the cost of postage only, I am not interested in any other money, but would be happy to see it go to someone who could use it.
Please feel free to contact me if this is of any interest to you.
Regards
---
Home movies
HomeVideoStudio (Indianapolis) - Does the digitizing job for you, even Standard 8 with sound stripe.
Sounddogs.com Sound effects, etc.
My home page