Outdoor Murals of Ottawa Canada - Graffiti Walls
These are the current official sites for graffiti within the city of Ottawa. Most graffiti is in fact writing - each can be read by those in the know. The best are comparable to illustrated drop-capitals of the past, and many practitioners refer to themselves as graffiti writers.

Ottawa's Elmaks sees himself as a man who sees what's ugly and makes it beautiful. "I do it to cheer people up, improve public space and introduce a little bit of randomness and joy into the every day." He feels that not only should he be allowed to continue his work, he should be recognized and praised for it.

The fact is, though, that most of the present work on these sites is not appreciated by Ottawa residents in their community. Street artists must work harder at individual styles and respect the values of communities if they are to be taken as seriously in public places as they want to be.

While the city is spending 1% of its construction budget on official artwork, up to 6-figure sums per artist, all of the work shown here is done for free because the artists love doing it. It would be great if the city would assign some of our unfriendly raw concrete surfaces to single artists chosen from among the best of these. With competitions in place, we could look for more originality from them. In the meantime, I'll feature the most original ones I find here.

The sites are organised from east to west.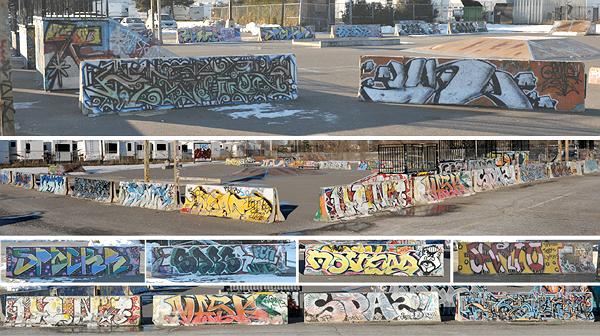 [Map] The skateboard park at the Orleans Recreation Complex, 1490 Youville, with a sampling of the mostly forgettable writing.

---


The House of PainT is under the north side of the Bronson bridge over the Rideau river. It's accessible by an unmaintained footpath between Brewer Park and Carleton University. (Park at the south lot of Brewer.) During the summer it changes daily, there are dozens of layers of paint on most sections; above is the south side as it is usually.


[Map] A hiphop festival is held early September where everything is repainted and the air is heavy with amyl acetate and boom boxes; above is the north side then. Following are the ones I've found most interesting:



This magnificent high tech yellowjacket defending its nest would be an ornament almost anywhere.



How about the right half of this as a gateway symbol for Confusion Square?




---
[Map] The "Tech Wall" is on Slater corner of Bronson. Access is from Slater. These are the more interesting so far:






The basketball backboards of the abandoned sports field don't escape!