Enjoying the Birds of the Ottawa Valley
Visiting Birds
Walking with Birds
Our indigenous peoples believe that a soul does not reside in a single person. It is inseparable from its environment. We are all one with rocks, plants, birds, the air.... Walking with birds is the way to feel this way. Feeling this way may be as close as we can ever come to comprehending the world of wild creatures.
Around Your Own Home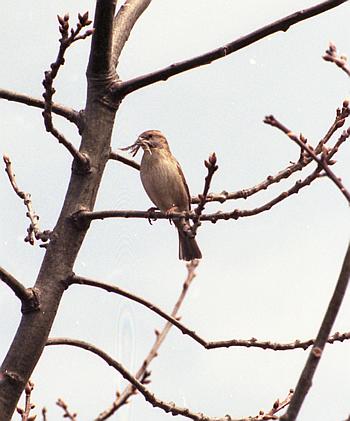 The first place to go for a walk! Even in the inner core of Ottawa, there are dozens of different kinds of birds to enjoy if you learn how to look and listen for them. Birds can be your neighbours, when you recognize them. When you do, you will feel more at home, wherever you are in the Valley.
The three most common city birds--house sparrows, starlings and pigeons--were all introduced to this continent by people. House sparrows eat seeds and insects from front lawns, and bathe in sidewalk puddles. Look for them carrying food to their nests, which are often in crevices under verandas or in thick vines. They use a rich variety of display postures and songs to maintain their "pecking order". Starlings eat mostly insects, and nest in similar places. They make a great variety of fascinating sounds. Pigeons (rock doves) have been flocking to sources of bread and other grain products since the first settlers released them in the 1600's. They nest on shelves under bridges or building cornices. Soon these three may be matched in numbers by house finches, introduced from the west coast via the pet trade.
The most common native birds on our residential streets are robins, song and chipping sparrows, and grackles. Robins will be found cocking their heads to look for grubs and worms wherever there are pesticide-free mowed lawns and home gardens. Song sparrows nest in mature hedges, chipping sparrows in foundation evergreens, especially yew. Listen for their songs, then pause to watch until the bird pops into view. Grackles nest in large evergreens, and fly considerable distances to patronize those who supply sunflower seed in the summer. Their long flowing tail and gleaming iridescence will encourage you to listen for their "song".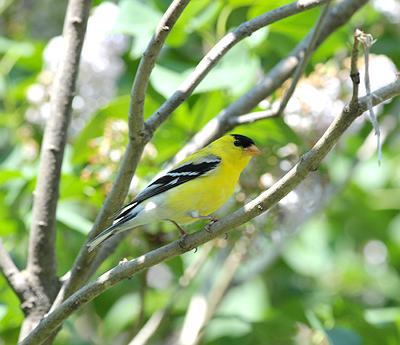 Blue jays attract attention to their brilliant feathers with their "jay jay" call. Goldfinches can be seen bouncing across the sky, with a "per-chick-o-ree" at every bounce. Ring-billed gulls will be seen around most schools, and around fast food vans that have become permanent fixtures. They eat any discarded food. Mourning doves are best located by sound. Their "ah coo-oo-oo" carries a great distance on quiet mornings. Nighthawks nest on flat apartment roofs throughout cities. Listen for a "bzzt" call from overhead at dusk, then look carefully for a continuously-flapping bird darting around high in the sky. (A "bzzt" call from the ground is a woodcock.) And no one ever forgets the dramatic early morning calls of a cardinal. Tree swallows will be seen flying overhead wherever bird boxes are put out for them. Crows, big, black and powerful, are seen and heard in many urban areas ...
City sidewalks are friendly places when you say hello to birds.
Mer Bleue
This Greenbelt area has many lovely wooded paths, marked with numbers, with maps at most parking lots. Rubber boots are useful in spring. The NCC trails have all been renumbered yet again - as long as a trail is obviously in use, follow it.
Take Innes Road east from Ottawa, turn southeast at Anderson Road, and continue south at the intersection with Renaud. Just past Dolman Ridge Road with its old wood cross, the parking lot (P19) is on the right. The best trail was the old number 5, which cut northeast across the rectangles marked by current trails 50 and 51. The wet mixed forest in the middle of the 51 rectangle supports many warblers (chestnut-sided, redstarts, mourning) and wood thrush. Along the north side of the ridge, drier woods echo with ovenbirds, wood-pewees and veery (and chattering red and flying squirrels and chipmunks). Dropping down the ridge to willow thicket and abandoned pasture yields many flycatchers and swamp sparrows. Sapsuckers feed on the white oaks north-east of where trail 50 north crosses Anderson Road.
Shirley's Bay
This walk covers a four kilometer route through the best birding spot in the Valley.
Much of this site is under military control, but there is an on-again off-again access agreement for bird watchers to the eastern portion. Birders must park in the lot north of Range Road, not on the road. Walk southwest along the road for a view of the flagpole. A yellow flag at half mast means all clear. A red flag, or no flag at all, means stay out. If you hear firing from the range during your visit, you must leave at once.
Follow the dirt road north to the dike. The wet deciduous woods, open at first then dense, are sure to yield woodpeckers including pileated, as well as vireos and thrushes. During migration, look for every vireo and warbler species in the Valley. Go slowly as the woods open out again, to check the mouth of Watt's Creek to the west before skittish birds take flight. (After all, for over a century we have been applying Darwinian selection to waterfowl, allowing solely those that flee from us to survive.) Every shorebird and puddle duck species known to the Valley has been seen here. A walk the length of the dike is usually profitable, affording (in season, of course) views of many wood ducks to the west, loons, Brant and scoters to the east, warblers and sparrows on the dike, and falcons overhead. Check right to the far west shore once past the first island (Haycock) for mergansers. The trail on the second island (Chartrand) affords a view of Innis Point.
Lac-la-Blanche
This forestry information center has seven kilometers of groomed walking paths through pure Shield country. To reach it, take Highway 315 north from Buckingham, 18 kilometers to a turn to the right for the Center. Trail 1 has bilingual labels. Trail 3 is excellent walking.
Gatineau Park
This area contains so many paths designed for hiking that any choice will miss a favourite. However, birders find the paths leading north from the Champlain Lookout to be as rewarding as any, with nesting mourning warblers and Swainson's thrush among the delights of the extensive moist sugar maple woods.
Birds from the Road
Cumberland Township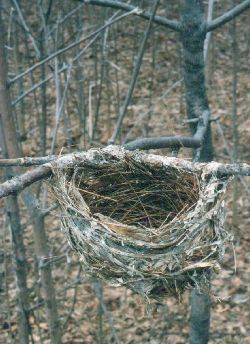 This drive, mostly on rural gravel roads (as of 1985!) will take you through every stage of vegetation succession from ploughed fields to mature oak-maple woods. The farming is mostly family dairy, pasture and silage. The land drains slowly in spring, particularly north of the terraces made by the Ottawa River when it was broader, so most of the fields, and some roads, are wet or submerged every spring.
Take the Innes Road exit from Highway 417, and turn east. Just past Blair Road, stop overlooking Green's Creek to check the swallows. As an option, detour south on the Anderson Road for the Mer Bleue marshes, located in an old bed of the Ottawa, and once part of a continuous swath of wetland down to Alfred Bog. Continue east on Innes through Orleans. Just beyond the built-up area, a hydro line passes over a small cattail marsh. Check it for bitterns, rails and teals among the red-winged blackbirds. Past the marsh, the shrubby fields to the north provide ample food for buteos (red-tailed hawk in summer, rough-legged in winter). Continue along Innes to Concession 8 (meadowlark country), then south to Giroux, keeping eyes peeled for kestrels on the telephone wires, and horned larks switching twice each second from flapping to gliding as they fly low in a circle around your car. You may wish to detour up Concession 8 to the moist mixed wood to the south. Saw-whet owls breed there. Turning east on Giroux, check out the old gravel pits, some flooded, and the birch-poplar woods. Reaching Dunning (regional road 35), zip south to Watson, where a turn east passes just to the north of a maple-oak wooded strip that produces many of the Valley's red-headed woodpeckers. North down Birch Grove, a single lane road through dense cedar (sometimes closed by washouts), admire the succession of wet meadows, gradually turning to young mixed woods by the time the road turns west, on to French Hill Road. Shortly after passing Dunning, the road climbs to pass through one of the most productive birding woods in the region--several great horned owl and red-tailed hawk nests, and every thrush, flycatcher and vireo species known to the area. Reaching Concession 7, turn north to pass through dry long-grass meadow. You should hear many sparrows here, including grasshopper. Just past Innes Road, the Proulx sugar camp is one of the most genuine in the area. Continue north to the T, take a short jog east, then follow the 6th Line north to Highway 17, where a picnic site opposite gives a good view of the mouth of the Lièvre River. Head west for home via Highway 17, or jog east to the Cumberland ferry over to Thurso, to visit the marsh there and Lochaber Bay.
March Township
This drive, through many of the old standbys of west-Ottawa birders, typically yields 70 species without walking, more with.
Start at the Britannia filtration plant. A walk along the west side of Mud Lake will yield several herons plus a good sample of the hundred or more species the woods can hold. Check the rapids for cormorants, Lac des Chênes for diving ducks. Take Carling Avenue west to Ottawa Beach to get the rest of the puddle ducks, and a few bonus shorebirds.
Continue west to Range Road, where a turn north leads past kingbirds and field sparrows to the deep-water ducks of the Ottawa River. If it's the first week of November, check for a purple sandpiper. Take Range Road back to Carling, then Carling west to the 4th Line, where a turn north yields upland sandpipers near the wetlands before the tracks, kestrels and red-tailed hawks on the butts, then indigo buntings and scarlet tanagers just before Riddell Drive. A short walk south on the dirt trail just before Riddell Drive usually yields several thrushes. Take Riddell Drive east to the 6th Line, checking the marshes for swamp sparrows, house wrens, and black-billed cuckoos. Watch for bluebirds on the way north to the Dolan Parkway, as well as the odd rufous-sided towhee in the junipers. If it is hawk migration time, detour north on the 6th Line to an old age-blackened house on the right, a perfect spot for a picnic lunch as the hawks pass by. Taking the Dolan Parkway west, check Constance Creek, a former branch of the Ottawa, for herons and rails. Check the fields at the corner of the 2nd Line for horned larks in autumn, and water pipits flipping their tail with each change from flapping to gliding and back. Then it's south on the 2nd Line, collecting a few more sparrows and cliff swallows at the corner of the Old Carp Road. As an option, detour south to the end of the 2nd Line, the old March Dump, where a walk south goes through some of the most beautiful woods of the Carp Highlands. Turning west, the Old Carp Road is a road that has had time to settle in, with a hedgerow of mature trees arching overhead, and many warblers, including mourning. This road is also a must stop on the Christmas Count for a pileated woodpecker. At the March-Huntley Line, turn south, stopping just past the rail underpass to check for rough-winged swallows, and again when beside the Carp River to listen for alder and willow flycatchers, and other "goodies". Farther along, check in winter for owls, and in spring for hawks, on the way to the Huntley-Kanata road, where a turn east leads to Terry Fox Drive past cliff swallows flying over the sheep fields. Terry Fox east to the Queensway passes some old orchards, with large flycatchers and rose-breasted grosbeaks.
Birds from a Wheelchair
The perspective of a birder with a mobility handicap is the opposite of most. You choose a location and line of view, then wait for birds to come to you, instead of charging out to find them. The trick is to study habitat and the movement patterns of birds, and to develop patience and a sense of timing.
First, of course, a vehicle is necessary. A wheelchair allows solo birding, and the extensive bicycle paths in the region are a great attraction. In particular, the Ottawa River route from Lemieux Island to Andrew Haydon Park covers an exceptional range of habitat. Through the seasons, it should produce just about every species observable in Ottawa, except some rails. Other special places are Clyde Woods, Vincent Massey Park, the Arboretum and adjacent Experimental Farm. There are wheelchair trails at Pinhey Forest (start at the Nepean Sportsplex), Stony Swamp (the Sarsaparilla), and Lac-la-Blanche.
A car with a window-mounted scope covers widely-separated spots, and is greatly underestimated as a blind. How many of us have watched a gyrfalcon root out a grey partridge from the snow almost within arm's reach, or an osprey snatch a fish from the water ten meters away, as Gordon Pringle has? The disadvantages are that it is often difficult to hear bird songs from within a car, and that one is tempted to enlist a mobile companion, and act like sahib ordering the hired native to crawl through the swamps in order to flush anything of interest.
Well, in May 1983, Gordon yielded to temptation, with the aim of seeing a hundred species in a single day within the Ottawa region. Here is his account of one day's highlights. This (without my bracketed comments) is the way one lister talks to another.
"The plan was: Clyde Woods for the mockingbird, Iris Ave, house finch, Britannia, pine warbler, swift, cormorant, Andrew Haydon Park (river), Shirley's Bay, Goulbourne Forced Road (woodland), Old Carp Road, bluebird, Nepean Dump (gulls), Richmond (shorebirds), Munster (lagoon, marsh), airport, red-headed woodpecker, raptors, clay-coloured and grasshopper sparrows, Ramsayville (marsh), and Green's Creek (lagoon, shorebirds) if I get there before they close the gates.
May 17th. A cool, calm day. There is no such thing as a collected day for me. The last day of The Great Canadian Roundup (compiled by Gerry Bennett for his newsletter Birdfinding in Canada). Bob Bracken has agreed to act as spotter.
0600 hear a cardinal, leading off 12 species heard from bed.
0700 the orderly arrives, to get me dressed and into the car.
0830 no mockingbird at Clyde Woods.
0930 no house finch either.
1000 hear a redstart at Britannia. get 30 Bonaparte's (gulls) beside the parking lot.
1230 American bittern, sora, Virginia (rail) and a rusty (blackbird) on the Carp River between the Old Carp Road and Hazeldean. also, a colony of rough-wings (swallows), so I'm saved a detour to Ashton. Bob is without peer in calling rails and imitating upland sandpiper. that's not in the job description of most bird dogs.
1430 great black-backed (gull) at the Nepean Dump. the total is 80 and moving very slowly. have faith, the best marshes and lagoons are still to come ...
1500 the Richmond Sewage lagoons. a good catch of shorebirds outside the lagoons in muddy spots where I can see them. 11 shorebird species, including Wilson's phalarope.
1530 Munster lagoons. a ruddy duck. tremendous! keep smiling up there!
1600 across the road to Richmond. the marsh faithfully produces calling least bittern.
1730 the area behind the Ottawa Airport produces the expected red-headed woodpecker, grasshopper and clay-coloured sparrows. I am doing something right ...
1930 arrive at the Ramsayville marsh. within 10 minutes, add swamp sparrow, moorhen, my first since the name change from gallinule, coot, great blue (heron), pied-billed (grebe), and pintail.
2000 Bob spots two green-backed herons over the Queensway on the way home. I don't.
The score: 104 species for Bob, 97 for me. Later, Birdfinding in Canada mistakenly reported that my personal total was 104."
P.S.: on the fifth try, May 29th, he really did get 104.
Gordon's favourite spots for watching from a car are: Ottawa Beach and Andrew Haydon Park, the Dunrobin Ridge via Dolan Parkway, Old Carp Road, Goulbourne Forced Road and Fitzroy-Torbolton Ward Line, Nepean Dump, Pinecrest Cemetery, Beechwood Cemetery, Ramsayville marsh and Ridge Road, south of the Ottawa Airport, Gatineau Parkway and its parking lots, the road between Eardley and Masham, and the road between Low and Poltimore.
Canoeing for Birds
Only a limited range of habitats can be explored by canoe, although those habitats are among the most productive of all. The canoe comes into its own in regions where land access is difficult. In the upper Valley, it is the only practical means of access to many good birding areas, in particular Clear, Doré, Mud, and Wilbur lakes.
Around Ottawa, where most streams are bordered by roads, a canoe is unique only for exploring marshes. The best documented birding route in the Valley is that between the residence of the High Commissioner of the United Kingdom and the mouth of Brewery Creek (The Birds of Brewery Creek, 1947). A canoe overcomes access difficulties well along the north side of the Ottawa River between Rivière Blanche and Baie Noire. In spring and early summer, this route will keep any naturalist happy for days. (Hunting season is another matter!)
The Rideau River is lined almost solidly with houses and car traffic until effectively out of the Valley. However, above the Baxter Conservation Area, it becomes more natural, and the mouth of Kemptville Creek is excellent for owls, warblers and finches. The Jock River yields shorebirds in spring (and waterlilies) around Twin Elm, and isolated marsh with herons, bitterns and rails upstream from Richmond. The Mississippi is excellent most of its length. As for the Quebec side, there are far too many great places to select only a few, but Lac la Pêche is as good as any to start with.