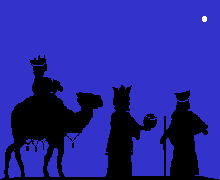 Click for a musical magical journey
Somewhere in this maze you thought there might be a card for you from us. Well, now you've found not one but two - one with political significance, as we read of restrictions on Christian education in schools.
The "12 Days of Christmas" was written more than 400 years ago by Catholics who were told by the Church of England they couldn't express their religious beliefs.
Fearful that kids might forget the important symbols of Catholicism, an allegory was written.
Here's what the 12 Days of Christmas means:
12 drummers drumming
11 pipers piping
10 lords a-leaping
9 ladies dancing
8 maids a-milking
7 swans a-swimming
6 geese a-laying
5 golden rings
4 calling birds
3 French hens
2 turtle doves
a partridge in a pear tree
= The Apostles Creed
= Jesus' faithful Apostles
= the 10 commandments
= the fruits of the Holy Spirit
= The beatitudes
= seven gifts of the Holy Spirit
= six days of creation
= the five books of Moses
= the 4 Gospels - Mathew,Mark,Luke,John
= the things that will last - faith, hope, and love
= the 2 testaments, old and new
= the crucifixion of our Lord and Saviour, Jesus Christ
May the true meaning of Christmas not ever be lost.
Today, school boards are invoking the force of law to prevent school teachers from teaching the Christian faith, and public prayer in school. At the same time they are promoting occult practices. The Winter 2000 Ottawa-Carleton District School Board Community Education brochure "Learning" advertised classes in astrology, dreams, tarot, numerology, paranormal phenomena, divination, Zen. (pages 60-61, the "try something new" section). Against this disturbing trend towards practices specifically condemned in the Bible, maybe the "12 Days of Christmas" assumes significance anew.