Avro Arrow Artifacts at the RCAF Memorial Museum in Trenton, Ontario.
The RCAF Memorial Museum has several items directly relating to the CF-105 AVRO Arrow. It has the only existing Velvet Glove air-to-air missile, a Throttle control, as well as scale model of the Arrow that was built and used by the engineering staff at the Malton plant. There are some engineering drawings of the Arrow in Casey's Bar and Grill in the Yukon Lodge(Open to the public) which is located next to the museum.

Avro Arrow CF-105 throttle control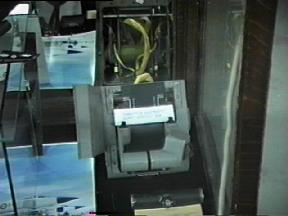 Front view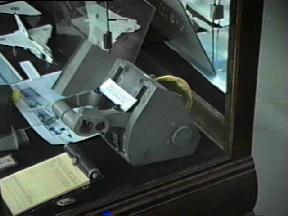 Side view
Velvet Glove Missile
This sign says it all.....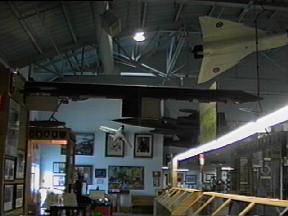 Velvet Glove Missile. It is the long black object suspended from the ceiling.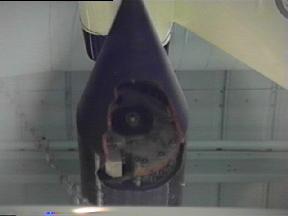 Nose section of the Velvet Glove Missile. Note the "cut-out" section.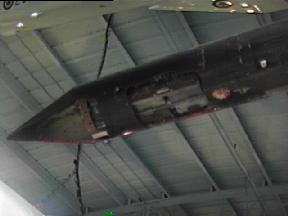 Side view of the nose section of the Velvet Glove Missile.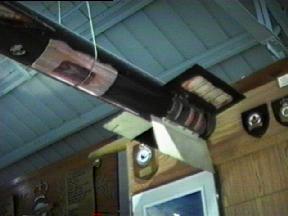 Side view of the tail section of the Velvet Glove Missile.
AVRO Arrow CF-105 Scale Model.
The model shown in the following graphics is located in one of the museum's display cases. There are no labels or other written information that explains this model's significance, however Geof Hartshorn provided the following information about how the model came into the museum's possession. After you read his short story, it might make you wonder what else survived as well....


Mr Kostiuk:
I've read with interest your web page dedicated to the Avro Arrow. My main attention was drawn to Arrow artifacts that are on show at RCAF Memorial Museum in Trenton. I have a short story that might just peek your interest:

Just after February 20,1959 a group of military aeronautical engineers, who had worked on the Arrow, were sent to the Avro plant in Malton to either remove or destroy everything connected with this aircraft's production. At the plant a one twenty-fourth wooden scale model of the Arrow was discovered showing all armaments and avionics. At that time the team decided that this model would not be taken from them. Lots were placed in a box and the name drawn, Brig. General Joe Romanow, became the "keeper" of the model. This priceless historic gem remained hidden in basements for just over forty years. During this time it had become badly damaged. Mr. Romanow's granddaughter, a student at a school of which I was a staff member, brought this model to my attention after a CBC TV production, The Arrow, was aired about one and a half years ago.

To cut a detailed story short I was able to fully restore this model which was later presented to RCAF Memorial Museum, Trenton by the base's Chief Administration Officer who, ironically, is the daughter of retired Brig. General Joe Romanow. This model is now on display.

If you would like any further details concerning this story please feel free to contact me.
Regards
Geoff. Hartshorn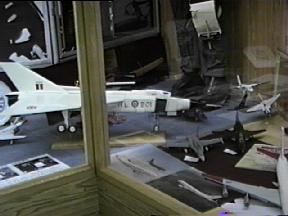 Side view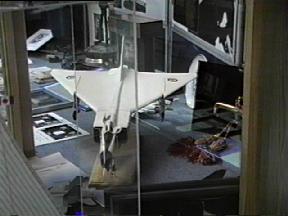 Front view
---
---

Return to Michael Kostiuk's Avro Arrow and Canadian Aerospace Home Page

---
---
Last Update: May 28, 1999.