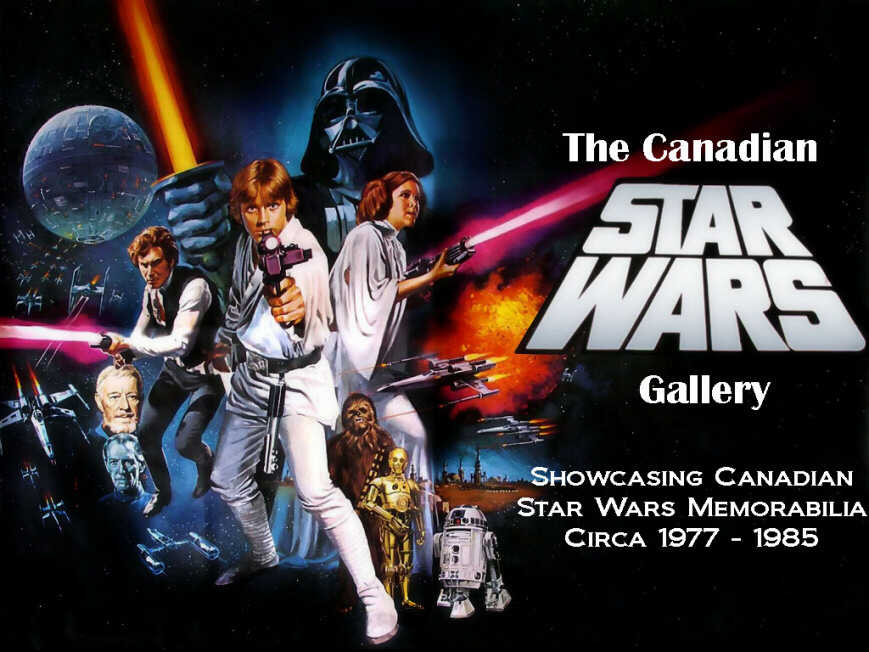 - - - - -
Since July 1, 2001
This site is best viewed in Internet Explorer 10+
You are visitor #

Updated: September 21, 2019
Recent updates:
1. Added the Origin of the 'Tusk from Ugnaught' Action Figure Name in the 1980 Sears Canada Wishbook
Welcome to the Canadian Star Wars Gallery
The Star Wars phenomenon made a lasting impression on hundreds of thousands of people in many countries worldwide, and Canada was no exception. This site showcases items from the original, Star Wars trilogy era 1977 - 1985 inclusive. Here you will find many different items including the original Kenner toys, food related promotional items, and trading cards. As well, visitors to the site will also be able to read original reviews for the trilogy as found in the Canadian media. So sit back, and return to the original heyday of Star Wars with a Canadian focus.
Are You a Former Kenner Canada - Irwin Toys Employee?
If you are a former Kenner Canada / Irwin Toys employee, I would like to hear from you. Please contact the webmaster.
Image and Content Use Policy:
No material on this website may be reproduced, stored in any retrieval system or transmitted in any form or by any means - electronic, mechanical, photocopying, recording or otherwise - without the express written consent of the webmaster.
---
I am very interested in purchasing any Canadian Star Wars displays and toys; especially any Kenner Canadian standard 3-packs and special offer vehicles/playsets. If you have any Canadian Star Wars items for sale, please contact me. I am also looking for:


a vintage Canadian carded 4-LOM (or a Canadian 4-LOM cardback)
a vintage Canadian carded 12-back Chewbacca with the "La Guerre des Etoiles" pyramid logo on the front

---
Contact Me - Click Here
Dedication
This site is dedicated to my family, who recognized my enthusiasm for everything Star Wars as a child, and for encouraging me every step of the way since 1977. They are a significant factor in my enjoyment of the hobby.
Webpage counter courtesy of &nbsp