Experiment Images
Click on any image for a larger picture and use your back button to return to this page..
Image 10 A daylily clump was dug from semi-frozen ground the day it was first uncovered by melting snow at the end of winter in a Zone 4 garden. The clump was brought indoors to see if spring sickness would develop despite lack of exposure to spring weather conditions. On coming in, two or three fans were dissected even though no external signs of spring sickness were apparent. The image shows extensive spring sickness damage was already present inside the fan. This clump and others brought indoors at the same time subsequently developed spring sickness without further exposure to spring weather conditions.
Image 11 A daylily dug in fall was kept indoors all winter on a windowsill to see if total avoidance of winter conditions would permit the development of spring sickness on a particularly spring sickness prone clump. By spring, there was considerable bulb mite damage to the plant as shown in this image, and one fan was stunted and curving with a cavity in the crown. However, the full effects of spring sickness were not apparent.
Image 12 Bulb mites were also found on an emerging scape which was badly deformed, and on damaged flower buds. Further examination of daylilies kept indoors frequently revealed bulb mites actually inside outer leaves, between the upper and lower epidermis and veins. They appear to use the spaces between veins as feeding "tunnels" moving up and down freely as illustrated in this image. They can only be clearly seen with magnification when a leaf is positioned over a light such as a flashlight or the sub-stage lighting on a dissecting microscope.
Image 13 In order to find out whether bulb mites are capable of damaging healthy plants, or whether their presence indicated some other cause, germinating daylily seeds were exposed to bulb mites which had been removed from daylily leaves. This image shows that they have eaten into the radicle. After more time has elapsed, the mites also eat up into the developing new shoots. These mites were identified by a mite researcher at Agriculture Canada as mostly Rhizoglyphus robini along with a smaller number of Tyrophagus putrescentiae.
Image 14 In fall 2001, a new experiment was commenced which involved bringing spring sickness prone daylily clumps indoors at intervals of approximately one month in order to find out when spring sickness damage is initiated. The first clump came in during the first week of November. The next two were dug in early December before the ground became frozen for the winter. One was brought in immediately, the other remained outdoors until January. This image shows damage consistent with spring sickness which developed indoors on the clump brought in at the beginning of December. Bulb mites were found at the site of this damage.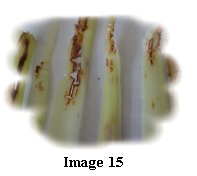 Image 15 The other daylily clump dug in early-December was planted in a large bucket and kept in an open sided barn in order that it be exposed to winter weather conditions but still be retrievable in January. In early January, by which time the soil in the bucket was frozen, it was brought into the house from the barn and placed in a cool room. After growth was a few inches high, two fans started to grow sideways, and one central leaf detached with decay at the base. The fan was disssected, and lesions consistent with spring sickness discovered. This, and the experiments in images 10 and 14 above, suggest that spring sickness is not related to freezing temperatures which occur after growth has commenced in spring.
In view of the frequent presence of bulb mites in these experiments, and the fact that spring sickness damage is similar to that described elsewhere and attributed to bulb mites, further investigation of their involvement in this disorder is ongoing. Other possible contributing factors also need to be examined, for instance the roles of other pests such as the lesser bulb fly, and the leaf streak fungus Aureobasidium microstictum, as well as soil conditions and other environmental factors.
References:
Kobayashi, H. 1998. Aureobasidium microstictum (Bubak) Cooke, The causal agent of leaf streak of daylily (Hemerocallis L.) and its involvement in spring sickness of daylily, M.Sc. thesis, Ohio State University.

Labanowski, G.S., Soika, G. 1992. Occurrence and Injurious Effects of Rhizoglyphus echinopus - A new pest of Hemerocallis hybrida. Acta Horticulturae, 325;739-741.
Muller, P.J., Hollinger, T.C. 1980. Damage by Rhizoglyphus mites in some ornamental bulbous crops. Acta Horticulturae, 109;449-456.