Home Made Lexan Windshield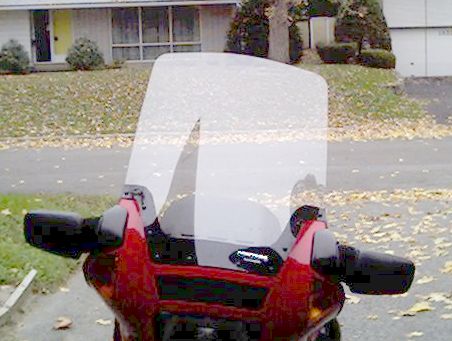 Lexan is extremely strong and flexible. The first time I tried to make a lexan windshield (another bike, not the Concours), I attempted heat forming in my oven, over my wife's protests. It was a disaster, it did not heat or flow uniformly. So now I just cut it with a hand coping saw, bend the stuff into shape, and don't worry that it's always under tension.

Bought a piece of 1/8" lexan 24" x 30", about $30 CDN. I found it beneficial to use a template made from cardboard to get the exact hole location and shape of the lower extremeties. Using the existing Givi windshield as a template didn't work as well because it's harder to transfer the hole location from a compound curved windshield to the new flat piece of lexan.

My build is 6' 3" with long torso. The initial size was 27 1/2" high and I tried it out on a trip - it reduced the buffeting, but there was too much looking thru, not enough looking over. So I cut it down to 25 1/2" high, buffeting is no worse and most of the time I'm looking over the shield.

If I was only going to make one mod to the Concours, this would be it. The stock windshield shape looks good in the showroom but isn't worth spit. Note the stock CONCOURS/Kawasaki logo stuck on in lower right (a gift).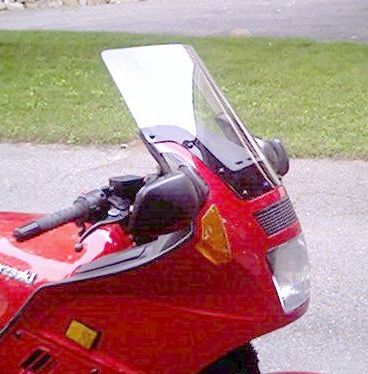 The first shield worked out so well, I decided to construct a shorter version.
The bottom shape is essentially the same, but at around 15" it's cut in the horizontal plane. Total 1/8" lexan requirement, about 17" high by 24" wide, around $16 CDN.
This complements a couple of the shorter, '86 bars I picked up on eBay for $10 US.
Now the Concours is really two motorcycles. With the saddle bags and tank bag, higher bars and higher windshield, seating and philosophy are more sedate and it's ready for longer trips. With no bags, shorter bars and shield, forward lean angle is a bit more agressive, it's almost a Ninja. And to change bike personalities, you just slide the other bars through the handlebar switches and interchange windshields.