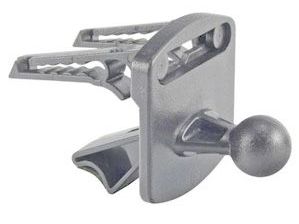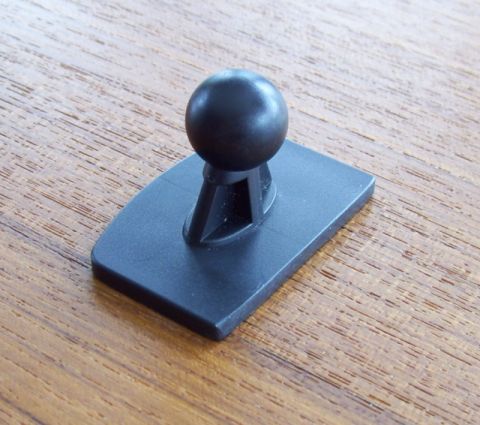 In 2009, I did some touring with another Concours owner whose bike was equipped with a GPS. The GPS benefits were pretty clear, not only for North American motorcycling but also for car use and bicycling in France. Bought a used Garmin nüvi 270 via eBay, and a package of bits and pieces from Hong Kong for mounting, including a heater vent mount. The mount wasn't much good for the car, but with some sawing and filing, seems fine for the Concours.

The chosen location is the dash above the left lockable pocket, which corresponds to the clock location on the right. It provides a clear field of view and is reasonably well isolated from engine vibration.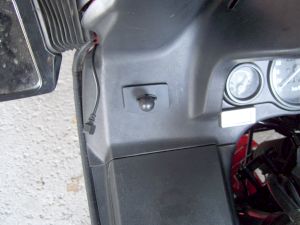 Stuck the modified mount in place with 2 strips of 3M Acrylic Molding Tape. Funny stuff, doesn't seem sticky to start, gradually bonds and strengthens.

Bought a 2A power adaptor with the right-angled mini-USB plug and pin-outs per Garmin requirements (otherwise it won't run and charge at the same time).

Unscrewed the connector end, removed fuse, unsoldered existing 12V wires, soldered longer, slightly heavier stranded wires to the board with motorcycle bullet connectors on the ends. With the fuse, spring and center connector gone, the wires simply come out the hole in the end. Connected the wires to fused switched 12V power under the left inner fairing.

Mounted the power unit to the inside of the left fairing with sticky-back velcro. Routed the 5V mini-USB output lead thru the opening in the fairing near the left mirror.

So mounting the GPS on the bike consists of connecting to the power lead and popping the cradle onto the ball mount.

Extra Twiddles:
Found and added Garmin vehicle icons for our blue Toyota Yaris, a red Concours (actually a red MVAgustaF4 , couldn't find a Concours), a pedestrian and a bicycle. Also, the POIs for Logis de France hotels.

Results:
Installation completed spring 2010. The GPS is visible without blocking any of the dash instruments. To overcome engine and wind noise and earplugs I had to crank the GPS audio output up to max. In the rain, it gets removed to the tank bag. So far, no problems with vibration.