GEODE
MUSIC & POETRY
from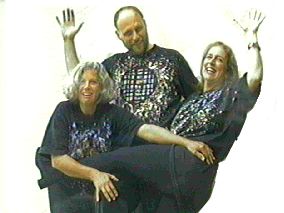 Jennifer Giles, Alrick Huebener, Susan McMaster
Geode Music & Poetry blends performance poems by Susan McMaster with original music in a cutting-edge soundscape. Since spring 1995, GEODE has been serving up its unique recipe at venues in Ottawa and beyond, including the National Arts Centre Fourth Stage, Poetry in the Park series, the National Library, Rasputin's, Blue Skies, the National Gallery, the Ottawa International Writers Festival, the Kingston Fringe Jazz Festival, the Elora Music Festival, the Maritime Acoustic Festival, and on such national and local broadcasts as CBC's Wordbeat, Richardson's Roundup, and Rockburn and Company.
"Playful, provocative, contemplative...innovative." Canadian Literature
"Rich and intriguing work... unexpected monumentality... clings to the mind hauntingly." Pat Cardy, Ottawa Citizen
"Highly recommended . . . makes poetry leap, pivot, gyrate, and boogie!" Dean Verger, Rasputin's Music Café
Originally known as SugarBeat Music & Poetry, Susan McMaster, Alrick Huebener, Jennifer Giles, and Gavin McLintock, issued a first recording in 1997, Dangerous Times, followed by a trio CD with McMaster, Giles, and Huebener, SugarBeat Music & Poetry, in 1998. The group adopted a new name, GEODE Music & Poetry, in 1999 ­ recalling the amethysts found glinting inside the grey shells of northern rocks ­ and issued a self-titled third recording in 2000, which includes additional original compositions by Geode friends Petr Cancura and Mike Essoudry.
GEODE was joined by yet more musical friends on the 2004 recording Until the Light Bends. With the book of the same name, this CD was nominated for the Archibald Lampman Poetry Award and the Ottawa Book Award in 2005. It includes duo, trio and larger improvisations and compositions with Jennifer Giles, Dave Broscoe, Jamie Gullikson, John Higney, and Mark Molnar centred around Susan's spoken words.
Some of these artists, along with poets Penn Kemp and Max Middle appear with Susan, composer Andrew McClure, poet Colin Morton, and with other First Draft members and performers such as Paula Quick and David Parsons, on the 2007 re-issue 1981 WORDMUSIC 2007, which records their experimental work from the 1980s.
Rushes Her Down, a new recording launched 16 February 2012 at Gallery 101, Ottawa, 8pm, as part of the AB Series hosted by Max Middle, pairs Jennifer's composition for piano with a selection of poems and quotes from Susan's poetry book Crossing Arcs: Alzheimer's, My Mother, and Me, which was shortlisted for the 2010 Ottawa Book Awards, the Acorn/Scott People's Poetry award, and the Archibald Lampman Prize. The performance as a whole features musicians Giles, Huebener, Broscoe, Higney, and Essoudry, along with wordmusic speaker Dean Steadman. Some of the behind-the-scenes stories from almost three decades of performing are included in Susan's memoir, The Gargoyle's Left Ear: Writing in Ottawa (Black Moss), for example the genesis of SugarBeat (through Colin Morton), or the show at the National Arts Centre Fourth Stage which started with a tumble and ended with a debacle ­ and was some still perhaps the best performance GEODE has ever done! Gargoyle is available from Susan McMaster.
Recordings
FORTHCOMING 2017:
Rushes Her Down: Selected poems from Crossing Arcs: Alzheimer's, My Mother, and Me
Susan McMaster, words, Jennifer Giles, piano
Gift to be Simple: Crossing Arcs: Alzheimer's, My Mother, and Me
Susan McMaster, words, Barbara Dyck, piano
Contact Susan McMaster
Until the Light Bends, CD (Pendas Productions, 2005)
PoetryReviews.ca, reviewed by Richard Stevenson, 15 March 2006

"Until the Light Bends offers poet Susan McMaster and her sound troupe Geode in-studio performance of pieces mostly taken from her Palm Poets series book of the same name (Black Moss, 2004). Other pieces from Uncommon Prayer (Quarry), and Dark Galaxies (Ouroboros) are also performed. The music ranges from avant classicism to blues, folk, and free jazz and primarily provides rhythm, tone colour, and mood backdrop to the straightforward lyric/narrative recitation. Instrumentalists include David Broscoe on clarinet, bassoon, effects; Jennifer Giles on piano; Jamie Gullikson on percussion; John Higney on lap steel guitar; Alrick Huebener on acoustic bass and guitar; and Mark Molner on cello and violin. Voice and instrumental production values are exemplary. Best of all, the music and the poetry both stand close scrutiny and invite multiple listening."

Geode Music & Poetry CD (2000)
PoetryReviews.ca, reviewed by Noah Leznoff, 2001

"Stride and breadth... a meditative repose, a red-hot sprint..." Susan McMaster, poet, and Alrick Huebener, on bass, joined musical director and composer Jennifer Giles, who was also the keyboard and accordion player, for this recording. Guests Mike Essoudry on drums and Petr Cancura on tenor saxophone made welcome contributions with their compositions and musicianship. The recording was made possible through the assistance of the Music Section of the Canada Council for the Arts. We are grateful to the Canadian Museum of Civilization for the loan of an upright bass built by Peter Mach of Aylmer, Quebec, and played by Alrick Huebener. Recorded in 1999 by James Stephens on location in Ashton, Ontario, and at Hot Stove Studios, Chelsea, Quebec, and mixed and mastered by Stephens, David Bignell, Giles, and Huebener at Heat of Sound, Ottawa,Ontario.

SugarBeat Music & Poetry CD (1998)
Monday Magazine, Victoria, BC, reviewed by Meg Walker, July 1-7, 1999
SugarBeat Music & Poetry "attends closely to the rhythmic connections between sound and content . . . uses gradations of rhythm to climb through a series of poems sometimes connected, sometimes disconnected by considerations of mortality."

Ottawa Citizen, reviewed by Pat Cardy
"A relaxed spell-maker, she communicates a relish for experience."




WHERE TO LISTEN: To hear MP3 versions, please go to the University of Toronto Library site.

WHERE TO BUY: CDs can be purchased from Susan McMaster.
last updated 19 February 2019 by SM