Text of the plaque in
Dr. Louis Slotin Park
---
Dr. Louis Slotin
(1910 - 1946)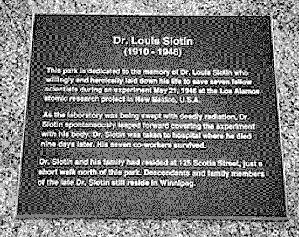 This park is dedicated to the memory of Dr. Louis Slotin who willingly and heroically laid down his life to save seven fellow scientists during an experiment May 21, 1946 at the Los Alamos atomic research project in New Mexico, U.S.A.
As the laboratory was being swept with deadly radiation, Dr. Slotin spontaneously leaped forward covering the experiment with his body. Dr. Slotin was taken to hospital where he died nine days later. His seven co-workers survived.
Dr. Slotin and his family had resided at 125 Scotia Street, just a short walk north of this park. Descendants and family members of the late Dr. Slotin still reside in Winnipeg.
---
Created: Friday, October 25, 1996