<! ** Back to MVAR> Back to MVAR
---
<! ** Home> Home

(7 Nov 2011)
---
<! ** Introduction> Introduction

(7 Nov 2011)
---
<! ** MVAR T-Trak info> MVAR T-Trak info

(5 Jan 2012)
---
<! ** Members modules> Members modules

(29 Jan 2013)
---
<! ** Members layouts> Members layouts

(7 Nov 2011)
---
<! ** Tools for shows> Tools for shows

(7 Nov 2011)
---
<! ** Show archives> Show archives

(17 December 2014)
---
<! ** Useful links> Useful links

(7 Nov 2011)
---
<! ********** jra insert body next **********>

MVAR T-Trak Info
---
<! ********** jra insert body here **********> <! added short cuts to sections> Module sizes
Kato turnout setup
Colours
Special modules for L and T layouts
T-Trak Electrical Connectors
Kato track required for modules
Making your own castings


---

- Module sizes
&nbsp The club uses the alternate standard, the tracks are 33 mm apart. The club uses 14 3/8 square alternate standard corners. The club started off using 11 3/4 inch deep modules but is now recommending 14 5/16 inch deep modules so there is no gap in the middle of the layout.

Modules are built in multiples of the standard module width, the module frame is made 2 mm smaller than the track to allow the tracks to overhang the ends of the modules so they lock together in case the ends of the module are not perfectly square.



<! jra note this picture causes the pane to be big and require scroll bars>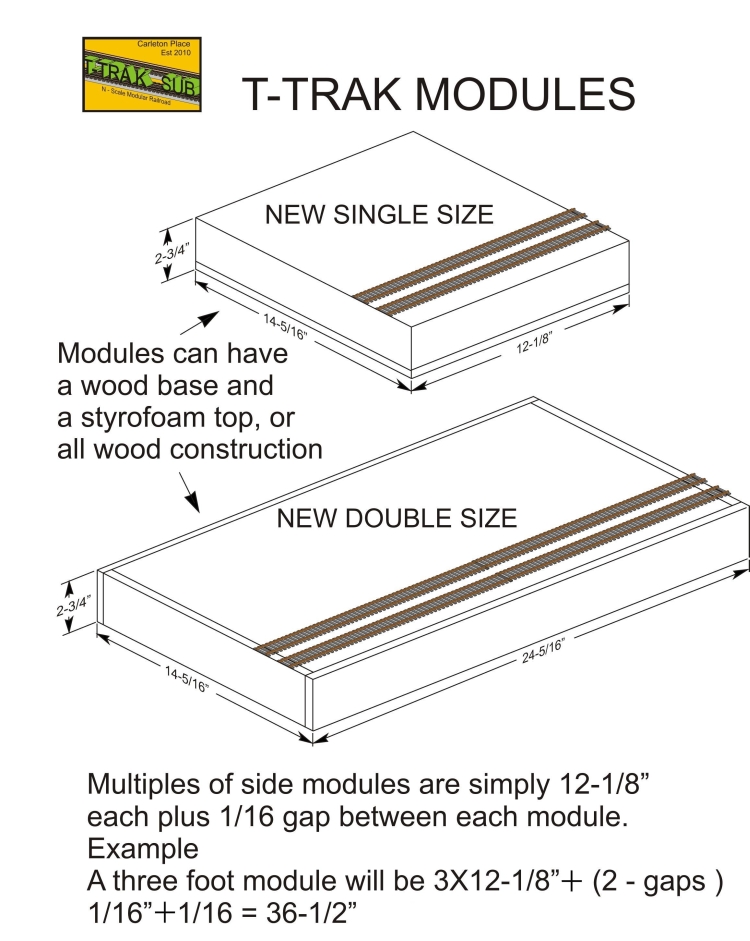 ---
- Kato turnout setup.
&nbsp If using number 4 turnouts the factory default is "Power routing and frog power on" if you plan using DCC then change this to "Non power routing and frog power on" BEFORE gluing the turnouts down


---
- Colours
&nbsp Module edges - there are three main colours used by clubs for the sides of the modules, black, brown and green. The club recommends using the black edges.
&nbsp grass - most members use woodland scenics, blended turf, green blend T49.


---
- Special modules for L and T layouts
&nbsp In order to make L and T shape layouts special filler modules are required to make the loop join up. Using alternate spacing and 14 3/8 corners, the filler modules needed for L shaped layouts is 11.25 inches. (See Unofficial TTrak Handbook Mainline Modules - Church photos - just after pictures.) Bob Summers has built 2 of these modules BS 7 and BS 8.


---
- T-Trak Electrical Connectors
The MVAR T-Trak sub does not use the T-Trak standard for connectors, it uses Cinch Jones connectors as originally used on Ntrak modules. All club corners have power connectors.

The connectors for the outer track are colour coded RED.
The connectors for the inner track are colour coded YELLOW.

On the RED connectors the wide pin goes to the inner rail and the narrow connector to the outer rail.
On the YELLOW connectors the wide pin goes to the inner rail and the narrow connector to the outer rail.

The red connectors are the opposite way to the official T-Trak specifications. These modules can be connected to another club and will run alright as long as the power feeds on these modules are not connected with the power feeds of another club.

On layouts of more than 2 tables the power feeds of the modules should be connected together to over come the power loss in the rails.

* Terminal Unijoiners or 62mm power connnectors eliminate need to solder power feeds. Power can also be provided by inserting AWG 24 braided wire into Unijoiners, bending wire around the Unijoiner case, and connecting Unijoiner to track so that wire is locked into place.
<! jra note this picture causes the pane to be big and require scroll bars>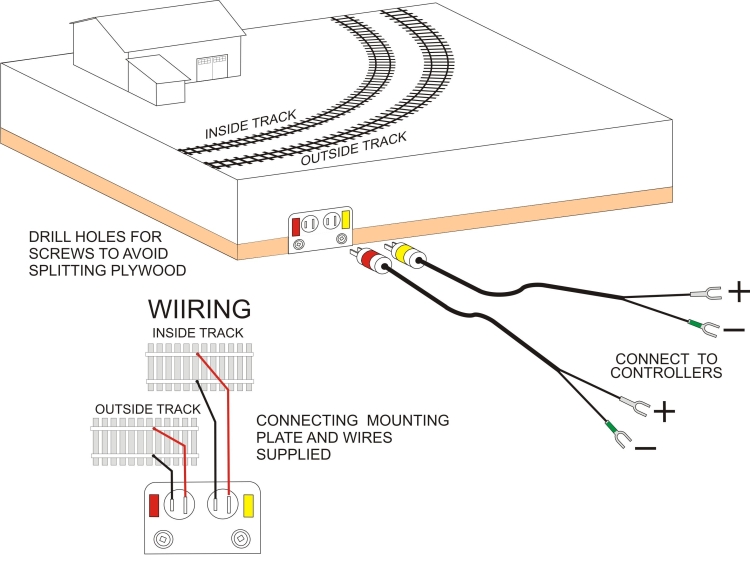 ---
- Kato track required for modules
&nbsp Bob has produced a list of Kato track required to build various modules.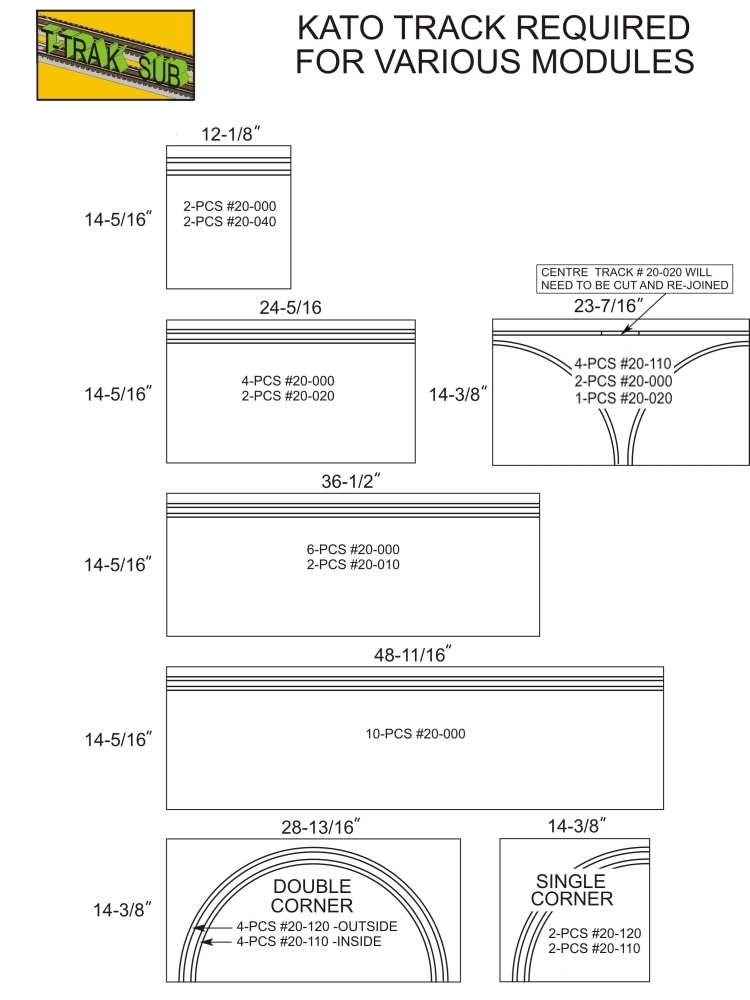 ---
- Making your own castings
&nbsp At the December 15th meeting Bob Carswell showed us how he made Molds and castings. He used
Molding compound: Easy Mold Silicone Putty. The company web site is www.eti-usa.com
Casting Epoxy is: Easy Cast Clear Casting Epoxy. Same web site as above.




---
---
<! ********** jra END insert body **********> <! this file is appended at the end of the ttrak html by buildhtml.bat > <! ********** jra include ttfooter.inc here **********>