Portland Oregon Innovations for Modern Streetcar Design.
Compiled by Michael Kostiuk.
michael@michaelkostiuk.com
One of the best ways to create an affordable modern streetcar system is to keep the cost down. And one of the best ways of keeping the cost down is to make the system as simple as possible. The use of cost saving technology and methods should also be used whenever possible. The following information is about new methods of laying low profile streetcar tracks in existing city streets. This method was developed in Austria, and it has been used to lay modern streetcar tracks in Portland Oregon.
The source for the following information is from these two sites:
http://www.heritagetrolley.org/existPortlandOverview.htm
http://www.gomaco.com/Resources/worldstories/world28_3/stacy_witbeck.html
Quote from the Gomaco Corporation Intent Site:
"Groundbreaking. It's the only way to describe a streetcar project the city of Portland, Oregon, is undertaking, with the help of Stacy & Witbeck Inc. as prime contractor. The project has used innovative approaches and techniques from the very beginning to create painless reconstruction in a downtown environment.
"The whole concept behind the project is a minimalist approach to rail construction," Bill Bruce, project manager for Stacy & Witbeck, said. "Rail construction has historically been extremely involved, full roadway right-of-way reconstruction where you go from building face to building face. The concept behind this project was to go in and make this as small as possible."
"Slipforming was an idea that was developed in the fledgling stage of the project. This project is a Construction Manager/General Contractor (CMGC) project, so it's a little different than low bid," Bruce said. "In this type of contracting format, you work with the client during the tail end of the design phase and you provide the client with estimating services and value engineering ideas. It was during this phase that we developed slipforming."
"In most cases, the existing road substrate was significant enough that we simply reprocessed the top six inches (152 mm) and started building our track on top of it," Bruce said. "Where we didn't have suitable grade, we over-excavated the ground six or 12 inches (152 or 305 mm), depending on the conditions, and replaced it with aggregate base." A complicated steel reinforcing base mat was laid on the subgrade. The mat is a combination of #6 and #7 bars tied together in a 12 inch (305 mm) pattern.
"We panelize the base mat into 30 foot (9.14 m) panels in our yard and then move them out to the site," Bruce said. "It shortens the duration of stringing out the base mat on site. We cut what normally took two to three days down to half a day because it was already put together. It just needed to be distributed."
This is the first project in the United States to use RI-52 rail. It's being used because of its short height. It's only five inches (127 mm) from top to bottom," Bruce said. "Most rail construction uses a rail about seven inches (178 mm). The concept of a low-profile rail creates a low-profile slab, which creates a low-profile excavation which enabled us to eliminate the need for relocating every single utility we crossed. It had a huge impact on the scope of the project as far as time and cost."
The track is raised to elevation and line and supported by Iron Horse steel ties while it's being built and during the slipforming. Another layer of rebar mat is placed on top of the track.
"Once the base mat is in, we build the track on top of it and then the rebar guys come back in and they tie an outside set of stirrups that connect into the base mat and tie another set of stirrups that also connect into the base mat so it's the same," Bruce said. "Essentially, we have two layers of rebar mat."
The process of excavating the nine foot (2.74 m) lane and setting both layers of matting and track takes approximately two and one half weeks for each three block section. The Commander III is then brought in to slipform the rail bed.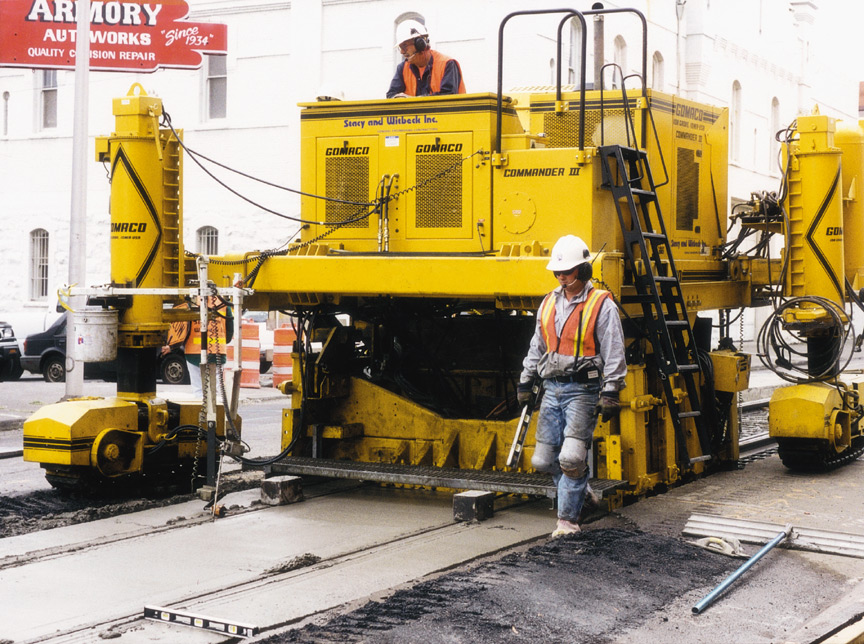 Source: Gomaco Corporation.
The slab is slipformed eight feet (2.44 m) wide with a depth of 12 inches (305 mm). The tolerances for the rail are tight.
"Typical railroad tolerance for rail is .125 inch (3 mm) in 60 feet (18.29 m), so we're dealing with some pretty fine-tuned tolerances," Bruce said. "There's .125 inch (3 mm) for cross-level, .125 inch (3 mm) tolerance for gauge on the rail plus several other different tolerance criteria."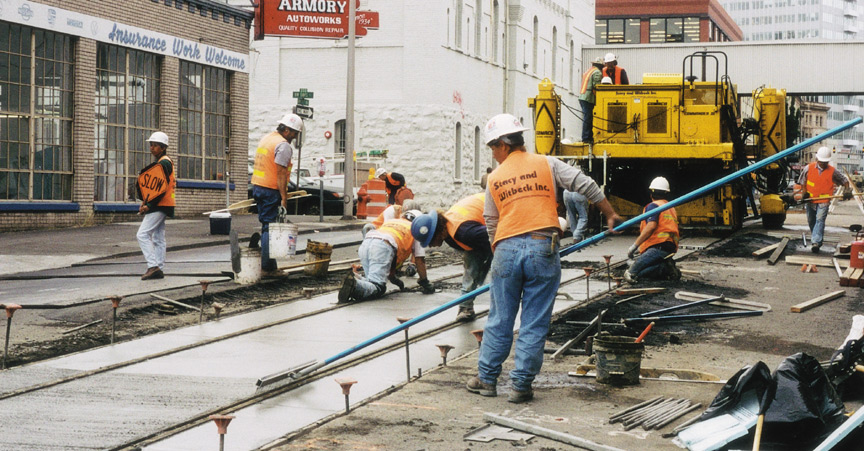 Source: Gomaco Corporation.
The following images are copied from the APTA Streetcar and Heritage Trolley site: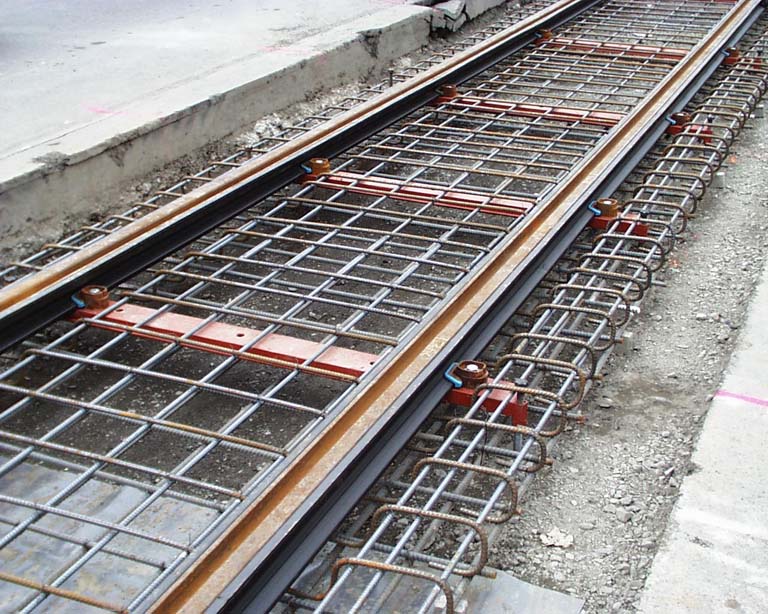 An innovative feature is use of 5 inch (127 mm) high Austrian rail, enabling a trench of only 12 inches (300 mm).
Source: APTA Streetcar and Heritage Trolley Site.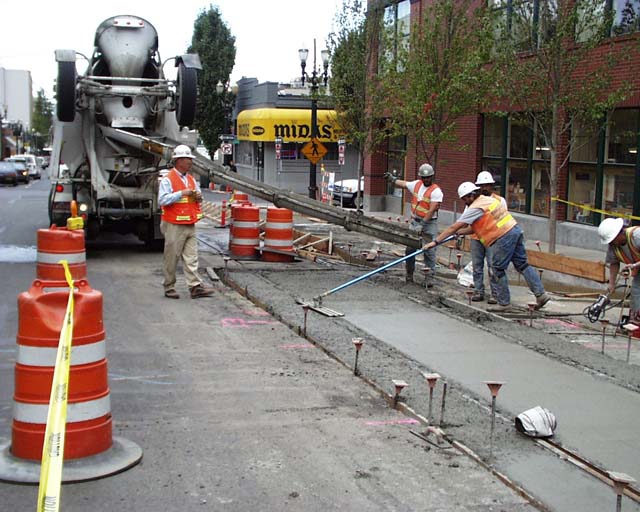 The rails, without traditional tries, were then enclosed in a slab of concrete to ensure stability."
Source: APTA Streetcar and Heritage Trolley Site.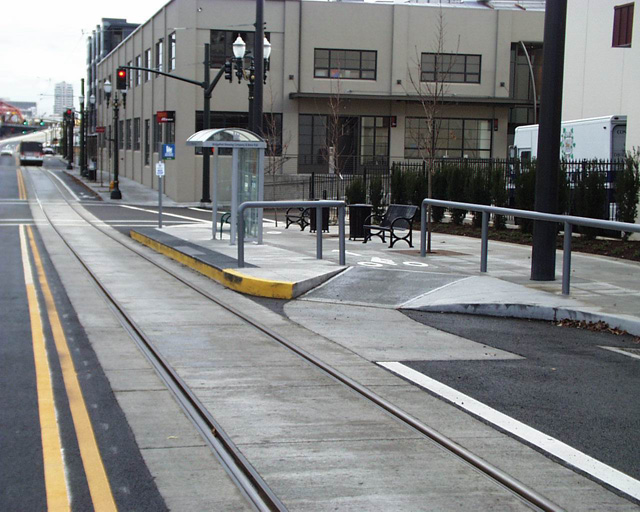 The finished concrete gives a pleasing appearance. Slightly raised platforms extend from the curb to the rails.
Source: APTA Streetcar and Heritage Trolley Site.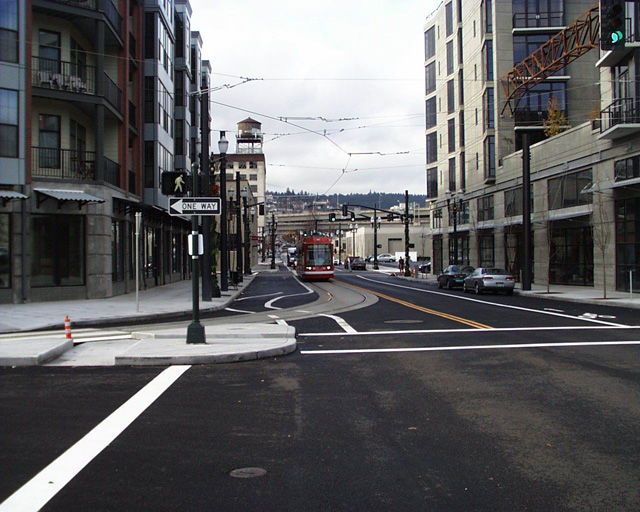 Newly completed residential buildings on either side of the streetcar line in a former rail yard.
Source: APTA Streetcar and Heritage Trolley Site.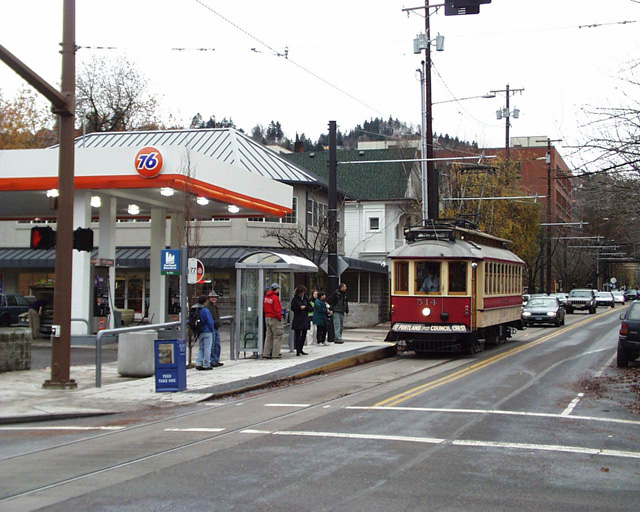 A heritage car provides scheduled weekend service, demonstrating here how the line effectively shares a narrow, bidirectional street with autos.
Source: APTA Streetcar and Heritage Trolley Site.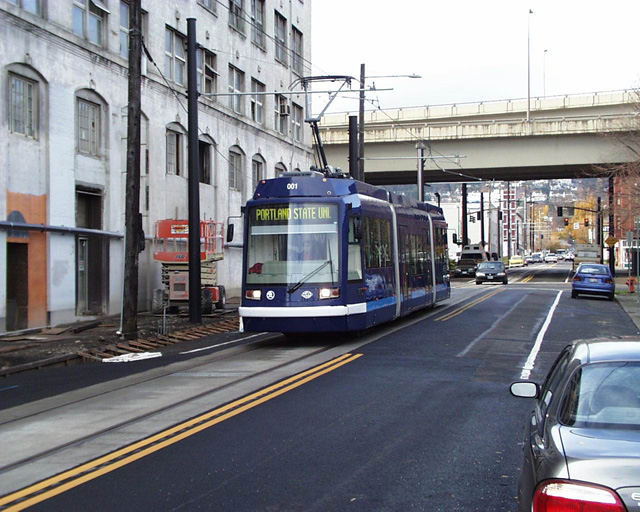 Economic development inspired by the streetcar: A modern Skoda streetcar passes an industrial building under conversion to loft apartments."
Source: APTA Streetcar and Heritage Trolley Site.
End of Image quotes from the APTA Streetcar and Heritage Trolley Site. http://www.heritagetrolley.com/existPortland.htm
Last Update by Michael Kostiuk. November 6, 2011.
---
---
Return to Ottawa Streetcar Home Page.
---
---