ODUG Home Page
---
The Ottawa DB2 User's Group is not longer in operation.
We formerly met 5 times per year to discuss topics of interest to users of the DB2 product family. Meetings ran from 9:00 to 12:00 and were $40.00 at the door (or prepaid annually at a rate of $160/year). We sought to have sessions where both novice and expert users found value.
The group was initially formed in 1991 but dwindling attendance forced us to suspend meetings for a period of time and eventually shut down in 2004.
For a list of other User Groups please consult the THE INTERNATIONAL DB2 USER'S GROUP (IDUG)
Here you will find information about all of the conferences, DB2 Vendors, an information library and other regional user's groups.
In shutting down the group, the remaining operational funds were donated to the University of Ottawa who created a Scholarship for deserving Computer Science students.
The funds were equally matched by a grant from the Province of Ontario.
We would like to thank IBM, IDUG, all former attendees, supporting vendors and our many guest speakers for their past contributions.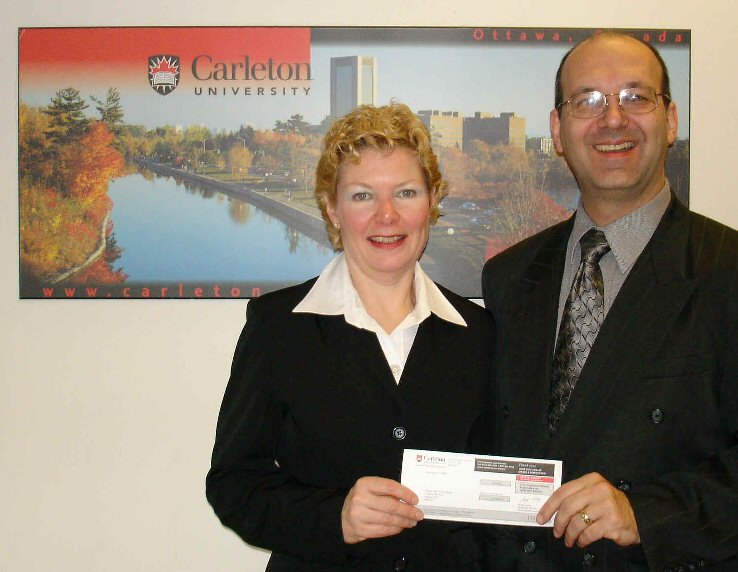 Mike Giovinazzo & Carleton Rep Rowena Griffiths - Dec. 2004
---
If you have any questions about ODUG or suggestions for this page please e-mail me at: mike@giovinazzo.ca
---
Last Changed: Jan / 23 / 2005