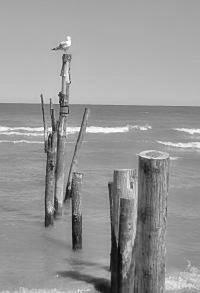 ---
Home
---
contact
r[dot]mark[dot]woods
[at]gmail[dot]com


---

rss

atom

feedburner
---
The Morning News
Directory
Open Access Journals

aaaaarg

ubuweb

internet archive


---

---
August 19, 2014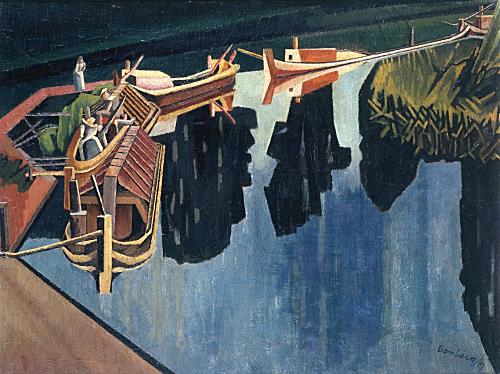 Barges
1919
David Bomberg
d. August 19, 1957
_______________________
In the Noon of Contradictions
Andrée Chedid
excerpted from Terre et poésie, 1956
Translated from the French by Marci Vogel, 2013


1

There is no wave more fatal than the sea; no tree more illustrious than the forest.

2

Neither silt nor star; we take after one & the other, both at once.

Opposites overrun our paths; our way is made by the slow pace of choice.

(....)

4

Breath short, we walk by stopping places; the gaze impatient, we know not how to stay.

Move forward, recover joy, brave obstacles, perhaps defeat, then begin afresh: such present our possibilities.

Let us love the rays of a threatened sun; precious for us is the pond that retains its share of sky.

(....)

13

May we shield those who failed us the whole mystery of their face. Injured and at fault, we are thereby judges, donning the bitter mask.
The weaknesses of others, when they scratch our tender skins, press us to deny all past accord. Turned toward possession, we are without vision and without pardon.

14

Sometimes absent — the other side of notice — , we leave as guaranteed bonds our ancestral features, reassuring as habits.

But the journey is not measured by distances; and the look back barters neither uncultivated regions nor impassioned lands.

...(more)

Andrée Chedid and the contradictions of translation
Marci Vogel
(....)

10

In his 1996 address, "Translation as Challenge and Source of Happiness," Ricoeur linked the complexities of translation to the title of Antoine Berman's 1984 work, L'Épreuve de l'étranger: "These difficulties are accurately summarized in the term 'test' [épreuve], in the double sense of 'ordeal' [peine endurée] and 'probation': testing period, as we say, of a plan, of a desire or perhaps even of an urge, the urge to translate."

And so Christine begins to laugh her happiness in section 1, but she does not drop the challenge of happiness' charge before arriving at its source. The poem must still be written, the effort endured. So too in translation, in which not only the translator is tested, but also the translated.

Chedid claimed épreuve as a "touchstone" word and translated it not as test but as proof, something more elastic, contingent, and enduring. She explains her choice of the word as the title of her 1983 collection Épreuves du vivant: "The resources of the word 'proofs' are infinite. How can we not be reminded of photography, of images being inverted? How can we fail to delve into this word so rich in exhortations, risks, pathways to be explored? Poetry reveals itself in our destinies by repeatedly making appeals to life; poetry is all at once the spur, the hope, and the proof of the Living."

11

As a member of the Living, the étrangère may share the desires, hopes, and tests of the native-born, but she is not to be entirely trusted, nor are any kin under the stranger's purview. As Jane Hirshfield points out: "Translated works are Trojan horses, carriers of secret invasion. They open the imagination to new images and beliefs, new modes of thought, new sounds. Mistrust of translation is part of the instinctive immune reaction by which every community attempts to preserve its particular heritage and flavor: to control language is to control thought."

If one were in Rome, Hirshfield notes, she might very well be thus accused: "Traduttore, traditore (translator, traitor)."

For the potential betrayal that resides in translation, Ricoeur proposes linguistic hospitality as a remedy: "I am inclined to favor entry through the foreign door, that is for sure … [W]ithout the test of the foreign, would we be sensitive to the strangeness of our own language? … [W]ithout that test, would we not be in danger of shutting ourselves away in the sourness of a monologue, alone with our books?"

The mathematical symbol that resembles an 11 is used to indicate both parallel relationship and incomparability. It is by way of this symbol that a host might become both parallel to and incomparable with a traitor:



[host/traitor]



And it is in this very way of seeing oddness doubled that makes possible both the offering of an invitation and its acceptance: "Linguistic hospitality, therefore, is the act of inhabiting the word of the Other paralleled by the act of receiving the word of the Other into one's own home, one's own dwelling."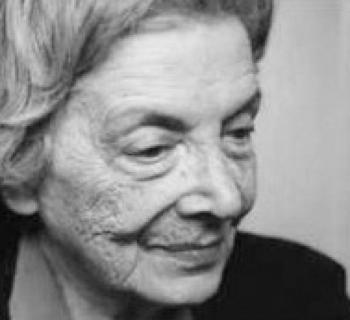 Andrée Chedid
1920 - 2011
Andrée Chedid: Selected Poems, Short Stories, and Essays
google books
_______________________
First Image of Revolt
Andrée Chedid
Translated from the French by Judy Cochran

The woman without memories
Has left for the high lands
The ancestors' withered field

In the mornings of wrath
She runs dressed in black
Among the scattered flocks

Nothing is there
But a star village
Resting heavily on a hill.
_______________________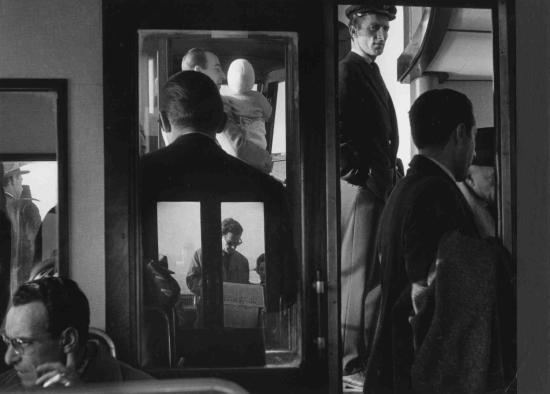 vaporetto
1960
Gianni Berengo Gardin
_______________________

Signs and Machines – Maurizio Lazzarato
reviewed by Patrick Lyons
full stop
Tracking down texts that gracefully bridge theory and praxis can be a thankless quest. In most cases we're caught on one side or the other: tackling either sprawling philosophical abstractions or over-specific studies trapped in a singular historical moment. One never touches ground while the other never sees the sky. Yet every so often we stumble upon a remarkable book which somehow manages to toe the line between these two camps, if not balancing their influences, at least drawing clear lines of contact. Such a book is not necessarily one which flawlessly and meticulously transposes the philosophical onto the everyday, but rather one which points out their preexisting intimacies, provoking speculation and connecting ground and sky rather than struggling to collapse their distance.

Maurizio Lazzarato's recently translated Signs and Machines: Capitalism and the Production of Subjectivity falls somewhere in this sphere, effectively balancing and joining critiques of contemporary capitalism, complex philosophies of subjection (or the complex social production of individual subjectivities), and everyday existence, touching current western politics, yet preserving a general openness and applicability. While in essence a theoretical text, Signs and Machines manages to translate abstract systems of micro-politics and semiotics into clear contact with a more grounded reading of affect, the body, and the political potential of any and every given subject, retaining a broad scope of accessible praxis.


_______________________
Bargee
1920
David Bomberg
_______________________
Truth
Andrée Chedid
Translated from the French by Lynne Goodheart and Jon Wagner

The Truth is nothing but a lie
Tenacious lmirage of the living
It mocks our vigilance
And petrifies time

Truth is armed
Its spur the forbidden
Its bronze laws segregate us
Its words have walls and ceilings

Its single target a delusion
Sowings abound
Harvests are legion

Rather let us salue our fugitive suns
Words freed from symbols
Our paths on the move
Our multiple horizons




---
August 18, 2014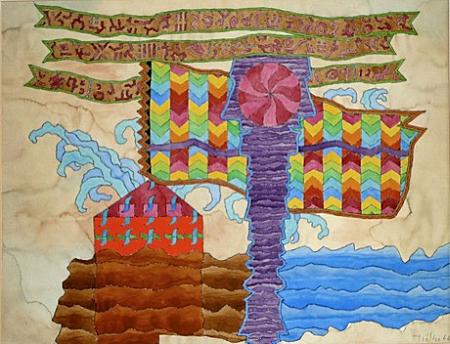 Heinz Trökes
1913 - 1997
_______________________

The poet and the dictionary
Alan Wall
fortnightly review
(....)

Geoffrey Hill's poetic career has been mediated through his engagement with the dictionary. And that dictionary is first and foremost the OED. There is no greater dictionary in the world, and its making constitutes one of the great intellectual events of the twentieth century, though it started life in the nineteenth. There had never been anything like this before. Now the language itself has become the documented labyrinth of its own manifold meanings. Now history can be traced uttering itself thus and thus in one mutating word after another. The thought of a poet writing in English who would not grow excited turning the pages of the OED, or clicking on the electronic version, is so dismal that one wishes such a personage an even smaller readership than modern poets normally manage to acquire.

The anti-self to our word-blind, purblind poet is undoubtedly Geoffrey Hill. His verse uses lexicography and philology as heuristic principles. Where Robert Graves leapt out of the window after Laura Riding (even if he did go down a storey first), one suspects it would require the defenestration of Hill's beloved bound set of the OED to elicit any such voluntary lapsus from him. The White Goddess, being no better than she should be, might have had a slightly harder time of it, had she been strutting her stuff in Worcestershire. With A. E. Housman to the left of her, and Geoffrey Hill to the right, she would have received some very old-fashioned looks indeed; chilly gazes from fellows not so easily beguiled. And acerbity is a necessary part of our theme. Acerbity is integral to Hill's achievements in both verse and prose. Sentimentality is anathema. There are no flies on this fellow. The constable's son is nothing if not forensic. Every emotion is likely to be treated as the scene of a crime, past, present, or to come.

...(more)
_______________________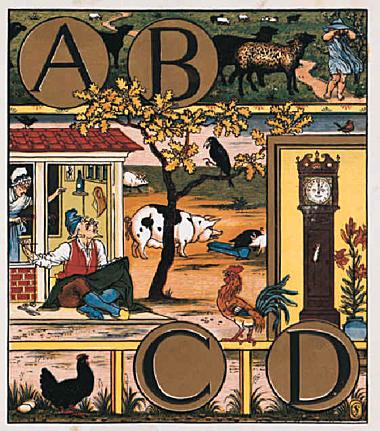 The Alphabet of Old Friends
1874
Walter Crane
1845 - 1915
_______________________

I Didn't Come Here To Make Friends: An Exchange With Michael Lista
By Jason Guriel
maisonneuve
(....)

Michael Lista

Don't think your subject, whatever it may be, imparts any fascination or nobility to your poem. A poem about a personal tragedy doesn't get any more of a pass than a poem about The Real Housewives of New Jersey—it's all in how it's written. Poems are also bad places to do advocacy, inefficient places to politic. A poem's town square is mostly empty, its bullhorn out of batteries, its soapbox too short. Even a poet as great as Seamus Heaney fell victim to the impulse, when in a moment of nationalist zeal he wrote his worst poem, "Open Letter," a perspicuously partisan bit of doggerel that whipped the government of his tongue mum. Don't make writing choices that make your work easier, and then blame them on the world. Don't write in sentence fragments because you think the world is fragmentary. Don't rely on elision and then say the world is discontinuous. Don't write facile absurdism on account of the world being absurd. It isn't just fragmentary and discontinuous and absurd; as Siri keeps reminding you, it's also whole and contiguous and intelligible.

(....)

The poetry world is so like the fashion world that way, isn't it? Trend-driven and often emptily stylish. The only difference is that at least fashion recognizes and makes the distinction between prêt-à-porter and haute couture, a line that for all intents and purposes is the bottom line. People buy and wear and live in the former, and only marvel curiously at the latter....(more)
_______________________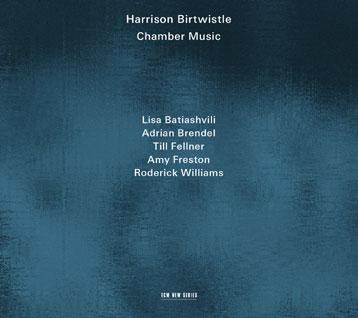 Settings of the writings of US Objectivist poet Lorine Niedecker (1903-1970), scored for soprano and cello in 1998 and 2000, begin and close the album. As Bayan Northcott writes in the booklet, "These concentrated songs demand the utmost of their performers in precision, expression and timing. As in Webern's settings, the few words and notes on the page can seem to imply whole worlds of thought and feeling". player.ecmrecords.com/harrison-birtwistle--chamber-music

via Flowerville
_______________________

Cosmos and History Vol 9, No 2 (2013)

Memory, History, and Pluripotency: A Realist View of Literary Studies
Martin Goffeney
Abstract

Speculative realism has, over the course of its rapid and controversial emergence in the past decade, been frequently criticized from the perspective of historical materialism, for its putative reliance on abstraction and eschewal of a sufficiently rigorous ideological alignment. This paper takes such critiques as a starting point for an examination of the contributions recent thought in the area of speculative realism has to offer the study of the humanities – specifically, the study of literature and literary history. In particular, contemporary realist thought has the potential to enable scholars of literature to move beyond the anthropocentric and specialized notions of history as an exclusively cultural entity, which have dominated the discipline since the twentieth century. Paying especially close attention to the work of Graham Harman and Manuel DeLanda, it is my argument that emergent realist philosophy offers literary scholars a set of powerful conceptual tools which can be put toward the work of accounting for the hitherto neglected ontological status of the literary text – illuminating the status of the text as a particular variety of real and physical object that participates in a system of real and physical history and memory.
21st Century Speculative Philosophy:
Reflections on the "New Metaphysics" and its Realism and Materialism
Leon Niemoczynski
Abstract

Regarding the state of contemporary metaphysics, as it has been said, "There's something in the air." My goal in this essay is to offer some brief reflections on the state of contemporary metaphysics, otherwise called contemporary "speculative" philosophy – the "something in the air" – that has resurfaced within the early part of the 21st century. In order to clarify the nature of the new metaphysics in question I proceed by isolating geographically and topically two main tendencies of thought which appear to constitute it: namely continental realism and continental materialism. I argue that clarifying the nature of these tendencies better characterizes what metaphysics means today. With respect to the possible ambiguity of "continental realism" or "continental materialism" in the 21st century, a consideration of "speculative realism" seems necessary if only to position my analysis upon a specific conceptual map. From there I offer thoughts as to how contemporary continental realism and materialism (the "new metaphysics") may be said to be defined first and foremost by its engagement with a concept identified as "correlationism," a central feature of the new metaphysics' rejection of the sort of philosophy that has come before it.
_______________________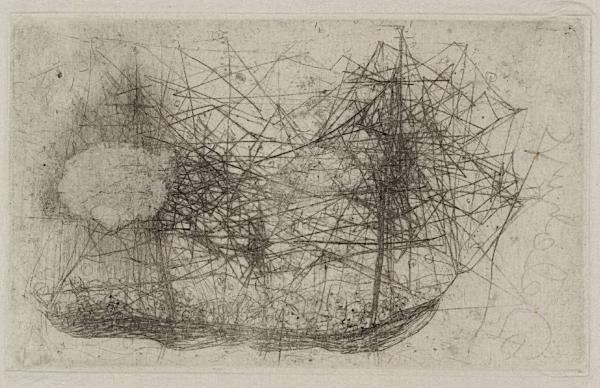 [ship]
c.1937-50Wols
_______________________
Endless recording

The video archive. The photo archive. Endless recording. Endless photography.

Too many recordings. Too many shoots. When will we ever watch these things? Look at these things? Who has the time? But that's not the point. It's enough that's it was recorded done. That the gesture was made. Enough that we've backed up reality. That the event has been stored.

The event, lived in the mode of what it will have been. Real things, experienced as more or less perfect opportunities to produce this 'will have happened'.

And what happens now is entirely displaced by a planned future time in which it will be to be experienced. And the present is entirely displaced by a planned future present in which we will watch it again. The present does not count. The past is archived. The future is the time in which we'll live through the past…

Experience is deferred, as events are deferred. Experience is not experienced. Not lived through. What happens no longer happens.

And time is calling out. The present is crying for help. And we are calling out. We are crying out for help...
Nietzsche And The Burbs
Lars Iyer
---
August 17, 2014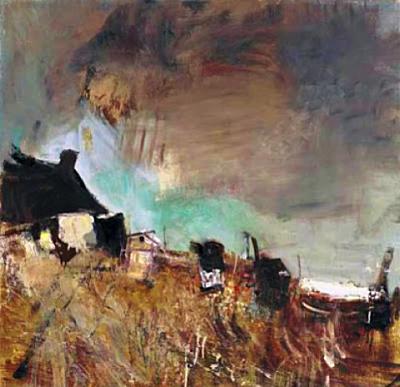 Beehives, Approaching Storm
c.1950
Joan Eardlley
d. August 16, 1963
_______________________
Holding Court
Clive James

(....)

I used to notice everything, and spoke
A language full of details that I'd seen,
And people were amused; but now I see
Only a little way. What can they mean,
My phrases? They come drifting like the mist
I look through if someone appears to be
Smiling in my direction. Have they been?
This was the time when I most liked to smoke.
My watch-band feels too loose around my wrist.

My body, sensitive in every way
Save one, can still proceed from chair to chair,
But in my mind the fires are dying fast.
Breathe through a scarf. Steer clear of the cold air.
Think less of love and all that you have lost.
You have no future so forget the past.
Let this be no occasion for despair.
Cherish the prison of your waning day.
Remember liberty, and what it cost.

(....)

...(more)
_______________________
>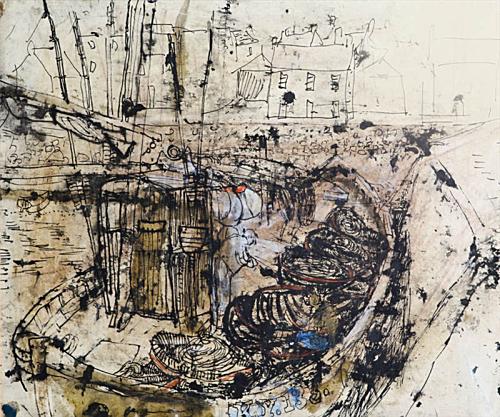 Stonehaven Harbour
Joan Eardley
_______________________

Relingos
Valeria Luiselli
tr. Christina MacSweeney
brooklyn quarterly
(....)

A group of architects from the National University (UNAM), headed by Carlos González Lobo, have christened these spaces "relingos." I'm not sure where the term comes from, but I imagine it could be related to the realengas of old Castilian, a term that refers to pieces of land not belonging to the Crown, abandoned to disuse. (The strange ups and downs of words: in certain Latin American countries, realenga is now used to talk about an animal with no owner; in others, the word is synonymous with "layabout.")

I'm also pretty certain that relingo is derived from another similar concept: the terraines vagues of the Catalan architect Ignasi de Solà-Morales. Just like a relingo, the terraine vague is an ambiguous space, a piece of waste ground without defined borders or limiting fences, a species of plot on the margins of metropolitan life, even if it is physically to be found in the very center of a city, at the junction of two main avenues, or under a newly built bridge.

(....)

Spaces survive the passage of time in the same way a person survives his death: in the close alliance between the memory and the imagination that others forge around it. They exist as long as we keep thinking of them, imagining in them; as long as we remember them, remember ourselves there, and, above all, as long as we remember what we imagined in them. A relingo—an emptiness, an absence—is a sort of depository for possibilities, a place that can be seized by the imagination and inhabited by our ­phantom-follies. Cities need those vacant lots, those silent gaps where the mind can wander freely.

...(more)
hat tip to
Riley Dog
_______________________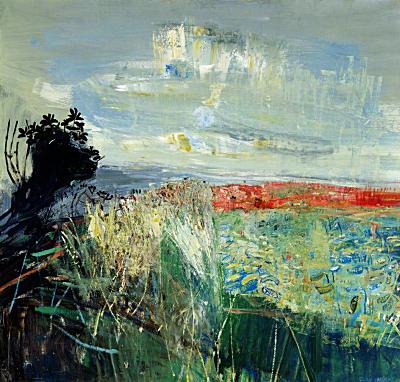 Field of Barley by the Sea
Joan Eardley
_______________________
Rounded with a Sleep
A new poem by Clive James


The sun seems in control, the tide is out:
Out to the sandbar shimmers the lagoon.
The little children sprint, squat, squeal and shout.
These shallows will be here until the moon
Contrives to reassert its influence,
And anyway, by then it will be dark.
Old now and sick, I ponder the immense
Ocean upon which I will soon embark:
As if held in abeyance by dry land
It waits for me beyond that strip of sand.


Clive James on death, dragons and writing in the home stretch
Clive James at the Poetry Foundation
_______________________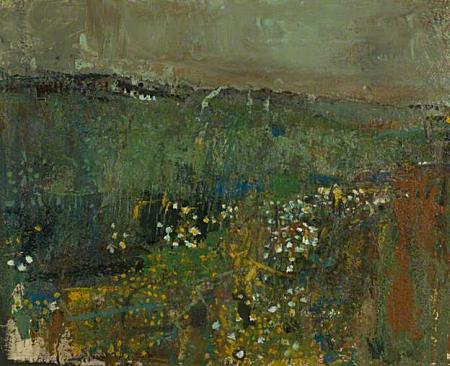 Corn Feverfew III
Joan Eardley
_______________________

The Country North of Belleville
Al Purdy

Bush land scrub land -  
     Cashel Township and Wollaston
Elzevir McClure and Dungannon
green lands of Weslemkoon Lake
where a man might have some
     opinion of what beauty
is and none deny him
          for miles —   

Yet this is the country of defeat
where Sisyphus rolls a big stone
year after year up the ancient hills
picknicking glaciers have left strewn
with centuries' rubble
          backbreaking days
          in the sun and rain
when realization seeps slow in the mind
without grandeur or self deception in 
         noble struggle
of being a fool –

(....)

And this is a country where the young
          leave quickly
unwilling to know what their fathers know
or think the words their mothers do not say –

Herschel Monteagle and Faraday
lakeland rockland and hill country
a little adjacent to where the world is
a little north of where the cities are an
sometime
we may go back there
          to the country of our defeat
Wollaston Elzevir and Dungannon
and Weslemkoon lake land
where the high townships of Cashel
          McClure and Marmora once were —
But it's been a long time since
and we must enquire the way
          of strangers –

 


Looking For Al Purdy
The poetry of a land left behind.
Drew Gough
maisonneuve
(....)

There are only two chairs on the deck at the Purdy A-Frame, but what chairs they are: having once cushioned hundreds of illustrious Canadian rumps, the Muskoka loungers are the furniture of the nation's artistic history. Margaret Atwood, Michael Ondaatje, Lynn Crosbie, Milton Acorn, Dennis Lee, Stephen Heighton, George Bowering. Writers who were just becoming writers, writers who weren't yet writers and writers who had stopped being writers, all passing wild grape wine and words between the chairs. They fought over ideas, laughed and swore, and, by almost all accounts, kept on drinking.

Eurithe leans back in the sun and I ask her question after question about Al, whom I never got to know. That is to say, whom I never met. These are failings of mine: having been born a little too late or having learned to drive a little too late to visit him here, having not read good Canadian poetry, and his poetry in particular, while he was still alive. He died in 2000, quite far from where his wife and I sit in Ameliasburgh. Eurithe is patient and funny as she gives me his advice on writing ("you've gotta chase the money"; "write for anyone who will send you around the world") and on what life at the A-Frame was like—cold at first, then warmer; always full of voices, Ondaatje's leonine purr or Atwood's cantering drawl.

This year marks Eurithe's last chance to fight with the land to make it fit the image in her mind. It occurs to me, as we finish off the cinnamon buns, that I'll be the last writer to visit Purdy here. Then I realize he's not.

For years, I've been looking for Al Purdy. But not before I spent years avoiding him, in the same way I avoided everything from the place where I grew up. I had the firm conviction that when you leave home—especially if home is a farm that doesn't work as a farm, where the power is sometimes shut off because the electricity bill hasn't been paid, on a laneway populated with tarot card readers, glass-blowers, playwrights and a woman firmly believed to be a witch, near a small town with no industry other than tourism and barely that anymore—you want to stay gone. You scorn home when it peeks its head into the new life you've built: during a casual run-in with an elementary school classmate on the streets of your new city, or when a poem about it appears on a third-year university syllabus.

...(more)
_______________________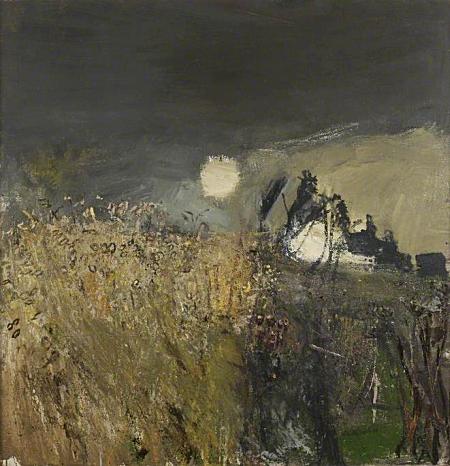 A Field of Oats
Joan Eardley
---