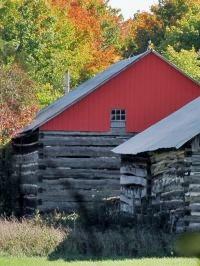 ---
Home
---
contact
r[dot]mark[dot]woods
[at]gmail[dot]com


---

rss

atom

feedburner
---
Berfrois
The Morning News
Directory
Open Access Journals

aaaaarg

ubuweb

internet archive


---

---
October 08, 2015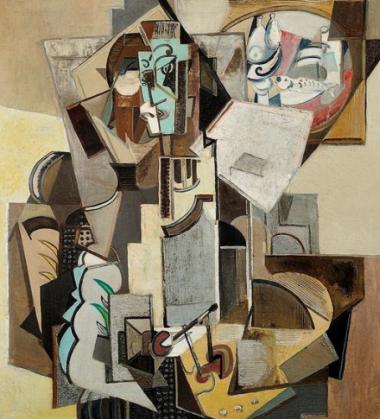 Painter
Emil Filla
1882 - 1953
_______________________

Radio and Child: Walter Benjamin as Broadcaster
Brían Hanrahan
(....)

Any serious history of children and radio — any history going beyond a chronicle of program offerings — must include the German writer Walter Benjamin. Benjamin wrote extensively for the radio, and most of those broadcast writings — now newly translated and collected — were written for children, at least at first glance. More than that, something quintessentially Benjaminian happens in that uncanny encounter of radio and child: the hint of an unsettling remainder in the everyday, in the dislocation of sent message and received meaning, in the figure of the child who knows something his parents do not.

...(more)
_______________________

Brief Report To An Academy
Durs Grünbein
Translated from the German by John Crutchfield, Michael Hofmann, and Andrew Shields
(....)

What happened then was a cheerful childhood spent in the provinces, where the emphasis soon came to fall on spent; in other words, the thing was pretty soon over. To this day, I have been unable to shake the conviction that when you throw open your arms to clasp life, you are caught up in the wind and are blown backward into the future, and each successive period is less magnificent than the one before, so that the feeling of loss is pretty soon immeasurable. Nor is the end any consolation, it's just a limit set to this infinitesimal quotient of happiness.

(....)

However overwhelming the experience of the end of the Soviet empire was, it became fertile for me only five years later, in Italy, when I was visiting the sites of Pompeii and Herculaneum. Only there did I see the effect of that massive explosion called time, the delayed rain of shards of civilization, and, in the famous calamity, under the volcano, evidence of a kind of memoryless memory—deus absconditus, or whatever you want to call it. Poetry, as I always knew it would, would get on the case—what else was it there for? In the house of charred furniture I paused, for hours all historical agitation was suspended, calmed by the murals in the mystery villa. In those small rooms—no bigger than a pigsty, some of them—with their scribbled lines of poems, obscenities, and decorative drawings, I felt myself better understood than in all the classrooms, barracks, and attics that had ever held me. Then, at the sight of the anonymous fresco representing dream and birth, the entanglements of sex and knowledge, ages and seasons, I had an illumination of what writing, above and beyond anything current, might be all about.

...(more)
via
flowerville
Durs Grünbein's The Bars of Atlantis
Reviewed by André Naffis-Sahely
The Bars of Atlantis: Selected Essays
Durs Grünbein
google books
_______________________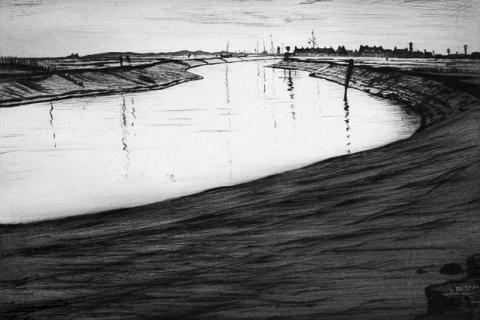 Ebb Tide, Rye
(1918)
Christopher Richard Wynne Nevinson
d. October 7, 1946
_______________________

Postcapitalist Futures
Daniel Whittall reviewing Paul Mason, Postcapitalism: A Guide to our Future, Nick Dyer-Witheford, Cyber-proletariat: Global Labour in the Digital Vortex and Alberto Toscano & Jeff Kinkle, Cartographies of the Absolute
(....)

Mason and Dyer-Witheford both offer attempts to map capital's current functioning, to reconstruct the social struggles at its heart, and to chart its future. Mason believes that the complete modelling of capitalism in all its complexity is both possible and desirable and, appropriately enough, that it can be computed using mathematical modelling. What we need, he argues, is 'an open, accurate and comprehensive computer simulation of current economic reality.' Dyer-Witheford, too, longs for an image that could capture capital whole, asking 'where today are the images of the cybernetic systems which this proletariat labours to build, and with which it is being replaced?' The answer to this question can be found, in part, in Alberto Toscano and Jeff Kinkle's Cartographies of the Absolute. Toscano and Kinkle seek to divine 'an aesthetics in and against capital' by inquiring into what it means to create 'a cultural and representational practice adequate to the highly ambitious … task of depicting social space and class relations in our epoch of late capitalism or postmodernity' (their debt to Fredric Jameson is openly acknowledged here). This fine book pursues its object through studies of diverse aesthetic projections of the world as made by capital, discussing modes of representation as diverse as the industrial and oceanic photography and films of Allan Sekula to 1970s cult werewolf movies; from The Wire to Wall Street via critical docu-dramas like Inside Job; from the art and image of logistics to that of living, and dying, labour.

Toscano and Kinkle's attempt to analyse what they call the impulse to cognitively map capitalism in its totality centres around 'the problem of visualising and narrating capitalism today.' Because 'mapping is above all a practical task,' its invocation gives 'a more concrete cast, a rooting in everyday life' to the efforts of those who attempt it. For the critic of any attempt to cognitively map global capitalism, the task is to 'tease out the symptoms of, at one and the same time, the consolidation of a planetary nexus of capitalist power and the multifarious struggles to imagine it.' We might read both Mason and Dyer-Witheford as being involved in this project of cognitively charting the dynamics of contemporary capitalism in order to produce route-maps of the way forward. Ultimately, though, Toscano and Kinkle conclude that any attempt to understand capitalism in a manner that might be productively deployed to challenge it must, of necessity, be both partial and partisan:

Overview, especially when it comes to capital, is a fantasy … there is in the end something reactionary about the notion of a metalanguage that could capture, that could represent, capitalism as such.



Review 31
_______________________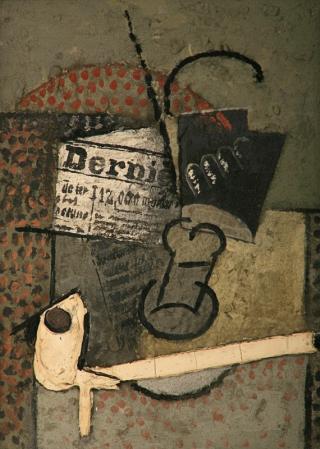 Glass and newspapers
Emil Filla
_______________________

from Godhavn
Iben Mondrup
translated by Kerri Pierce
asymptote - tranlation tuesday
(....)

Into the water with it. Of course, it floats; styrofoam never sinks. Instead, it just crumbles into billions of tiny white pellets that wash ashore and collect between the rocks. Their styrofoam slabs are good and solid.

"You first," René says. "Tell me where we are now."

The lake with its rocks and hollows no longer has anything to do with Godhavn. No sooner have Knut and René heaved the raft into the water than they are on a strange continent, where animals they've never read about frolic in the waves, flit about the rocks, completely indifferent to the boys' presence. They've never seen humans before. "We're way back in time," Knut says, "endlessly far."

"Look!" René shouts and points to something that is undoubtedly the catfish's distant ancestor, a torpedo-shaped being with six legs and leopard spots and a great grinning mouth. "Look!" he shouts and points to another creature, an udderless, walrus-toothed cow. "Look!" he shouts – and he shouts it again and again.

From the shore, Knut tries as best he can to write it all down, to capture all their observations in the logbook; everything here, what a world, so big and ancient, there's no one who understands it, who knows it, other than the two of them, the two boys in on the game.

"When we get home," Knut calls back to him, "we'll look at the water samples under the microscope. I think we've got the origin of the world here. I have it in the cup."

René paddles back as quickly as his broken oars allow. "I think we should've sewn a sail for the raft," he says when he finally nears the shore. "Let's see here."

He grabs the cup and adjusts his lorgnette. "Just like I thought," he says. "The origin of species."

"Let's not tell anyone," Knut says. "This place needs to stay untouched."

"But we're already here," René replies. "What about us?"

...(more)
_______________________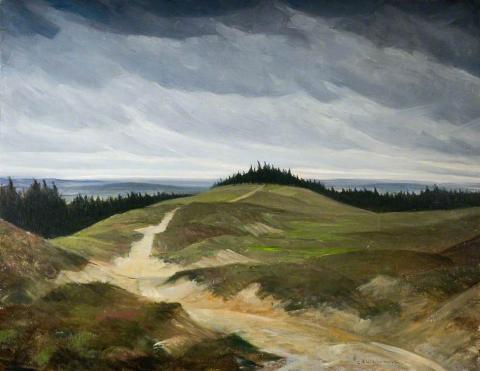 Sandy Path
Christopher Richard Wynne Nevinson
---
October 06, 2015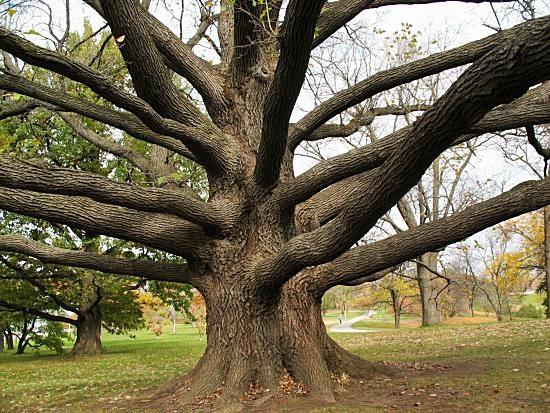 Well ...15 years old today. Once again thanks for your interest and support
- especially those of you who have been following the "s lot" since the early days —rmw
_______________________
The Moose
Elizabeth Bishop
d. October 6, 1979

For Grace Bulmer Bowers

From narrow provinces
of fish and bread and tea,
home of the long tides
where the bay leaves the sea
twice a day and takes
the herrings long rides,

where if the river
enters or retreats
in a wall of brown foam
depends on if it meets
the bay coming in,
the bay not at home;

where, silted red,
sometimes the sun sets
facing a red sea,
and others, veins the flats'
lavender, rich mud
in burning rivulets;

on red, gravelly roads,
down rows of sugar maples,
past clapboard farmhouses
and neat, clapboard churches,
bleached, ridged as clamshells,
past twin silver birches,

through late afternoon
a bus journeys west,
the windshield flashing pink,
pink glancing off of metal,
brushing the dented flank
of blue, beat-up enamel;

down hollows, up rises,
and waits, patient, while
a lone traveller gives
kisses and embraces
to seven relatives
and a collie supervises.

(....)

Moonlight as we enter
the New Brunswick woods,
hairy, scratchy, splintery;
moonlight and mist
caught in them like lamb's wool
on bushes in a pasture.

The passengers lie back.
Snores. Some long sighs.
A dreamy divagation
begins in the night,
a gentle, auditory,
slow hallucination....

...(more)
_______________________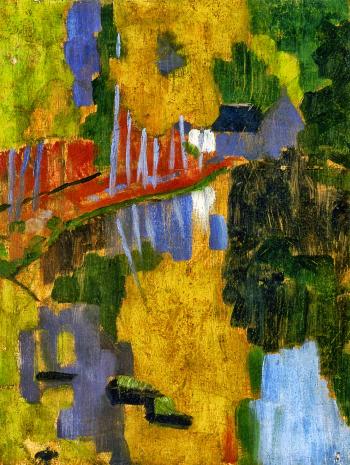 The Talisman
the Aven River at the Bois d'Amour
October 1888
Paul Sérusier
1864-1927
_______________________

The truth according to Brian Friel
Fintan O'Toole
(....)

... "there is no lake along that muddy road. And since there is no lake, my father and I never walked back from it in the rain with our rods across our shoulders. The fact is a fiction." Yet – and this is the centre of Friel's work – this realisation that memories may be inventions does not deprive them of their force. Friel liked a quote from Oscar Wilde about the "inalienable privilege" of the artist to "give an accurate description of what has never happened". Truths, for him, were not mere facts. Of this false memory he insisted, "For me it is a truth. And because I acknowledge its peculiar veracity it becomes a layer in my subsoil; it becomes part of me; ultimately it becomes me." In Philadelphia, that first great play, Friel's own real memory is transported into his fictional character's memory, and there, too, it proves illusory. Yet the very power with which it is evoked on stage lifts it into a different kind of reality. It makes its own truth. That trajectory, from reality to fiction to shattered illusion and back to a sort of heightened presence, is the journey of a Friel play.

And the journey is not just personal. Friel's great originality lay in the way he treated public history as if it were private memory - as a construct whose truth does not lie in its mere facts. Just as it did not matter to him in the end that his lovely memory of his father could not have happened, the characters in his plays turn history into words, images, stories. It is their way of not being crushed by the weight of its cruel inevitability.

After his world has imploded, at the end of Translations, the schoolmaster Hugh tells his son Owen that "it is not the literal past, the 'facts' of history that shape us, but images of the past embodied in language".

...(more)
thanks (yet again) to
The Page
_______________________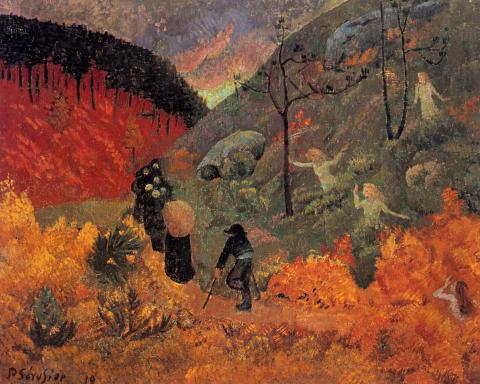 The times
Paul Sérusier
1919
_______________________

NO: The Translation of Ángel Escobar
Kristin Dykstra
Ángel Escobar, born in 1957 and deceased in 1997, has earned extraordinary respect in Cuba. This is coupled with virtual invisibility outside it, except for a few critics and poets with connections to Cuban literature. The contrast may be explained in part because Escobar lived a highly marginalized life. But I suspect another complication: the abjection of his late work is threatening. As a translator I have been thinking about how to address abjection in a highly polarized transnational context, where the US/Cuba political divide encourages the flattening of expression.

(....)

the undying machine of political standoff presupposes that writing will be useful. I speculate that many people who want to encourage respect toward Cuban culture will find literature most useful where it advances more of a YES while adopting stances both rational and advisable.

And what is not politically useful? Poetry insisting that the reader experience – and god forbid accept – abjection in all its resistance to the staples of political discourse, utility and argument. This caliber of discursive resistance is what Breach of Trust puts at stake, and as Escobar becomes better known in the future, it will emerge as a key manifestation across his poetic career. To let readers in on why I'm making this claim, I need to rewind to 1959. Resistance to politics is borne precisely of politics. Ergo it is aggravatingly indebted to politics, something that I suspect must have been at once tiresome and invigorating to Escobar, mostly because it is at once tiresome and invigorating to me as I work with his poems now.

...(more)
Evening Will Come:
A Monthly Journal of Poetics (Translation Issue—Issue 51, March 2015)
_______________________

Quick now
Kristin Dykstra
Angel Escobar's awareness of motion is one of the many elements that make his poems undeniably powerful. To me, as I translate his poems, there is no doubt that Escobar (1957-1997) created multivalent, energetic work, and that a quick reading of one or two poems at least hints at his range. Other writers, at the very least other poets, must recognize the surety of his movements.

Then in moments of pause I wonder about whether the quickness of published pieces – those introductory yet central experiences of encounter with loose poems here and there, or a translator's commentary in a journal – truly gets so much sensation across. The quickness of Escobar's mind and life are out there, in his writing. Will readers find them?

Beyond the bounds of the poems themselves come the contexts, offering guidance to new readers. Angel Escobar's widow, Ana María Jiménez, has pointed out that existing Spanish-language commentaries around his life and death tend to flatten his representation in their repetitions of certain themes. For example, these themes don't tend to include the happiness we see in the 1987 photograph above.

It's a good reminder to translators – and in parallel fashion, scholars writing critical studies – to periodically pause and take the measure of all these things we create. Our renditions of literature and their paratexts (all those ubiquitous bio notes, plus the commentaries, blurbs, translations of essays by other poets on the relevance of the person or work, the scholarship and so forth that serve as companions to literature) travel in fragmented forms through the worlds of publishing. Where these write-ups successfully pursue some theme with great determination, that very pattern of emphasis causes other possibilities to fade.

...(more)
Intermedium
Kristin Dykstra
This series tracks recognitions and convergences that give rise to bodies of work in translation. Emerging out of my time spent with Cuban poetry, as well as other writings from this hemisphere, most entries address some intersection between Latin America and the United States, and/or Spanish and English within the US. Some entries center on writers and works that motivate me to continue translating. Others loop outwards to envisage other translators & their translations, and test the frames mounted around translation.
_______________________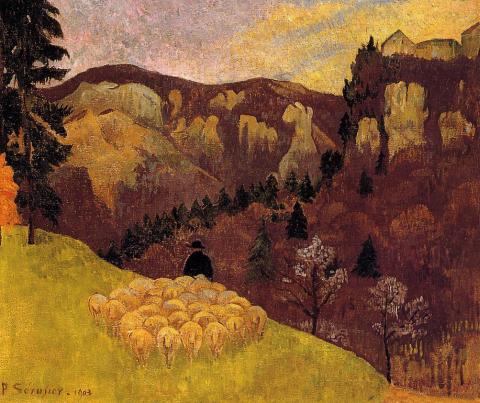 The Flock in the Black Forest
Paul Sérusier
1903
_______________________
"There is one thing that is absolutely certain about throwing a dead cat on the dining room table -- and I don't mean that people will be outraged, alarmed, disgusted. That is true, but irrelevant. The key point, says my Australian friend, is that everyone will shout, 'Jeez, mate, there's a dead cat on the table!' In other words, they will be talking about the dead cat -- the thing you want them to talk about -- and they will not be talking about the issue that has been causing you so much grief."

- Boris Johnson. mayor of London, England
Scared Yet? How Fear Hijacked Campaign 2015
Harper lobbed three 'dead cats' to make us forget the Duffy trial. It's working.
Heather Libby
---
October 05, 2015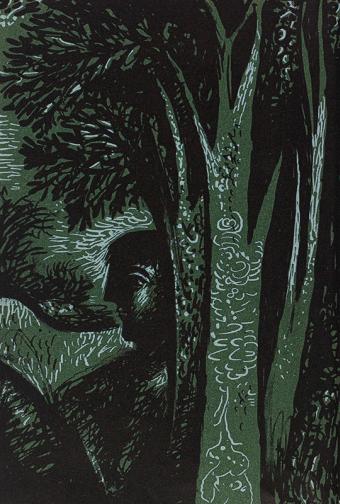 Lithographs from The Poet's Eye
John Craxton
Born: October 3, 1922,
_______________________
Five Poems
Sean Negus


Hemlock Gridded

In the green night there slips
A lamp in the window
Where burns times' coordinates.
Pagan lettering on glass sleeves.
Salve there and stays in the glow.
Viewing portal positioned as if transfiguratively posed.
In solitude the antimatter world enlisted.
The story written all evening encompassing.
Rabbit the nocturnal disarrangement.
Crow the brief morning preview.
Bolded words out from the fire.
_______________________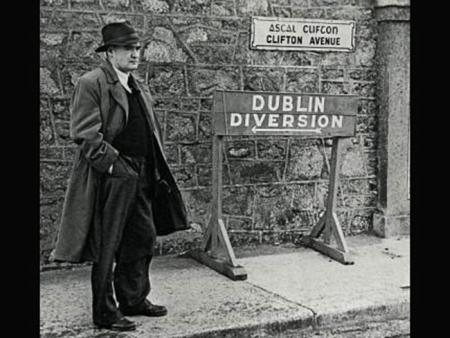 Brian O'Nolan
b. October 5, 1911

Back-chat, Funny Cracks
The novels of Flann O'Brien
John Updike
(....)

On the jacket the author is obscured by his dark hat and his black-rimmed glasses and his own hand at his mouth, and, to be sure, Flann/Brian/Myles, where many an author not only rejoices in his face on his jacket but sets his personal facts in the forefront of his prose, engaged in a significant effort of self-concealment, of pseudonymity lurking behind a prose greatly melodious and garrulous in its confident manner. The front flap of the same jacket states him to be "along with Joyce and Beckett . . . part of the holy trinity of modern Irish literature," which rings strangely of one who disparaged the Holy Trinity, discounting with considerable scholarly fury in his final novel, "The Dalkey Archive," the very notion of the Holy Ghost, as having been heedlessly foisted upon the Christian Creed by the Council of Alexandria in the year 362. The man was ingenious and learned like Jim Joyce and like Sam Beckett gave the reader a sweet dose of hopelessness but unlike either of these worthies did not arrive at what we might call artistic resolution. His novels begin with a swoop and a song but end in an uncomfortable murk and with an air of impatience.

...(more)
10 Books That Wouldn't Exist Without Flann O'Brien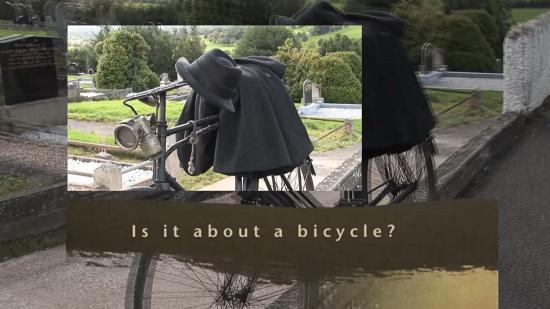 Is it about a bicycle?
The story of Brian O'Nolan
youtube
_______________________

continent. 4.3: Intangible Architectures
A ghostly copy of Blake sat on one edge of the couch, a second in the middle, and a third on the chair next to the bay window, typing on an invisible keyboard. The unchoreographed movements and silent utterances of these holographic reproductions had been selected at random by the See Your Crime (SYC) algorithm, upon searching through Blake's memory archive. What each projection had in common was its geotagging: having taken place, at one point or another, in Blake's living room. Every time one of the glowing doppelgängers walked out, the algorithm jumped to a different memory, keeping at least three Blakes (sometimes four or five) inside the room at all times, and following real-time Blake from one room to the next. Blake, crumpled up on the floor, observed them from a corner—one of many locations he had appropriated to minimize what he referred to as "Blake overlaps." Next to him, a small pile of necessities—a beer bottle, crackers, a pack of tissues and a phone—ensured he wouldn't have to leave his post for a while. Blake tilted his head backwards, opened his mouth, and poured. The beer was still cool. He leaned against the wall and closed his eyes.

...(more)
_______________________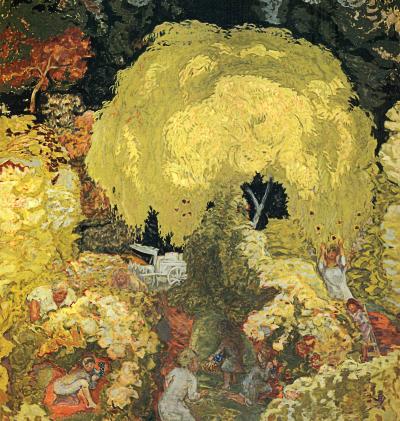 Autumn: The Fruit Pickers
1912
Pierre Bonnard
b. October 3, 1867
_______________________
Free period.

We're frightened of time. Frightened of the long afternoon.

The sense that time is hollowing us out. The sense that time is emptying us out.

The sense that nothing will ever happen again. The sense that everything's been done, and everything's been said.

The fear of time. But who fears it but us? Look at our fellow pupils, sitting and chatting so calmly. Look at them, on their phones, and eating their crisps.

Who singled us out? Who chose us to feel it? Why were we the ones to which it chose to show itself?

Something is taking its course. But what? What's happening? Something happens when nothing
happens. A rumbling. A murmuring, on the edges of sense. But who speaks? And what are they saying?

Something is taking its course. Something that happens in everything. Something that turns each
moment from itself, sets it aside. Something that undoes time, and sends it on a detour. Something
indifferent, that does not coincide with itself.

Nietzsche And The Burbs
_______________________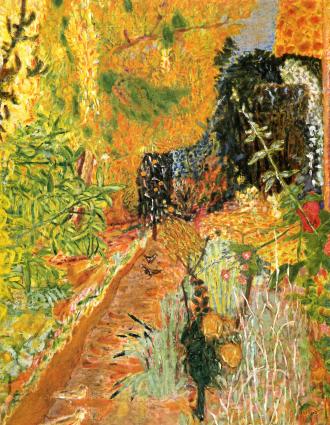 The Garden
Pierre Bonnard
c.1937
_______________________

Sherry Turkle's 'Reclaiming Conversation' reviewed by Jonathan franzen
Sherry Turkle is a singular voice in the discourse about technology. She's a skeptic who was once a believer, a clinical psychologist among the industry shills and the literary hand-wringers, an empiricist among the cherry-picking anecdotalists, a moderate among the extremists, a realist among the fantasists, a humanist but not a Luddite: a grown-up.

(....)

Our rapturous submission to digital technology has led to an atrophying of human capacities like empathy and self-­reflection, and the time has come to reassert ourselves, behave like adults and put technology in its place. As in "Alone Together," Turkle's argument derives its power from the breadth of her research and the acuity of her psychological insight. The people she interviews have adopted new technologies in pursuit of greater control, only to feel controlled by them. The likably idealized selves that they've created with social media leave their real selves all the more isolated. They communicate incessantly but are afraid of face-to-face conversations; they worry, often nostalgically, that they're missing out on something fundamental.

...(more)
---