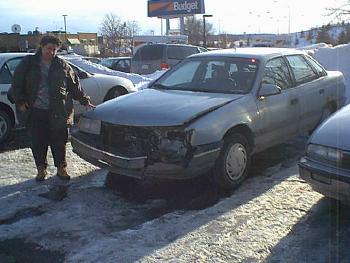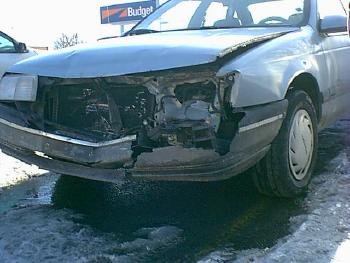 On Saturday March 5, 2005, Laurie-Ann's trusted Taurus, which she had driven since 1994, was in an argument with another car on Eagleson Rd by the Shell station.
CAA carried it off to Gary's, where we went the next day to loot it and retrieve her Alpa 332 plates. Shortly after it will have been carried off probably to Union Auto Parts, which had earlier provided the Taurus' radiator fan.
Negotiations with The Personal, our excellent insurer, revealed that it was a write-off, and that they would take care of it and would pay us the sum of $850
While this may not seem all that much, the car had done 395,000 Km, the rear wheels were unalignable, the windshield cracked and the body rusted. So with a somewhat heavy heart, we searched on Car Canada's page (below) and then we trotted off to Car Canada on the 416 and picked the Plymouth Breeze which had come up on the search. Our salesman Arthur and manager John Perocchio could not have been more helpful. If you contact them, do give them our regards.
In hindsight, this doesn't seem such a bad thing to happen. Her seat belt had done a great job.