Please pray for Laurie-Ann Zachar Copple
Ministry trip to Kirinyaga Diocese, Kenya with SOMA Canada
August 27- September 14, 2001
Laurie-Ann graduated from Tyndale Seminary in 1999 and moved to the Ottawa area since her marriage to Tony Copple in June 1999. She is now attending St. Paul's Anglican in Kanata. For those who do not know Tony and Laurie-Ann's story, here is some background:
Laurie-Ann grew up in the United Church and became a Christian in 1988 at a Dennis Bennett seminar. She has been involved in the Baptist, Vineyard, Presbyterian, United, Wesleyan and Anglican churches since then. She attended different art schools in her youth, and felt called to mercy ministry (counselling and missions) in the late 1980s. She returned to school, received a BA with High Distinction at University of Toronto (Religious Studies and Sociology) and an MDiv (Counselling major) at Tyndale Seminary in Toronto.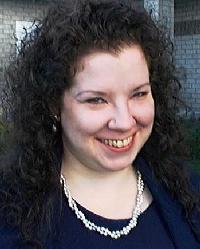 Laurie-Ann met Tony on the Internet while researching for a paper on the UCC moderator controversy and discovered Tony's website on this topic. After months of increasing e-correspondence, Laurie-Ann and Tony met for the Billy Graham mission in Kanata, and were engaged within two months. Upon her graduation at Tyndale Seminary, they were married in June 1999. They share the ininistry of being Alpha advisors and the Kenosis worship band. Tony is also webmaster of many websites including Anglican Renewal Ministries and the Alpha Ottawa site.
Laurie-Ann became the secretary of Anglican Renewal Ministries Canada in July 2000. She has travelled on past mission trips to Kenya (to work with Somali refugees), and Northern Ireland (army teens, YFC Belfast), and will be returning to Kenya this summer to teach in Kirinyaga diocese, northern Kenya, with SOMA (Sharing of Ministries Abroad). SOMA a short-term missions agency that operates throughout the world. SOMA Canada is a sister organization to Anglican Renewal Ministries Canada.
The team will be led by Canon David Oliver, a priest in Montreal (who is an Alpha advisor), along with Laurie-Ann, Brenda Panipakoocho from Pond Inlet, and a two nationals from Nairobi, Rev Tom Otieno and Rev Alexander Cendi. The mission will involve teaching and encouraging evangelists in the Marsabit region (an extinct volcanic region in the middle of the North Kenyan desert frontier) and going with them into the field. The area surrounding Marsabit is predominantly Muslim, and perhaps Laurie-Ann's training in Islamics may be of use on this trip. The team is flying from Montreal - London - Nairobi return, which gives Laurie-Ann an opportunity to spend two days following the mission with her mother-in-law in London.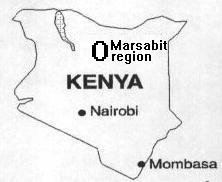 Some specific prayer items include: health (especially water issues), expanding of confidence and teaching ability in a large group, blessed relationships with the Kenyans, open receiving hearts, for God to do something special in their midst, travelling mercies (by air, train, bus, van and taxi), finances, and for the mission to accomplish what it is supposed to do despite setbacks that are always part of African travel and work.
If you feel led to contribute financially to this mission, SOMA Canada will give you receipts for tax purposes. Please send your cheque to SOMA with a notation that this special giving be accredited to Laurie-Ann Copple's Kenyan mission trip.
SOMA's address is:
SOMA Canada, 395 Queensway St W., Simcoe ON., N3Y 2N4.
Toll free (877) 339-7662. E-mail soma@nornet.on.ca
Laurie-Ann writes: Thank you dear friends for your prayer and encouragement. I will post an update on this site after my trip.
Every blessing,
Laurie-Ann Zachar Copple
61 Highmont Court, Kanata, ON., K2T 1B2
(613) 591-3903, fax (613) 591-1509, ARM (613) 225-4999, toll-free: 866-627-1276
http://www.ncf.ca/~eh202/
lcopple@ncf.ca
Kenya is 8 hours ahead
of Ottawa time (EST)
Messages received (don't expect many!)
28 Aug: Phone message from Gatwick, Prior to boarding Kenya flight.
28 Aug: E-mail from Gatwick. All well.
30 Aug: Can't type long, but we're in Nairobi right now at a cyber cafe and will be in Marsabit tomorrow....Please tell my parents that I am fine, and am with wonderful people. Pray as the Spirit leads for Marsabit.
8 Sept: L-A phoned from Nairobi to say that they were safely returned form Marsabit, all was well, and the next two day's ministry would be around Nairobi.
11 Sept: L-A phoned from London where she has safely reached my mother Joan Wood's house in Bromley. She is booked on a flight to Ottawa on Friday, but there is a chance that schedules will be far from normal by then... Her companions David and Brenda were at Heathrow, but they won't get a flight. If they read this, Carol has e-mailed Brenda my mother's tel no. Call her; she will gladly accommodate you.
12 Sept: I called L-A and had a lovely conversation; she sounds relaxed and happy. Has not yet heard if her Friday flight is on.
13 Sept e-mail: Fred (Carson, head of SOMA) says the airports are opening now, although the security is getting tighter and tighter. I hope they don't give me too many problems. I don't have any knives or sharp objects. However, I did pick up a djembe drum since Tom was able to go get one for me at a price that only a Kenyan could get...I will be fully loaded. I am enjoying Mum's company though. HTB is soon, so I must go. 14 Sept: L-A left a phone message from Heathrow saying she would be on BA 95 leaving there ~5:30 pm GMT (meaning arrival at Dorval 8:20 pm EST). Apparently her companions David and Brenda, originally booked for a flight Sept 14, are still waiting, and may not get out for some days. They all met at HTB yesterday for the Alpha Hour of Prayer.
14 Sept, 9:00 pm, Dorval, Montreal: L-A back home safe!! - with David Oliver and Brenda Panipakoocho, who also managed to get on to the second plane from UK to Canada since the attack on USA.
---
Missions are more than evangelism - Laurie-Ann's sermon July 29, 2001
Home page