Churchill River Saskatchewan canoe trip: August 19, 2007
Day 8

We had a light breakfast, and then took off for the short paddle to Otter Rapids. We landed, and took the trail to go up on the bridge for a look. Barbara spotted an Osprey in a tree across the river, so she sprinted back to get the camera. While she was gone, a second Osprey appeared with a sizeable Walleye in its talons. It flew over to the first one, then they both took off, just as Barbara returned, missing the entire show.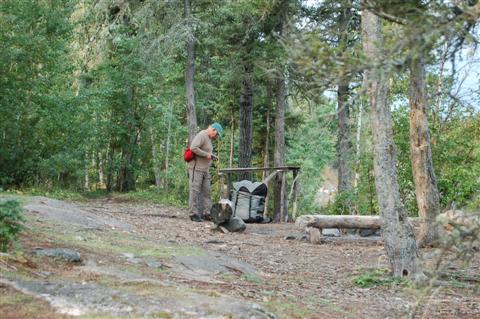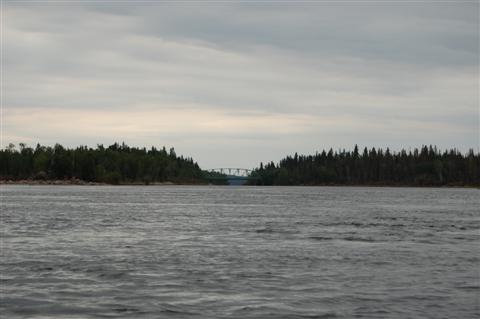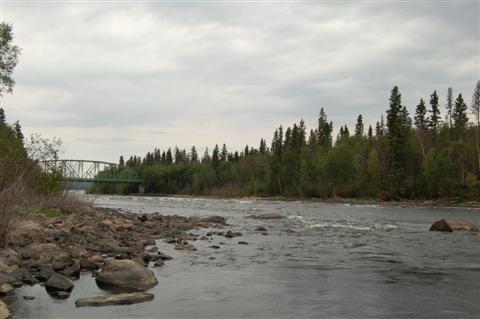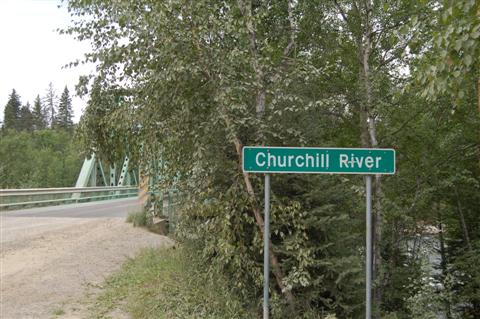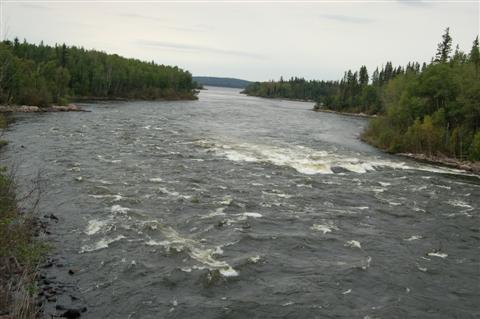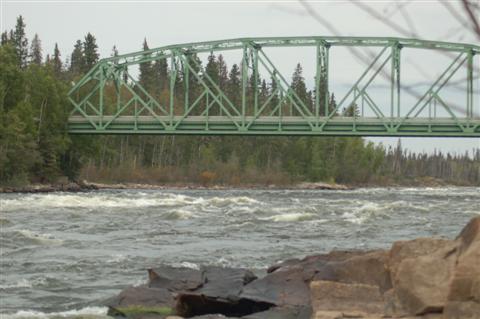 There were two large holes on river right, which could easily be avoided by keeping left. In fact, we decided that we could even run loaded by keeping to the extreme left. There was one dicey spot near the top, so we walked along the shore to scout carefully.

In spite of all the preparation, we did not hit the spot correctly – it came on so quickly, we were not ready. We ended up lodged on a rock in the fast current. Bill calmly got out and wrenched the canoe free. Then they executed Plan B flawlessly without taking any water.

Some kids were swimming in the bottom of the rapids, so we followed them back up to the bridge where their uncle was waiting in a camper. We asked him to take our photo beside the large sign map.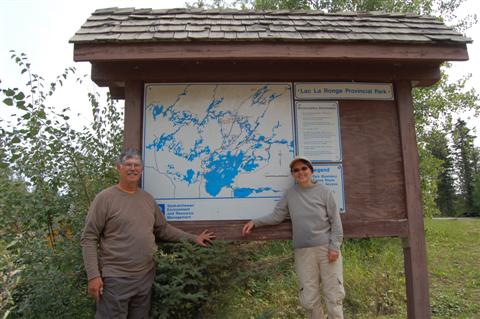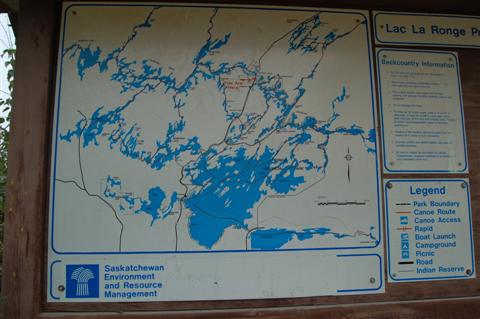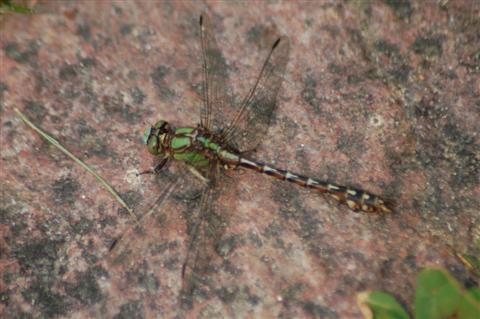 The wind on Otter Lake was terrible. It was right in our teeth, so progress was slow. We finally made it about 3 km down the lake where we stopped for lunch and a rest at an unlikely spot between the road and the rough shore. Missinipe was in sight now, and the worst of the wind was over.

Several planes were taking off and landing as we came in. We saw an adult and juvenile Red-necked Grebe hanging around the bay near the docks.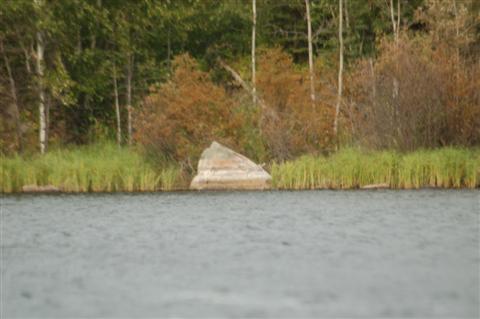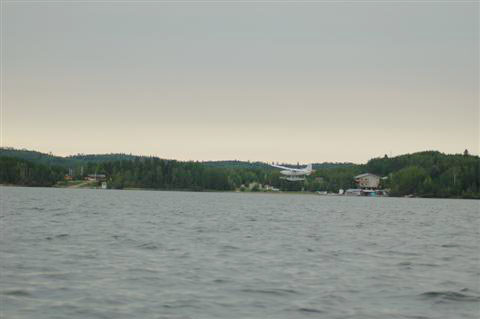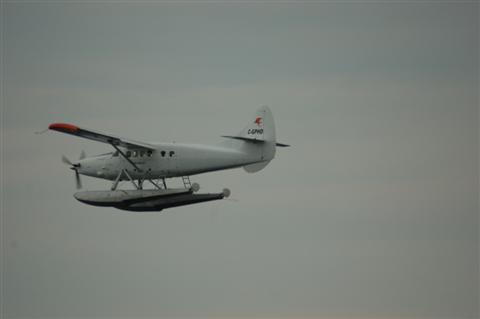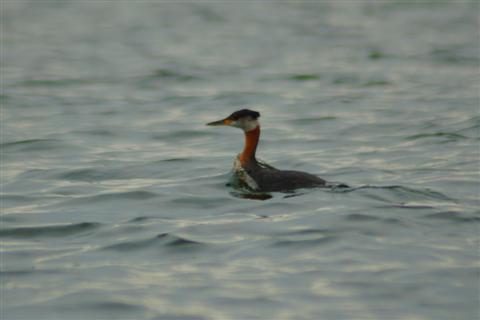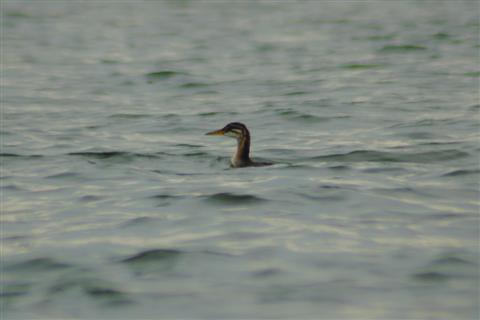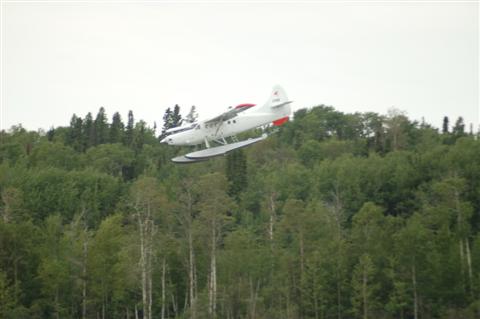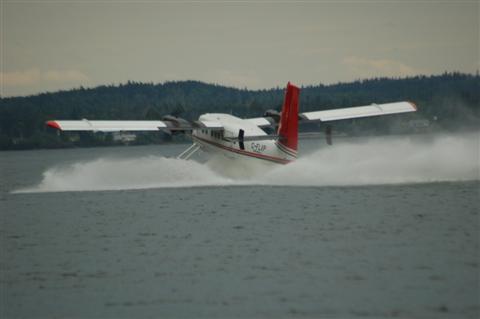 We landed on the extreme right to avoid plane traffic, and then went to the office to pay our bill and retrieve our car keys. Barbara got ice for the fish. It was only 3 pm, but we had decided to stay the night and go to Stanley Mission in the morning. We drove over to Ric's at CRCO, and rented a cabin from him for the night (he was actually away with his family). We enjoyed the hot shower in the old log cabin. Then we shopped a bit at the Northern Store and went for dinner at Thompson's Lodge.