Churchill River Saskatchewan canoe trip: August 18, 2007
Day 7

It was another beautiful morning. We did a bit of birding and exploring the area around our campsite. We paddled past the outlets that empty around Donaldson Island, which lead to Sluice Falls, etc. We could see nothing but some current, as the rapids are out of sight. We continued against a slight chop into the bay and portage leading to Great Devil Falls. Curt had recommended the Sluice route, but we decided to keep faithful to the voyageur route.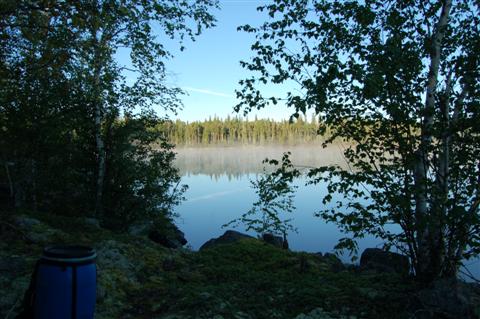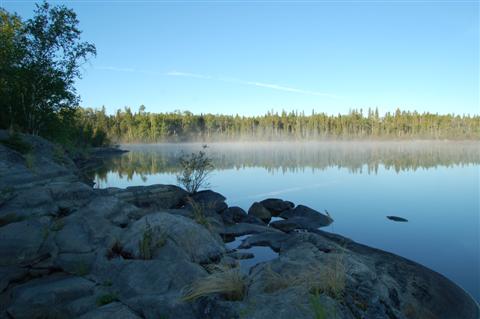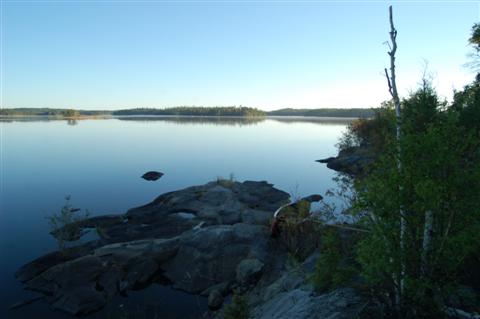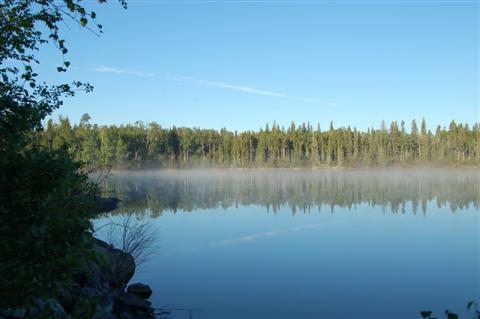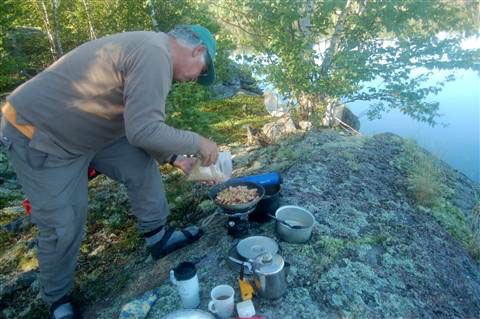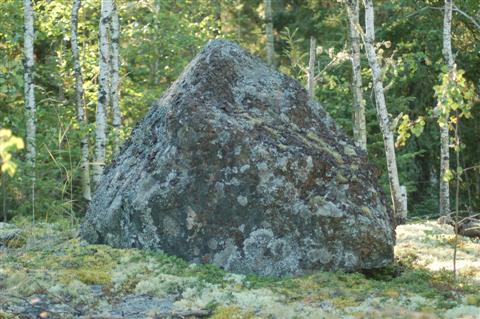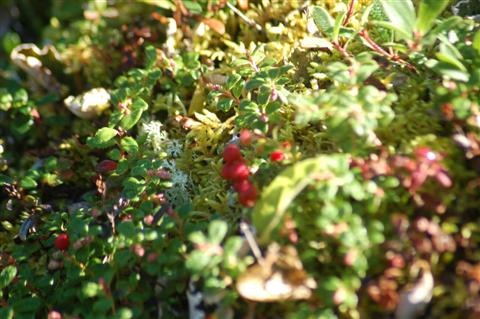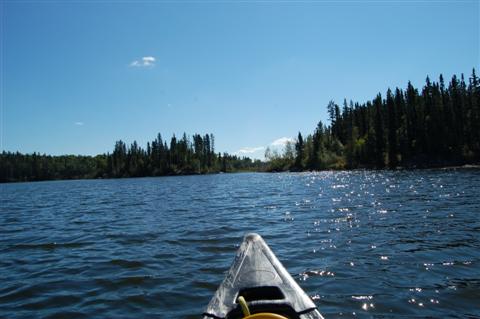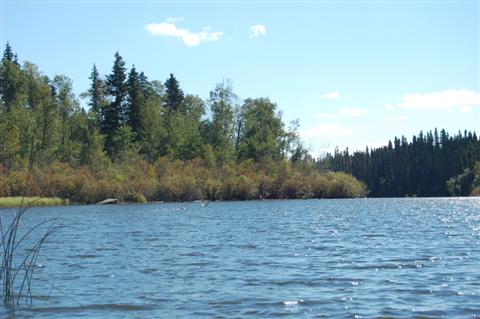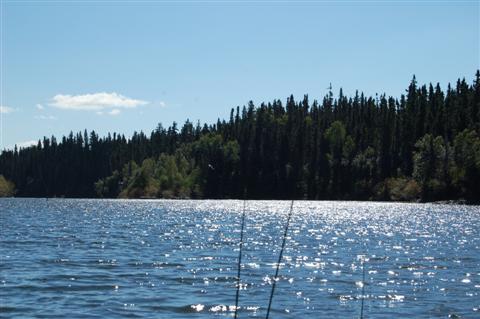 The Great Devil portage was a long one, 1150 m, but it was fairly flat with a few wet areas. Bill started with the canoe and immediately had his way blocked by 7 or 8 stubborn grouse. The guide said there was a canoe rest half way, but it was no where to be found. Bill finally found a pair of trees where he could prop the canoe for a rest about 4/5 of the way along! He went back to assist Barbara, then they both retraced their steps for the second load, noticing the broken down rest en route. Once again, the trail did not permit observation of the rapids, which were rated Class 3 with a falls at the end. We finally completed the carry in 2 hours. We sat on an overturned boat and had our lunch. The whole landing area was a quaking bog – it felt eerie to walk on it.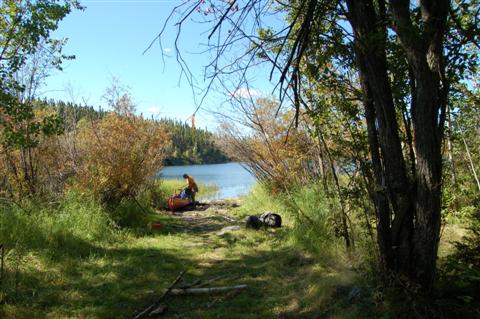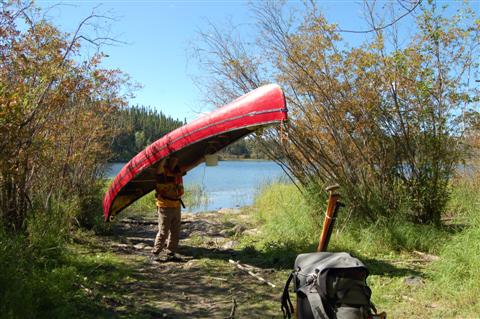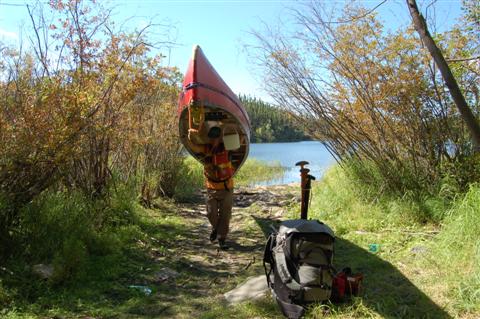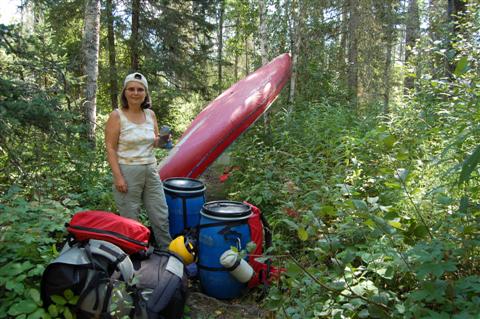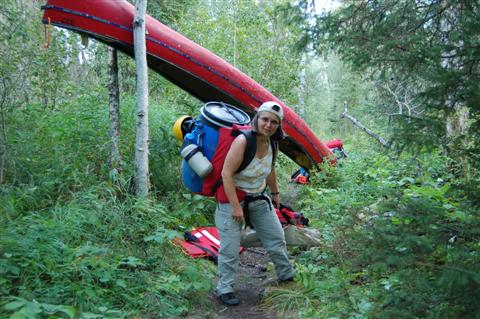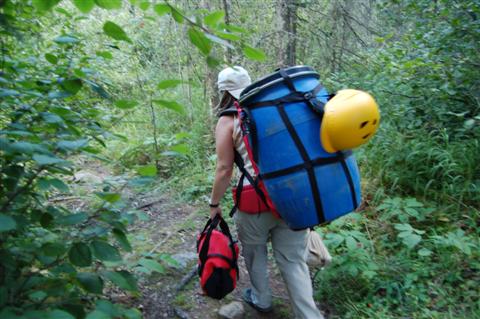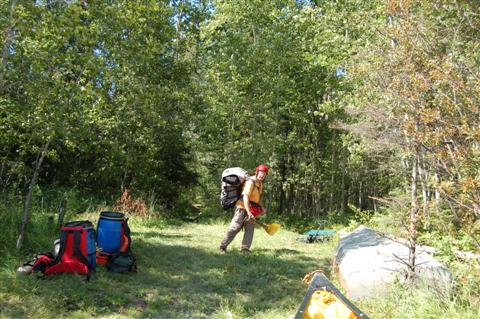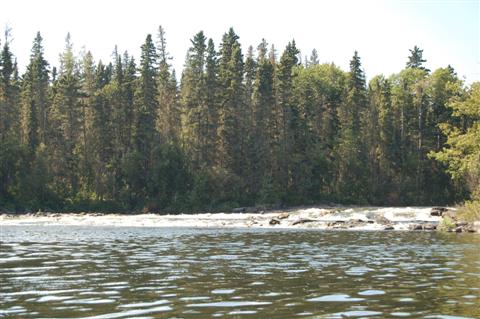 Little Devil Rapids followed right away, and consisted of three short Class 2s. We ran the first two, which were very easy. The last set required careful scouting, as there was a minor ledge at the bottom with only one place to sneak through beside a rock.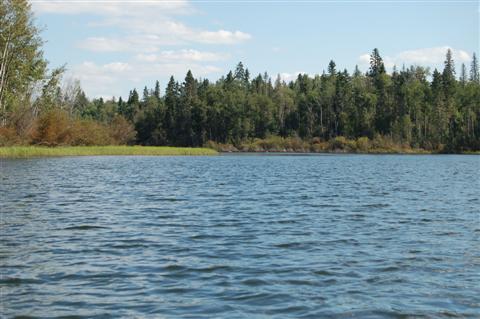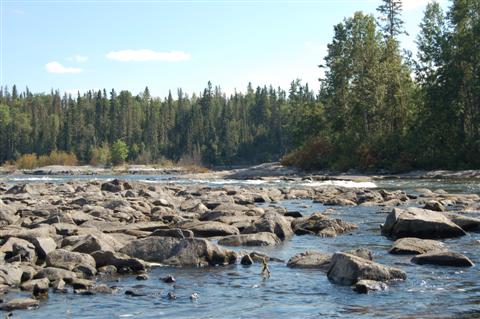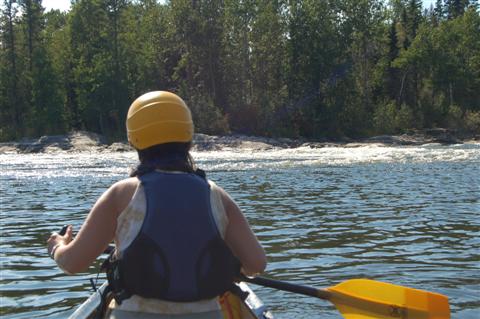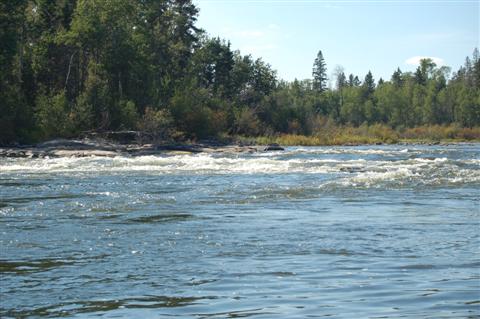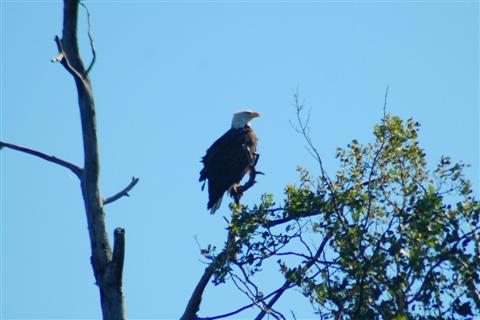 We paddled out onto Devil Lake, then south across the other outlets – Murray Rapids, Mosquito Rapids and Manitou Rapids. At the outlet to the latter, we found an excellent campsite at E515978 N6168091. For the first time in a while, we saw a few canoes coming and going from the provincial campsite across the lake. It was only 4:30 pm, but we decided to call it a day and enjoy the area.

We made a fire and cooked our pasta on it. Then we paddled up the Manitou outlet to see the falls (C4 drop). Light was fading when Bill caught another good walleye in the fast current. We decided to take it back to Saskatoon for Pamela. Barbara was trying to photograph the Canvasbacks as they maddeningly would dive just as she was ready.