Share This Story With A Friend
Kanata set to build town centre
Mayor announces $100,000 for development plan bringing 30-year-old dream closer to reality
Dave Rogers
The Ottawa Citizen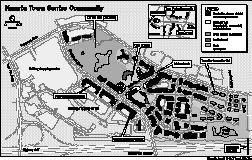 Dennis Leung, The Ottawa Citizen / Town centre plan includes apartments, office buildings, stores, pubs, hotels, theatres, a nursing home and an eight-hectare park.



Kanata Mayor Merle Nicholds yesterday unveiled plans for a 48-hectare town centre north of the Queensway between Eagleson Road and Terry Fox Drive that is to become a commercial and residential hub for the west end.

Kanata will spend $100,000 on development plans for a downtown that will combine eight- to 15-storey apartment and office buildings with stores on the ground floor, four-storey walk-ups, pubs, hotels, theatres, a nursing home and an eight-hectare park with a pond.

Bill Teron, the original developer in Kanata, who proposed a town centre on the site 40 years ago, said his company, Teron International, hopes to build three buildings for high-technology tenants.

Robin Mackay, Kanata's manager of economic development, said the town centre was proposed by March Township in 1968 and has been the dream of Kanata municipal administrations since 1978.

"We are at that very important point where after dreaming and planning for years we are taking that last step to make the town centre ready for development," Ms. Nicholds said. "By the end of the year we will see building permits in our town centre."

Ms. Nicholds said subdivision plans for the town centre have to be completed this year because the new City of Ottawa could have other priorities in 2001 and the scheme may not have a champion on the new city council. The mayor added she consulted Claude Bennett, head of the Ottawa transition board before announcing the town centre and he advised her to go ahead.

A new two-block Main Street linking Campeau Drive and Castlefrank Road will include a civic square on high ground that could provide space for a library, a performing arts centre, police station and municipal services building. The street will have about 50,000 square feet of retail space on the ground floor of two- and three-storey buildings.

The private sector is expected to complete construction in the town centre within 20 years. Planners expect between 5,000 and 6,000 people to live there in condominiums and apartment buildings.

Alex Munter, regional councillor for Kanata, said the town centre is an exciting move towards completing the community.

"What you want is for people to be able to go out to work, shop and consume entertainment in their own community," Mr. Munter said. "It is good from an economic point of view.

"It has been a long time coming and it conforms to the regional official plan. It is a regional project, not just a Kanata project that seeks to develop a complete community so you have housing, retail and entertainment near where people live."

Behind Main Street there will be a central business district with taller buildings such as nine-storey hotels. Mr. Mackay said between 7,000 and 8,000 people will work in the area.

The town centre will be criss-crossed by trails, paths and sidewalks linked to Kanata south of the Queensway by an existing pedestrian bridge.

"This is going to be very innovative for a suburban community," Mr. Mackay said. "We are already starting to seen investment come into the community. There will be a five-storey long-term care facility break ground in March."

Nick Tunnacliffe, Ottawa-Carleton's planning commissioner, said the development will provide a "unique living experience" in Canada by creating a suburban town centre.