Creation '99 - Delirious? - We were there!
Iíd often heard advertisements on CHRI and Over my Head (CKCU-FM) for the big US Christian music festivals, but always wondered how many Ottawans actually made trips to see the great Christian bands. Then, providentially, it turned out that Creation Ď99 at Mount Union, Pennsylvania, was in the same week that Laurie-Ann and I had planned our honeymoon in the Pocono Mountains, PA. And headlining the first evening June 23 was Delirious? the British band that Nick Greco, the much-missed (by me) Over my Head host had introduced us to over the last 18 months. What an opportunity for a couple of Christian music fans getting married! To cap the providential element, we were given Delirious?í new CD Mezzamorphis as a wedding gift, and we love it.
We were married in Glen Cairn United Church in Kanata on June 18 in a worship service that Laurie-Ann, my Tyndale M.Div fiancee had designed, and drove to Bushkill the next day (after a night in the Westinís wedding suite), a pleasant 7 hour drive. This is honeymoon country, and we greatly enjoyed the next few days at our chalet on the golf course.
At noon on the 23rd we set off for Mount Union, a five hour trip through the never-ending beautiful green forrestation of Pennsylvania, from the Poconos to the Alleghenies. The weather was perfect. Discreet signs lead us to the festival site (although the final left-turn-off-the-highway sign was so discreet we missed it and took a trip round the town of Mount Union). This was the 20th anniversary of this pioneering event in Christian music. The brochure related the history, from the first event with 5,000 attenders with my hero Keith Green headlining, to last yearís which was Delirious?í first US gig.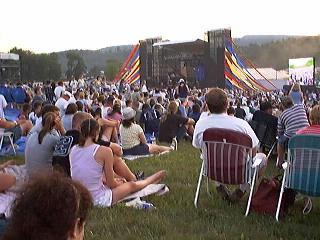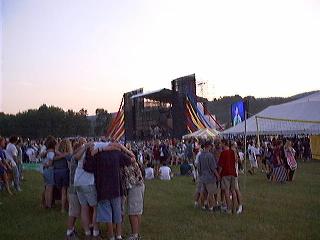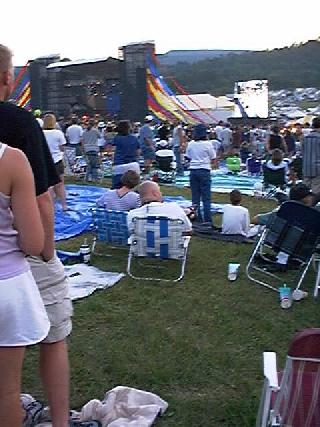 Following Australian evangelist Pat Mesiti's vigourous "prayer-tent call", hundreds of young people made Christian commitments, some (above) joining in prayer circles.


Support group "Raze" rap to Jesus (below), and we have a clear view of the large screen stage right.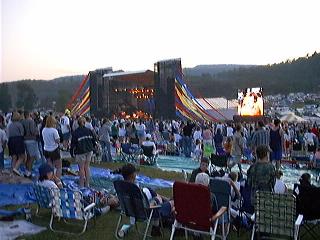 Iím not good at estimating numbers, but when we arrived at 7pm Iíd say there were 25,000 in front of the huge stage, and probably another 5,000 camped all over the place. It was hopping. There was a local FM broadcast channel of the audio from the stage, so Australian evangelist Pat Mesiti had an attentive audience everywhere as he addressed the mainly teenage audience (plus their parents) with a strong message for life as it should be. He was followed by the rap group Raze, and then, by now dark, the band from England.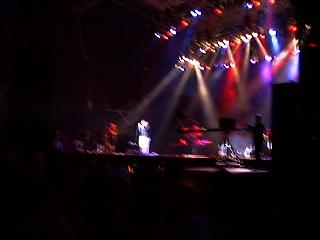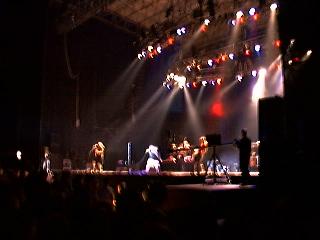 I had hustled my way to the front to get some digital pictures close up so was able to experience the full power of this magnificent quintet of youthful musicians as they electrified the hillside. With my images safely on disk, I retreated to the spot that Laurie-Ann and I had claimed earlier and drank in the rest of the two hour show, well amplified and relatively distortion free.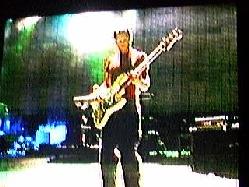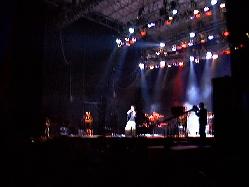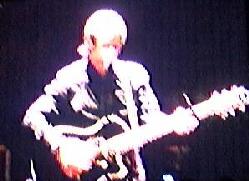 Delirious? write great songs. Most of them are attributed to lead singer Martin Smith and guitarist Stuart Garrard. None of this music is simple or basic; all of it interweaves unusual harmonic progressions around tunes that stick in your brain all night, and with words that explore a philosophical approach to the young life based on Christian values and goals. All of the songs are powerful and effective, with an extreme range from energy to sublimity, ably encompassed by Smithís very attractive voice. Who are their influences? Difficult for me to say since I am not very familiar with most of the more recent crop of British rockers, but I would say they like Oasis and U2. To my ear the music they have written to date is more memorable than either, but with instrumentation similar to Oasis. Itís certainly great rock music by any standard. Listen to a Delirious? song two or three times and you have a friend for life, though on first hearing it may not strike you. At this concert I was familiar with all of the songs played (thanks to Nick Greco and owning the latest CD) which added greatly to my pleasure.

If there is an area where they have scope to progress it would be in building a spoken word rapport with their audience. I sense that Martin is not yet comfortable with testifying to their huge audiences through spontaneous spirit-lead worship that fills many of the Christian performers, and prefers the words and music to play that role. As they mature their ever growing audience will need to hear them on the major Christian themes and (as they well know) they will be able to wield huge influence for good with believers and others who just love their music whatever the message. This responsibility is a hard one for youthful evangelists, and Delirious? are far too intelligent not to know all these things.

The Christian music revolution gathers strength daily, and Delirious? are in the forefront. As a tool to reach people for God they have awesome power. The time is gone when Christian musicians were the poor relations of their secular colleagues, with audiences only among the faithful. God is using this movement and I commend Delirious? to you, you parents and teachers; get to know them and understand their message and why it is so compelling to the young. Donít ignore it because you believe rock to be a noise; turn up the volume and sink into this glorious form of expression.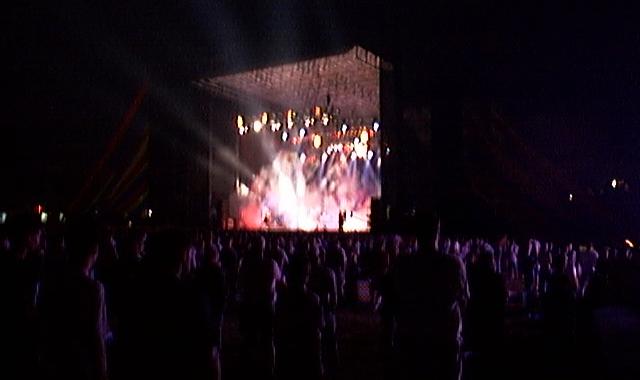 I just noticed that the Mezzamorphis CD is manufactured and marketed in North America by Sparrow records, who did the same for Keith Green.
- Tony & Laurie-Ann Copple, Kanata, Ontario
June 27, 1999
-------------------------------
This article was originally written for Christian News Ottawa, where a shorter version appears in the August 1999 edition (p4).
---
Delirious? UK site
Christian music page
More honeymoon shots
The Wedding Page