Share This Story With A Friend
Builder of top cancer centre takes new job
Oncologist-director heads to overseer agency after 12 years
Maria Cook
The Ottawa Citizen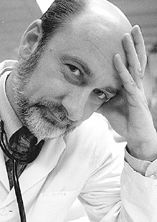 Julie Oliver, The Ottawa Citizen / Dr. Bill Evans says his Christian conviction has sustained him.



Dr. Bill Evans, one of the top lung cancer specialists in the world, is sitting in the bright, modern Ottawa Regional Cancer Centre building on Smyth Road and describing how his Christian faith helps him battle the grim disease called cancer.

In the 1970s, as a young doctor doing postgraduate studies, he discovered the power of prayer to calm exam nerves. As the director of the region's cancer centre, he found prayer could change the tone of a potentially hostile meeting. And as a cancer doctor, he has quietly prayed for his patients, unbeknownst to them, and in some cases witnessed amazing recoveries.

"Every now and then you do see things that you would wonder whether it wasn't something miraculous or divine involved in the outcome," says Dr. Evans, 53.

"I'm a Christian and I have a belief in God and a belief in prayer. There's lots we don't understand in medicine. In medical terms you can always say there's a spontaneous regression. I'm open to the concept that there's more than just immunological reactions."

Dr. Evans, who is credited with building the Ottawa Regional Cancer Centre from a small clinic to a world-class facility with 400 employees, is leaving in April after 12 years as director.

He will take a job in Toronto with Cancer Care Ontario, the agency that oversees the eight cancer centres in the province and advises the provincial government on cancer issues. "It's not good for an organization for the director to stay indefinitely."

"I'm really going to miss him," says Irene Noiseux, 66, who lives in Clayton, near Almonte. "He's been a big part of my life for 10 years."

Mrs. Noiseux, mother of four and grandmother of six, was diagnosed with advanced lung cancer in 1990 and given three months to live.

"She had a big tumour mass in her lung and all these big nodes all the way up around her esophagus so she could barely swallow water," he recalled. He decided to try an experimental treatment involving chemotherapy and radiation. Six weeks later Mrs. Noiseux's chest X-ray was normal. The cancer was gone.

"Was it good medicine? Was it miraculous? How can I tell?" he says. "I prayed for her. She was a good person in a tough situation. Like a lot of people."

Dr. Evans has prayed with patients who request it, and he prays for certain patients who are on his mind. "You're not praying for them to be cured," he explains. "You're praying that you do your best for them and they not suffer unduly."

During his tenure, the Civic division of the cancer centre expanded and added state-of-the-art radiotherapy machines. In 1995, the centre opened a gleaming new building for the General division, and assembled a strong research group of more than 80 people.

Dr. Evans established the first community oncology satellite clinic in Renfrew, and community chemotherapy clinics in Winchester and Hawkesbury. He also created the Ottawa Regional Cancer Centre foundation to purchase equipment and develop new treatment. Last year, the foundation's Cancer Care telethon raised more than $1 million.

Dr. Evans helped develop the Ontario breast screening program, and the women's breast health centre at the Civic site of the Ottawa Hospital, considered among the best in North America. He was cited by his peers in 1993 as one of the best doctors in America, has chaired the oncology program at the University of Ottawa, and published more than 160 articles. He speaks at international conferences about his research into cancer care economics.

"He's very dynamic and he's a doer," says Dr. Christine Cripps, a medical oncologist and director of the medical oncology program at the University of Ottawa. "He's a person of great vision. I really don't know how he did all the things he did, especially in the face of major cutbacks and fiscal restraints."

The cancer centre treated about 17,000 patients last year. The numbers grow each year due to an aging population and more successful treatments.

"When you take someone and apply your skills and they live long productive lives that's rewarding," says Dr. Evans. But he admits that, especially in lung cancer, he faces defeat more often than victory.

"The worst is caring for people you like and watching the disease advance and ultimately losing. That's the worst part. You don't want to lose."

His faith helps him cope with death and dying, as does his enjoyment of rock and roll, reading medical novels and attending Kanata Baptist Church.

"Having a conviction sustains you," he says. "There's a lot of stress involved in being a health-care administrator. You never fully live up to the expectations of staff. The funding you get is nowhere near what you request and they think you're not very effective or competent."

Dr. Evans grew up in Toronto attending the United Church. At University of Toronto medical school he abandoned his faith "because science explained everything to me." Then, he met his wife Jane, a nursing student, and she helped him rebuild his faith. They have previously attended Anglican and Presbyterian churches and will "shop around" in Toronto for a church that suits them.

They have two sons: Mark, 24, is studying for a master's in divinity, while John, 21, is studying science and considering a career in medicine.

Dr. Evans' new job title at Cancer Care Ontario is vice-president responsible for the provincial systemic therapy program (chemotherapy). He will advise the ministry of health on new drugs, evaluate the cost of cancer care and treat some patients. Candidates to replace Dr. Evans include Dr. Jean Maroun, head of medical oncology at the cancer centre; Dr. Diane Logan, regional co-ordinator for Cancer Care, Eastern region and medical co-ordinator of the Ontario Breast Screening program; and Dr. Hartley Stern, chief of surgery at the Ottawa Hospital.