The Ottawa Beatles Convention 1995
Presented here is an archive of the first official "Ottawa Beatles Convention '95," a three-day event conceived by Alan Chrisman that ran from Friday, September 8th, to Sunday, September 10th. This presentation includes:


Roll #1

Roll #2

Roll #3
Return here for your free entry to (re-)live the experience of the convention by clicking the tickets above.
BUT FIRST... by reading the short profiles below, pay tribute to some of the great local Ottawa bands who performed and helped in creating an atmosphere of goodwill and fun for the convention by singing their renditions of Beatle music. Please take a few moments to read their profiles before clicking to see their pictures! Thank you!
The organizer for the event was Alan Chrisman (owner of Get Back Records here in Ottawa) supported by many volunteers: Brad Howard (in charge of Vendors and who is now publisher of The World Beatles Forum); Allan Whyte (Gallery); Heidi McLaughlin (PR Kit); Debbie Rubin (Volunteers); May Williams (Museum); Chris John (Communications); Sarah Chrisman (Children's Art); Lise Courchesne (PR); Marjorie Hansen (Press conferences); Hugh Wilson (Gallery); Terry Craig (Security), plus 80 other volunteers who helped make this first Ottawa Beatle Convention a reality. The Advisory Board consisted of event producer Alan Chrisman; Douglas A. Meneilley; Les Emmerson (Ottawa musician/composer for "The Five Man Electrical Band"); Debbie Rubin; David Lemieux; and Marjorie Hansen.
HIGHLIGHTS:
DAY 1: The Convention started off with a Friday afternoon "free concert" performance of Beatle tunes performed by a local band called "THE MUSTARDS". The band played at the front enterance of a local club called "The Cave" which is on Sparks Street at Bank. Later that evening, a trio-group called "WHITE WYNE" performed a 9:00 p.m. curtain call on stage at The Cave.
DAY 2: The Beatles nostalgia theme was held at the luxerious Ottawa Congress Centre. Event organizers created a "PENNY LANE MUSEUM AND IMAGINE GALLERY" displaying private owners collectables seldom seen by the public; a "HARD DAY'S NIGHT VIDEO THEATRE" showcasing Beatle Cartoons, movie clips and concerts; "BEATLEMANIA HALL" which was a large area consisting of many vendors from across Canada and the United States selling Beatle collectables; and "CAVERN DAYS STAGE" which showcased various bands playing their "Beatlely music" including a performance from Pete Best!
DAY 3: The last day of the convention was held at the Mayfair movie theatre. If you held onto your convention admission ticket from the previous day, you could have sat through all of these movies for half-price: THE MAGIC CHRISTIAN; ROCKSHOW (McCARTNEY); BACKBEAT; IMAGINE - JOHN LENNNON
THE PERFORMERS WHO PLAYED AT THE OTTAWA BEATLE CONVENTION IN 1995
*SERIOUS FUN*
BAND LINEUP:
Dave Kittle, drummer (and "radio personality" from "Chez 106.1")
Frank Garfield, lead guitarist
Geoff Franklin, hofner Beatle bass (and "radio personality" from "Oldies 1310")
Henry Blaszczak, guitarist using a Rickenbacker Model 330
SYNOPSIS:
Just as the name implies, this group of four are very serious about having fun while performing some of the greatest Rock'n'Roll ever made. Their repertoire has a very decided "British Invasion" flavor with selections from the Beatles, Rolling Stones, the Who and the Animals, just to name a few.
Responding to a blind box ad in the newspaper some four years ago, this Ottawa group quickly gelled and have since performed at many local functions, including events sponsored by the Ottawa Rough Riders, Senators, and the Lynx. The band has been showcased at the Labatt's 24 Hour Relay and has shared the stage with Martha Reeves & the Vandellas, the Stampeders, and Wolfman Jack.
All self-avowed Beatlemaniacs, Serious Fun is very pleased to be part of Ottawa's Beatles Convention '95.
---
*WHITE WYNE*
BAND LINEUP:

Steve Hagopian, lead guitar/background vocals and guitar
Guy Dagenais, lead/background vocals, basses and sequencers
Bill Dirani, lead/background vocals, drums and percussion
SYNOPSIS:
The group was formed in the fall of 1988 as a power trio. During their first year they began using keyboards/sequencers thereby increasing their flexibility towards their audiences.
Due to influences within White Wyne, they are able to tailor their performances to various types of audiences, to perform a wider variety of songs accommodating a vast spectrum of people and to also perform original songs over the course of an evening; again depending on the type of audience.
With their individual talents as singers/soloists, vocals do not lack in the group. The concentration of these vocals, flexibility and the use of programmed keyboards in approximately 50 percent of the show, they produce a sound that competes with most
4 & 5 piece groups.
---
*THE SHOOZ*
BAND LINEUP
Gary Schingh, lead guitar
SYNOPSIS:
In 1980, five men, brought together by their common love of the Beatles' music, formed a group called The Shooz.
The Shooz was a "Beatles spirit" band that performed regularly in the Ottawa area in the early '80's. While the band's primary goal was to replicate the Beatles' music as faithfully as possible, the Shooz were able to further entertain their audiences by injecting into performances at Arnold's, the Saucy Noodle, and Barrymore's and to the later years with the occassional accompaniment of the "Mystery Tour Chamber Orchestra", the Shooz entertained a large and loyal following of devoted fans of Beatles' music. The Shooz retired in 1984 and in 1991 performed a one night reunion show at Barrymore's. It is will excitement and enthusiasm that four of the five original members of the Shooz reunite again to perform during this special week-end.
Oh, and they're not saying what the "Vegetable of the Day" will be.
---
*ALYSSA RYVERS*
SYNOPSIS:
"At 25, Alyssa Ryvers seems to be one of our most up-and-coming...she has the makings of an important composer. Certainly her work deserves to be followed closely."

-- Richard Todd, The Ottawa Citizen, December 1994
"Alyssa Ryvers...most excellent folk songstress."

-- The Ottawa Express, February 1995
Alyssa has given numerous performances as diverse as the National Library of Canada, Parliament Hill, outdoor stages, and small and medium-sized clubs/auditoriums. Her "New Music" concert works have been performed on a steadily increasing basis since 1990 and requests for her scores have come from as far as Europe.
Her piece Fall Transformation (1989) won the composition class of The Alliance for Canadian New Music Projects competition; her pop songs have won Ottawa contests, and placed on the charts of CKCU-FM.
---
*THE MUSTARDS*
BAND LINEUP
SYNOPSIS:
The Mustards are a band that draws upon a wealth of musical experience and youthful energy to create a truly unique blend of "rock/pop/folk" with harmonies. The band has played in many charity/community events such as: "Operation Go Home Benefit Concert 1994; Heart Institute Benefit Concert 1995; East Timor Benefit Concert 1995."
The Mustards are recent recipients of FACTOR's 'New Talent Award". Their music can be found on a CD compilation entitled "Bite the Waxed Tadpole". This is a project put together by "L.A. Records", just outside of Montreal.
---
*THE OPTION*
BAND LINEUP
Wayne Deavey, guitar, vocals
Sean Deavey, drums, vocals
Tony Licandro, guitar, vocals
SYNOPSIS:
The members have been together since February 1986, although they have been friends for the past several years and have each played in various Ottawa bands for the last three to five years.
Because there are really three separate singers who can trade-off leads or can act as back-up vocals to create some precise harmonies, they have a versatility that is somewhat unique these days. Furthermore, because they are also quite adept at writing both orginal ballads and rockers that are remarkably catchy upon first hearing, they have an infectious effect on the listener.
Like all good musicians, they have learned in their songwriting and performance from most of the masters from each of the rock eras: Chuck Berry, Beatles, Stones, Clash, Costello, Dire Straits, et al, and have synthesized these into their own special style. Thus traces of 60's-influenced harmonic melodies and guitar sounds can still be felt, but their lyrics speak of 90's concerns. For example, one of their most popular original songs, "This House", is about marital problems, although some people might not really realize it from their upbeat treatment. The songs are often written by Wayne and another Deavey brother, Terry, and each member of the band contributes his skills to the finished product.
The band were recipients of the prized FACTOR "New Talent Demo Award" by the Canadian Radio and Recording Industry sponsors.
---
*HEAVEN AND EARTH!*
Heaven and Earth is an electronic pop duo consisting of husband and wife, Bryan and Minan Claremont.
It was in 1988, a year after they were married in Seoul, South Korea, where Minan was born and raised, that they started to work together musically. Although each writes his and her songs separately, they do collaborate when preparing arrangements of the music for live performance and recording.
Musically, they compliment each other very well, but the fact that they do have differences, as well as similarities, certainly does make for added contrast in their music.
Their earliest influences range from the Beatles to groups like the Moody Blues, ELO, the Zombies, to name a few. Since Minan is a classically trained pianist, she does bring that influence into her own songs as well. Of course, the oriental influence is undeniably present too! This is largely due to Minan's early upbringing.
This, then, is Heaven and Earth and of course, they are here to stay...because, after all, making music is what they are all about!
---
*THE PETE BEST BAND*
BAND LINEUP
Andy Kirk, bass guitarist. Andy Kirk has been playing bass since the age of twelve and rather than performing gigs he concentrated on studio work. It was through this that the studio owner Billy Kinsley front man of the MerseyBeats, another famous Liverpool band from the 60's, recommended him to Roag Best. This led to him successfully auditioning for The Pete Best Band.

Paul Davis, keyboards. Paul is a classically trained pianist and for many years had his mind set on a career as a concert pianist. Eventually he discovered Rock and Roll and the Blues. At the time of his audition for The Pete Best Band he played very little Rock and Roll. Pete says: "He was great at ripping off a piano concerto but was inexperienced at Rock. The other guys convinced me of his potential. Now he just blows everyone's socks off with his keyboard wizardry."

Vince Hagen, lead guitar. Vince is the newest and also the youngest member of the band at 22 years old. Currently he is studying his BA in Music at Liverpool's John Moore University. Vince is equally comfortable talking about the use of Myxolydian scales in modal Jazz improvisation as he is with Rock soloing. He has established himself already as one of Liverpool's most sought after guitar players.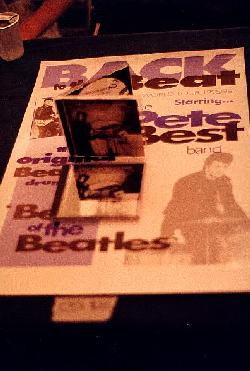 Roag Best, drummer. Pete's brother Roag started drumming at the age of 14 and joined his first band, the "Watt 4" at the age of sixteen. In 1979 he co-wrote and performed on the Top 30 hit "Behind Closed Doors" with Craig Charles. In the 80's Roag joined the "Beat Brothers" and with them toured Europe twice. He also backed up Tony Sheridan, who also sang and recorded with Pete and the Beatles during their Hamburg days.

Pete Best, drummer. Pete performed with the Beatles on the U.S. release "Amazing Beatles". After leaving the Beatles, he went on and formed his own mid-60's band called "The Pete Best Combo". Some his singles were "Boys/Kansas City" released on Cameo in 1966; "Carousel of Love/Want You", Capitol records in 1968; and "How'd You Get To Know Her Name/If You Can't Get Her" released in 1987 on Collectables. A few of Pete Best's album releases were "Rebirth", and "Beatle That Time Forgot" in 1981, both released on PB Records. In 1992, Pete released a new and exciting album called "Live At the Adelphi" and is a Beatle once again appearing on the early recordings he did with the band on the 1995 release of "THE BEATLES ANTHOLOGY, Volume 1".
---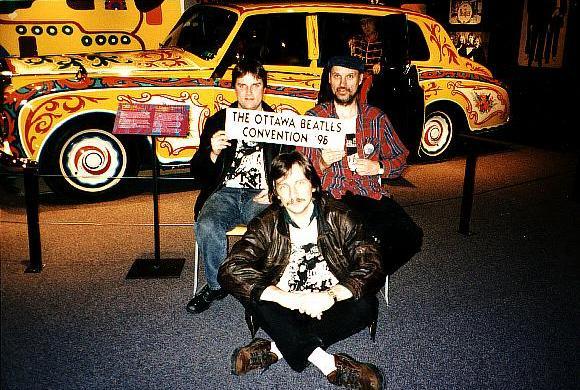 Allan Whyte, Yury Pelyushonok (front) and Alan Chrisman,
conventions producer, at the 1996 convention.




We pay tribute to Alan Chrisman for his vision and determination that resulted in this very successful convention.