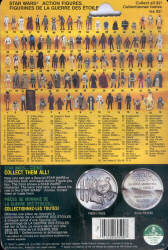 Due to the sudden termination of the joint venture between Irwin Toys and General Mills/Kenner USA, the Power of the Force line of Star Wars toys never saw the light of day in Canadian packaging except for one figure - the infamous Yak Face. Even at that, the POTF Yak Face was somewhat scarce in its native country in 1985. The vast majority of POTF Yak Faces were shipped to Australia for retail sale in 1985.
A question that keeps popping is: "Was the Power of the Force line ever available in Canada at all?" The answer is a definite yes.
The now defunct Toy City; a Toys 'R' Us type of toy store in Canada which was a subsidiary of Consumers Distributing carried the Power of the Force action figures and vehicles (all in American packaging, except for Yak Face) for a short while in the fall of 1985. The then fledgling Toys 'R' Us Canada also carried them. They were liquidated soon after in the following year.
The advertisement shown below taken from the Toronto Star in 1985 clearly shows the POTF Lando Calrissian (General Pilot) and Luke Skywalker (in Battle Poncho) action figures that were among the other POTF items sold at Toys 'R' Us Canada stores in Southern Ontario in 1985.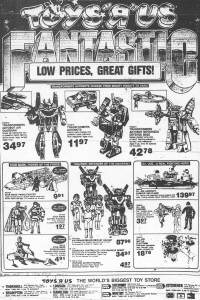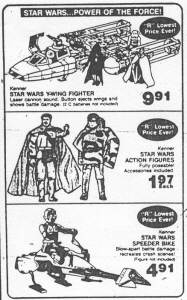 ---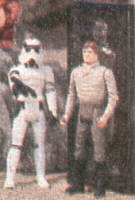 Sears Canada Power of the Force 2-Pack:
Sears Canada also sold two figures from the Power of the Force line that, oddly enough, are presently among the most difficult of the original Power of the Force action figures to find.
The catalogue photo on the left shows the two figures; Luke Skywalker (Imperial Stormtrooper Outfit) and Han Solo (in Carbonite Chamber). Once again, these figures came on American cards and were sold through the Christmas Wishbook in a 2-Pack plain mailer box. This 2-Pack sold for $9.99 in 1985.
It should be noted that these two figures were only sold through the Wishbook catalogue order and were not available in-store at the Sears retail outlets in Canada. Moreover, these were the only two Power of the Force action figures sold through Sears Canada.
---